New Empire Level UltraView LED Box Levels
New Empire Level UltraView LED Box Levels
A couple months ago, we started planning for our upcoming level Head 2 Head. Empire was one of the first brands to hop on board and sent out brand new UltraView LED Box Levels to 3 of us editors. These things were so new that they pre-dated the press release below by 2 months, they were practically still warm from the aluminum extruder. Since that time we've been using them just about every day on the job site.
Who Needs A Lighted Level Anyway?!
When this level first showed up, I showed it to the guys on my crew and we all wondered, "A lighted level? Why would we need this? If I can't see the vial, then it's too dark to work in the area." Then we started using the UltraView LED and the proverbial light bulb went on. It isn't for using in the dark, it is for using in less than ideal conditions. Low, flat light is where this level really shines (pun intended). The UltraView LED makes reading the vial so clear, no more squinting or moving really close to the vial to try and see if the bubble is in the lines.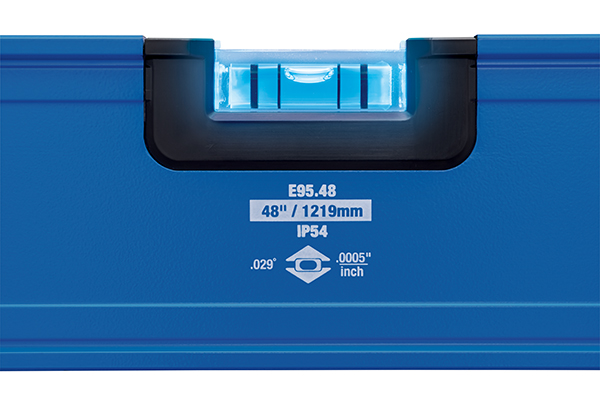 How Do The Lights Work?
What's unique about Empire's UltraView LED system is that it uses a combination of two LEDs on each side of the vial to get very even lighting. Push the button once and the center level vial lights up. Push it again and the two plumb vials light up (4 LEDs). Push and hold the button for 3 seconds and the lights shut off entirely. The LEDs run off of 2 AA batteries and to indicate low battery, the LEDs will flash a few times when the button is pushed. Great feature.
Other Notable Features
The UltraView LEDs are not the only thing to note. The level is also available in magnetic and non-magnetic versions. I always go with a magnetic level for one main reason. Even if you don't need it for your primary tasks, the magnets can help store the level in safe locations. Levels are a precision instrument and can be susceptible to damage, the magnets let me stick it to things to keep it from getting dinged up.
Additional features of the level are that it has box beam construction and removable end caps. The box beam adds strength to the unit but because it's aluminum, it needs protection from drops. This is where end caps come in. They protect the level in an end drop scenario. The issue with end caps though is that they can prevent accurate marking out at the end of the unit. The UltraView LED unit (and all of Empire's new box beams) have the easiest to remove cap I've ever used. Just pull on the light gray portion and it pops right out.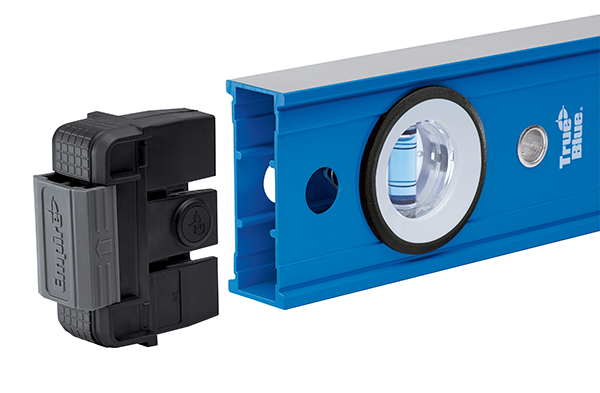 Why Should You Even Consider A Lighted Level?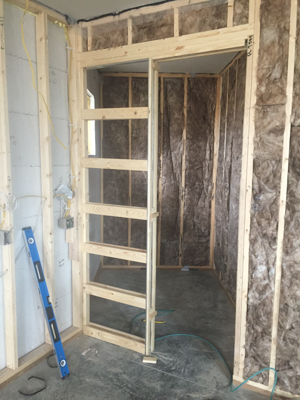 A short review and a press release probably won't convince you to buy a lighted level. I get that, I was a skeptic too. I thought it was just another gimmick to sell tools. It wasn't until I had it in my hands in use on the job site that I was sold. Unfortunately, these will be sold in brightly lit Home Depots and the benefit of the UltraView LED will be easy to miss. If you work in areas with low or flat light, give a lighted level a try, I think you'll be impressed too.
UltraView LED Press Release
MUKWONAGO, WI – Empire Level continues to drive true innovative solutions for layout and measurement applications with the introduction of the new e95 UltraView™ LED Series of Box Levels. Designed with dual ultraviolet LEDs, optical brightener, and high-contrast e-Band™ vials, the boxlevels bring a new level of technology to the jobsite – delivering high definition viewing in all conditions.
"Box levels are incredibly versatile tools, but because of their wide usage they're often needed in low-light work environments. Users have had to resort to inefficient alternative lighting solutions, such as flashlights, or use current solutions on the market that fail to highlight the bubble meniscus," said Lauren Weigel, Product Manager for Empire Level. "Empire's UltraView™ levels are equipped with a patent-pending system that utilizes dual ultraviolet LED lights that surround each vial for maximum visibility and helps to illuminate the bubble meniscus – giving users the confidence that they are measuring correctly the first time, despite low light or dark conditions."
Just like all True Blue® solutions, the new e95 UltraView™ LED Series represents the very best in high-performing layout solutions for Empire. Featuring precision milled edges and exclusive e-Band™ vials, these levels provide maximum visibility and .0005"/inch (0.029 degrees) accuracy.
To meet the demands of the jobsite, the e95 UltraView™ LED Series of Box Levels are IP54 rated for protection from dust and water. The levels are constructed with a high strength, all-metal frame to provide maximum durability and eliminate common frame deformations frequently seen during harsh jobsite use. Empire's patented Reinforced Vial Locking System protects the center acrylic block vial for longer life accuracy without compromising the 300° viewing window for enhanced visibility from any angle.
For added utility, the e95 UltraView™ LED Series are also designed with all-rubber, shock-absorbing endcaps that can be easily removed tool-free to use in tight spaces or in long distance scribe marking applications and provide increased protection from frequent drops and damage.
All magnetic models include powerful rare-earth magnets which provide maximum holding strength when installing metal door frames, leveling steel studs, or ferrous pipe and in other common metal-working applications.
The new e95 UltraView™ LED Series of Box Levels are a testament to Empire's focus on developing new technology for layout and measurement applications that provides trusted accuracy from project planning through project finish. All True Blue® products are backed by a limited lifetime warranty and confirm Empire's commitment to best-in-class durability and innovation.
E95 UltraView™ LED Series Box Level Models
NON-MAGNETIC
24" e95 UltraView™ LED Non-Magnetic Box Level (e95.24)
48" e95 UltraView™ LED Non-Magnetic Box Level (e95.48)
MAGNETIC
24" e95 UltraView™ LED Magnetic Box Level (em95.24)
48" e95 UltraView™ LED Magnetic Box Level (em95.48)
Since 1919, Empire level has earned the trust of the construction trades by delivering a broad range of innovative solutions focused on layout applications with industry firsts such as the Monovial, the Torpedo Level, the Magnetic Level, and most recently eBand™ vials. Empire continues its tradition of developing productivity solutions by living and breathing the user experience. Empire establishes relationships throughout the trades and uses the experiences in product design, creating a mutual partnership with a foundation that is BUILT ON TRUST. Empire's advanced platform of True Blue products represents the best Empire has to offer in performance, durability and technology.
Empire employs over 200 people at its facilities in Mukwonago, Wisconsin where products are proudly MADE IN THE USA. Empire sells its products in over 50 countries worldwide. More information aboutEmpire and its products can be found at: www.empirelevel.com.
About the author
Disclosure
Product reviews on this site contain our opinion of a product or service. We will always strive for objectivity and transparency in our reviews. Our goal is to provide readers with honest, objective information based on our own experiences. We never have and never will accept payment in exchange for a positive review. Many of the products that we review are provided to us for free by a manufacturer or retailer. In some cases, we also have advertising or affiliate relationships with manufacturers and retailers of products and services we review. For additional information please visit our additional disclosure policies.