Milwaukee Jobsite Scissor Preview
Milwaukee® Jobsite Scissors Redefine Performance and Durability in the Scissors Category
MILWAUKEE, WI- Milwaukee Tool continues to expand their Hand Tool offering with a new category for the company, Jobsite Scissors. Designed to redefine the user's expectations for scissor durability and performance, the new Milwaukee program will include both Offset Scissors and Straight Scissors that deliver up to 10X more cuts than the competition.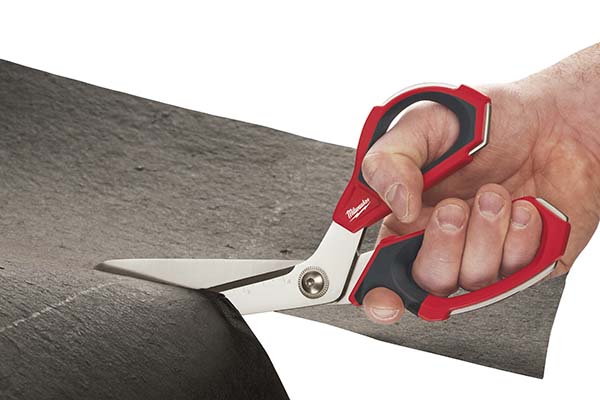 "Most professionals have scissors in their toolbox to cut things like felt for wrapping pipes, insulation tape, rubber, and even metal pallet banding straps, but the options available today were simply not designed for the materials and rough conditions on a jobsite," says Bobby Shaw, Director of Marketing for Milwaukee Tool Corporation. "Milwaukee's scissor solutions were designed from the ground up for professional tradesman with features such as Iron Carbide cutting edges for maximum durability during tough cuts and all-metal handle loops for protection from drops and handle breakage."
Harder than stainless steel, the Iron Carbide cutting edges provide longer blade life and up to 10X more cuts than the competition. The 360-degree all-metal handle loops are built for the jobsite and have consistently survived over 1000 drops from 6' during testing. For maximum durability and to ensure precision cutting, Milwaukee's Bolt Lock Technology prevents the blades from loosening over time.
For added user convenience, ruler markings are featured on the front of the blades for extra precision, and an index finger groove provides increased control. Larger handles and an ambidextrous design ensure all users can cut with ease, even when wearing gloves.
Confirming Milwaukee's commitment to best-in-class durability and their relentless mission to provide innovative solutions to the end user that will increase productivity, the new Jobsite Scissors will launch in August of 2014.
Model Options
Jobsite Offset Scissors (48-22-4040): feature a serrated blade and offset handles for gripping materials at a comfortable angle.
Jobsite Straight Scissors (48-22-4041): feature smaller, smooth blades for burr-free cuts and better control when cutting tight corners.
About the author
Disclosure
Product reviews on this site contain our opinion of a product or service. We will always strive for objectivity and transparency in our reviews. Our goal is to provide readers with honest, objective information based on our own experiences. We never have and never will accept payment in exchange for a positive review. Many of the products that we review are provided to us for free by a manufacturer or retailer. In some cases, we also have advertising or affiliate relationships with manufacturers and retailers of products and services we review. For additional information please visit our additional disclosure policies.