Milwaukee Fastback II Flip Utility Knife Review
Milwaukee Fastback II Flip Utility Knife Review
Last week a good size box arrived from Milwaukee Tool. The bulk of the package was taken up by the M12 FUEL™ 5/8″ SDS Plus Rotary Hammer Kit but sitting at the bottom of the box was the Milwaukee Fastback II. Even though I've only been using the knife for a week I feel like I've been writing this review in my head for 2.5 years because that's how long I've been using the original Fastback as my everyday pocket knife. The new one is almost exactly the same except that it now includes blade storage.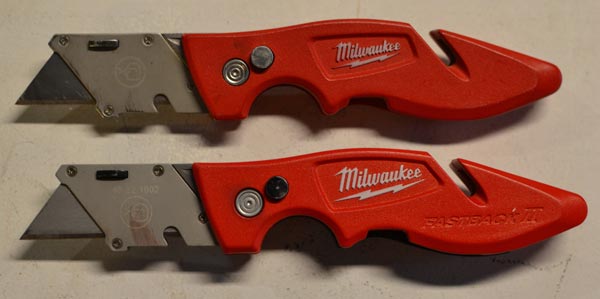 Features and Specifications
Magnetic Blade Storage – Holds one blade and stores inside the handle
Press and Flip – One handed opening
Tool Free Blade Change
Gut Hook – Cut without opening up blade
Wire Stripper – Up to 10 gauge wire
Wire Form Belt Clip – Secures without tearing up material
All Metal Body
Length: 7-1/4″ (open), 5″ (closed)
Changes from the Original
There are a couple of minor changes from the original that are merely asthetic and don't affect the knifes operation. The Milwaukee logo is a little larger and now the Fastback II name is also imprinted on the outside. On the blade holding mechanism the model number is now printed and the safety glasses image is larger. The biggest change though is the magnetic blade storage. The only complaint I ever had from the original was that it only held one blade. Other than that, it was the perfect knife. Now it has been remedied in this model in a very clever way. The spare blade is held in place by a very slim magnet and that same magnet is what also what keeps the plastic blade holder from flopping out of the handle. This makes the knife marginally wider but it isn't even noticeable.
What I Love
While this knife has a lot of great features the two that I love most are it's ability to open very quickly and how it fits in the hand. First, the deployment. I'm not exaggerating when I say that this knife can be pulled from a pants pocket and whipped open in a second or two. It is really fast. So fast that I've scared a coworker or two when they needed help cutting something. Just a quick wrist flick and this thing is open. It's almost like a switchblade. The second thing I love is that it fits so well in the hand. The curve of the back fits perfectly in the palm and the index finger cutout gives great control.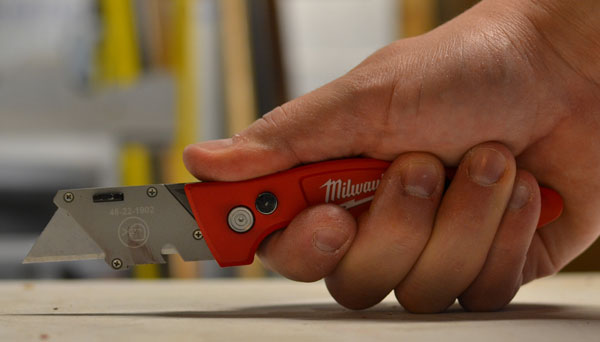 What can be Improved
Nothing. I think this knife is perfect now that it has blade storage. Seriously, it's that good. Although, I'm right handed, if Milwaukee made a mirror image of this knife for Lefties in the Fastback II iteration there would be no need for a Fastback III.
Where to Buy
The Fastback II (and the rest of the Fastback knives) can be purchased at your local Milwaukee Tool distributor or at The Home Depot for just under $15
About the author
Disclosure
Product reviews on this site contain our opinion of a product or service. We will always strive for objectivity and transparency in our reviews. Our goal is to provide readers with honest, objective information based on our own experiences. We never have and never will accept payment in exchange for a positive review. Many of the products that we review are provided to us for free by a manufacturer or retailer. In some cases, we also have advertising or affiliate relationships with manufacturers and retailers of products and services we review. For additional information please visit our additional disclosure policies.