Tool Driven Builder Hammer

Tool Driven Hammer Review

Recently on the market
The Tool Driven Builder Hammer is taking a new approach to making a more user-friendly hammer. The claim is that a lighter handle will reduce stress to the user's arm and joints. A lighter handle is achieved by using carbon fiber composite and Kevlar. This makes for a very light but incredibly strong handle. But the hammer head is still a healthy 19 oz, putting it in what I feel is a sweet spot: not too heavy, but with enough mass to move framing around, when needed.
Hammer Construction
The hammer consists of 4 parts:
handle

head

strike face

large set screw
The set screw fastens the head to the handle, and the striking face is screwed onto the set screw. This modular design is great because if a part wears out or becomes damaged, you can replace one part instead of buying a new hammer.
Carbon Fiber Handle
The carbon fiber handle gives the Tool Driven Builder a different look, calling to mind expensive bicycle frames and custom car components. When you pick it up, the first thing you notice is the exceptionally light weight of the handle, which ways in at a mere 29 grams.or equivalent to a carpenter's pencil and two 2-inch driver bits. While the handle is very light it is also very strong.  
Wanting to see just how strong the Tool Driven Builder Hammer is I tried an experiment. I put the head of the hammer and the bottom of the handle onto 2×4 blocks, and stood one-footed on the handle mid-span. Weighing about 260 lbs. this would have bent or broken many hammers on the market today, but on the Tool Driven Builder there was no ill-effect.
Using the Tool Driven Builder Hammer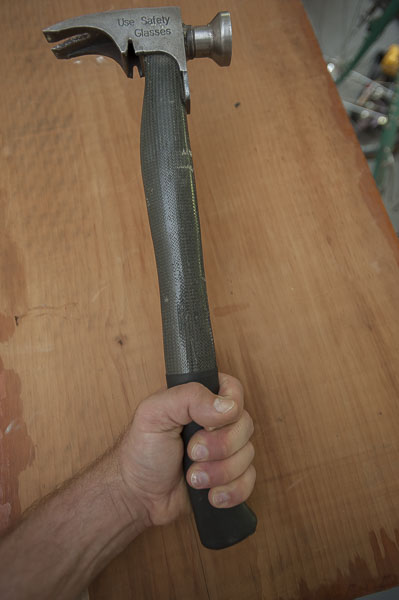 I've been using the Tool Driven Builder hammer for a few months, demolishing and framing a deck and stairs, as well as doing sub floor and joist framing repairs and reinforcement followed by framing out a master suite remodel. All this involved a good amount of framing hardware, a lot of nails, and a whole lot of convincing framing to move just a bit to get on layout or flush with existing framing. It also involved some demo or making changes to framing, pulling nails, using flat bars and cat's paws. The Tool Driven Builder performed flawlessly in all tasks.
Framing
I found that even after extended use I had little fatigue. Carbon fiber is known in the sports world for its vibration damping characteristics and is used in everything from bicycle frames to golf clubs. The grip provides just enough friction without being overly grabby. In the Tool Driven Builder the vibration damping characteristics of the carbon fiber combined with the incredibly light weight of the handle and optimal grip make for little to no soreness or tingling in my arms and forearms.
The 19 oz head combined with the super-lightweight handle made it so I had to use less force to make those critical framing adjustments. When framing with lighter weight 15 oz head hammers I would frequently need to switch to a heavy dead blow mallet or a heavier hammer. But with the Tool Driven Builder I was able to move framing around with relative ease. Even when choked up on the handle.
The light weight of the handle means that the center of gravity is just below the head of the hammer. When I choke up on the hammer the head isn't counterbalanced by the handle robbing my swings of power. It was shocking how easily I could move a piece of framing with a short swing and choked up in tight quarters.
Nail pulling and Demolition
When using struck tools like flat pry bars and cat's paws the vibration damping characteristics of the carbon fiber really shine. Often times after extended use my hands would be tingling from the repeated hammering on steel. Not so with the Tool Driven Builder. And again the 19 oz head helps to drive flat bars between boards and to drive nail pullers under nail heads.
The side nail pullers are low and off-set which has the advantage of leaving the side of the head flat and great for side-striking in confined spaces.
A steel handled hammer is almost always much thinner along one axis in order to reduce weight. Unlike a steel handled hammer, this carbon fiber handle is strong in all axes. With the Tool Driven Builder,  I could take full advantage of the side pullers and use the claws in a side- pulling motion very effectively.
Improvement?
I found that the heat shrink grip material would slip a bit during some use. I also found that I would like the grip to be smaller diameter further up the handle to make choking up on the hammer for greater control a little easier.
The Tool Driven Builder only lacks one feature common on modern framing hammers: a magnetic nail set. I think I have effectively used one of these once in my career so personally I don't think it is a big loss. And I certainly think that the features and advantages of this hammer far outweigh the loss of a rarely used feature.
Overall impression of the Tool Driven Builder Hammer
The amazingly strong and light handle combined with the stout head and excellent features have made this my go-to hammer for framing and light demo. Give it a shot. You won't be disappointed.
You can check out the Tool Driven Builder Hammer on the Tool Driven website.
About the author
Disclosure
Product reviews on this site contain our opinion of a product or service. We will always strive for objectivity and transparency in our reviews. Our goal is to provide readers with honest, objective information based on our own experiences. We never have and never will accept payment in exchange for a positive review. Many of the products that we review are provided to us for free by a manufacturer or retailer. In some cases, we also have advertising or affiliate relationships with manufacturers and retailers of products and services we review. For additional information please visit our additional disclosure policies.