Ridgid HYPERDRIVE 18v Brad Nailer Giveaway
Ridgid HYPERDRIVE 18v Brad Nailer Giveaway – Model R09890B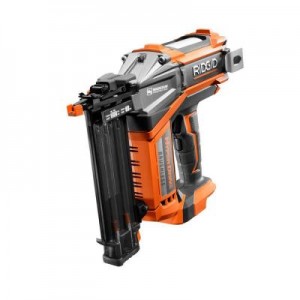 I've been saying for awhile now that RIDGID should come out with a more robust version of the Ryobi cordless brad nailer.
Cordless tool technology is containing to advance to the point of "cutting the cord," and now the "air hoses" too. Cordless air nailer technology eliminates the need for a compressor, air hoses or expensive gas cartridges. This means faster setup and easier maneuvering on the job site and less stuff to carry and store in your truck.
Have I got your attention yet?
RIDGID just released a cordless nailer that can install up to 2,600 linear feet of trim with 2,000 18 gauge brad nails per battery charge.  We are giving one away!!!
To read the full product review from our Editor Rob Robillard click here: RIDGID Hyperdrive Brushless Brad Nailer
RIDGID Hyperdrive 18v Cordless Brad Nailer Giveaway Rules:
1. You must be a subscriber to our newsletter: On The Level – Straight Advice from the Pros
2. Follow Tool Box Buzz on Facebook: Tool Box Buzz Facebook Page
3. Enter your information in the giveaway form at the bottom of this page.
Extra Entries
Who doesn't like to increase their chances of winning? Here are some ways to increase your chances to win this RIDGID Hyperdrive 18v Cordless Brad Nailer. We allow five extra entry points for each of the following. [Please note that repetitive entries with different email address will be deleted.]
•Follow us on Twitter: @Tool_Box_Buzz
•Like Ridgid Power Tools on Facebook: Ridgid Power Tools
•Subscribe to Tool Box Buzz YouTube Channel: ToolBoxBuzz
Giveaway Dates
The RIDGID Hyperdrive 18v Cordless Brad Nailer Giveaway ends October 15, 2015 at 11:59pm EST.
The winner will receive an email and be announced on Facebook that week. The winner must respond within 48 hours of first notification to claim the prize. Open to U.S residents only ages 18 and older.
GOOD LUCK!
About the author
Disclosure
Product reviews on this site contain our opinion of a product or service. We will always strive for objectivity and transparency in our reviews. Our goal is to provide readers with honest, objective information based on our own experiences. We never have and never will accept payment in exchange for a positive review. Many of the products that we review are provided to us for free by a manufacturer or retailer. In some cases, we also have advertising or affiliate relationships with manufacturers and retailers of products and services we review. For additional information please visit our additional disclosure policies.