Tool Companies Doing Good In Wake Of Sandy
Tool Companies Doing Good
We all have heard the news and seen the images of the destruction Hurricane Sandy caused on the east coast. Within the past week we have learned of a few companies that have donated products to help with the relief efforts and wanted to acknowledge and thank them for their donations.
Stanley Black and Decker
A great picture showed up in Dewalt's Facebook feed a few days ago. A huge tractor trailer filled to the gills with brand new Dewalt tools on it's way to the affected areas. Dewalt had a comment on the image that said they had shipped the best of their cordless lineup. No consumer level B&D, just pro-grade Dewalt.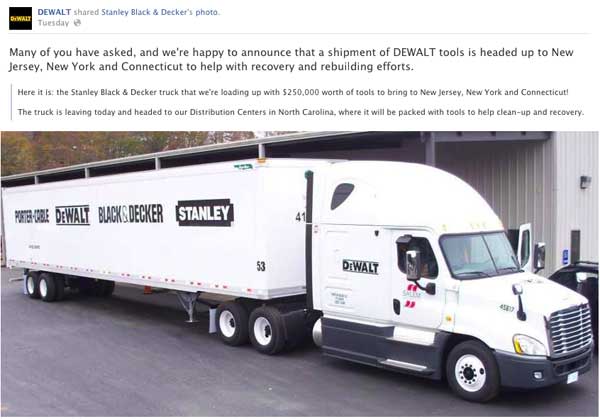 Polaris Industries
While usually considered a recreational vehicle manufacturer. They also produce highly specialized ATVs for the US military. This week they shipped out 10 of these vehicles to assist the Salvation Army in distributing aid. They will be a very valuable "tool" in the relief effort. These machines run on either gas, diesel, or JP8 fuel and are made right here in the USA. They can haul 1600 pounds between the box and front rack and tow another 1700. Awesome machines.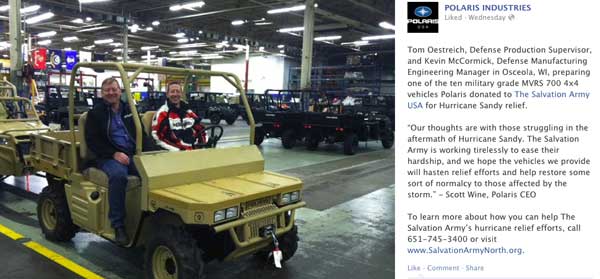 Bosch Power Tools
Just this morning I saw on Bosch's Facebook feed that they are also getting together a bunch of tools to donate to the relief effort. Details will be posted later but I'm glad to see them doing something. I'll update this post when I have more details.
Bosch has just updated us on their plans (12/17/12). They are partnering with General Motors, Lowe's, and Habitat for Humanity to donate $340,000 to Sandy relief efforts. Some of the relief is in the form of 24 GM vans that drive around loaded with a compliment of Bosch tools helping people out. That's really fantastic. $340,ooo is a lot of money that will really do a lot of good. Thank you Bosch, General Motors, Lowes, and Habitat for Humanity. The full press release can be found at this link.
Other Tool Companies
Tell us in the comments if you have heard of any other companies donating to the relief effort. I did see earlier this week that DHS purchased hundreds of Briggs Stratton generators to power polling locations so that those areas without power could still vote on election day.
KEEN Footwear
Shoe and work boot maker KEEN Footwear recently donated 2300 pairs of boots and socks to people on Staten Island. NY1 had a video with reactions from those receiving the boots. KEEN is also donating an additional 5000 pairs of shoes to the Red Cross of New York. This is huge. When I first saw the pictures of the destruction I thought of mostly the buildings and infrastructure but didn't realize that many people left without a lot of personal items. KEEN is doing a lot of good. Thank you.

About the author
Disclosure
Product reviews on this site contain our opinion of a product or service. We will always strive for objectivity and transparency in our reviews. Our goal is to provide readers with honest, objective information based on our own experiences. We never have and never will accept payment in exchange for a positive review. Many of the products that we review are provided to us for free by a manufacturer or retailer. In some cases, we also have advertising or affiliate relationships with manufacturers and retailers of products and services we review. For additional information please visit our additional disclosure policies.