RIDGID 18V 7 1/4 Inch Cordless Circular Saw Review
RIDGID (R8653B) GEN5X Brushless Circular Saw
RIDGID GEN5X 7-1/4 in. Cordless Brushless Circular Saw
Manufacturer:
Ridgid
Model number:
R8653B
Price:
139.00
Power source:
18V
Motor size:
Brushless
Weight:
8.5 LBS
I recently got the chance to use RIDGID'S GEN5X 7 ¼" 18V Brushless Circular Saw and what a work horse it is!   It powered through multiple projects big and small ranging from a deck build and a bathroom remodel to building concrete forms.   This saw has some great features and is ready to use right out of the box.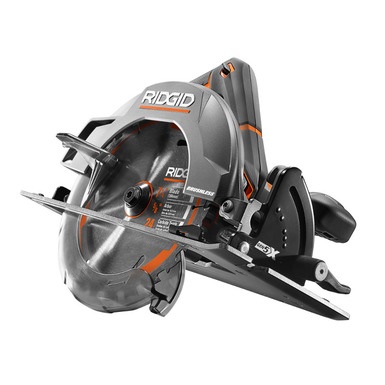 RIDGID sent the saw to be reviewed with 2 of their 5.0AH 18V HYPER Lithium-Ion batteries and a single port charger (model AC840093).  The batteries gave us tremendous power and extended run time.  RIDGID redesigned the saw with a new brushless motor for increased power and run time.  This upgrade gives you up to 35% more run time over their brushed model.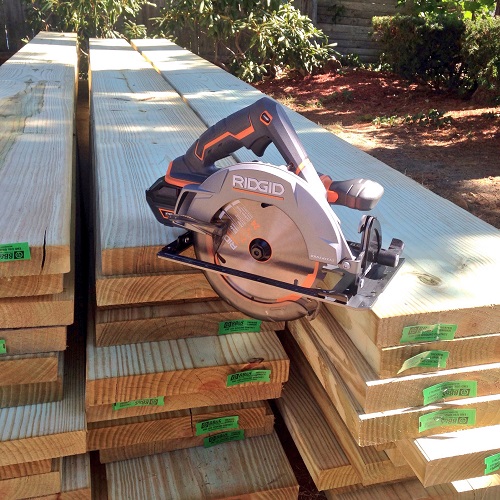 Features
Brushless motor provides more run time and power plus longer motor life
Sight line blower directs dust from your cut line
7 ¼" blade
0-56 degree bevel detent system with positive stops at common angles
Grip light turns on light independently of trigger to illuminate work area
Heat treated aluminum base for job site durability
Hex grip micro texture grip for increased comfort
Specifications
Circular foot print 15.32" D x 9.13" H x 8.98" W
Depth of cut @ 90 degrees 2.44"
Voltage is 18V
Weight is 8.5 LBS
Includes
RIDGID R8653B saw
Owners manual
Job Site Performance
Let me start off by saying that the power and performance the saw showed when ripping down 3 pressure treated 2"x 12"x 20' was impressive.  We used RIDGID'S stock blade on the deck build without any issues of binding or poor performance.   The sight lines were good with no complaints from me or the crew.  We used the saw in free hand, just following a pencil or caulk line and riding the saw against a speed square.  The results were smooth.
The guys like that you can safely operate the saw while wearing gloves in the demo phase.  The handle placement gives the circular saw a good footprint.  It's textured to reduce slipping and provides a good grip.  Overall, the R8653B is well balanced and by no means bulky or heavy.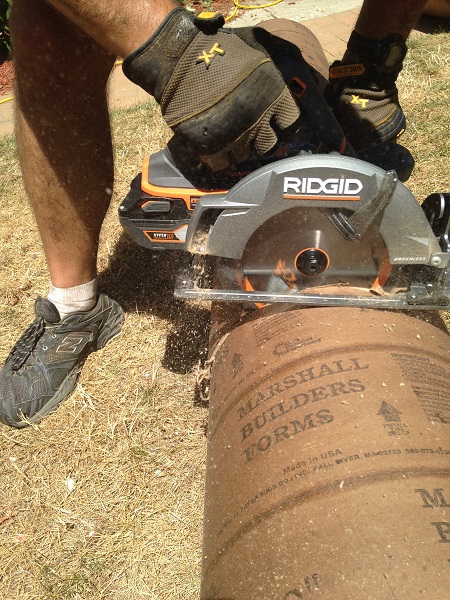 We love the fact that the battery's fuel gauge can be checked while it's still connected to the saw.  It loads from the rear and balances off the circular saw nicely.   Keep in mind that charging the high capacity battery does take a full 45 mins.  Luckily we had two batteries to work with so there was never any downtime.
If you're already on RIDGID'S 18V platform or looking into it, they have a complete line of 18V cordless tools, combo kits, and bare tools that run on a single battery. I would also recommend looking into RIDGID'S new RIDGID AC840094 GEN5X Dual Port Sequential Charger with Dual USB Ports.  The RIDGID line is cost effective with great price points and a very attractive warranty.
Knobs & Levers on the RIDGID R8653B
The bevel scale and depth scale are awesome!  All of the numbers and markings are highlighted in white with a black background.  The bevel scale has detentes at 0, 15, 22.5 & 45 degrees for fast setting bevel cuts.  The blade lock knob is nice and wide for your finger and has a bumped up outline to keep your finger pressed on the blade lock. They are easy to adjust and the levers are a good size and length; not knuckle busters.  One drawback is they are plastic levers and time will tell if they'll hold up to job site abuse.
Positioned just above the blade lock knob is on-board storage for the Allen wrench .  It's a nice snug fit and the Allen wrench stayed secure after being on multiple interior and exterior job sites.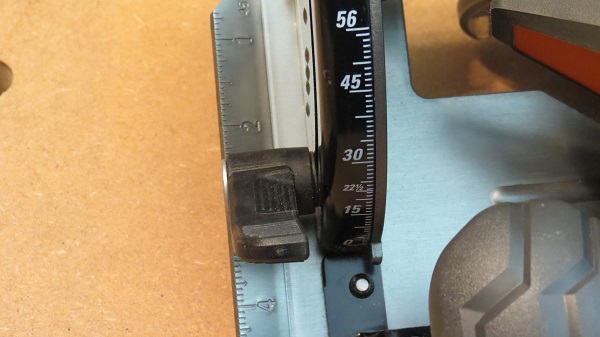 Suggested Improvements with RIDGID R8653B
The only feature we complained about was the LED light.  It's a wide LED lens but it doesn't illuminate the cut line very well.  It needs to be brighter and at a better location or angle.  When lighting was a little low or shadowed it was difficult to see the pencil lines.
Also, I would like to see R8653 sold in kit form.  This would include a charger, carry case and an additional battery.  Especially if you're not on RIDGID'S platform yet, this saw would be a great starter tool.
RIDGID'S LSA (Lifetime Service Agreement)

Overall Impression on RIDGID R8653B Brushless Circular Saw
The GEN5X performed very well for us in a multitude of projects and the fluctuating New England weather.  The circular saw, batteries and the charger were kept in the truck for several months during the review to see how the batteries would respond to temperature ranging from 32-90 degrees. No problem for the Hyper 5.0ah Lithium-Ion powerhouse.
Bottom line is that Ridgid has made a great circular saw for the PRO or the DIYer.   And with Ridgid's LSA (Lifetime Service Agreement), you can't go wrong with this brute.
RIDGID GEN5X 7-1/4 in. Cordless Brushless Circular Saw
139.00
About the author
Disclosure
Product reviews on this site contain our opinion of a product or service. We will always strive for objectivity and transparency in our reviews. Our goal is to provide readers with honest, objective information based on our own experiences. We never have and never will accept payment in exchange for a positive review. Many of the products that we review are provided to us for free by a manufacturer or retailer. In some cases, we also have advertising or affiliate relationships with manufacturers and retailers of products and services we review. For additional information please visit our additional disclosure policies.