Milwaukee M12 FUEL HackZall 2520-20 Review
Milwaukee M12 FUEL HackZall (Model 2520-20) Packs a Powerful Punch
Milwaukee M12 FUEL HackZall
Manufacturer:
Milwaukee
Model number:
2520-20
Power source:
M12 Battery
Weight:
4.1 lbs
When brushless tools first started to hit the market, Todd Fratzel and I had a discussion about where these tools were really going to make a noticeable difference. I remember him saying, that the 18V lines were great, but wait until the 12V lines really took off. That is where most contractors and tradesman will really notice a difference in performance. I have to say after spending some time with the Milwaukee M12 FUEL line, I agree with him wholeheartedly. My favorite go-to drill driver these days is the
Milwaukee M12 FUEL Hammerdrill / Driver
, but after getting my hands on the M12 FUEL HackZall for the past few months, this tool has also become one that I reach for quite often and for a variety of jobs.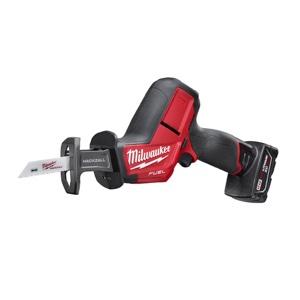 A little over a year ago, I was given the opportunity to be the Facilities Manager of a 34-year-old movie studio turned TV studio. The building is like my baby, but she requires a lot of tender love and care and a significant amount of upkeep. We've moved the marquee, re-done dressing rooms, re-routed plumbing, torn out walls, and much more to keep the building updated and in shape for the projects that go on here every day, and having the right tools on hand is essential for getting all the many jobs done on schedule and on budget.
I shot a video showing some of the many ways I love this tool. Take a look if you want to see my thoughts.
Features of the Milwaukee M12 FUEL HackZall
Compact Weight and Size
While they team at Milwaukee have named this tool the M12 HackZall, it's really a smaller, compact SawZall. At just 13 ¼" and a bit over 4 pounds, it's the perfect tool for getting into tight spots where larger recip saws just won't go. Plus, the design of the tool makes it very balanced. The size / weight ratio it the right combination to avoid fighting the tool when using it.
You can use the Milwaukee M12 FUEL HackZall with one hand when needed, but when 2 hands are needed, the tool allows for that as well.
Battery Indicator Light
I know we all got along before battery indicator lights came into existence, but what a better world it is with them. The lights on the M12 FUEL HackZall have proven to be very accurate, so I always know whether it's good to go on my next trip up the ladder, or up in a lift, or whether to change out the batter before heading up.
Tool Protection
Tools are getting smarter and smarter every day and the technology inside is getting better and protection the tools so that you can use them longer. The overload protection inside the M12 HackZall will shut the tool down if you put a bit too much strain on the motor or the battery.   While those of us who need to work on our patience might find this to be a pain in the short run, in the long run it saves both time and money.
LED Light
I was shocked at how well the LED light on the front of the tool actually worked. I had no trouble working in dark spaces and seeing the task that was in front of me.
Milwaukee M12 Lineup of Tools
Just as with any other tool in Milwaukee's M12 Lineup, you can interchange any of the 4.0ah or 2.0ah batteries.   Personally, I prefer the 4.0ah battery with the flat base, but they all work.   The same batteries work for 60+ tools whether they are FUEL or not.
Overall Thoughts
I've become a big fan of the red tools over the last few years. And this has become another one of my favorites. I don't think you'll have any reason to be disappointed in this tool. Milwaukee puts a lot of time and money into research and development and the innovations they've come up with in the last few years are proof of that.   I've already used this tool on at least a dozen different projects around the studio and I don't plan to put it down anytime soon.
About the author
Disclosure
Product reviews on this site contain our opinion of a product or service. We will always strive for objectivity and transparency in our reviews. Our goal is to provide readers with honest, objective information based on our own experiences. We never have and never will accept payment in exchange for a positive review. Many of the products that we review are provided to us for free by a manufacturer or retailer. In some cases, we also have advertising or affiliate relationships with manufacturers and retailers of products and services we review. For additional information please visit our additional disclosure policies.