Bosch 1 Inch SDS-plus Bulldog Rotary Hammer
Bosch 1 Inch SDS-plus Bulldog Rotary Hammer
Manufacturer:
Bosch
Model number:
GBH18V-26
Price:
392.00
Power source:
18 volt
Motor size:
Brushless
Weight:
7.7
Bosch GBH18V-26 18-Volt Brushless 1 In. SDS-plus Bulldog Rotary Hammer
Lithium-ion, advanced electronics and brushless motors have changed the rules of cordless tool.  Today's 18volt cordless tools simply crush their earlier compares from years past in both power and runtime. The Bosch 1 Inch SDS-plus Bulldog Rotary Hammer is no exception.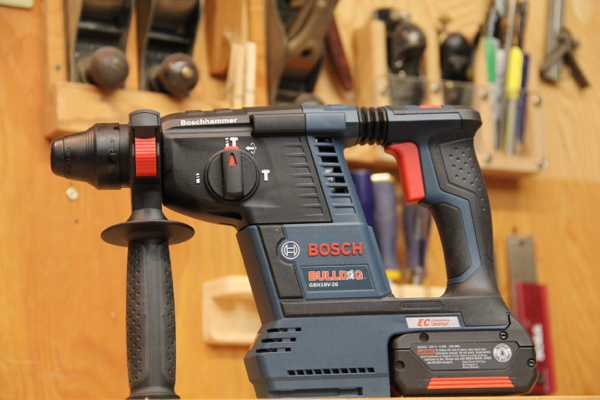 Bosch is one company that is regarded in concrete drilling. Its SDS or "Special Direct System" drills are often the preferred tool for contractors drilling in concrete. These SDS tools are usually corded, heavy and powerful, the Bulldog is only one of those things, it's powerful!
Brushless Motor
Bosch is working hard to "cut the cord," on their high demand tools like SDS hammer drills. The Bosch 1 Inch SDS-plus Bulldog Rotary Hammer was designed with a brushless drop motor, that surpasses earlier generation cordless tools by 50-percent in impact energy and run-time.
The brushless motor has advanced features such as an Electronic Precision Control, for smoother bit startups, allowing for a slower ramp-up for accurate bit starts. It delivers 1.9 Ft.-Lbs. of impact energy.
Bosch has hit a home-run here, and this cordless drill is the closest thing to a corded tool, I've seen them do. Truly impressive.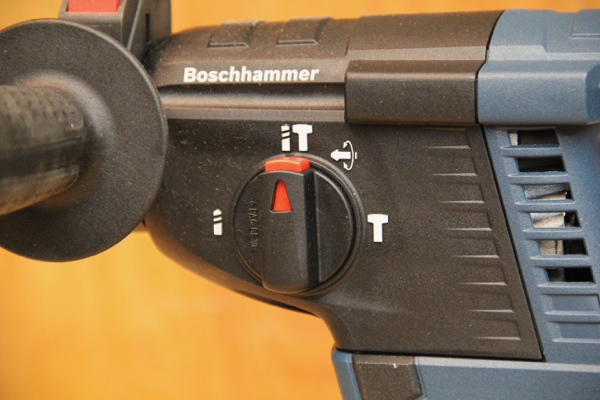 The tool has an L-shaped design which helps facilitate horizontal, shoulder height drilling, and the spring built into the handle, is an obvious part of their vibration controls, designed to reduce user fatigue.
The tool, like many of the higher end cordless tools these days, has built in electronics that monitor the motor and battery, protecting both from overheating and overload.
It produces 0-4,350 no-load BPM and 0-890 no-load RPM.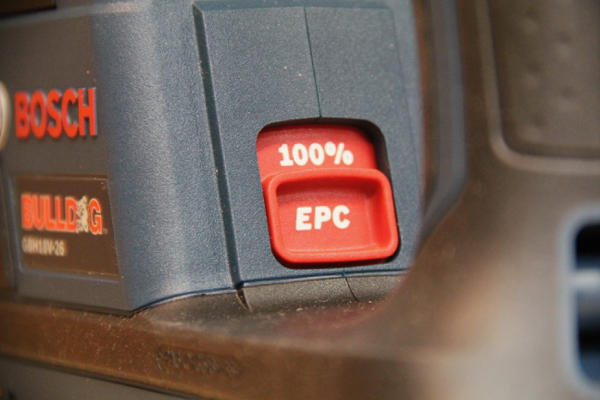 Kickback Control
The Bosch 1 Inch SDS-plus Bulldog Rotary Hammer has a Kickback Control, that uses a sensor to stop the tool from rotating when bind up situations are encountered. If you've ever been the recipient of a drill kicking back, you will appreciate this feature!

Lightweight and Powerful
The Bosch 1 Inch SDS-plus Bulldog Rotary Hammer measures 13.7-inches long, and weighs 7.7 Lbs., but don't let its small size fool you. It delivers 1.9 Ft.-Lbs. of impact energy, for an outstanding impact-to-weight ratio. How's for a strength to size ratio? That's the equivalent of 10 pounds of muscle in a 5 pound bag!!
Specifications
| | |
| --- | --- |
| Attributes |   |
| Battery | Lithium-Ion Battery |
| Battery Chemistry | Lithium Ion |
| Battery Voltage | 18 |
| Battery/Charger | Not Included |
| Chuck Design | Keyless |
| Impact Energy/EPTA (ft. lbs.) | 1.9 |
| Length | 13.7″ |
| Max. Capacity in Concrete | 1″ |
| Max. Capacity in Steel | 1/2″ |
| Max. Capacity in Wood | 1-1/4″ |
| No Load BPM | 0-4,350 |
| No Load RPM | 0-890 |
| Torque (in. lbs.) | 250 |
| Weight | 6.3lb |
| Width | 3.0″ |
| Includes | (1) GBH18V-26 Rotary Hammer (battery and charger sold separately), (1) Auxiliary Handle, (1) Depth Gauge |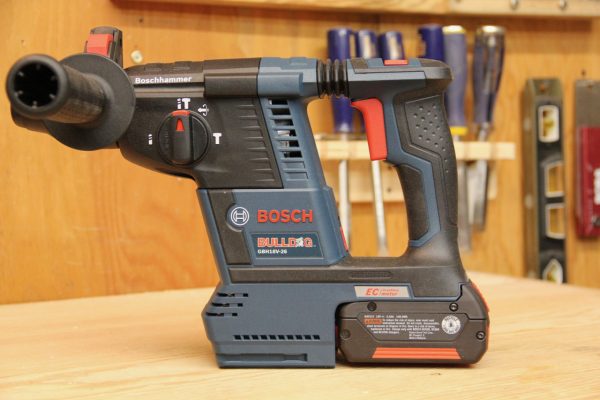 Overall Thoughts
The Bosch 1 Inch SDS-plus Bulldog Rotary Hammer is a perfect tool for those everyday mid-sized drilling applications. While it will not take the place of my larger SDS drill, it sure does handle most of the mid-level tasks I do, and does it in a lighter package.
For me the biggest takeaway is that I can now use a cordless tool, that is lightweight and powerful to get 80-90% of what I do accomplished.
We were super impressed with its weight to power ratio. Again, don't let this small drill fool you, it'll get the job done and you may even enjoy yourself in the process!
Bosch 1 Inch SDS-plus Bulldog Rotary Hammer
392.00
About the author
Disclosure
Product reviews on this site contain our opinion of a product or service. We will always strive for objectivity and transparency in our reviews. Our goal is to provide readers with honest, objective information based on our own experiences. We never have and never will accept payment in exchange for a positive review. Many of the products that we review are provided to us for free by a manufacturer or retailer. In some cases, we also have advertising or affiliate relationships with manufacturers and retailers of products and services we review. For additional information please visit our additional disclosure policies.