RIDGID JOBSITE BLOWER
RIDGID JOBSITE BLOWER
Last month RIDGID released the Gen5X Jobsite Blower. It's part of the same 18V system as all of their current and previous li-ion tools. If you have RIDGID 18V batteries, they'll work with this blower. If you have a home shop or are in the trades, give the RIDGID jobsite blower a look. Jobsite cleanup (housekeeping) can be a pretty tedious task but is extremely important because it contributes to site safety and productivity. A clean site is a safe site.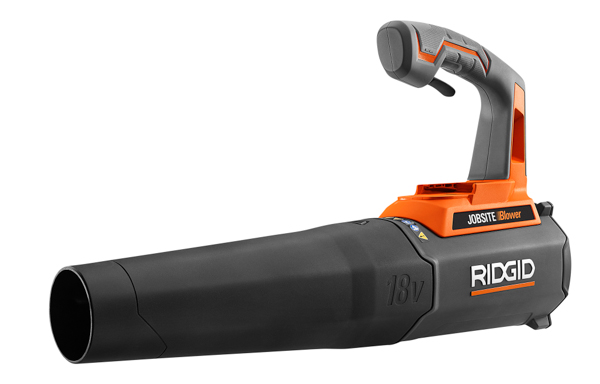 In Use
Right now the jobsite I'm on everyday is a home built with Insulated Concrete Forms (ICF). The ICF is EPS foam so when it's cut the little balls/bits of styrofoam go everywhere. If it wasn't 60 degrees out, it could be confused for snow. The site is also out in the country where the wind blows pretty good and leaves piles of dust and styrofoam all over the place. The RIDGID Jobsite Blower has come in really handy on this project.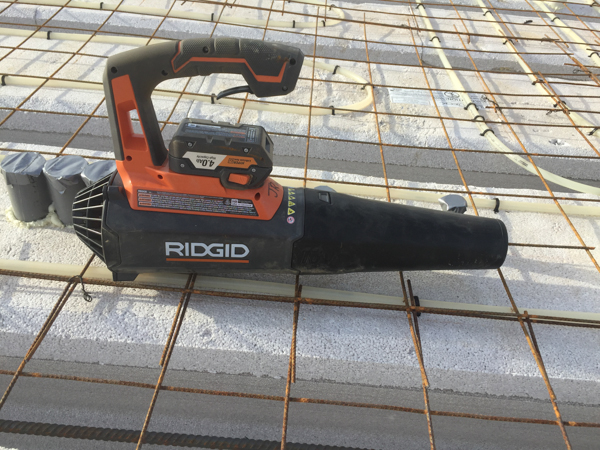 When I say the home is being built with ICF, I mean the entire structure from the basement through the first floor, including the floors are concrete and steel formed up in styrofoam. We're pouring the floor shortly and needed to have most of the foam beads gone so that they didn't float up and show in the troweled finish. We've been running this blower a few times a day to blow all the loose foam into the corners so that it can be extracted with a vacuum. Despite its small size this thing really moves a lot of air. It had no issues blowing the foam and leaves over halfway across the deck.
I like the RIDGID Jobsite Blower so much that I have two of them. One of them is staying with the crew so we can always have it on the job and the other is staying in my shop. It works just as well to blow dust and debris out of a shop as it does on the jobsite.
Features and Specifications
Air Volume – 0-280 CFM
Air Velocity – 0-100 MPH
Fan Speed – 0-11,000 RPM
Best-In-Class Airflow – Over 280 CFM of air for the most demanding applications
Extended Run-Time – Over 20 minutes with 4.0 Ah Hyper™ Lithium-ion battery (sold separately)
Compact Size – Reach tight spaces without giving up power
Variable Speed Trigger – Match the airflow to the application
Hex GripTM Micro Texture – Grip enhancing micro texture for maximum user comfort
Warranty and Price
The RIDGID Jobsite Blower comes with the RIDGID® Lifetime Service Agreement. The industry's only FREE Lifetime coverage. Free Batteries. Free parts. Free service. For Life. The blower is available soon at The Home Depot for a price of $79.
About the author
Disclosure
Product reviews on this site contain our opinion of a product or service. We will always strive for objectivity and transparency in our reviews. Our goal is to provide readers with honest, objective information based on our own experiences. We never have and never will accept payment in exchange for a positive review. Many of the products that we review are provided to us for free by a manufacturer or retailer. In some cases, we also have advertising or affiliate relationships with manufacturers and retailers of products and services we review. For additional information please visit our additional disclosure policies.