Ryobi Airstrike 18V Cordless Nailer Review
Ryobi One+ 18 Gauge Brad Nailer Review P320
Ryobi One Plus 18-Volt 2 in. 18-Gauge Cordless Brad Nailer
Manufacturer:
Ryobi
Model number:
P320
Price:
$129.00
Power source:
18 Volt One+ Li-Ion
I was sitting at my desk in the bowels of the studio last week when someone came into the shop and asked to borrow a cordless nailer. No problem, I handed him the Ryobi Airstrike 18 gauge. He replied that he had actually been looking at the tool and thinking about buying one for himself. When he returned it, he was sold. He loved the way it worked and how simple it was. I knew he would, because I'd been using it for awhile.
A Little Background
I should probably preface this whole thing with the fact that I've been a Paslode fan for some time and they've become the standard against all other cordless nailers when it comes to testing. The DeWalt Cordless Framing Nailer was the first to bend my allegiance, and now the Ryobi is solidifying my newfound confidence in battery-only tools – at least in the fastening tool category.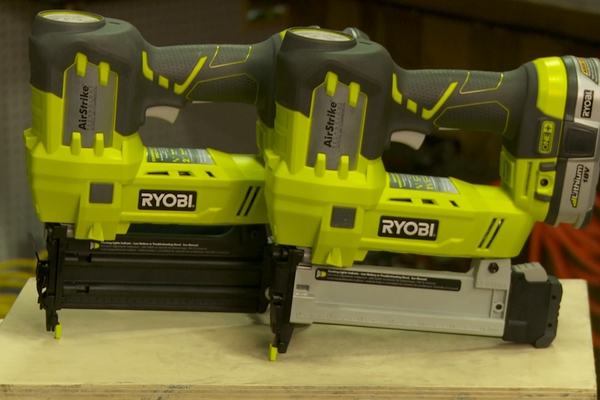 The Ryobi Airstrike tools (in addition to the 18 gauge brad nailer, there's also a narrow crown stapler) are a sign that Ryobi isn't just relegated to the DIYer or homeowner crowd anymore. The bright green tools are finding their way onto professional job sites more and more often.
The Airstrike nailer is powered by Ryobi's One+ 18 volt battery system, already well-established. With the battery installed, the tool is well-balanced and comfortable to hold. It's not overly-heavy, either.
Ryobi Airstrike Video Review
Take a look at both tools in action and listen to what Todd and Rob thought of the tools, as well.
Ryobi P320 Specifications
2″ Max Fastener Length
.625″ Max Fastener Size
Nailing Angle – 0°
Airstrike Features
Twin LED Lights
Battery-Operated (No gas cartridge)
Toolless Jam Release
One of the best features, IMHO, is the LED activation button. It's separate from the trigger, so you can turn the light on without engaging the tool. This is handy for several reasons, obviously – and it's in a convenient location right, so you can operate it without any hassle.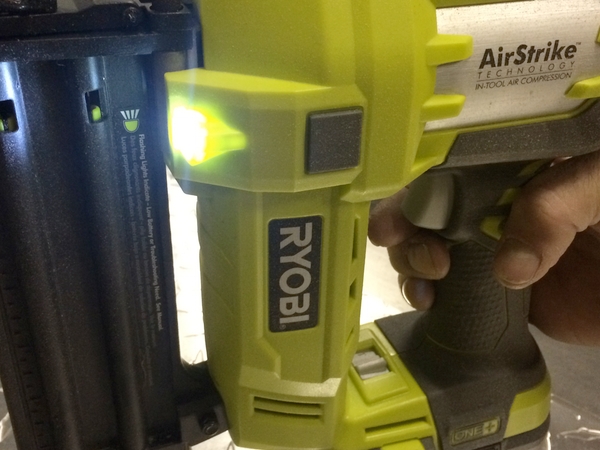 The rest of the controls are easy to use, as well. If you think in terms of a pneumatic nailer, there's a way to adjust the air pressure delivered to the fastener. That control is an oversized knob sitting on top of the main body, It's pretty simple to operate, even with gloves on. For fine-tuning fastener depth, there's a traditional control knob near the nose. Again, it operates smoothly and as you'd expect.
The battery attaches to the rear of the nailer body. Being a stem-pack, it can sometimes be a challaenge to remove, especially if you have smaller hands. Beth Knott, our Managaing Editor here at Tool Skool, has a little trouble squeezing the release buttons on the stem packs. I just tell her she needs to work out more.
Airstrike Performance
As you've probably guessed, I'm impressed with this nailer's performance. It surpassed my expextations, much like the DeWalt Cordless Framing Nailer (read that review HERE).
The Airstrike Brad Nailer has very little lag time between trigger activation and fastener insertion. You can actually move along at a fairly good clip when you're working with this tool. You can see Todd's testing in the video above and get an idea of the speed at which the Airstrike can perform.
Once you get the nailer tuned for the material you're working on, it's a breeze. And without the compressor tagging along behind it, you're saving energy and wear-and-tear on your back lugging it around.
As with any battery-operated tool, I'd recommend a couple of spare One+ stem-packs be in your tool bag. Recharging times aren't horribly long, but any down time is money lost right?
Airstirke Bottom Line Opinion
Ryobi has done it again – they've created a tool that outperforms expectations and priced it within reach of the average budget. Will it withstand the rigors of a construction crew day-to-day? That remains to be seen, but if history is any idication, the answer is yes.
The GC on a project here at the studios in Texas uses a lot of Ryobi gear and his guys have a tendency to be rough with all of it (go figure). They've all taken a beating and look like they've been through a meat grinder, but they still work just fine. And that's what we're looking for in a tool, right?
Ryobi One Plus 18-Volt 2 in. 18-Gauge Cordless Brad Nailer
$129.00
About the author
Disclosure
Product reviews on this site contain our opinion of a product or service. We will always strive for objectivity and transparency in our reviews. Our goal is to provide readers with honest, objective information based on our own experiences. We never have and never will accept payment in exchange for a positive review. Many of the products that we review are provided to us for free by a manufacturer or retailer. In some cases, we also have advertising or affiliate relationships with manufacturers and retailers of products and services we review. For additional information please visit our additional disclosure policies.