Makita 18V X2 LXT Brushless Recipro Saw
Makita 18V X2 LXT Lithium Ion (36V) Brushless Cordless Recipro Saw
Our friends at Makita sent us their new Makita 18V X2 LXT Brushless Recipro Saw to review here in the shop. This brushless reciprocating saw combined with Makita's latest 6.0Ah battery was the perfect storm for an endurance test. With this reveiw we hope to give readers a practical expectation for the runtime of this tool.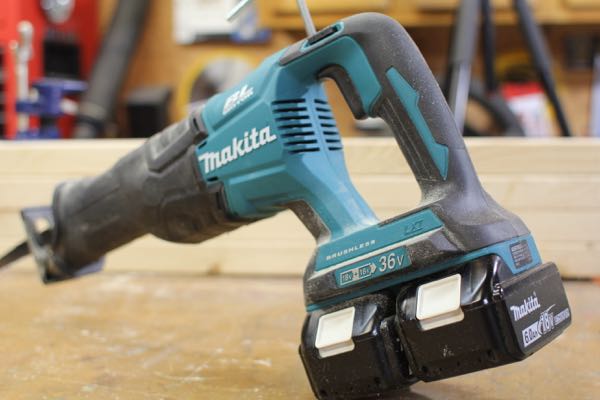 This 18V X2 Lithium-Ion tool is one of 11 tools Makita offers that offers users the benefit of two batteries. The 18V X2 line provides an extended runtime with additional power. The reciprocating saw is the perfect candidate for this technology, given this tools' heavy duty applications.
Makita went all in pairing the 18V X2 (36V) package with a brushless motor and refined crank mechanism. These advancements increased runtime and reduced vibration for the user. Cordless reciprocating saws are a tough sell for anything more than light duty applications. But the Makita 18V X2 LXT Lithium Ion (36V) Brushless Cordless Recipro Saw is a viable replacement for a corded saw.
Features and Specifications
Features:
Powerful BL™ Brushless Motor
0-3,000 (metal cutting) and 0-2,300 (wood cutting) strokes per minute for faster cutting
1-1/4″ stroke length provides increased cutting efficiency
Two 18V LXT® Lithium-Ion Batteries deliver the power and performance of a corded recipro saw without leaving the 18V LXT® platform (batteries not included)
Refined crank mechanism design minimizes blade deflection and reduces vibration
The BL™ Brushless Motor eliminates carbon brushes, enabling the BL™ Motor to run cooler and more efficiently for longer life
Efficient BL™ Brushless motor is electronically controlled to optimize battery energy use for up to 50% longer run time per charge
The electronically-controlled BL™ Brushless Motor efficiently uses energy to match torque and RPM to the changing demands of the application
Large two-finger varible speed trigger for operator convenience
"Tool-less" blade change system allows for faster blade installation and removal for increased productivity
L.E.D. light with preglow and afterglow to illuminate the work area
Retractable tool hook secures the tool when not in use
Electric brake for maximum productivity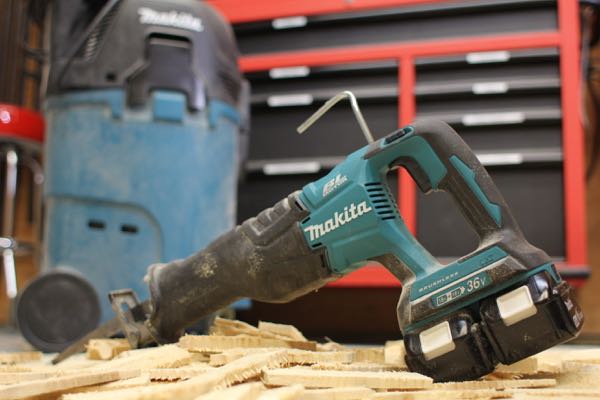 Specifications:
Length of Stroke : 1-1/4″
Max. Cutting Capacity (wood w/ 12″ blade) : 10″
Max. Cutting Capacity (pipe) : 5-1/8″
Strokes Per MInute (var. 2 spd.) : 0 – 2,300 / 0 – 3,000 SPM
Battery : 2X 18V LXT® Lithium-Ion
Overall Length : 17-3/4″
Net Weight (with battery, sold separately) : 10.2 lbs.
Variable speed control dial : No
Built-in clutch : No
Orbital settings : No
Power Type : Cordless
Shipping Weight : 9.3 lbs.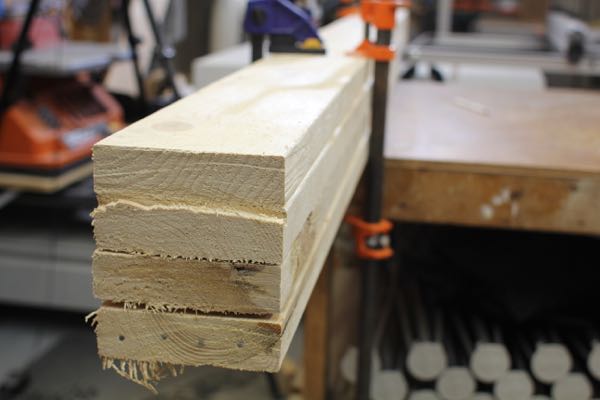 Runtime Testing
We ran fresh 6.0Ah batteries on a brand new 18V X2 LXT Lithium Ion (36V) Brushless Cordless Recipro Saw against a stack of four 2 x 6 KD stock with the last board embedded with four 16 Penny Brights. We used an Industrial Bi-Metal 9" x 6 TPI blade from Makita. This Swiss made blade is ¾" wide by .050" thick and designed for nail embedded wood.
To simulate common reciprocating saw use, we ran the saw four times through our 2 x 6 stack, which resulted in about 2-3 minutes of continuous cutting then pausing for 30 seconds to rest. We ran a single blade during the test, never changing it out for a fresh one.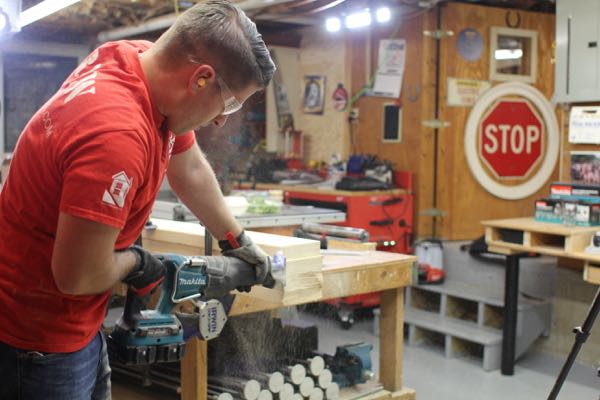 We believe the pause between longer bouts of cutting is a realistic and fair way to evaluate the saw's runtime. Futhermore our material selection reflects real world applications where you'll be cutting through two-by lumber, often embedded with fasteners. Ultimately we wanted to provide readers with a realistic expectation of runtime.
With this methodology the tool never deactivated due to overheating, the 18V X2 Lithium-Ion Brushless Cordless Recipro Saw is equipped with Star Protection Computer Controls™ to protect against overloading, over-discharging and over-heating. The test ultimately ended when we drained the batteries of juice.
Performance
18V X2 LXT Lithium Ion (36V) Brushless Cordless Recipro Saw equipped with two fully charged 18V 6.0Ah batteries made 165 cuts through 2 x 6 KD lumber and cut through 164 16d nails. Needless to say this saw with 6.0Ah batteries has plenty of gas in the tank for everyday use.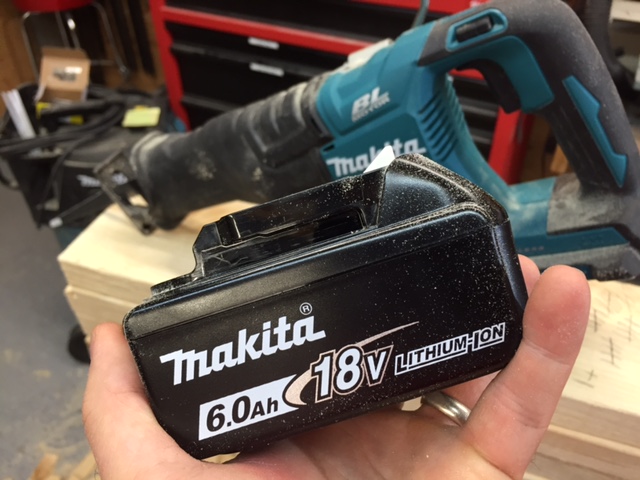 The two 6.0Ah batteries we tested with, could certainly be stretched to gut a kitchen or bathroom. Still I don't see this being an effective use of your batteries and charge time if you're doing a major demolition or taking down a small wood framed building. But for most users and most applications this tool's performance is more than adequate to replace a corded model.
Vibration and Control
The 18V X2 Lithium-Ion Brushless Cordless Recipro Saw is compact. The X2 batteries on the rear of the tool add some heft to the back, but during operation it feels balanced and easy to control. The vibration on the tool is noticeable but not overwhelming.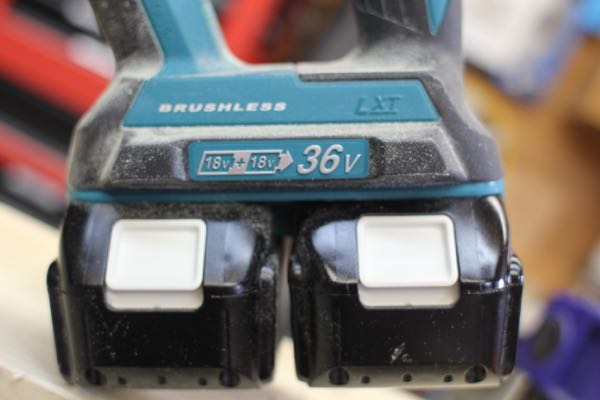 This tool does NOT have the AVT (Anti-Vibration Technology) that Makita is known for, so don't expect an easy, vibration free ride. Furthermore this saw, much like many of its competitors, does not have an orbital adjustment so you may spend more time behind the saw than you want. Given the one size fits all orbital setting, you won't get an aggressive cut, but you will have a fairly comfortable ride.
Ergonomics and Comfort
As I mentioned above the tool is pretty compact, 17-3/4" long (not including the blade), with a slim throat before the blade. The tool weighs just over 10 lbs with two batteries.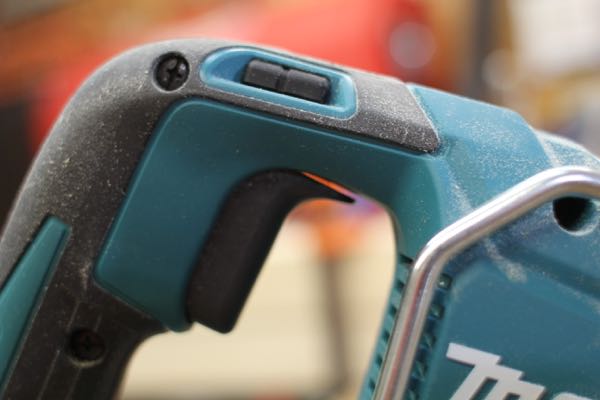 The trigger on the tool is set 3/8" further from the base of the handle. It protrudes about another 5/16" in the off position and is about flush at the 3/8″ protrusion when fully depressed. Designed to be a large "two-finger" variable speed trigger it is not super comfortable during continuous operation. I would have preferred a trigger tucked in closer to the handle that becomes flush with the handle when fully depressed. The ergonomics of the handle is poor and after depressing the trigger for almost an hour, comfort was out the window. We also noticed a good amount of slop at the top of the trigger, a potential catch for a glove or place for dust and debris to build and cause issues down the road.
During extended operation of this tool, gloves are a must. Despite doning a new pair of gloves my hand become pretty uncomfortable from the excessive heat. If you are using this tool for demo and plan to run it for a long time you can expect it to feel the burn. The heat was bearable with a gloved hand, but no way you'd want to hold on to this tool after running it for an hour or so at the rates we tested it.
Premium Features
The 18V X2 Lithium-Ion Brushless Cordless Recipro Saw has some much anticipated premium features. First and foremost an efficient Brushless Motor. Second the bells and whistles you expect from a top tier tool.  A well placed L.E.D. light, retractable hook, variable speed trigger, and electronically controlled motor to name a few.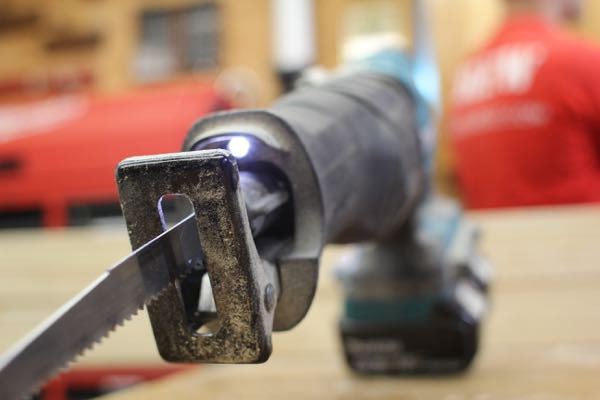 The L.E.D. light actually shines through the shoe of the Recipro Saw ensuring visibility of the blade and the work piece. The electronically controlled Brushless Motor efficiently uses energy to match torque and RPM to the changing demands of the application balancing. From simple nice to have features, to advanced performance enhancing electronics this saw is definitely a premium tool.
The saw also features an electronic brake, that ceases the reciprocating action of the tool in less than 1/2 second. I'd probably put it close to 1/4 of a second but the brake works so well it's hard to time such a brief moment. Regardless this feature ensure productivity and safety for the user, which is a huge premium in our book.
Overall Impression
This is hands down one of the best cordless reciprocating saws you can buy right now. A huge gas tank, premium features, and at a kit price of about $400 (XRJ06M) is a solid value considering the cost of each item separately.
Makita's 18V X2 LXT Lithium Ion (36V) Brushless Cordless Recipro Saw dominated our endurance test. Walking away from this test made it clear this cordless saw has the power and the endurance to work for you all day in most everyday applications.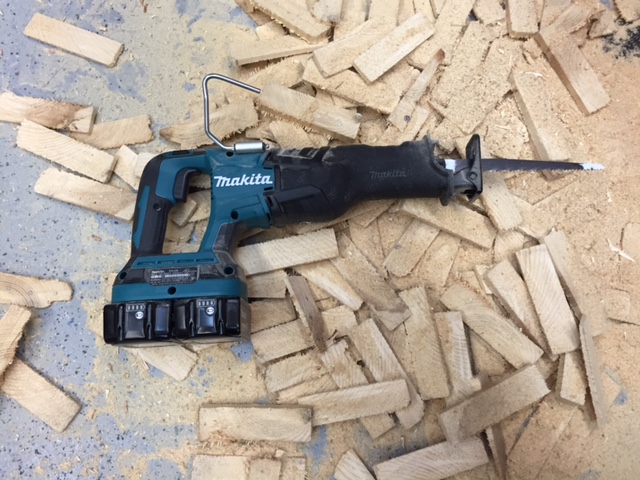 Dedicated and extended operation will require some battery swaps and charging,  you'll need a lot of batteries to run the tool all day. If you are not running Makita's 18V line, you may want to go all in if you want to pick up this saw. If you are  going to buy four batteries to get started with this tool, you may just want to switch to Makita's platform anyway.
The excessive heat generated at the throat of the tool during extended operation is the only significant downside. Ultimately this is a killer addition to the 18V line, a perfect  reciprocating saw for this cordless platform. The high end features and exceptional performance are evident after our endurance test.
Makita 18V X2 LXT Brushless Recipro Saw Review
About the author
Disclosure
Product reviews on this site contain our opinion of a product or service. We will always strive for objectivity and transparency in our reviews. Our goal is to provide readers with honest, objective information based on our own experiences. We never have and never will accept payment in exchange for a positive review. Many of the products that we review are provided to us for free by a manufacturer or retailer. In some cases, we also have advertising or affiliate relationships with manufacturers and retailers of products and services we review. For additional information please visit our additional disclosure policies.