Makita 18V LXT Sub-Compact Drill and Impact Driver

Makita 18V Sub-Compact Brushless Drill XFD11ZB and Impact Driver XDT15ZB Tool Review
As a carpenter I've had to install truss loks on LVLs one day and hardware on custom cabinets the next day. I ran an 18V system for framing and general tasks, but used a compact 12V drill and driver for punch list work and cabinet installs. Even if the tools were the same manufacturer, I was still stuck charging two different sets of batteries, until now.
New Class in Cordless
My first impression of the Makita 18V LXT Sub-Compact Drill and Impact Driver was that these tools were going to cannibalize Makita's 12V line with this addition. But "Research on commercial and residential job sites showed us that many contractors own both 12-volt and 18-volt tools, and if a job requires the power of a 12-volt tool then they'll definitely reach for the most compact tool first," said Carlos Quintana, Sr. Product Manager, Cordless, Makita USA.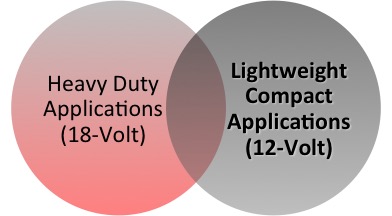 Looking at this venn diagram any contractor that fits into the middle section requires both a heavy duty cordless capability and a compact lightweight capability. This is a dangerous space as the preference for a lightweight tool puts these 12 volt tools in underpowered situations. With the new 18V LXT Sub-Compact platform, Makita has created a powerful compact class of tools. Effectively creating new class in cordless tools, not displacing one!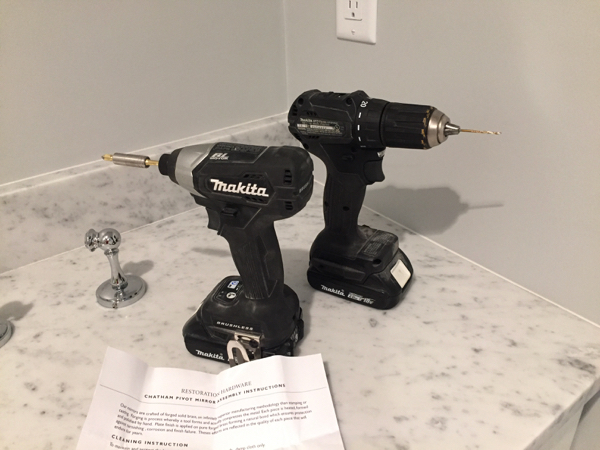 When I took the drills out for the first time I thought Makita was taking advantage of the popularity of the custom all black versions of the tools available on the market. Like the green, pink, and white impacts you see and envy on instagram. So I thought Makita made these all black just to look cool. But this was intentional to distinguish these 18V tools from their similarly sized 12V line. And bonus, the all black does look really cool! Anyway let's take a look at the features and specs before we talk performance.

Makita 18V LXT Sub-Compact Features
Driver-Drill weighs only 2.8 lbs. with battery with 6-3/8″ length
Impact Driver weighs only 2.6 lbs. with battery with 5-5/16" length
Assist Mode (A-mode) feature helps eliminate "screw cam-out" and "cross threading" by driving at low speed until impact begins
Ideal for work in tight spaces
Electronically-controlled BL™ Brushless Motor
Extreme Protection Technology (XPT™)
Compact 2.0Ah battery BL1820B reaches full charge in 25 minutes or less
Rapid Optimum Charger
Equipped with Star Protection Computer Controls(TM)
3-year limited warranty on tool, battery and charger

Makita 18V LXT Sub-Compact Specifications
Sub-Compact 1/2″ Drill
Model: XFD11ZB – Sub-Compact Brushless ½" Drill (tool only)
Capacity (steel): ½"
Capacity (wood): 1-7/16"
No Load Speed: 0-500, 0-1,700 RPM
Max Torque: 350 in.lbs.
Battery: 18V LXT Lithium-Ion
Overall Length: 6-3/8"
Net Weight: 2.8 lbs. (with 2.0Ah battery, sold separately)

Sub-Compact Impact Driver
Model: XDT15ZB – Sub-Compact Brushless Impact Driver (tool only)
Hex Shank: ¼"
No Load Speed: 0-1,300, 0-3,000 RPM
Impacts Per Minute: 0-1,600, 0-3,900 IPM
Max Torque: 1,240 in.lbs.
Battery: 18V LXT Lithium-Ion
Overall Length: 5-5/16"
Net Weight: 2.6 lbs. (with 2.0Ah battery, sold separately)

Makita Sub-Compact Performance
I've been using the Makita drills and drivers for years, so I'm pretty comfortable with these tools. The sub-compact series are very similar with no serious surprises. The impact does lack a quick connect collar, which is a little disappointing, but I got used to it. Overall the performance is impressive for a such a small tool.
The 18V tool with it's compact brushless motor hits a sweet spot of 1,240 lbs. of max torque from a small tool. For comparison Makita's 12v impact delivers 970 lbs. of  max torque, not enough punch for heavy duty applications, but perfect for lightweight tasks. While the standard 18V impact has a max torque of 1,550 lbs. from a larger heavier driver.
Overall I found this great for light duty tasks, but when needed easily drove 3-inch screws in dense heartwood framing lumber. The compact 2.0 Ah ensure the tool is light and small, but with the availability of the larger 18V amp hour batteries I could switch to a 5.0Ah battery and have the runtime and power to complete more repetitive heavy duty tasks. For a remodeler or non-framer carpenter this tool could satisfy 85-90% of my needs.

Makita 12-Volt or Makita Sub-Compact?
Makita is all about keeping their users on a consistent platform. Carlos Quintana, Sr. Product Manager, Cordless, Makita USA summarizes this idea perfectly. "18V LXT Sub-Compact Brushless tools give contractors the compact size of a 12-volt tool while remaining in the 18-volt battery platform". This is the key take-away of this product launch and after using it for a few months I haven't touched my 12 Volt drill or driver. So it's safe to say if you give the sub-compact tools a try, you may never go back. Unfortunately, it seems like Makita won't be releasing any other tools anytime soon.
Overall Impression
We've been using the complete Sub-Compact combo kit (CX200RB) that includes two 18V LXT Compact Lithium-Ion 2.0Ah batteries, Rapid Optimum Charger, and the classic Makita tool bag. These tools conveniently fit in my finish bag and have become my everyday drill driver. The 2.0Ah batteries and brushless motors keep me away from my charger for days during light duty, punchlist type work.
I love the integration with the 18 Volt line, I have a lot of those tools so battery compatibility is key. When running a 12 Volt compact drill driver I'd have to manage two battery platforms. One battery with the industries fastest charge time is a good deal to me.
I'd recommend anyone currently using Makita's 18V line to get at least one of these tools, depending on which one makes sense for your applications. This kit is really awesome and the combo of the two tools could change your perception of compact tools.
Makita 18V LXT Sub-Compact Drill and Impact Driver Video Review
About the author
Disclosure
Product reviews on this site contain our opinion of a product or service. We will always strive for objectivity and transparency in our reviews. Our goal is to provide readers with honest, objective information based on our own experiences. We never have and never will accept payment in exchange for a positive review. Many of the products that we review are provided to us for free by a manufacturer or retailer. In some cases, we also have advertising or affiliate relationships with manufacturers and retailers of products and services we review. For additional information please visit our additional disclosure policies.