RIDGID R9000K 12v Lithium-Ion Drill & Impact Driver Kit
Ridgid R9000K 12v Lithium-Ion Drill & Impact Driver Kit
RIDGID R9000K 12v Lithium-Ion Drill & Impact Driver Kit
Manufacturer:
Ridgid
Model number:
R9000K
Price:
$149.00
Power source:
12 Volt Lithium-Ion Battery
Weight:
7.95 Lbs
Who remembers the 90's television show Home Improvement? Tim "the Tool Man" Taylor had a famous saying "MORE POWER", followed by his famous manly grunt. Well let me be Al Borland here for one minute with his favorite line "I don't think so Tim". More power is not necessarily the answer here with the Ridgid R9000K 12v Hyper Lithium-Ion Drill & Impact Driver Kit. This kit is not meant for extreme power, but more for smaller, lighter jobs, but shhhh don't let its small size fool you, it has some beef behind it.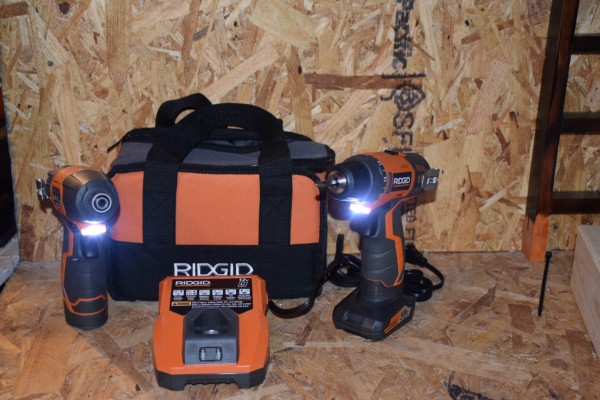 Ridgid R9000K Features & Specifications:
Drill / Driver – Model R82005 
12 volts
Torque – 400 in. lbs.
0-350 / 0-1,500 RPM No Load Speeds
3/8" Chuck
18 position clutch
2 speed transmission
Impact Driver – Model R82230 
Included In The R9000K Kit:
Ridgid R82005 2 Speed Drill Driver
Ridgid R82230 Impact Driver
2.0 amp hour Ridgid Hyper Lithium-Ion Battery
4.0 amp hour Ridgid Hyper Lithium-Ion Battery
2 belt clips
12V charger
#2 Hex shank Phillip's bit
Kit bag
Manuals
Ridgid R9000K 12v Kit First Impressions:
What really impressed me right away was that this kit included 12v Drill Driver, 12v Impact Driver, 2.0 Amp hr. battery, 4.0 amp hr. battery, charger, Philips bit and carrying bag for $99.00. This is an amazing deal when you price out these tools and batteries individually. This kit includes both a 2.0 and 4.0 Ah battery which is a newly added feature, (the older model kit only offered two similar batteries). Measuring in at under 7″ for both drills, I can now get in places a larger 18v drill can not. Each drill also has a belt clip that can be positioned on either the right or the left side depending on the user.
Ridgid R9000K Standout Features:
Performance: The performance of the R9000K makes it perfectly capable of handling larger jobs where you would normally use higher voltage tools. Driving 3″ deck screws can be done with both of these tools and I would recommend using them if you only had a handful of them to do. With the smaller voltage batteries, anything more than that, I would preferably use a larger tool or you will find yourself charging more than actually working. Same goes with drilling. Using the drill and/or impact driver for that matter on bits up to 3/4″  you will not have an issue. Only when you start getting into higher diameter size holes, will you see that it's taking more effort and will eat through your battery life a lot quicker.  I feel that this kit is much more suitable for the smaller, more delicate projects.  These tools are small in size but are powerful enough for some larger size projects.
Ergonomics:  The texture of the material wrapped around the handle is called Hex Grip Micro Texture. It fit very comfortably in my hand. The Hex Grip Micro Textures offers a great feel without having too much over-mold or taking away from the compactness of the tools.
LED Light: The LED lights on both the drill driver and impact driver are very bright. Another feature that impressed me was if the LED light flashes during operation, it indicates a low battery charge.  Instead of having a low battery indicator on your battery, it tells you right as you are using the tool. Lights on power tools are pretty much the standard, but the Ridgid lights are larger than most and offer a much better illuminated surface area. These lights will stay on for 10 seconds after the trigger is depressed.
Life-Time Guarantee:  The Lifetime Service Agreement is available free of charge, on all eligible RIDGID Brand hand held power tools. Customers have 90 days from date of purchase to register tools for the Lifetime Service Agreement. Once all conditions of the registration process are fulfilled, the tool's service coverage lasts the lifetime of the original purchaser. The RIDGID Lifetime Service Agreement is only available for eligible RIDGID tools purchased at THE HOME DEPOT.
Ridgid R9000k Kit – Areas for Improvement:
There are two small things I would like see improved with the R9000K kit. Both are small improvements, but do not take any value away from these tools.
Storage: I would like to see a slightly bigger carrying case. After a long day on the job, last thing you want to be doing is playing a chess game with your equipment to make sure it all properly fits. I had some struggles with getting all the pieces back into the bag once I was done using it.
Bits:  I really wish Ridgid would include a regular bit along with the Philips bit they provide. When installing switch plates or outlet plates, you only have regular slotted screws. Including the regular bit would be a nice idea.
Ridgid R9000K Kit Performance:
I have been using the R9000K kit on various home projects for about a month now. Using the impact driver I recently converted my son's toddler bed frame into a full size bed frame. Included in the frame hardware was a single Allen wrench and 25 bolts. Using the impact driver I was able to complete the project in minutes verses hand tightening each bolt. Each bolt was easily fastened and the torque did not seem over powering to me.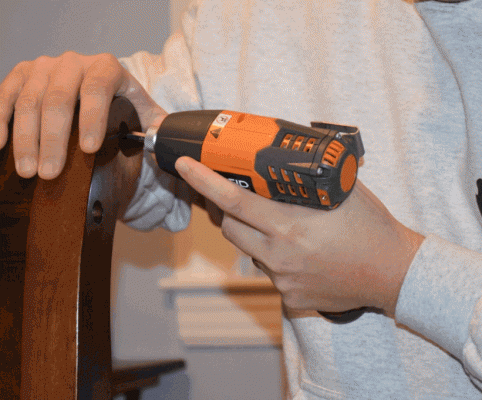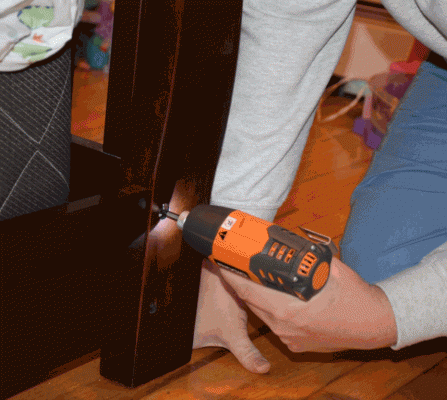 I was recently asked by my in laws to change up the hardware on their kitchen cabinets. Using the 12v drill I was able to easily change out the cabinet hardware with newer, more modern, style knobs. I was able to quickly and efficiently install all of the hardware for her with no issues. Again the performance was just as expected and anticipated.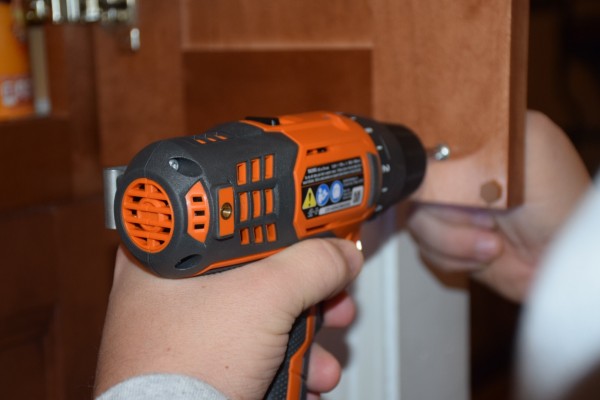 Overall Impression:
Overall, the RIDGID R9000K 12v Lithium-Ion Drill & Impact Driver Kit really impressed me. Whether it is simple around the house projects or small projects that keep loyal customers happy, these tools will get the job done. There are always going to be projects where 18 volt drills are too big and bulky for your specific needs. The RIDGID R9000K 12v Lithium-Ion Drill & Impact Driver Kit gives you that maneuverability without sacrificing the power or torque you will need to complete the task at hand.
RIDGID R9000K 12v Lithium-Ion Drill & Impact Driver Kit
$149.00
Home Improvement was definitely a fan favorite for tool enthusiasts all over the country during the 1990's. The "Tool Man" had Binford power tools, we have Ridgid power tools. The Ridgid R9000K 12v Hyper Lithium-Ion Drill & Impact Driver kit is just a small example of the fine craftsmanship we currently have in the 21st century. It would be pretty interesting to see Tim "the Tool Man" Taylor using some of this equipment that we get to use day in and day out.
About the author
Disclosure
Product reviews on this site contain our opinion of a product or service. We will always strive for objectivity and transparency in our reviews. Our goal is to provide readers with honest, objective information based on our own experiences. We never have and never will accept payment in exchange for a positive review. Many of the products that we review are provided to us for free by a manufacturer or retailer. In some cases, we also have advertising or affiliate relationships with manufacturers and retailers of products and services we review. For additional information please visit our additional disclosure policies.