New Angle Grinders from Bosch
Bosch Enhances Corded, Cordless Grinder Portfolio
New line of angle grinders boast stronger motors, improved ergonomics and superior user-protection features
In a major enhancement to its line of grinders, Robert Bosch Tool Corporation has rolled out a lineup of small angle grinders that feature some of the highest power, greatest  durability and most safety-focused options in the power tool industry.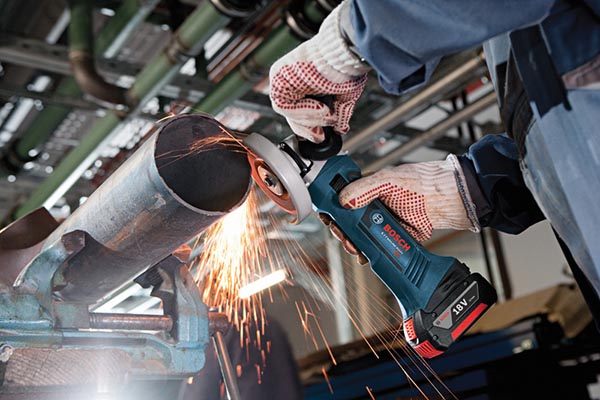 This updated portfolio of corded and cordless angle grinders combines best-in-class performance and overall tool lifetime with ergonomic design, including a re-engineering of paddle-grip switches. In addition, each tool offers real value by giving users grinders that deliver industry-leading durability for increased return on investment.
"We believe these new tools are some of the most versatile and cost-effective grinders on the market, delivering tool innovations unique to this class," said Mike Iezzi, product manager, grinders, Robert Bosch Tool Corporation. "We designed productivity and safety features based on input from individual users. So virtually every trade professional, from steel workers to contractors, contributed to development of these products."
At their core, all of the grinders in this series have two things in common: advanced performance and durability. Powerful new motors, extending from 10- and 13-amp models to 18V, deliver more amperage than their predecessors for faster work and greater productivity. In addition, many of the grinders are now the most durable in their class, combining longer carbon brush lifetimes, stronger motors, direct cooling and unparalleled motor overload protection.
In addition, longer multi-grip paddle switches allow users to grip the grinders in virtually any position along the ergonomic barrel. While convenient for the operator, this design change also ensures the tool's air inlets aren't obstructed by hands. This innovation is both a benefit to the user and an industry first.
The 18V cordless grinders (GWS18V-50 and GWS18V-45) models bring an extra level of performance and mobility to the jobsite with their powerful four-pole motors. And thanks to Bosch-exclusive Electronic Motor Protection (EMP) and Electronic Cell Protection (ECP), these cordless tools last longer while providing added flexibility.
Bosch Small Angle Grinders
GWS13-60

6-inch angle grinder featuring 13-amps and 9,300-rpm

GWS13-50

5-inch angle grinder featuring 13-amps and 11,500-rpm

GWS10-45

5-inch angle grinder featuring 10-amps and 11,500-rpm

GWS18V-50

Cordless 18V 5-inch angle grinder featuring 10,000-rpm and four-pole motor

GWS18V-45

Cordless 18V 4.5-inch angle grinder featuring 10,000-rpm and four-pole
To learn more about the Bosch's small angle grinder portfolio or to find a local dealer, visit www.boschtools.com or call 877-BOSCH-99. Check out www.bethepro.com for additional tips and videos.
Bosch Small Angle Grinders Portfolio Fact Box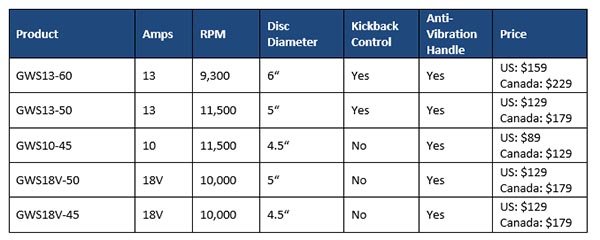 About the author
Disclosure
Product reviews on this site contain our opinion of a product or service. We will always strive for objectivity and transparency in our reviews. Our goal is to provide readers with honest, objective information based on our own experiences. We never have and never will accept payment in exchange for a positive review. Many of the products that we review are provided to us for free by a manufacturer or retailer. In some cases, we also have advertising or affiliate relationships with manufacturers and retailers of products and services we review. For additional information please visit our additional disclosure policies.