Porter-Cable 23GA, 1-3/8" Pin Nailer Kit Review
Porter-Cable 23GA, 1-3/8" Pin Nailer Kit (model PIN138)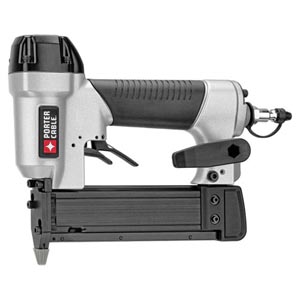 Earlier this fall Porter-Cable introduced the first ever maintenance-free pin nailer with its new 23GA, 1-3/8" Pin Nailer Kit (model PIN138). We've been testing the new pin nailer for the last couple months so that we could share this review. Pin nailers are essential for projects where normal brad nailers might split the wood or leave unsightly fastener holes. These are perfect for working on small moulding details or holding complex assemblies together while a glue joint cures.
Designed with a "Maintenance-Free Long Life"® motor, the new 23GA, 1-3/8" Pin Nailer Kit requires no oil to be added to the tool. The motor utilizes a dual-stack ring system where the outer ring is designed to minimize internal friction, resulting in longer tool life. "With the 'Maintenance-Free Long Life'® motor of the PIN138, there is no guessing how much oil needs to be added to the pin nailer," said Jorge Silveira, product manager for PORTER-CABLE. "Unlike all other pin nailers on the market, the PIN138 reduces the possibility of work surface oil contamination and promotes hassle-free tool operation."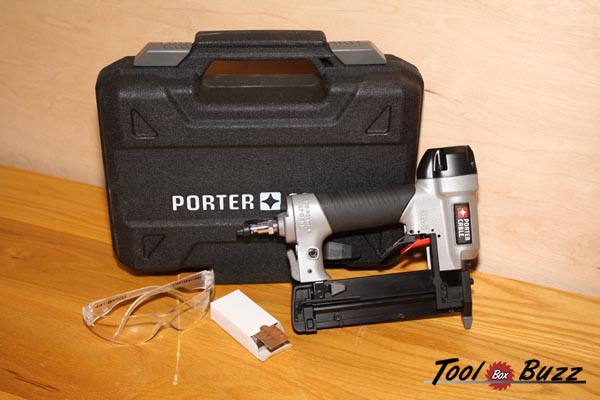 Product Features
Uses 23 Ga. headless and slight head pin nails from 5/8″ to 1-3/8″ length
Long life maintenance free motor to keep from staining the work surface
Includes: nailer, 2000 pin nails of 3/4″, 1/4″ plug with cap, wrench, and carrying case
Consistent power and penetration to sink 1-3/8″ nail sub-flush into Oak
Rear exhaust to keep contaminates away from work
Dry-fire lock-out alerts user to re-load nails and eliminates empty nail holes
Narrow nose design with removable non-marring nose tip with on tool storage
Tool automatically adjusts for different fastener lengths for easier loading and less problems with pins out of spec
Convenient side-load magazine holds 130 micro pin nails
Reversible belt clip to keep tool close to user
Special harden driver blade to deliver long life
Dual trigger feature
Low nail reload indicator
Integrated rubber grip for improved comfort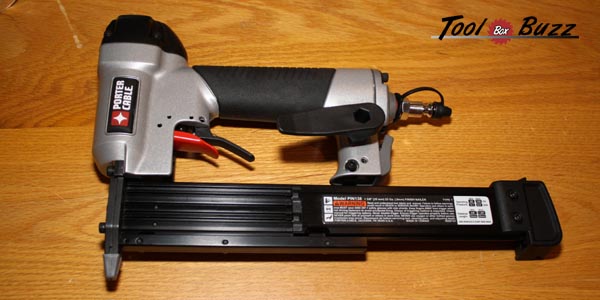 Porter-Cable PIN138 Review
Out of the Box
The Porter-Cable PIN138 23 Gauge Pin Nailer kit comes in a plastic carrying case with a set of safety glasses and 2,000 3/4″ long 23 GA pins. It also comes with a standard 1/4″ (6.4 mm) male quick connector coupling on the nailer (something many other nailers do not come with standard). The nailer itself comes with a no-mar tip already attached plus a spare one mounted to the side. A small wrench is also attached to the side of the magazine which is used for removing the nose to clear jambs.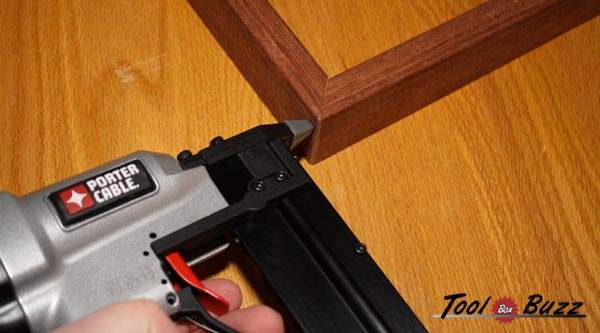 Performance
I tested the Porter-Cable PIN138 Pin Nailer on several projects. Most recently I used the nailer to fasten some small picture frames together which I made from Cambara. Cambara wood splits easily and it's really hard. The pin nailer did a great job driving the pins into the hard wood and not splitting it. The beauty of using such small headless pins is you can't see the holes!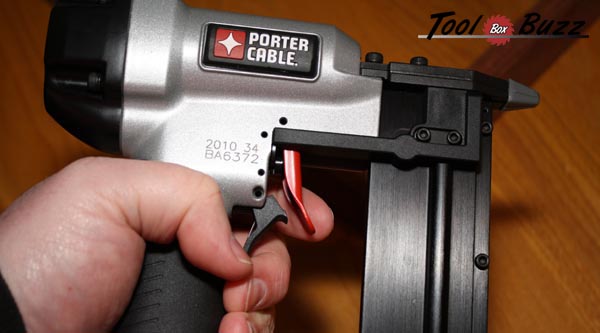 Safety Trigger
Because of the delicate nature of the work done with pin nailers they often do not include a safety device at the nose similar to framing nailers. In the past pin nailers were manufactured with no safety firing device at all. Today modern nailers must provide a 2nd trigger or double safety type mechanism to prevent dangerous unwanted firing.
The new Porter-Cable Pin Nailer includes a double trigger system. You must first depress the safety trigger then you can pull the main firing trigger. It took me a few minutes to get used to pulling both triggers but after a short while it was second nature. As you can see in the photo I use my middle finger to squeeze the safety trigger and my index finger for the firing trigger.
Overall Impression
The Porter-Cable PIN138 Pin Nailer Kit is a very well built and performing light gauge pin nailer. Inserting pins is easy to do and I really like the dry-fire lock-out feature which prevents the tool from firing when it's out of pins. I'm especially impressed with the oil free operation which eliminates the dangers of having gun oil spraying out on finished wood surfaces. Honestly there's really nothing that I would point out needing improvement.
The pin nailer kit is priced at just over $100 which I think is a great value for a well built pin nailer. If you don't own a pin nailer then I really recommend you try this one. It is backed by a three-year limited warranty and includes one year of free service and a ninety-day money back guarantee.
Where To Buy
The pin nailers are now available at local retailers and online at the following links:
About the author
Disclosure
Product reviews on this site contain our opinion of a product or service. We will always strive for objectivity and transparency in our reviews. Our goal is to provide readers with honest, objective information based on our own experiences. We never have and never will accept payment in exchange for a positive review. Many of the products that we review are provided to us for free by a manufacturer or retailer. In some cases, we also have advertising or affiliate relationships with manufacturers and retailers of products and services we review. For additional information please visit our additional disclosure policies.