Paslode 2 Year Service Promise
No Cost, No Questions Service & Repair on Eligible Cordless Systems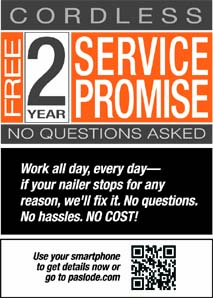 I really dislike trying to get my tools repaired or serviced. Why you ask? Because the entire process usually wastes more time than it's worth and frankly ends up costing me more money than simply replacing the tool. The folks at Paslode seem to have figured this out and they are now offering contractors a No Cost, No Questions, 2 Year Service Promise that changes the game.
Their new Two Year Service Promise covers their Li-ion Cordless Framing Nailer (CF325Li), 16 Ga Angled Cordless Li-ion Nailer (IM250Ali) and Cordless Roofing Nailer (CR175C), as well as the Duo-Fast Cordless Roofing Nailer (DFCR175C) (for more details you can click here).
Paslode ensures a three-day factory service turnaround and covers all shipping costs to receive and return the cordless nailer to the customer. (Note: 3 days is factory time, does not include shipping time).
Two Year Service Promise Details.
There are three simple steps required to participate in the 2 Year Service Promise program.
First, Paslode users enroll online at www.paslode.com or by mail; those who enroll online will receive an additional two-month Service Promise extension.
Second, participants simply activate their account.
Finally, active members have the opportunity to initiate a service claim, which can be completed online as well as via phone or mail depending on the customer's preference, and Paslode will provide a pre-paid mailing label, packing instructions and UPS locations for shipment of the product.
No Questions, No Hassle, NO COST!
This is exactly the kind of service plan I want for tools that my crew uses because it's simple and guarantees we'll have a tool back on the job soon. Time is money in our industry and having a service plan that ensures when I can get the crew back to work really is a big deal. By making the return process easy combined with no cost Paslode has given me a huge reason to stick with their tools.
Below is a short video from one of our Editors, Rob Robillard, on how this new Service Plan affects his renovation business.
Free Tool Replacement If They Can't Fix It
Their new 2 Year Service Promise is so good that they also promise to replace your tool if it can't be fixed. On top of that, the replacement tool comes with another 2 Year Service Promise! So when you combine all the features of this you know that you'll have your tool back on the job in a very short time frame helping get the job done.
About the author
Disclosure
Product reviews on this site contain our opinion of a product or service. We will always strive for objectivity and transparency in our reviews. Our goal is to provide readers with honest, objective information based on our own experiences. We never have and never will accept payment in exchange for a positive review. Many of the products that we review are provided to us for free by a manufacturer or retailer. In some cases, we also have advertising or affiliate relationships with manufacturers and retailers of products and services we review. For additional information please visit our additional disclosure policies.