Bostitch GFN1564K Angled Finish Nailer Review
Bostitch GFN1564K Gas-Powered Angled Finish Nailer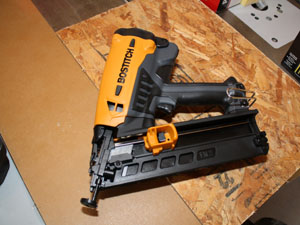 The folks at Bostitch recently sent us the all new Bostitch GFN1564K Angled Finish Nailer to test out and share our thoughts with all of you! The GFN1564K is a gas-powered, cordless, angled finish nailer perfect for all aspects of trim carpentry. Check out the following features and our analysis of this new tool for the finish carpenter.
Bostitch GFN1564K Features
Lightweight construction at 4.2 lbs
Precision Balanced with battery inline for ergonomics and control
Tool-Free Depth Control for precise fastener placement
Low Nail Lock-Out prevents dry fire and extends tool life
Tool-Free Jam Clearance reduces downtime
Over-Molded Grip for comfort and control
Utility Hook
Range: 1-1/4″ – 2-1/2″ FN Style
Weight: 4.2 lbs (w/battery)
Battery: 3.6 volts (Li-ion)
Charging Time: 1 Hour
Bostitch GFN1564K Kit
The GFN1564K comes in a kit which includes the nailer, 3.6 volt lithium-ion battery pack, wall charger, car charger and the heavy duty plastic storage case. Gas cartridges are sold separately and the nailer uses the FN style 15 gauge finish nails, again sold separately.
Bostitch GFN1564K Angled Finish Nailer Review
I've been using Bostitch nailers for years so when I heard about the new line of cordless gas-powered nailers I was really excited to try them.
15 gauge finish nailers are a staple in the finish carpentry arena for doing product trim work like window, door and base trims. So having a reliable, powerful, finish nailer that works without a loud compressor can be a nice advantage for some carpenters. These type of nailers are also great for job-sites that lack electric service.
Power & Fuel System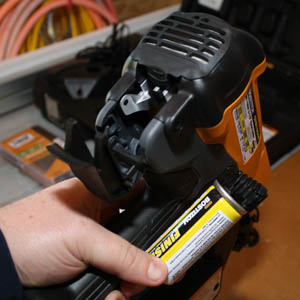 The GFN1564K is powered by a combination of a 3.6 volt Lithium-Ion battery and high-pressure gas fuel cells. Each fuel cell is capable of driving approximately 1,200 nails (according to Bostitch). The fuel cells also provide  convertible valve module to offer compatibility with Paslode, Senco and Hitachi cordless nailers.
I found the GFN1564K Finish Nailer consistently delivered enough power to drive the 15 gauge finish nails in all the trim materials that I tested it on. I tested the nailer on pine, oak and poplar trim with consistent results.
The high-pressure fuel cells are sold in boxes of 4. When you open the box you'll find each fuel cell has a cover on it which needs to be removed. After you remove the cover you'll need to install the valve assembly which snaps onto the cell (this takes quite a bit of force so don't be shy!).
Once the valve assembly is snapped on the fuel cell you just drop the fuel cell into the top of the nailer and snap the cover shut.
Additional Features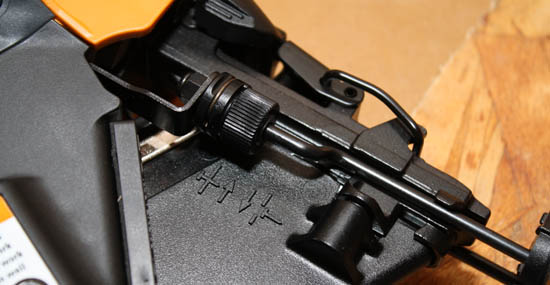 The GFN1564K comes with several nice features that are worth pointing out.
The first feature that I found very useful was the easy to use depth of drive adjustment. As you can see in the photo above they have a really nice graphic showing which direction to turn the adjustment in order to increase or decrease the depth of drive. This feature helps eliminate the guess work and multiple nail shots figuring out which direction is up or down.
Removing jammed nails is really easy with the simple to use nose covering. As you can see in the photo when you open up the nose assembly the drive shaft moves out of the way so you can easily remove the nails.
Another nice feature is the metal utility hook. The hook is great for hanging the tool from a tool belt or ladder. I like that it's built of metal compared to some nailers on the market that use plastic hooks.

Lastly I really like that both the nailer and the case have clear markings with information about the tool. As you see above they have included information about the fasteners and fuel needed for the nailer. The fuel cells are color coded as well (see yellow above) which matches the gas cartridges.
Final Thoughts & Impressions
The Bostitch GFN1564K 15 Gauge FN Angled Finish Nailer is really impressive and well built. Bostitch has done a really great job creating a gas-powered cordless finish nailer that works just as well as a traditional pnuematic. Kudos to their engineers for creating this cordless version that doesn't compromise on the performance that many of us have come to appreciate from their traditional air powered nailers. If you are in the market for a cordless finish nailer then I highly recommend you add this model to the list of possibilities
Where To Buy
The Bostitch GFN1564K 15 Gauge FN Angled Finish Nailer is already available to purchase for around $300. Check with your local Bostitch dealer or you can buy one online at one of the two links below.
About the author
Disclosure
Product reviews on this site contain our opinion of a product or service. We will always strive for objectivity and transparency in our reviews. Our goal is to provide readers with honest, objective information based on our own experiences. We never have and never will accept payment in exchange for a positive review. Many of the products that we review are provided to us for free by a manufacturer or retailer. In some cases, we also have advertising or affiliate relationships with manufacturers and retailers of products and services we review. For additional information please visit our additional disclosure policies.