Milwaukee PACKOUT Modular Tool Storage, Organization and Transport System
Milwaukee PACKOUT Tool Storage
Milwaukee Tool PACKOUT is a modular, tool transportation, organization, and storage for the trades.
Featuring Mod-Lock™, a new-to world attachment system that allows boxes, organizers, and totes of multiple sizes and configurations to easily stack and lock together.
Mod-Lock
The Mod-Lock™ is an intuitive and quick attachment mechanism that gives users the freedom to stack and lock PACKOUT™ tool boxes, organizers, and totes of different sizes in numerous configurations that best suit their needs.
Milwaukee PACKOUT Video Preview
The initial PACKOUT™ Modular Storage System will consist of 8 products – 3 tool boxes, 2 organizers, and 3 storage totes.
Tool Boxes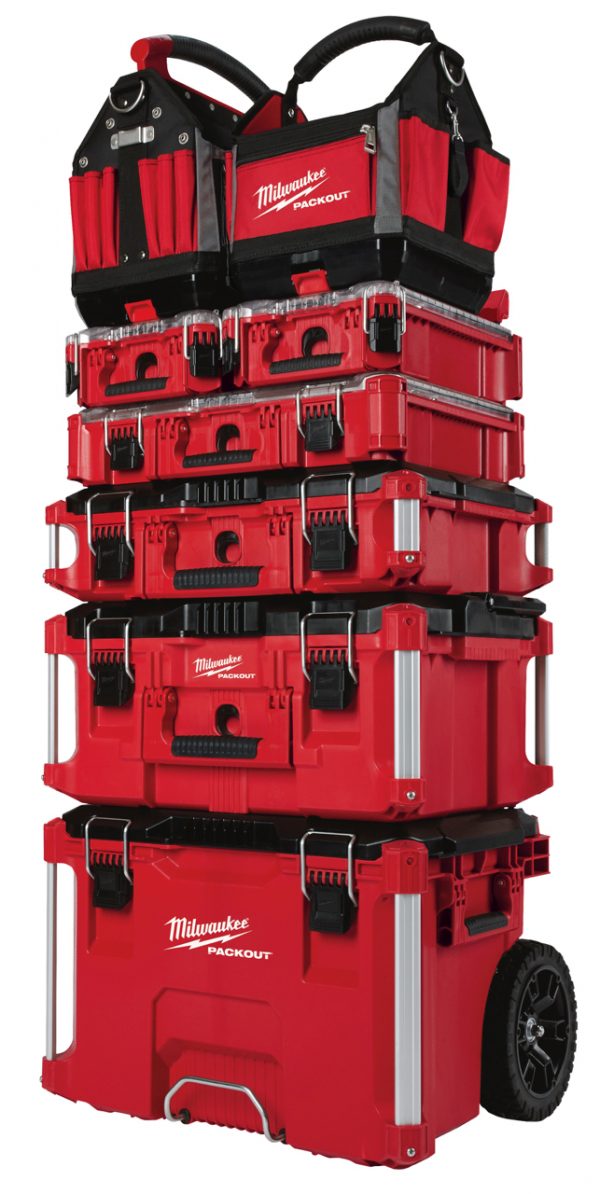 Rolling Tool Box
The base of the PACKOUT™ Modular Storage System is the PACKOUT™ Rolling Tool Box. 9" all-terrain wheels allow the Rolling Tool Box to easily roll over a variety of rough surfaces, and a metal through-axle secures the wheels providing a stronger connection and longer life in jobsite conditions.
An industrial-grade extension handle is designed to support box loads up to 250 lbs, and its wide handle produces a more comfortable grip during transportation. In addition, metal reinforced corners provide ultimate durability.
Internal Tray Organizers
Users can also choose to utilize the PACKOUT™ Large Tool Box or PACKOUT™ Tool Box to securely stack and transport on top of the PACKOUT™ Rolling Tool Box. Each features an internal organization tray for hand tools and accessories.
Durable
All Tool Boxes in the PACKOUT™ System are constructed with impact resistant polymer, IP 65 rated seals to prevent damage from water and jobsite debris, metal reinforced corners, and TICK™ mounting locations on the lids.
Organizers
The PACKOUT™ Organizer and PACKOUT™ Compact Organizer are designed to securely stack and transport on top of any PACKOUT™ tool boxes. Each includes small and large removable bins that can be mounted on common jobsite materials by utilizing integrated screw slots. A No-Travel Bin seal around the perimeter of each bin prevents small items from migrating from one bin to the other. Each utilizes impact resistant polymers and is IP 65 rated to prevent damage from water and jobsite debris.
Totes
Soft Storage Totes
Unique to the Milwaukee PACKOUT™ modular storage system is the integration of soft storage totes designed to attach to the top of any PACKOUT™ storage box or organizer. This allows users to not only attach a storage tote to the top of their PACKOUT™ system for transport, but also gives the flexibility to attach an organizer to the bottom of a tote for quick tasks that only require a few hand tools and small fasteners.
Available in 10", 15" or 20", the new soft-sided totes can fit a wide variety of tools – from accessories and screwdrivers, to impact drivers and SAWZALLs. Each is constructed of 1680D ballistic material and their impact resistant molded bases are up to 5X more durable than competitive bases, protecting contents from water, abrasion and impact.
Part of a growing line of storage solutions from Milwaukee®, the new PACKOUT™ Modular Storage System will be available in September of 2017. Dedicated to delivering advanced solutions to increase productivity, Milwaukee's Storage category – as well as the PACKOUT™ System – will continue to grow and offer innovative organization solutions for the trades.
PACKOUT™ Modular Storage System Tool Boxes:
PACKOUT™ Rolling Tool Box 48-22-8246 ($129.99)
PACKOUT™ Large Tool Box 48-22-8425 ($79.99)
PACKOUT™ Tool Box 48-22-8424 ($69.99)
Organizers
PACKOUT™ Organizer 48-22-8431 ($44.99)
PACKOUT™ Compact Organizer 48-22-8435 ($29.99)
Storage Totes
PACKOUT™ 20" Tote 48-22-8320 ($129.99)
PACKOUT™ 15" Tote 48-22-8315 ($99.99)
PACKOUT™ 10" Tote 48-22-8310 ($79.99)
About the author
Disclosure
Product reviews on this site contain our opinion of a product or service. We will always strive for objectivity and transparency in our reviews. Our goal is to provide readers with honest, objective information based on our own experiences. We never have and never will accept payment in exchange for a positive review. Many of the products that we review are provided to us for free by a manufacturer or retailer. In some cases, we also have advertising or affiliate relationships with manufacturers and retailers of products and services we review. For additional information please visit our additional disclosure policies.