Milwaukee Carbide Torch Metal Reciprocating Saw Blade

Milwaukee Reciprocating Saw Blades
Job sites are probably the most demanding, "tool testing sites," that exist, when demolition is part of the project, things get even more rigorous and demanding. Reciprocating saws are used at all levels of construction, they are probably seen the most in the remodeling and demolition stages of a project. While the reciprocating saw is just the "vehicle," to the demo. The secret sauce lies in the cutting blade, it's geometry, tooth design, metallurgy and tooth count.
Milwaukee has introduced some new reciprocating saw blades recently targeted at the construction and demolition industry. Earlier this year we tested their new AX blade with carbide teeth blade and we were able to put it through a demolition related torture test to show you what you can expect for performance. The AX blade is geared towards wood and wood framed construction demolition. In this article we'll be looking closer at their latest release, the Torch™ Blade with Carbide Teeth. The Torch™ is geared towards metal cutting applications.
Milwaukee Torch™ with Carbide Teeth Blade
The Milwaukee Torch™ reciprocating blade was designed to cut metal faster than regular bi-metal blades in thick metal and cast iron. Designed to cut metal FAST, this blade is not a replacement for a band saw but an additional tool in your arsenal of job site cutting solutions. We look at it as a saw blade for pure demo and tight access cuts. Let's face it, in remodeling and demolition the pipes are NOT always easily accessed for cutting. Its in these situations that a reciprocating blade can better access an area better than a band saw.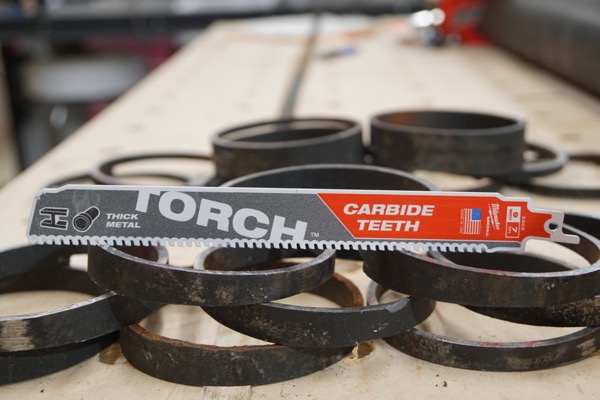 Materials the Torch™ is Designed to Cut
Angle iron
Schedule 40 black pipe
Gas pipe
Rigid conduit
Rebar
Cast iron
Stainless steel
Boron
Heavy Metals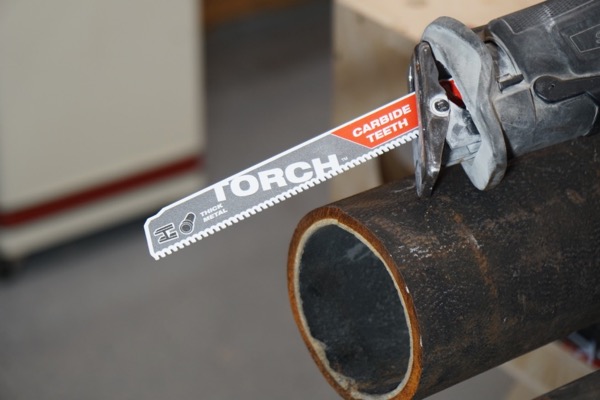 Torch™ Reciprocating Saw Blade Design
The Torch™ with carbide teeth saw blade is made in Milwaukee's Greenwood, Mississippi saw blade plant. These blades have 25% more carbide-per-tooth than any other carbide metal-cutting reciprocating blades on the market. According to Milwaukee, their design offers more carbide than a MK Morse or Diablo carbide blade. This blade is also 20% thicker than previous Torch bi-metal blades. With this design users can reliably cut metal in thicknesses ranging from 3/16″ to 1/2″.
7 Tooth Per Inch
The blades are a 7 TPI straight-tooth set design which allows for 70% larger gullets between the teeth. In comparison, the Diablo Steel Demon uses an 8 TPI design. The larger gullet space allows for faster chip removal. Traditional aggressive metal cutting applications, like stainless steel, result in chips tending to gum up the saw blade gullets. In that scenario it is often where we see saw blade teeth tearing off the blades cutting edge. By utilizing the larger gullets the Torch™ is designed to reduce the tendency to clog or gum up the gullets. Larger gullets also help improve cutting speed resulting in faster overall cutting performance.
TORCH Blade Tip Shape
If you look at the front end of the Torch™ blade you'll notice it looks a bit like a US Navy, Zumwalt-class guided missile destroyer. Ok maybe not, but the front end of the Torch™ saw blade has unique angles, that help deflect the blade off struck objects, and help prevent bent, kinked or damaged blades.
Torch™ Carbide Grinding Process
Milwaukee welds individual pieces of carbide to each tooth on the Torch™ blades. After the carbide is welded on, the blades then undergo a grinding process to shape the teeth. Unlike others, Milwaukee utilizes a double grind process, where the full the top of teeth and vertical surface of the gullet are ground to super sharp edges.
Torch™ Field Testing and Development
When designing this blade, Milwaukee performed job site research with many different crews and professionals. For example, the Tesla repair crew needed a better way to remove and replace the "B Pillar" between the two doors. This repair involves cutting of Boron posts. Boron is an ultra-high-strength steel often seen in roll cages, reinforced frames and crash bars. Tesla needed a carbide tipped saw blade, because a reciprocating saw would fit into the space and it was safer to use than a grinder or torch.
Milwaukee also worked with, and field tested the Torch™ blade, with the Milwaukee Heavy Urban Rescue Team [H.U.R.T.]. The HURT team is equipped and trained to perform technical rescue in the following disciplines: Structural Collapse Rescue, Confined Space Rescue and Trench Rescue. The H.U.R.T team found that the Torch™ blade cut Boron and vehicle frames and metals found in buildings faster than the "Jaws of Life", and bi-metal reciprocating blades.

Who Will Use the Torch™ Blade?
The carbide Torch™ blade opens more doors for soling problems on the job site. We see key Torch™ carbide saw blade users as:
Remodelers
General Contractors
Plumbers
Mechanical contractors
Electricians
Demolition Crews
Fire and Rescue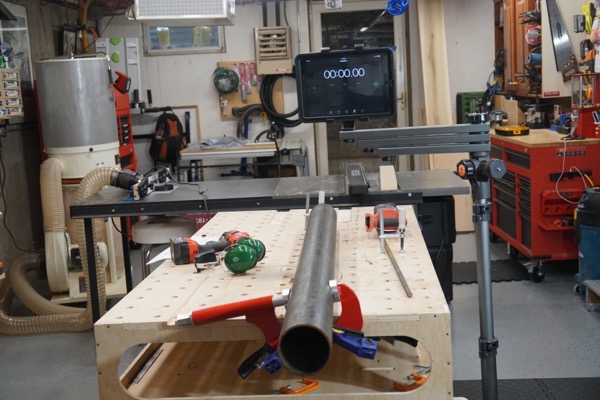 Milwaukee Torch™ Blade Life – Test Cuts
According to Milwaukee the Torch™ blade cuts longer, cuts more and cuts faster than bi-metal blades. Milwaukee claims the following blade cuts:
20+    cuts Cast Iron
20+    cuts 1/2" Stainless Steel
50+    cuts Rebar
30+    cuts Angle Iron
125+  cuts Black Pipe
300+ cuts Rigid Conduit

Our Testing the Milwaukee Torch™ Carbide Blade
I wanted to be able to show the long-lasting, fast cutting capabilities of this blade. At the same time, I wanted to create a test that would really challenge the blades. On remodeling and demolition projects we often find ourselves cutting all types of metal from pipes, to masonry lintels, threaded rod, EMT, water and sewer lines and rebar.
To evaluate for cutting speed and blade life, I chose to use cast iron steel pipe and #4 rebar for test materials.
Ductile Water Pipe Cutting [13/16" thick walls]
Ductile Iron Pipe is used as a pressure pipe for transmission of water, gas and sewage. Ductile pipe has a mortar lining which I felt would make a really tough material to cut. Typically, this pipe is cut in the field with a gas saw and diamond blade.
In addition to using the Torch™ Carbide blade, I also used the Diablo Steel Demon Carbide Tipped blade, and Lenox's Carbide grit blade for comparison purposes.
I quickly determined that this material was too difficult to cut for these reciprocating saw blades. I stopped both the Torch™ Carbide Teeth blade and the Diablo Steel Demon blade after 6-minutes of continuous cutting. This pipe was too tough for these blades. Both blades cut approx. 10.25" inches of this pipe. The Lenox carbide grit blade cut the metal portion of the pipe but stopped when it hit the mortar lining.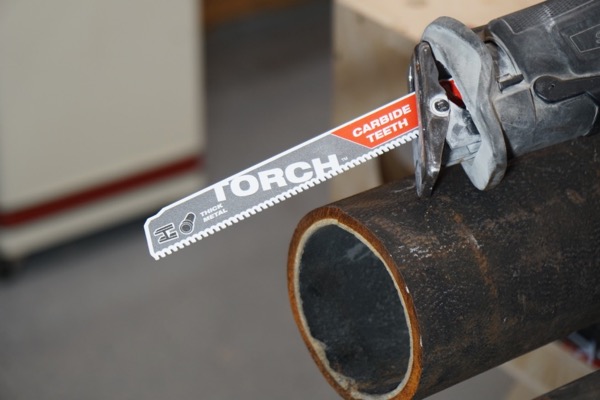 4" Black Cast Iron Water Pipe [5/16" thick walls]
I want to note that the preferred cutting of pipe would be a band saw. In restricted access areas, a diamond grit blade, "used to be," the best way to cut cast iron pipe, but it takes a long time. The Torch™ blade can reduce that diamond grit cutting time from 2 minutes to 30-seconds. For comparison purposes I used the Diablo Steel Demon Carbide Tipped blade. I performed two tests each, with a fresh blade, compiled the test results and determined the average cut speed. Below are the compared results.
8 cuts – average cut speed results:
Milwaukee Torch™: 45-second average cut.
Diablo Steel Demon: 44-second average cut.
½" #4 Reinforcement Steel [Rebar]
Reinforcing bar or rebar is used to add tensile strength to concrete. We run into rebar a lot on the jobsite and often see it used to pave roads, build pools, and reinforce concrete footings, slabs, piers, columns and walls. For comparison purposes I used the Diablo Steel Demon Carbide Tipped blade. I performed two tests each, with a fresh blade, and compared the results.
20 cuts – average cut speed results:
Milwaukee Torch™:   4.4-second average cut.
Diablo Steel Demon:  5.2- second average cut.
The end result was 0.8 [8/10s] of a second difference. I continued to make cuts with the Torch™ Carbide Tooth blade and stopped at 45 cuts, due to fatigue. The blade was still cutting but was dulling and slowing down. Below is a diagram showing both the Torch™ and Steel Demon blade performance.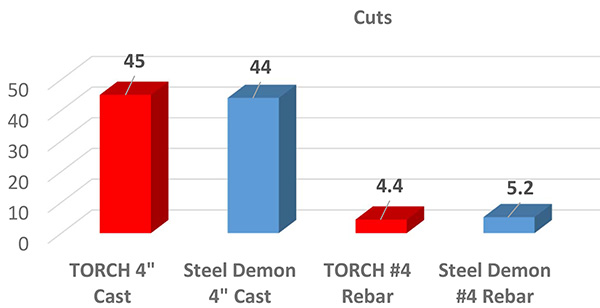 Torch™ Saw Blade Sizes
Milwaukee will be offering the Torch™ and the AX carbide teeth blades in pack configurations of one, three and five along with the following lengths:
These blades will be available mid 2018.
Cost
48-00-5201 TORCH CARBIDE TEETH  7T  6L   1PK  $11.99
48-00-5202 TORCH CARBIDE TEETH  7T  9L   1PK  $15.99
48-00-5203 TORCH CARBIDE TEETH  7T  12L 1PK  $19.99
48-00-5301 TORCH CARBIDE TEETH  7T  6L   3PK  $32.99
48-00-5302 TORCH CARBIDE TEETH  7T  9L   3PK  $43.99
48-00-5303 TORCH CARBIDE TEETH  7T  12L  3PK  $54.99
48-00-5501 TORCH CARBIDE TEETH  7T  6L    5PK  $50.99
48-00-5502 TORCH CARBIDE TEETH  7T  9L   5PK  $67.99
48-00-5503 TORCH CARBIDE TEETH  7T  12L  5PK  $84.99
Milwaukee Torch™ -Is it Worth it?
Yup!  I was impressed by the longevity, toughness and speed of cut with the Torch™ blade. It cut fast and clean. For several years' Diablo has stood ahead of the pack with their Steel Demon Carbide Tipped blade, and the Milwaukee Torch™ with Carbide Teeth just crashed that party.
If you're in the trades, I see the Milwaukee Torch™ with Carbide Teeth as a fast solution, and an additional option to older metal cutting methods. The Torch™ carbide tipped blade will offer another possible cutting solution for difficult metals, and it will certainly improve your demolition efficiency. You need a few of these blades in your reciprocating saw box.
Save
Save
Save
Save
Save
About the author
Disclosure
Product reviews on this site contain our opinion of a product or service. We will always strive for objectivity and transparency in our reviews. Our goal is to provide readers with honest, objective information based on our own experiences. We never have and never will accept payment in exchange for a positive review. Many of the products that we review are provided to us for free by a manufacturer or retailer. In some cases, we also have advertising or affiliate relationships with manufacturers and retailers of products and services we review. For additional information please visit our additional disclosure policies.