Festool Domino Connectors
Festool Domino Joiner Integrates Stable, Detachable, Connectors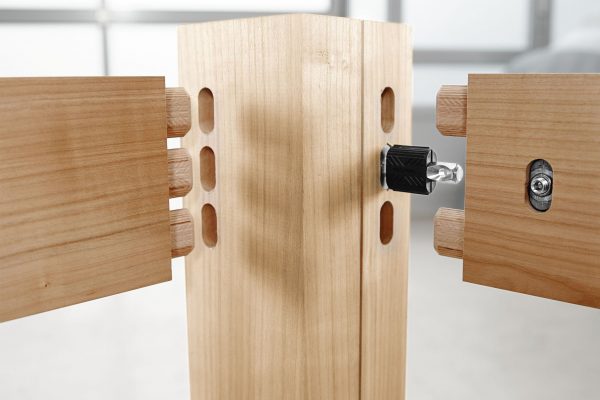 New fasteners enable quick assembly – and disassembly – of heavy pieces
The new Festool Domino XL Connectors can create flat or corner joints providing simple and quick connections without the need for templates or complex measuring. Colored cover caps provide high-quality corner connection appearance. Available as a set or as individual components.
Festool Domino Connectors are:
Fast – Quick and simple machining processes with the Domino Joiner provide the basis for rapid assembly of flat and corner joints utilizing Domino fasteners for knock-down design. This allows rapid building, moving, and reassembling of large pieces.
Stable – Based on the Domino mortise-and-tenon principle, joints made with the Domino joiner benefit from the design of the oblong mortise and mating tenon and the knockdown metal fastener is robust with high connection strength.
Flexible – Connect frames, panels, tops, and other large joints and pieces and easily disconnect and reconstruct as needed. End users will also be able to move heavy furniture quickly and easily.
Festool Domino Connector Kit
259.00
About the author
Disclosure
Product reviews on this site contain our opinion of a product or service. We will always strive for objectivity and transparency in our reviews. Our goal is to provide readers with honest, objective information based on our own experiences. We never have and never will accept payment in exchange for a positive review. Many of the products that we review are provided to us for free by a manufacturer or retailer. In some cases, we also have advertising or affiliate relationships with manufacturers and retailers of products and services we review. For additional information please visit our additional disclosure policies.