Bosch Blue Granite Turbo Hammer Drill Bits
Bosch Blue Granite Turbo Masonry and Tile Drill bits
Lately it seems that Bosch has been churning out really cool accessories.   From multi tool blades to drill bits.  Most recently they are offering the Blue Granite Turbo Hammer Drill Bits.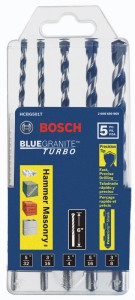 Designed for drilling  holes in masonry.
Turbo masonry bits – from ease of chucking in the tool to precise holes, these bits are built to deliver best-in-class drilling in masonry applications.      Bosch Blue Granite Turbo bits begin with the aggressive holds achieved on the PowerGrip™ shank. Steel teeth that extend from the shank are designed to catch between the jaws of power tool chuck systems. That means the bit is easy to chuck in the tool and the bit won't slip even in high-torque applications.
The tip of the Blue Granite Turbo bit is Bosch carbide, made to demanding specifications in Bosch facilities, that's diamond ground for precise starts in tile, granite and other natural building materials. And the bit will avoid scratching the work surface because the centric design of the tip reduces skating or walking on hard surfaces.
"Blue Granite Turbo represents a re-thinking of the masonry bit, top to bottom," said Andrew Pompei, Bosch product manager, concrete/masonry. "The new design of the bit head results in more speed at the point of contact with the material, tile or natural stone. The effect is a more precise start. Pros know that adds up to better, more accurate holes. And that saves both time and money."
The Blue Granite Turbo carbide head is robust to ensure long life in impact applications. Milled, deep-cut u-flutes offer fast dust removal. All of these features combine for a fast, long-lasting and easy-to-use bit for masonry, tile and light concrete applications.
Bosch Blue Granite Turbo hammer drill bits are available now at distributors and home centers.
About the author
Disclosure
Product reviews on this site contain our opinion of a product or service. We will always strive for objectivity and transparency in our reviews. Our goal is to provide readers with honest, objective information based on our own experiences. We never have and never will accept payment in exchange for a positive review. Many of the products that we review are provided to us for free by a manufacturer or retailer. In some cases, we also have advertising or affiliate relationships with manufacturers and retailers of products and services we review. For additional information please visit our additional disclosure policies.