Bosch GTS1031 10" Portable Jobsite Table Saw Review
Bosch GTS1031 10" Portable Jobsite Table Saw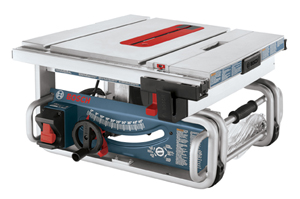 During the past year I've  had the pleasure of evaluating two of the best power tools to come along in quite some time. Both of them happen to come from the amazing engineers at Bosch. The new GCM12SD Glide Miter Saw which I think is the absolute best miter saw on the market and now the GTS1031 Compact Portable Table Saw.
I've been a huge fan of Bosch's Jobsite Table Saws for years and my crew uses them exclusively. However, they are heavy and really require two men to move them safely if stairs or obstacles get in the way of the wheeled gravity rise stand. So when I got my hands on the new GTS1031 Portable Jobsite Table Saw last month I was really eager to see how it performed and how portable it really was. Before getting to the details let me just say I was blown away!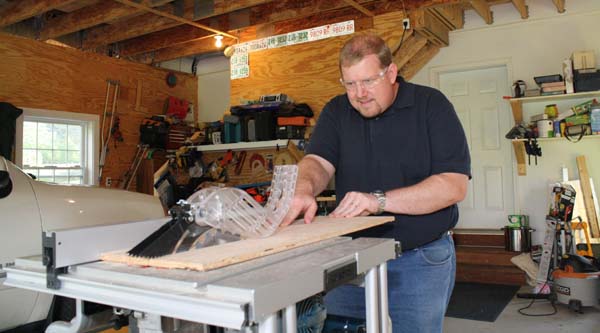 Bosch GTS1031 Specifications
Amperage: 15 Amp
Arbor Size: 5/8″
Bevel Angle Range: -2° to 47°
Blade Diameter: 10″
Dado Capacity: 1/2″
Depth of Cut at 90 Deg.: 3-1/8″
Dimensions: 22.5" W x 22.5" D x 13" H
Max. Motor HP: 4.0
No Load RPM: 5,000
Rating: 120 V
Ripping Capacity-Left: 7-3/4″
Ripping Capacity-Right: 18″
Table Top Dimensions: 22.5" W x 20" D
Weight of Saw (lbs.): 52
How The GTS1031 Stacks Up
While the new GTS1031 is only 52 lbs, 8 lbs lighter than it's bigger brother the Model 4100, it's the compact nature of the design that makes this saw a one-handed saw. As you can see in the adjacent photo Jason Feldner from Bosch demonstrates how you can carry the new GTS1031 with one hand while climbing stairs or walking through a doorway. This is truly a compact portable saw that ONE man can handle.
Power
The first and most obvious question that I had was how does the new GTS1030 compare to the larger jobsite table saw with regard to power. Both saws offer 15 amp motors with a maximum motor horsepower of 4. The new saw offers a much faster blade speed at 5,000 rmp's compared to just 3,650 rpm's for the larger saw.
I tested the new saw cutting a variety of materials including; pressure treated 2x framing lumber, 3/4″ oak plywood, 1/2″ underlayment and OSB, Birch cabinet trim and a piece of Brazilian Cherry stair tread. I was pleasantly surprised at how easily this saw cuts through all those materials including the pressure treated framing lumber! I felt zero difference in power between both saws.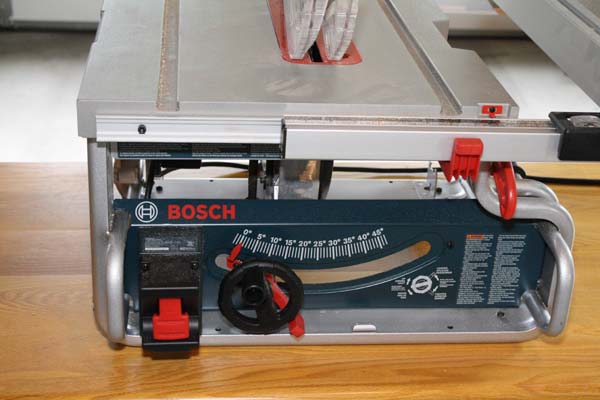 Features
The thing that makes the Bosch GTS1031 so great in my opinion is it's compact design with all the features you expect from a quality table saw. As you can see from the photo above you can adjust the blade depth and bevel from the front panel. The controls are very smooth and easy to adjust (something I've come to expect from Bosch Tools). The large power switch is very visible and easy to reach.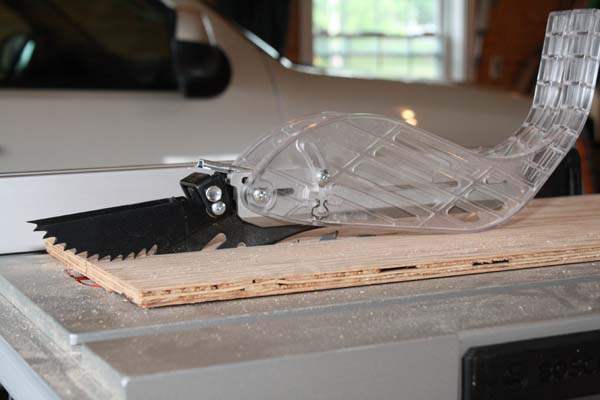 I especially like the table saw guard and riving knives on the GTS1031. They are the same ones used on the larger model currently and they work very well. The split guard can be lifted up out of the way and locked into the up position for a better line of site if needed. Both the riving knives and guard can be quickly removed with one hand. Both can be stored under the saw for transportation.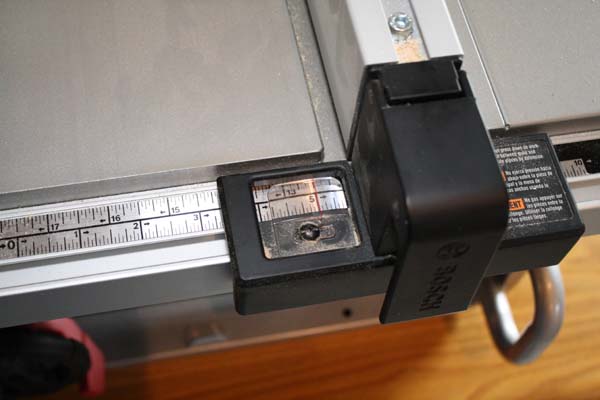 The GTS1031 comes with an easy to use and accurate fence. Pictured above is the magnified fence position rule which can be adjusted to the adjustable table. The table can be expanded for cuts up to 18″ wide to the right of the blade.
The saw also comes with a large plastic push stick and wrenches for changing the blades. Both are stored under the saw for convenience and portability.
Final Thoughts
Bosch has really hit several products out of the park this year and the GTS1031 Compact Portable Table Saw is one of them. This saw is perfect for contractors that work alone, do trim work or punch list tasks. The saw is extremely compact and portable which really makes it quick and easy to set-up on the job site.
If I had one complaint it would be the size of the expanded table. The saw can make a maximum rip of 18″ which can be a tad limiting with sheet goods. I'd love to see a modification to the expanding table for 24″ wide rips.
Other than that I highly recommend this compact table saw. It has plenty of power and offers a saw that's very easy to move from job to job. If you're in the market for a portable table saw you should definitely consider the Bosch GTS1031.
If you want to buy this new saw you can get it at the following link:
About the author
Disclosure
Product reviews on this site contain our opinion of a product or service. We will always strive for objectivity and transparency in our reviews. Our goal is to provide readers with honest, objective information based on our own experiences. We never have and never will accept payment in exchange for a positive review. Many of the products that we review are provided to us for free by a manufacturer or retailer. In some cases, we also have advertising or affiliate relationships with manufacturers and retailers of products and services we review. For additional information please visit our additional disclosure policies.