DEWALT DWE315K Corded Oscillating Multi-Tool Review
Multi-Tool Kit with Tool-Free QUICK CHANGETM System
Dewalt DWE315K Oscillating Multi-Tool Kit
Manufacturer:
DEWALT
Model number:
DWE315K
Price:
$159
Power source:
115V A/C
Motor size:
3 Amp
Weight:
3.1 lbs
DEWALT certainly is late to the game with their first oscillating tool, however they certainly have brought their "A" game with the DWE315K. From the very first look at this new multi-tool you get the impression that it was built for heavy duty use in the field. The kit comes with the DWE315, contractor bag, accessory storage box, DEWALT Oscillating Tool Guide System, wood and nails blade, fast-cut wood blade, semi-circle blade, sanding pad, 25 sheets of sand paper and the multi-brand accessory adapter.
Tool Features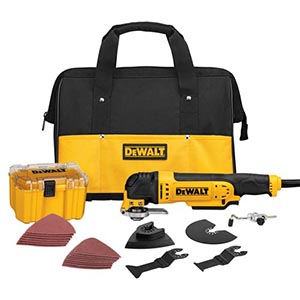 The new DEWALT DWE315K offers several great features including:
Powerful 3.0 Amp Motor provides strong performance for cutting and sanding.
QUICK-CHANGE™ Accessory System allows blades and attachments to be changed quickly without wrenches.
DUAL-GRIP™ Variable Speed Trigger gives users ultimate speed and application control.
Bright LED Light illuminates dark work surfaces for accurate cutting.
DEWALT Oscillating Tool Guide System allows users to set the depth or height for accurate repeatability.
29 Piece DEWALT accessory kit with storage box includes popular cutting and sanding attachments.
Multi-brand accessory adapter allows for use with most oscillating tool accessory brands.
Versatility and Power
The benefit of waiting a long time to introduce a new tool to your lineup is you get to see all the good and bad from your competition and use it to design your own. The DEWALT DWE315K clearly focuses on two traits and that's versatility and power. The powerful 3 amp motor competes for the most powerful in this segment against the Bosch MX30E (3 amp motor as well) and slightly more powerful than the current FEIN models on the market. With the Tool Guide System it clearly offers some nice versatility that's not being offered on many other Brands or models on the market today.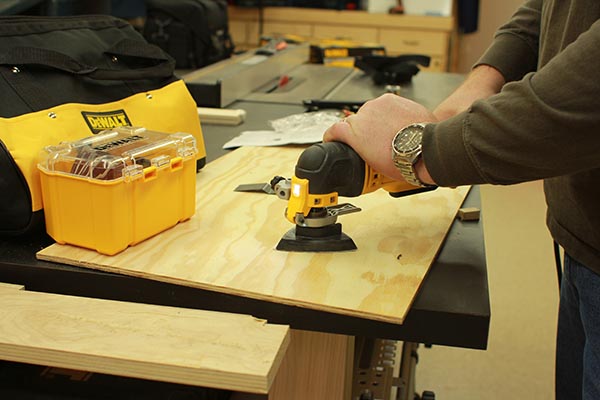 When it comes to power the DWE315 matches the Bosch MX30E and beats out the FEIN MultiMaster. The only multi-tool on the market with a larger motor would be the FEIN SuperCut which boasts a 400W motor (somewhere between 3.5 and 4 amps) and that tools is 4 to 5 times more expensive! The "power" side of this conversations is extremely important to general contractors and carpenters using these tools in the field for framing and trim work where tough materials are being used.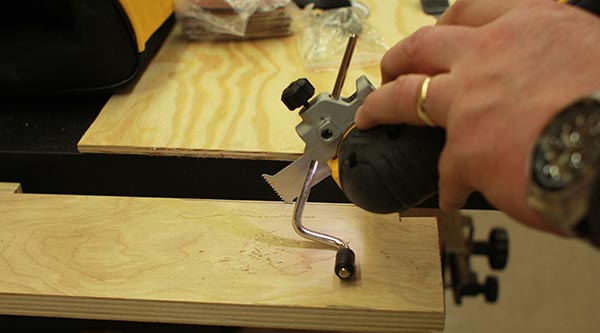 When it comes to versatility I think the new DWE315K offers far more options and versatility than anyone else in the game. The new DEWALT Oscillating Tool Guide greatly improves the users ability to cut in a straight line. The system is quite flexible allowing the roller guide to be attached from either the right or left side of the tool, and from the bottom, side or diagonal directions. I found it very easy to set up and use allowing me to easily cut materials in a straight line, something not easily accomplished  with any other multi-tool that I've used before.
QUICK-CHANGE™ Accessory System
The QUICK-CHANGE™ Accessory System isn't really that new as we've seen the same system used on the Porter-Cable line. In fact, it was our favorite when we reviewed the Porter-Cable Multi-Tool last year. I really like this system because I can easily squeeze the clamp with one hand while I insert a blade with the other hand. Blade changes can be done in a matter of seconds and there's no need to carry an Allen Wrench around (well unless you want to use another Brand's blades).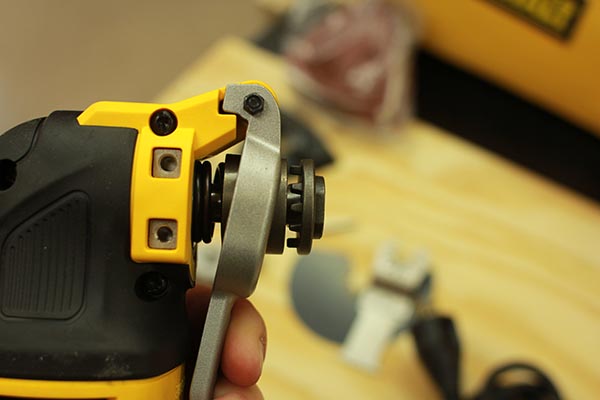 The QUICK-CHANGE™ Accessory System also features a Multi-brand accessory adapter that allows you to use other Brands blades and accessories. In this situation you do need an Allen Wrench which allows you to bolt on another Brands blades and keep working without any special adapter rings. In simple terms the bottom of the head has a threaded insert for a bolt that screws in with an Allen Wrench and clamps a blade down (without having to mesh up with the alignment holes in the blades, thus allowing any style blade to be used).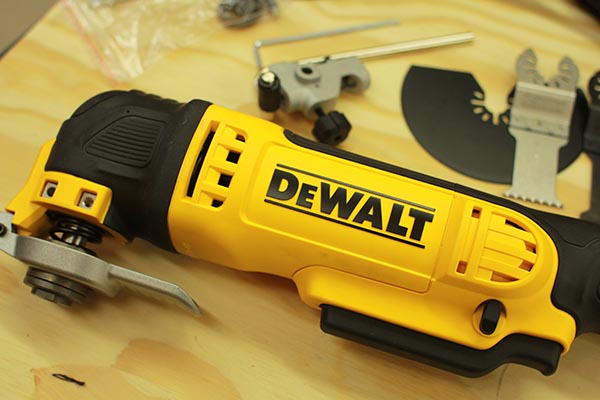 DUAL-GRIP™ Variable Speed Trigger
Another feature that I really like is the DUAL-GRIP™ Variable Speed Trigger. The long length of the trigger allows users to easily control the speed from many different hand/holding positions. One thing I've learned about multi-tools is you need to let the tool do the work. This also means putting the tool in a position that aligns best with the cut, which often times means having the tool at very strange and uncomfortable angles. The large, long switch really helps the user control the speed in all these unusual positions.
Multi-Brand Accessory Adapter
Because of the unique tool-free blade change design that DEWALT uses, you can only use their blades with the tool-free design. However, using the included adapter, you can install any blade on the market with a screw/washer adapter similar to many of the older blade change designs. I tested the adapter with some Bosch blades and some Rockwell blades and it worked very well with no signs of slippage.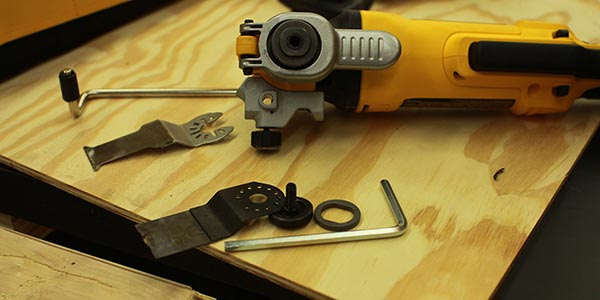 Overall Impression
I'm really impressed with the DEWALT DWE315K. The versatility and power, position the DWE315 to be a serious competitor at the top of the Oscillating Multi-Tool category. When you consider the price point it's likely to be a best seller in no time! Selling at $159 on Amazon (at the time of this article) it's about $40 cheaper than the Bosch MX30E and the FEIN FMM 250Q Starter. When it comes to a corded multi-tool the DWE315K is certainly the best value and frankly just as good as the other two top options.
The only small issue I have with the DWE315 is the set screw for the Tool Guide. It has a tendency to work itself loose when the tool is on and vibrating. I'd like to see some sort of clamp that would lock the guide into position better under substantial vibration. This is a pretty small gripe considering how important and useful I think the guide is.
The DEWALT DWE315K is a serious multi-tool built for contractors. I've used so many different multi-tool Brands and models over the past 5 years and this is certainly one of the top 3 available on the market. Given it's price point I'd highly recommend it to anyone seeking a corded version.
Dewalt DWE315K Oscillating Multi-Tool Kit
$159
About the author
Disclosure
Product reviews on this site contain our opinion of a product or service. We will always strive for objectivity and transparency in our reviews. Our goal is to provide readers with honest, objective information based on our own experiences. We never have and never will accept payment in exchange for a positive review. Many of the products that we review are provided to us for free by a manufacturer or retailer. In some cases, we also have advertising or affiliate relationships with manufacturers and retailers of products and services we review. For additional information please visit our additional disclosure policies.