Stanley® Launches Carbide Utility Blade Technology™
Stanley® Launches Revolutionary CARBIDE™ Utility Blades That Last More Than Five Times Longer Than the Competition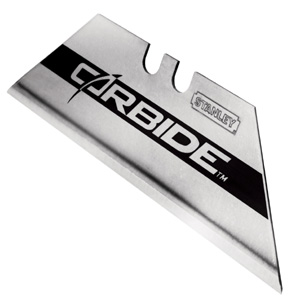 Today the folks at Stanley announced a really excited new product that all of us can surely take advantage of! If you are anything like me you probably cuss every time your utility blade dulls and it needs to be replaced. For years now I've been thinking why can't they make a more durable blade. Well it seems as though Stanley has finally made that happen. Today they announced CARBIDE™ Utility Blades.
The announcement indicated that these new blades will offer up to five times the life of a normal utility blade. That sure is welcome news in my tool bag and one that I'm sure will be a huge hit.
"The introduction of the new Stanley CARBIDE blades represents a strong commitment to innovation that began with extensive field research with professional contractors who rely on our products every day," said Sara Godding, global product manager for knives and blades. "By lasting significantly longer than other blades on the market, we're confident our new utility blades will meet contractors' needs and lead to greater productivity on the jobsite."
Stanley is also offering professional users a free trial sample of its new CARBIDE Utility blade (while supplies last). Contractors can visit www.stanleytools/carbide and enter their contact information to receive a blade. Samples will be sent to U.S. addresses only and are limited to one per household.
About the author
Disclosure
Product reviews on this site contain our opinion of a product or service. We will always strive for objectivity and transparency in our reviews. Our goal is to provide readers with honest, objective information based on our own experiences. We never have and never will accept payment in exchange for a positive review. Many of the products that we review are provided to us for free by a manufacturer or retailer. In some cases, we also have advertising or affiliate relationships with manufacturers and retailers of products and services we review. For additional information please visit our additional disclosure policies.