Rockler Steam Bending Kit Preview
Rockler Simplifies Wood Bending Process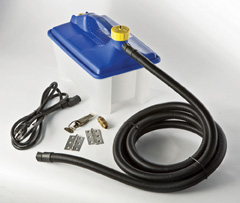 MEDINA, MN (September 20, 2011) – Rockler Woodworking and Hardware has introduced the Steam Bending Kit, a unique device woodworkers and do-it-yourselfers can use with any steam box to give any wood species enough plasticity to bend or curve to their liking. With no moving parts, steam bending makes it very easy to bend wood used in the construction of oval Shaker boxes, instruments, specialized molding, doors, handrails, and many other applications.
"Steam bending changes the way woodworkers think about woodworking", said Steve Krohmer, Vice President of product development. The Steam Bending Kit allows its user to change wood shapes as part of a new design, or to match the curves of an existing design."
The Steam Bending Kit includes a built-in heating element that heats water and the contents of the steam box to 212° F. The 5.3 quart reservoir provides two hours of steam, but may be refilled to provide continuous steam when necessary on larger projects or when bending thicker, denser wood. Also included is a 10′ long steam hose that safely directs steam to the steam box, and a complete hardware kit with assembly plan that provides easy step-by-step instructions on how to build a
custom steam box.
The Steam Bending Kit and Plan (42826) retails for $89.99. It is available at Rockler Woodworking and Hardware stores nationwide, Rockler's independent resellers, Rockler.com, or in the Rockler catalog. For store locations or a free catalog, please visit www.rockler.com or call 1-877-ROCKLER.
About the author
Disclosure
Product reviews on this site contain our opinion of a product or service. We will always strive for objectivity and transparency in our reviews. Our goal is to provide readers with honest, objective information based on our own experiences. We never have and never will accept payment in exchange for a positive review. Many of the products that we review are provided to us for free by a manufacturer or retailer. In some cases, we also have advertising or affiliate relationships with manufacturers and retailers of products and services we review. For additional information please visit our additional disclosure policies.