Off the Beaten Path at IBS 2011 (Part 2)
As my "off the beaten path" coverage from the 2011 International Builders' Show continues (see part one here), I find myself suddenly concerned about oil canning. What's oil canning, you ask? Well, I can tell you that it frequently accompanies mushrooming. Both issues have everything to do with the way composite fascia boards and planking are attached to the sub-structure, and both can spoil an otherwise great-looking composite deck.
In Your Fascia, Oil Canning!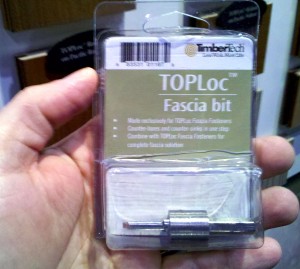 Thanks to the very knowledgeable PR representative in TimberTech's booth, I now know that oil canning is the wavy appearance that fascia boards can take on over time when the material isn't allowed to float and adjust to the normal expansion and contraction of the rest of the deck structure. As you may have guessed by now, TimberTech has a solution for this problem, and, as it turns out, it's a pretty cool solution. The composite decking company developed the TOPLoc two-step fastening system to eliminate oil canning by enabling deck builders to "hang" fascia boards rather than screwing them in tight. First, the TOPLoc Fascia Bit is used to cut starter holes into the boards and create countersink recesses. Then, the system employs a proprietary tri-threaded screw that taps the hole, cuts through the material and then sinks the fastener to precisely the right depth to allow fascia boards to float. The bits and fasteners look so simple in the package, but what an ingenious piece of engineering that eliminates one of the most common deck-owner complaints. Oh, and remember mushrooming? The TOPLoc system eliminates that problem as well. TimberTech's TOPLoc fasteners are the only aftermarket fasteners covered by TimberTech's exclusive 25-year limited warranty, and they are color-matched to all of the company's plank colors – a nice touch.
Speaking of fasteners, you're going to be hearing a lot about fasteners of various shapes, sizes and types in this post and the next. Some of the most interesting innovations on display during IBS were in this category, and with good reason. It's often the little things we don't think about every day – fasteners, bits, blades, adhesives, abrasives – that make the difference when the economy is down and we need to get more done faster and with better results. Such is the case with Prest-on Drywall Fasteners.
I'm Fixing a Hole…
Cutting a hole in the middle of a wall to access pipes or wires or squaring out a cut to repair a hole always ends with the inevitable deep breath and head scratch as we consider the best way to close the hole. The preferred techniques in the past were to either cut a larger hole to expose the studs or to create a makeshift patch using a smaller square of drywall with paper exposed on the face side. Neither option was really all that attractive. The Prest-on Insta-Back fastener makes repairs a breeze by comparison. Similar to joist hangers or other framing hardware, Insta-Back provides a solid and long-lasting backing surface for attaching the replacement square. Using the break-off tabs, the fastener can be positioned behind the wall and screwed in securely from the front of the wall. Once all screws are in place, the scored tabs are removed and the repair is ready to be taped. Here's a video showing how the fasteners work.
Obviously, Insta-Back also makes it possible to create secure butt joints between studs, which is very cool. A couple of other Prest-on products that really impressed me were the Invisi-Back fastener for easy crack repair and the Corner-Back fastener, which eliminates the need for non-structural backing studs when drywalling into corners.
How Do You Make a Recip Saw Do Just About Anything?
First of all, when the very nice lady doing demos in the Spyder Products booth said she didn't believe I would run a photo of a woman using a power tool, she clearly didn't know who she was dealing with. I have a long history of accepting dares from women and I don't intend to stop now.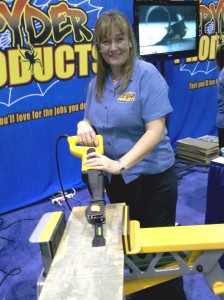 But I digress.
Let's take a look at a very interesting lineup of accessories designed to turn a standard reciprocating saw into a do-it-all tool. During the show, Spyder did some impressive demos with their three spotlight products – the Spyder Scraper (seen in the photo), the Spyder Grout-Out and the brand new Spyder Bore-Blade. My personal favorite was the Grout-Out grout removal accessory, probably because I despise grout cutting. The tungsten carbide tipped cutter, when attached to a recip saw, laid waste to grout in Spyder's demo. I expected that, but I also expected to see that the recip saw had shredded just about everything else too. The Grout-Out produced a surprisingly clean and precise cut. So, if you're using the cutter to perform grout repair, the spaces you re-grout later should look as good as new. The Spyder Scraper and the Spyder Bore-Blade (a recip blade with teeth on both top and bottom, as well as on the nose for plunge cuts) performed equally well and should be worthy additions to your toolbox if you already own a good recip saw. Spyder's products are easy to use, but not entirely effortless. Not to worry. The company's Website offers tons of tips, videos and other useful information. Check out all the accessory cutters and scrapers by clicking Spyder Products.
Like I Said, Fasteners Can Be the Secret Weapon
Let me preface by saying the new FastenMaster ThruLOK Screw Bolt Fastening System passed my buddy's "dude, you've got to see this" test early in the show, ultimately prompting my visit to FastenMaster's booth. I've struggled a bit with how to describe what I found, because I don't want to understate my first impression. So, I'll just be perfectly blunt and say, "HOLY BUCKETS!"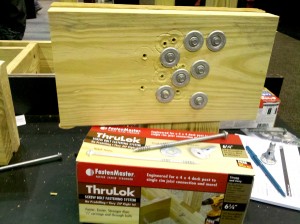 The ThruLOK system – including the ThruLOK screw and washer and the LOKnut – replaces typical 1/2″ carriage and through-bolts in the most popular deck building applications and eliminates the need for pre-drilling. Now get this: ThruLOK provides fully code-compliant holding power in less than one-tenth the amount of time it takes to pre-drill and install a carriage bolt. The secret is the screws. They employ a cutting tip to prevent splitting, cutting threads to speed the screw through stubborn pressure treated 4×4 posts and holding threads that, when combined with the LOKnut, hold posts, rim joists and notched carrying beams absolutely securely in place. The galvanized screws and zinc LOKnut will stand the test of time, even when used with ACQ treated lumber. One other nice touch, FastenMaster pre-assembles each screw/washer/LOKnut combo in a 24-count box to ensure you're never missing a single piece. Each box also includes a hex driver tip that fits any 18v drill/driver with a 1/2″ chuck and most 18v impact drivers. Need more information? You can find it here.
Next Time Around…
Watch for the third installment of my off-the-beaten-path coverage from the 2011 International Builders' Show in the next few days. In part 3, we'll take a look at the future, shed some light on the subject, give a tool-maker some props for a good show and maybe even extract a thing or two. Stay tuned!
About the author
Disclosure
Product reviews on this site contain our opinion of a product or service. We will always strive for objectivity and transparency in our reviews. Our goal is to provide readers with honest, objective information based on our own experiences. We never have and never will accept payment in exchange for a positive review. Many of the products that we review are provided to us for free by a manufacturer or retailer. In some cases, we also have advertising or affiliate relationships with manufacturers and retailers of products and services we review. For additional information please visit our additional disclosure policies.