New Rockwell® 12V LithiumTech™ 3-in-1 3RILL™
New Rockwell 3RILL Triple-Function 12-Volt Driver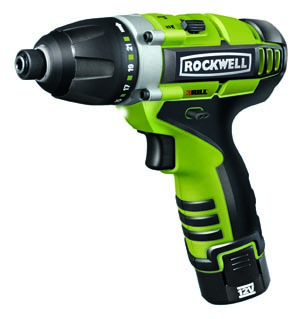 Charlotte, N.C. — Professionals who want to save steps or use powerful lightweight tools should look at the new Rockwell® 12V LithiumTech™ 3-in-1 3RILL™. Homeowners upgrading their power tools or choosing one for their first home will love this 3-in-1 driver as well. Not only is this tool loaded with awesome driving power at 800 in.-lbs. of torque, it delivers the functions of a 2-speed drill/driver, screwdriver with adjustable clutch and impact driver rolled into one.
Drill holes in wood or metal, drive large bolts and lag screws into wood or composite decking and sink drywall screws all day with the same tool. There are no trips to the tool box or return visits up the ladder. Everything the user needs is in the palm of his or her hand.
This multi-tasking tool saves time and energy and, when it's time to recharge, the Energy-Star-rated fast charger goes green in 30 minutes. In fact, after 15 minutes the battery reaches 75 percent capacity. The Rockwell LithiumTech fast charger even has a universal USB port to charge cell phones, MP3 players or laptops.
Ultra-compact, lightweight and powerful, the Euro-styled 3-in-1 3RILL is one of the latest tools in Rockwell's extended family of 12-volt LithiumTech power tools, which includes the H3™ Rotary Hammer Drill, Sonicrafter®, Drill/driver, Screwdriver, Flashlight and Impact Driver.
The 3RILL has a no load speed of 0-2200 rpm, 0-600 rpm in screw mode and 0-3000 impacts-per-minute (ipm). The single-pole battery's capacity is 1.3 Ah. Weighing 2.7 lbs. (with battery), this versatile driver with durable, all-metal two-speed gearbox (0-600, 0-2200), has 22 torque positions to handle a variety of work applications, as well as an LED light to illuminate the work surface area. It also features a low battery indicator.
A short head stock enables the driver to be used in limited clearance areas. Its ¼ in. hex keyless chuck with quick-connect provides one-handed bit changes. The 3-in-1 3RILL has a soft-grip handle that helps minimize vibration for comfortable use. It's also outfitted with a variable-speed trigger and a forward/reverse switch for directional changes.
LithiumTech™ batteries are lighter weight than, and characteristically outperform, their NiCd counterparts. These batteries last longer and feature three times the number of recharges. They hold a charge five times longer than conventional NiCd batteries and are 40 percent lighter. There also is no memory effect, so the battery can charge anytime. LithiumTech batteries also are recyclable, which keeps their components circulating and out of landfills.
The Rockwell 12V LithiumTech 3RILL Driver is part of Rockwell's Free Batteries for Life program, which reinforces the company's confidence in the quality of its batteries and cordless tools. Registered users never need to worry about buying new batteries because Rockwell will replace them free for the life of the tool. The Free Batteries for Life program reduces the overall cost of owning a Rockwell cordless tool by 40 to 70 percent.
Accessories included with the 3RILL are two battery packs and charger, two double-ended power driving bits, three HSS drill bits and a carrying bag.
The Rockwell 12V LithiumTech 3-in-1 3RILL (#RK2515K2, $179.99) is available at www.rockwelltools.com, toolbarn.com and other online websites, Menards, Lowe's and regional hardware and home centers nationwide.
The new Rockwell 12V LithiumTech tools include:
12V LithiumTech Sonicrafter, (RK2514K2, $169.99)
12V LithiumTech H3 Rotary Hammer Drill (RK2513K2, $179.99)
12V LithiumTech Drill/Driver, (RK2510K2, $129.99)
12V LithiumTech Impact Driver, (RK2512, $129.99)
12V LithiumTech Screwdriver, (RK2511, $119.99)
12V LithiumTech LED Flashlight (RK2511K2, $19.99)
2-pc. 12V LithiumTech Combo with drill/driver, impact driver, (RK1001K2, $169.99)
2-pc. 12V LithiumTech Combo with drill/driver, Sonicrafter, (RK1002K2, $199.99)
3-pc 12V LithiumTech Combo with 3RILL, Sonicrafter, and LED Flashlight (RK1003K2, $249.99)
About the author
Disclosure
Product reviews on this site contain our opinion of a product or service. We will always strive for objectivity and transparency in our reviews. Our goal is to provide readers with honest, objective information based on our own experiences. We never have and never will accept payment in exchange for a positive review. Many of the products that we review are provided to us for free by a manufacturer or retailer. In some cases, we also have advertising or affiliate relationships with manufacturers and retailers of products and services we review. For additional information please visit our additional disclosure policies.