JET Introduces New 22in Scrollsaw with Innovative Blade Change
JET Introduces New 22in Scrollsaw with Innovative Blade Change
For Immediate Release
May 25, 2016
NEW JET 22-INCH SCROLL SAW CHARTS NEW GROUND WITH REVOLUTIONARY BLADE CHANGE PROCESS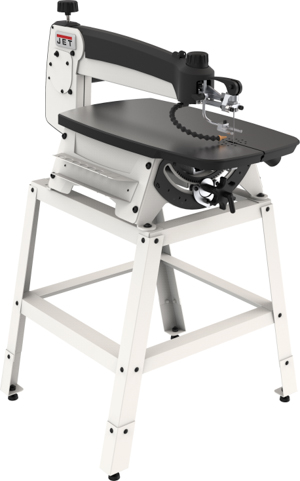 LaVergne, TN – JET's new 22-in. Scroll Saw delivers on the brand's commitment to
bring innovation to woodworkers. This scroll saw is thoughtfully designed to make setup
more efficient and make time spent scrolling more productive.
JET's exclusive upper blade mechanism combines the clamping and tensioning of the
scroll saw blade into one easy step, reducing the amount of time and effort spent getting
ready to cut. This innovative feature is only available on the JET Scroll Saw.
"Our focus is on the user and their passion for scroll sawing. So we were determined to
design the most innovative and efficient scroll saw on the market. Our blade change
system is just one of the many features that bring a better experience to the user," said
Katie Davidson, JET's Product Manager.
The tool-less lower blade holder is removable and there is a slot in the table to make
blade changes quick and simple. Blades can also be pre-loaded in the lower blade
holder and placed in slots on the storage rack. The storage rack also features a built-in
wrench for quickly swapping blades.
The JET 22 in. Scroll Saw features a large 12-7/8 in. x 23 in. ground, cast iron table for
stability with minimal vibration. Plus, the table's 22 in. throat capacity provides the user
with ample depth to accommodate larger work pieces. The saw's spring loaded arm
tilts 40º left and 45º right while the table remains flat for better control of the workpiece.
A removable 1-1/2 in. dust port connects to a custom fit tray beneath the table and
collects dust and chips at the source. The saw also has an integrated blower to clear
the work and increase cutline visibility.
The JET Scroll saw comes with a variable speed range of 400 – 1550 strokes per
minute and is powered by a 50 watt, 120 volt, 1.3 amp induction motor.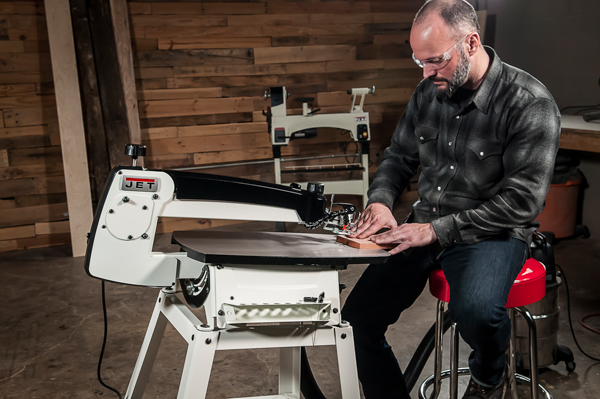 Specifications – JET Scroll Saw, JWSS-22
Stock Number 727200K
Model Number JWSS-22
Throat (In.) 22-3/8
Maximum Cutting Depth (In.) 2
Stroke Length (In.) 3/4
Speed Range (Stroke/min) 400 – 1550
Tilting Function Arm
Blade Tilt Range (Deg.) 45 Right / 40 Left
Table Material Cast Iron
Table Size (L xW) (In.) 12-2/3 x 23-5/8
Table Height (In.) 32 to 39
Dust Port Outside Diameter (In.) 1-1/2
Motor Amps 1.3
Motor Voltage (V) 120
Assembled Machine Dimensions (LxWxH) (In.) 32-3/4 x 25-1/4 x 47-1/2
Net Weight (lbs.) 89.7
The JET 22 in Scroll Saw (JWS-S22) is CSA certified. It is covered by a 5 year
warranty, as well as JET RED Assurance TM , the industry's most dependable service and
support guarantee.
The JET 22 in. Scroll Saw is sold as a kit that includes the saw, stand and foot switch
(JWSS-22, 727200K, $989.99) or the saw and foot switch (JWSS-22B, 727200B,
$899.99). A set of three additional lower blade holders is an optional accessory
(727201, $19.99). Visit jettools.com for more information or to locate the nearest dealer
About JPW Industries, Inc.
Headquartered in LaVergne, Tennessee, JPW Industries, Inc. manufactures and markets a
wide range of machinery and equipment under the Jet, Wilton and Powermatic brands. In
addition to its LaVergne headquarters, the company has operations in Switzerland, Germany,
Russia, France, Taiwan and China. It sells through a vast network of distributor partners
worldwide. Visit JET Tools at www.jettools.com
About the author
Disclosure
Product reviews on this site contain our opinion of a product or service. We will always strive for objectivity and transparency in our reviews. Our goal is to provide readers with honest, objective information based on our own experiences. We never have and never will accept payment in exchange for a positive review. Many of the products that we review are provided to us for free by a manufacturer or retailer. In some cases, we also have advertising or affiliate relationships with manufacturers and retailers of products and services we review. For additional information please visit our additional disclosure policies.