Duo-Fast® Floor Fastening Systems New 10 Year Warranty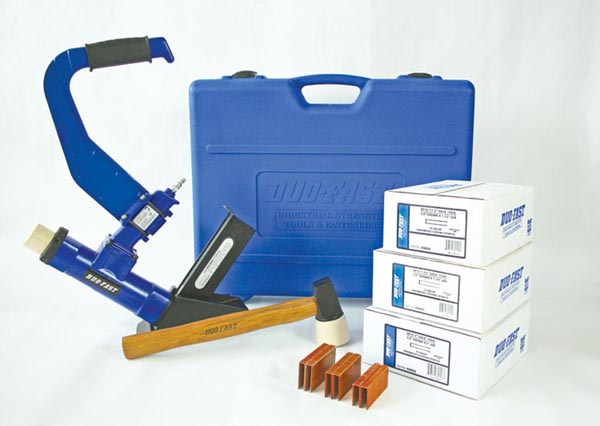 Duo-Fast® Hardwood Floor Stapler and Cleat Nailer Now Feature 10-Year Warranty And Value-Added Accessories
The folks at Duo-Fast have announced that their Floor Stapler and Cleat Nailer will now feature 10-Year Warranties! In addition the new carrying cases have been redesigned to carry the exclusive Duo-Fast® SoftShoe™ Pre-Finished Wood Flooring Adapter for higher quality work, and an O Ring Kit. The new warranty will cover both the FLOORMASTER™ 200-S and 200-C.
"These tools have undergone extensive testing including years of strenuous use in the field with professional installers, with no appreciable downtime," said Rita Bockrath, Marketing Manager for Duo-Fast Floor Fastening Systems. "We feel very confident in offering this warranty as a demonstration as to how well they are built and how long these tools will last."
I personally have been so impressed with the quality and durability of Duo-Fast nailers over the last couple of years. Having seen how they perform under the toughest of conditions with some of my crews I can see why they would offer such a robust warranty. They know how to make tough tools! For the entire press release you can read it here.
About the author
Disclosure
Product reviews on this site contain our opinion of a product or service. We will always strive for objectivity and transparency in our reviews. Our goal is to provide readers with honest, objective information based on our own experiences. We never have and never will accept payment in exchange for a positive review. Many of the products that we review are provided to us for free by a manufacturer or retailer. In some cases, we also have advertising or affiliate relationships with manufacturers and retailers of products and services we review. For additional information please visit our additional disclosure policies.