DEWALT® Launches New Three-Beam Line Laser
New Three-Beam Line Laser with Design Advancements for Improved Layout and Ease of Use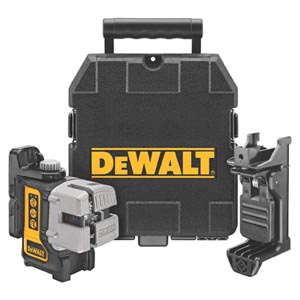 TOWSON, Md. (Aug. 23, 2011) – Today, DEWALT announces the launch of its new Line Laser (DW089K), which features multiple design enhancements to improve productivity on the jobsite. The DW089K is ideal for professionals tasked with residential and commercial applications such as installing cabinets, drop ceilings, chair rails or doors and windows. The Line Laser can also be used when installing floor and wall tile or mapping wall layout.
"Contractors are increasingly using lasers to improve their productivity, and according to our research, many professionals want a line laser that assists with layout work," said Ward Smith, product manager, DEWALT. "The third vertical beam that our new unit offers, aids in layout applications to solve many of the common frustrations our users experienced. This feature coupled with several other key advancements is sure to make the DW089K a leading line laser in the marketplace."
Unlike many line lasers on the market, the DW089K features a second plumb line that forms a 90-degree intersecting line on the floor and ceiling. This third vertical beam allows contractors to use the tool for layout applications without the need for a second laser, saving time and allowing users to be as productive as possible.
For commercial wall layout applications, the DW089K has a track clearance of over 1-3/4 inch, which means there is no need for additional accessories to raise the laser over drywall track.
The new Line Laser also has a micro adjust knob for easy alignment, a metal roll cage for durability, and an integrated pivot bracket and universal wall mount that is ideal for acoustical ceiling installation. The micro adjust knob is especially important in that it allows users to steadily adjust the 90-degree layout lines in small increments without the need to nudge the laser to hit a specific mark – a common frustration among contractors who are using standard line lasers.
For improved visibility, the beam on the DW089K is two-times brighter than the beam on DEWALT's current line laser. The brighter beam provides increased visibility over long distances as well as in direct sunlight.
Accurate within 1/8 of an inch at 30 ft. – a distance that is common among jobsite applications – the DW089K allows contractors to feel confident in their results when using this product.
To alleviate the difficulty professionals often experience when they try to access control panels on the rear of existing units, DEWALT designed the new DW089K to include individual buttons on the side control panel that operate all three beams.
The new Line Laser will be available anywhere DEWALT products are sold in September 2011. The product is expected to retail for approximately $329.00, and it will come with a kit box and four AA batteries that will provide a minimum of 30 hours of runtime.
The tool will come standard with a three-year limited warranty, one-year free service contract and 90-day money-back guarantee. The one-year free service contract includes two calibrations.  For more information visit: www.dewalt.com.
About the author
Disclosure
Product reviews on this site contain our opinion of a product or service. We will always strive for objectivity and transparency in our reviews. Our goal is to provide readers with honest, objective information based on our own experiences. We never have and never will accept payment in exchange for a positive review. Many of the products that we review are provided to us for free by a manufacturer or retailer. In some cases, we also have advertising or affiliate relationships with manufacturers and retailers of products and services we review. For additional information please visit our additional disclosure policies.