DEWALT® Launches New 7-1/4 inch Circular Saw
Provides Power and Smooth Cutting Performance in a Compact Package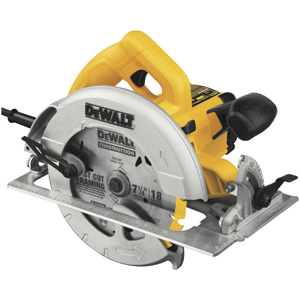 TOWSON, Md. (Feb. 7, 2012) – Today, DEWALT announces the launch of a completely redesigned 7 1/4-inch Circular Saw (DWE575), one of the lightest circular saws in its class, which will also be offered with an Electric Brake and Kit Bag (DWE575SB). The saw is ideal for framers, concrete formers, general contractors and remodelers who are tasked with completing applications ranging from framing walls to cutting plywood, siding, exterior finishing and more.
"As technology improves, contractors are constantly looking for tools that offer more power in a smaller package," said Ivonne Meza, product manager, DEWALT. "When it comes to circular saws in particular, our field research proves that professionals are also looking for a saw that delivers balance, comfort and smoothness of cut. Throughout the development of our new saws, we kept these requirements in mind to design the products that contractors have requested."
Weighing only 8.8 pounds and measuring 7.2 inches in width, the DWE575 is one of the lightest circular saws in its class. Despite its small size, the unit delivers plenty of power to perform some of the most demanding applications with 1,950 Max Watts Out (MWO) and 5,100 revolutions per minute (RPM).
Thanks to an integrated dust blower that cleans the user's line of sight before cutting and high quality gears, the saw provides smooth cutting, high quality performance. The saw also features a 57-degree bevel capacity, with 22.5- and 45-degree detents, and a 2 9/16-inch depth of cut capacity, which is best in class and allows for a variety of applications.
To provide durability, DEWALT incorporated several features into the design of the new circular saw. For instance, a ToughCord™ cord system provides three times more resistance to cord pullouts when compared to circular saws without a ToughCord™ system. Additionally, a ball bearing lower guard designed for long life in jobsite conditions, as well as a heavy-duty aluminum shoe, help make the saw worksite tough. To aid in comfort and balance, the new circular saw features ergonomic handles and trigger actuation.
The kitted version of the saw (DWE575SB) features an electric break that allows for the saw blade to stop after two to three seconds from the time the trigger is released, providing additional safety. This feature allows users to start repetitive cuts faster.
The DWE575 and DWE575SB will be available in the second half of 2012 at home centers and through the independent channel. The DWE575 is expected to retail for approximately $129.00, and the DWE575SB is expected to retail for roughly $139.00. The circular saws will each come with a three-year limited warranty, one-year free service contract and 90-day money-back guarantee.
About the author
Disclosure
Product reviews on this site contain our opinion of a product or service. We will always strive for objectivity and transparency in our reviews. Our goal is to provide readers with honest, objective information based on our own experiences. We never have and never will accept payment in exchange for a positive review. Many of the products that we review are provided to us for free by a manufacturer or retailer. In some cases, we also have advertising or affiliate relationships with manufacturers and retailers of products and services we review. For additional information please visit our additional disclosure policies.