DEWALT® Launches New 20 Volt MAX* Brushless Impact Drivers
Offers 57 Percent Longer Runtime and Industry-First Innovation**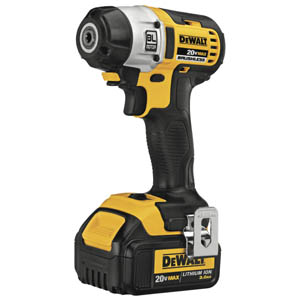 TOWSON, Md. (Feb. 7, 2012) – Today, DEWALT announces the launch of three new 1/4-inch Impact Drivers (DCF895C2, DCF895L2 and DCF895B) that feature the company's first-ever Cordless Brushless (BL) Motor technology, which is engineered to achieve maximum runtime. The DEWALT-designed and built BL motor works more efficiently compared to brushed motors, and provides 57 percent longer runtime versus DEWALT brushed impact drivers, and 1.5 times more runtime versus competitors' impact drivers in a compact, cool-running, durable cordless power tool.
A brushed motor relies on contact between stationary brushes and a rotating armature to transfer energy from the battery to the motor. These brushes are spring-loaded and apply constant pressure, which causes friction, generates heat and wastes energy. According to Aris Cleanthous, engineering manager at DEWALT, the company's new BL motor "uses customized electronics and software designed to run the motor at its highest efficiency and performance." As a result, DEWALT's BL motor system consumes less energy compared to the company's brushed motor system, which allows the tool to run longer between charges.
"I spend a great amount of my time on jobsites talking to end users about their demands in a tool, so I can attest that longer runtime is the primary concern among many professional contractors," said Jeremy Torok, senior product manager, DEWALT.

"DEWALT power tool users will find that our new BL has an extended runtime, and therefore lasts longer between charges. This leads to greater productivity on the jobsite and less downtime."
Beyond the improved runtime provided by the new DEWALT BL motor, the new impact drivers include a number of other innovative features designed to help increase productivity. For instance, the units include an innovative push button, 1/4-inch chuck. The chuck accepts 1-inch bit tips and allows contractors to complete one-handed accessory changes with the push of a button. Additionally, the impact drivers feature three LED lights surrounding the chuck with a 20-second delay after trigger release to provide visibility without shadows in dark work areas. Finally, a fuel gauge-equipped battery pack alerts professionals the state of charge of their battery.
In addition to longer runtime, the new units offer three speeds for enhanced application control that will benefit a variety of professionals. For example, steel stud framers will be able to rely on the third setting (0-2850 RPM; 1,500 inch/pounds Max Torque) for self-tapping screw driving in metal, while remodelers will be able to use the second setting (0-1,900 RPM; 900 inch/pounds Max Torque) for controlled fastening applications such as door hinge installation. Woodworkers and electricians will be able to use the first setting (0-950 RPM; 500 inch/pounds Max Torque) for finish work such as faceplate installation. The electro-mechanical speed selector is easily seen at all times and can be actuated with little effort.
The new impact drivers are lightweight at only 3.0 pounds (DCF895C2) and 3.6 pounds (DCF895L2). At just 5 1/4 inches in length, the products are the shortest impact drivers DEWALT offers. The tools also incorporate a contoured grip that provides comfort and balance in addition to a metal belt clip, as well as on-board bit storage for convenience.
The premium (DCF895L2), compact (DCF895C2) and bare (DCF895B) 20 Volt MAX* Brushless Impact Drivers will be available in April 2012 anywhere DEWALT products are sold.
The DCF895C2 will come with two 1.5 Ah batteries with Fuel Gauges and retail for approximately $279.00, the DCF895L2 will come with two 3.0 Ah Batteries with Fuel Gauges and retail for approximately $349.00 and the DCF895B will be sold without batteries or a charger for roughly $169.00. The 1.5 Ah batteries will come with a two-year limited warranty, one-year free service contract and 90-day money-back guarantee. The 3.0 Ah batteries and tools will come with a three-year limited warranty, one-year free service contract and 90-day money-back guarantee.
* With respect to the 20V MAX*: Maximum initial battery voltage (measured without a workload) is 20 volts. Nominal voltage is 18.
**Compared to standard DEWALT and competitive impact drivers with brushed motors.
About the author
Disclosure
Product reviews on this site contain our opinion of a product or service. We will always strive for objectivity and transparency in our reviews. Our goal is to provide readers with honest, objective information based on our own experiences. We never have and never will accept payment in exchange for a positive review. Many of the products that we review are provided to us for free by a manufacturer or retailer. In some cases, we also have advertising or affiliate relationships with manufacturers and retailers of products and services we review. For additional information please visit our additional disclosure policies.