DEWALT® Launches a New 14-inch Abrasive Chop Saw
New 14-inch Abrasive Chop Saw with Features for Large Cutting Capacity, Durability and Lighter Weight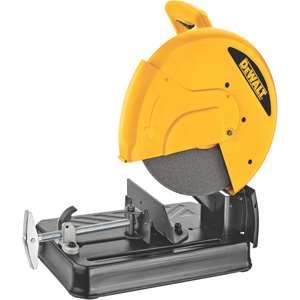 TOWSON, Md. (Sept. 8, 2011) – Today, DEWALT announces the launch of its new 14-inch Abrasive Chop Saw (D28710), which has been designed to offer contractors power, durability, capacity, ease of use and portability. The D28710 is ideal for a variety of end users including steel stud framers, mechanical contractors and metal fabricators who are tasked with various metal cutting applications.
"Our new chop saw is perfect for professional contractors who require a high-performing, durable saw at a great value," said DEWALT Product Manager Sean Kelly. "This tool addresses contractors' common concerns including durability and power, cut capacity and weight, making it an ideal solution for a number of metal cutting applications."
Power and Durability
A 15 Amp, 4 Max HP motor provides power and overload protection for various demanding applications including cutting through tough materials such as cast iron pipe, angle iron, threaded rod, conduit and square tubing. Contributing to the tool's durability is a stamped base and bracket.
Cut Capacity
The 14-inch Abrasive Chop Saw offers contractors the ability to cut a wide range of materials, which leads to productivity on the jobsite. For instance, the D28710 has the capacity to cut 5-inch round black pipe, 4 3/4-inch square tubing, 4-inch by 7 5/8-inch rectangular steel stud bundles and 5 3/8-inch angle iron.
Portability and Ease of Use
To allow for jobsite portability, the D28710 weighs only 36.5 pounds, which is lighter than many competitive units on the market. Additionally, the tool has an integrated carry handle, which provides balance and comfort when contractors have to transport the saw from jobsite to jobsite. The horizontal "D" handle also offers contractors comfort and control when using the product.
For ease of use, the new 14-inch Abrasive Chop Saw includes a quicklock vise for material clamping and releasing, on-board wrench storage, and an adjustable spark deflector.
The 14-inch Abrasive Chop Saw is now available at independent construction distributors. The product is retailing for approximately $179.00, and it comes standard with a three-year limited warranty, one-year free service contract and 90-day money-back guarantee.
About the author
Disclosure
Product reviews on this site contain our opinion of a product or service. We will always strive for objectivity and transparency in our reviews. Our goal is to provide readers with honest, objective information based on our own experiences. We never have and never will accept payment in exchange for a positive review. Many of the products that we review are provided to us for free by a manufacturer or retailer. In some cases, we also have advertising or affiliate relationships with manufacturers and retailers of products and services we review. For additional information please visit our additional disclosure policies.