Bostitch 15 Gauge Finish Nailer Kit Preview – Model N62FNK-2
Bostitch 15 Gauge Finish Nailer Kit – Model N62FNK-2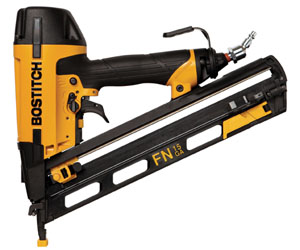 NEW BRITAIN, Conn. (July 20, 2011) – Bostitch® announced today the introduction of a new 15 gauge finish nailer kit – model N62FNK-2. Product Manager Jorge Silveira said, "Extensive field research identified a host of break-through features that will truly make pros productive on the jobsite. We incorporated all of these key features into a specially-designed finish nailer that receives high marks from pros and advanced woodworkers alike." The new model N62FNK-2 is designed for applications such as the installation of molding, door/window casings, trim, hardwood flooring, furniture, solid hardwood flooring, and advanced woodworking.
One of the tool's innovative features is the addition of the world's first rear exhaust on a 15 gauge nailer, located at the end of the handle, to direct air away from the user and eliminate blowback. "The innovation doesn't stop there," said Silveira. "It also provides an on-board dust blower for clearing the work surface from dust and debris without slowing down." A third break-through feature is the addition an integrated LED work light, which lights up the work surface for precise fastener placement in low-light situations.
Weighing only 4.15 lbs., the magnesium-constructed N62FNK-2 accepts FN-style 15 gauge angled finish nails (collated at 25 degrees) between 1-1/4˝ and 2-1/2˝ in length. The tool's weight and balance are complemented by an over-molded grip to help maximize comfort and minimize fatigue during overhead applications or prolonged use. Its oil-free design requires minimal regular maintenance, nor does it pose the risk of irreversible oil stains on expensive trim material.
With storage capacity of 128 nails the N62FNK-2 has the highest magazine capacity in its class. The magazine, which has an integrated pencil sharpener, also features a 16˝ OC gauge. This gauge extends out and measures 16˝ from the end of the tool's nose for fast and easy installation of baseboard to the wall.
The N62FNK-2 features Dial-A-Depth® technology for setting nails to precise depths without changing compressor settings. Clearing jams is done in a matter of seconds thanks to a tool-free quick-release nosepiece. It features a swivel air fitting for added maneuverability while its integrated filter protects the tool's internal components from contaminants. A selectable trigger system, located slightly above the trigger, converts from sequential to contact mode in just seconds.
With the exception of Bostitch tools, other finish nailers offer a single non-marring tip, which forces professionals to use a "one size fits all" approach to trim. However, the N62FNK-2 breaks through the barrier with a patented set of four non-marring profile tips to assume the shape of most finish-related materials. The kit includes a convex tip for fluted trim, an offset tip for door/window molding, a tongue-and-groove tip for hardwood flooring, and a recess tip for crown molding.
The N62FNK-2 finish nailer kit includes the basic tool; plastic carrying case; 1,000 FN-style 2˝ angled finish nails; swivel fitting; hex wrench; set of four profile tips; and operator's manual. It is now available at home centers, construction supply stores, hardware stores, and online retailers, the N62FNK-2 is expected to retail for approximately $179.
About the author
Disclosure
Product reviews on this site contain our opinion of a product or service. We will always strive for objectivity and transparency in our reviews. Our goal is to provide readers with honest, objective information based on our own experiences. We never have and never will accept payment in exchange for a positive review. Many of the products that we review are provided to us for free by a manufacturer or retailer. In some cases, we also have advertising or affiliate relationships with manufacturers and retailers of products and services we review. For additional information please visit our additional disclosure policies.