Bosch Introduces New Line of Jigsaws
Later this month we'll be reviewing the all new Bosch JS470EB Jigsaw. While we test out this exciting new jigsaw we thought you should learn a bit more about the new line of jigsaws now available from Bosch.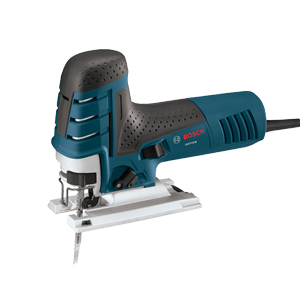 Mount Prospect, Ill., October 21, 2010 – Bosch Power Tools & Accessories, the leader in jig saw innovation, offers the broadest line of professional jig saws in the industry with the introduction of four new jig saw models and 2 enhanced kits this fall, starting with the JS470E and JS470EB, and followed by the launches of the JS260, JS365, 1590EVSL, and 1591EVSL.
The JS470E top-handle jig saw and JS470EB barrel-grip jig saw deliver 7.0 amps of power – the highest jig saw power rating on the market.  Constant Response™ circuitry maintains the desired speed for consistent performance, and a precision-machined plunging system and low-vibration design contribute to the cutting accuracy and smooth operation. Four orbital-action settings vary the blade strokes to provide outstanding performance in both smooth and aggressive cuts. Additional features include a large, sturdy die-cast aluminum foot with steel insert and on-board bevel wrench and an ambidextrous lock-on button.
A new design of the JS470 models' footplate and its mount is optimized to withstand the toughest conditions and survive accidental drops intact. The insulation on the outside of the gearbox housing provides an added degree of protection in the event that the tool cuts into live wiring.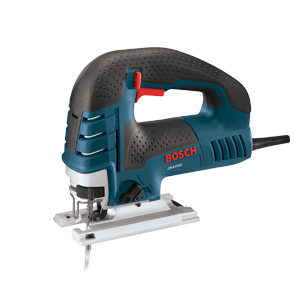 Unlike many other manufacturers, Bosch continues to offer barrel-grip jig saws, and the JS470EB features a very slim ergonomic body and upfront soft-grip area, which allows barrel-grip users to enjoy increased comfort and control while holding the tool near the  the cutting location.
Both models feature Bosch's tool-less blade change system for fast tool-free blade insertion and one-hand ejection, eliminating the need to touch hot blades, and come equipped with a plastic no-mar overshoe, an anti-splinter insert, blade, bevel wrench and case.
Additional jigsaw models coming this fall include:
JS260 – This 6.0 amp, top-handle jig saw has a heavy-gauge steel footplate, tool-less blade-change system, four orbital-action settings, an ambidextrous lock-on button, and a dust blower to keep cutting line clear.
JS365 –The powerful 6.5 amp top-handle JS365 offers a sturdy die-cast aluminum footplate with steel insert, and other features similar to the JS260.
1590EVSL – An upgrade to the category-leading 1590EVSK kit, the 1590EVS top-handle jigsaw features exclusive Precision Control™ blade guidance for unsurpassed cutting accuracy, One Touch™ blade change, a tool-less large aluminum footplate, a dust extraction kit and the new L-BOXX interlocking case.. A barrel-grip version will be available in the 1591EVSL kit.
Since introducing the first portable jig saw in 1947, Bosch has remained the world's largest manufacturer of jig saws and jig saw blades. Bosch's industry-changing innovations over the years have included the T-shank jig saw blade, preferred by professional jig saw users everywhere; the first tool-less blade-change system; enhanced blade-change systems like the "One-Touch" system; and the Precision Control System, which virtually eliminates blade wander. More than six decades after Bosch produced its first jigsaw, the Bosch brand remains synonymous with leadership, quality and performance in the jig saw category.
The entire line of new jigsaws will be available through authorized retailers nationwide this fall. To find out more or to locate a dealer, users may visit www.boschtools.com or call 877-BOSCH-99
About the author
Disclosure
Product reviews on this site contain our opinion of a product or service. We will always strive for objectivity and transparency in our reviews. Our goal is to provide readers with honest, objective information based on our own experiences. We never have and never will accept payment in exchange for a positive review. Many of the products that we review are provided to us for free by a manufacturer or retailer. In some cases, we also have advertising or affiliate relationships with manufacturers and retailers of products and services we review. For additional information please visit our additional disclosure policies.