Bosch Introduces Best Performing Rotary Hammer Yet
Bulldog Xtreme Max delivers highest power AND lowest vibration in class
MOUNT PROSPECT, Ill., February 21, 2012 – The Bosch name has long been synonymous with great performing rotary hammers. With the introduction of the RH228VC Bulldog Xtreme Max Rotary Hammer, however, Bosch Power Tools bested even its own top-of-the-line tools.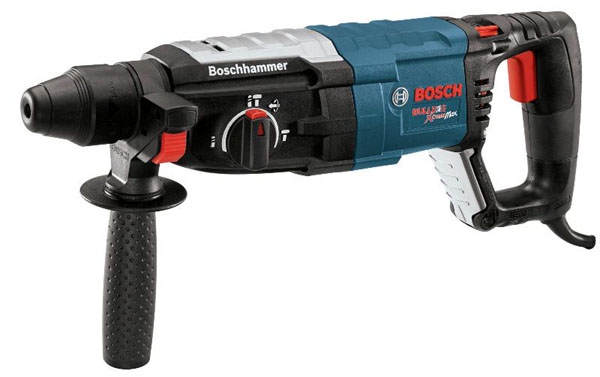 While competitor hammers typically achieve either power or vibration control by compromising the other, Bosch's RH228VC tops its class in ALL meaningful measures. The hammer delivers 40 percent more speed, 20 percent more power (2.4 ft lbs) and up to 30 percent less vibration (12 m/s2) than most of the other hammers in the class. Able to drill holes up to 1-1/8″ in diameter, the hammer also beats the competition when it comes to concrete drilling capacity. Whether frequently drilling large-diameter holes, using core bits or doing all-day chiseling, the RH228VC is the perfect choice for the contractor who needs maximum performance in extreme applications.
Bosch achieved dramatic enhancements by re-thinking the most important components inside the rotary hammer. A longer piston and impact bolt, combined with a precision-machined striker, increases the hammer's efficiency, which, in turn, greatly increases both speed and power. Indirectly, the more efficient operation also enhances durability, because the RH228VC strikes harder and drills faster with fewer BPM (0-5,460). That means less wear on the powerful 8-amp motor.
The longer piston reveals additional benefits when users consider vibration control. By creating a longer air cushion between the piston and the striker, Bosch greatly reduced vibration caused by the striker's backstroke. Bosch then employed internal counter-balance technology to further offset vibration. The longer air cushion technology first debuted on the 1-5/8″ SDS-max® Combination Hammer introduced in January 2009. The new piston design and the counter-balance mechanism are both firsts in the RH228VC's size category. Competitive hammers typically only use handles that isolate users from the hammers' vibration without actually dampening it.
Like the Bulldog Xtreme before it, the RH228VC features the unique HammerHooK™ system for innovative tool storage during the job. The RH228VC also offers variable speed operation (0-1,230 RPM under load) and three operating modes (hammer, drill and hammer/drill). The unique Vario-Lock™ SDS-plus® chuck allows chisels to rotate to the optimum working angle. Additional features include Bosch's patented rotating brush plate, for equal power in forward and reverse, patented 45° pivoting cord turret, integral clutch to minimize torque reaction and metal gear housing for ultimate jobsite durability.
The Bosch RH228VC is now available through authorized tool distributors and home centers. For additional information or to locate a dealer, visit www.boschtools.com or call 877-BOSCH-99.
About the author
Disclosure
Product reviews on this site contain our opinion of a product or service. We will always strive for objectivity and transparency in our reviews. Our goal is to provide readers with honest, objective information based on our own experiences. We never have and never will accept payment in exchange for a positive review. Many of the products that we review are provided to us for free by a manufacturer or retailer. In some cases, we also have advertising or affiliate relationships with manufacturers and retailers of products and services we review. For additional information please visit our additional disclosure policies.