Stihl HSA 25 Garden Shears
Stihl HSA 25 Cordless Garden Shears
Stihl HSA 25 Garden Shears

Manufacturer:
Stihl

Model number:
HSA 25

Price:
119.00

Power source:
battery

Weight:
.8 lbs
The Stihl HSA 25 Garden Shears is a battery-powered, low weight and ultra-short cutting tool designed for tight access, versatile and precise trimming tasks.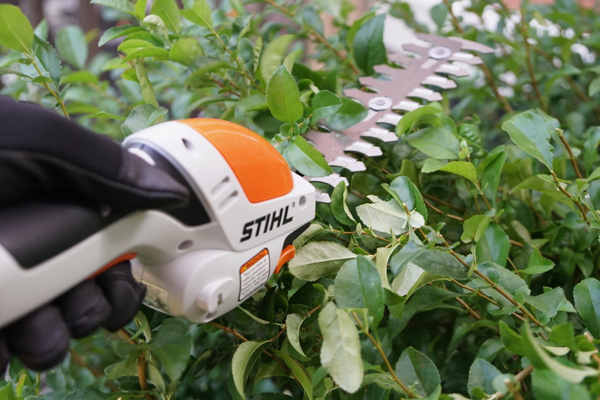 STIHL Quality Gears
We were impressed that the transmission inside the STIHL HSA 25 is made of high-grade metal gears. These gears certainly look like they've been designed to provide a long service life.The battery casing is also exceptionally sturdy with a rubber-coated ring providing impact protection.

Cutter Attachments
The Stihl HSA 25 Garden Shears comes with two snap on attachments:
Ornamental grass trimmer
Shrub shears
The grass trimmer is designed for cutting ornamental grass,  edging around patios, flower beds and edges of the house. We did not test this attachment and would lean more toward a cordless edge trimmer for these tasks.
One feature that would be useful is for trimming ornamental grasses, like Lemon grass, etc.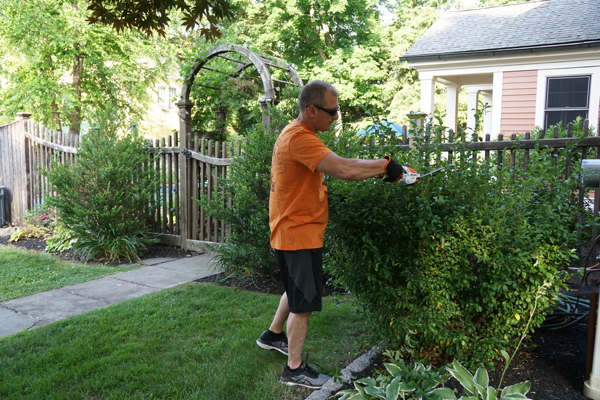 The Shrub shears designed to trim and maintain small, evergreen hedges and small-leafed ornamental trees with up to 8 mm branch thickness.
We found the switch between attachments super fast and easy. Simply remove the base of the tool, without tools, and without having to touch the blade.

Tool-Free Attachment Changes
The Stihl HSA 25 Garden Shears has an ergonomic, rubberized handle, double-stroke blade for a powerful cut and low vibration, it weighs 0.8 lbs. The battery will give you a runtime up to 110 minutes on a single charge.
While testing, we used this tool for 90-minutes with zero issues.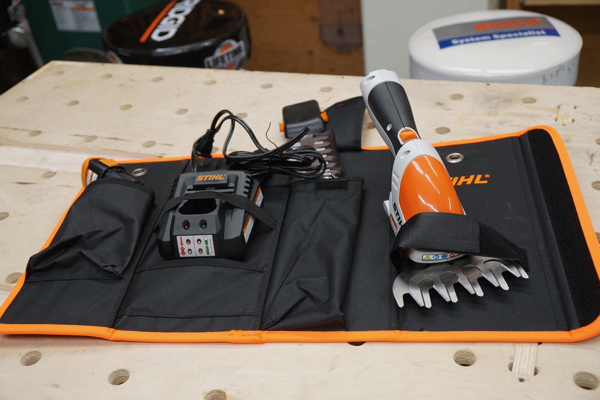 The HSA 25 comes in a kit including a carrying bag, battery and charger for convenient transportation and storage.
Blade Length Shrub Shear: 170 mm (6.7 in.); Grass Shear: 110 mm (4.3 in.)
Strokes Per Minute 2,000
Hedge Shear Blade Length 17.0 cm (6.7″)
Grass Shear Blade Length  11.0 cm (4.3″)
MAX. Cutting Diameter (of twigs or weeds) 0.8 cm (0.31″)
Run Time Up to 110 minutes
Weight w/ battery 1.8 kg (0.8 lbs.)

Dual Cutting Blade Action
The cutter blades are laser-hardened, diamond-finished blades and really shartp. They are capable of cutting twigs and branches with a diameter of up to 8 mm. Larger than that and the tool stalls and you will have to dislodge the branch by twisting and turning the tool.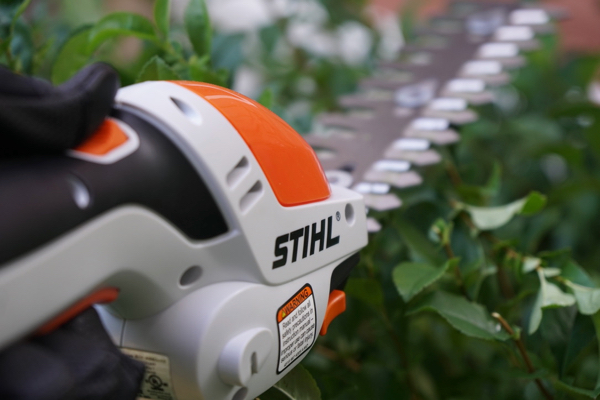 In addition, the two reciprocating blades, which lie on top of each other, and provide 2,000 double strokes per minute. Their result is a fast, easy, and extremely clean cut.
The cuts made from these shears s clean. We did not observe any ragged cut ends.

Overall Impression
For precision garden trimming or a property that has a small amount of hedges or bushes, the  Stihl HSA 25 Garden Shears delivers. We see folks gravitating to this tool more for the hedge trimmer than the grass trimmer. At the time of this review, we found this tool online for approximately $120.00.
Highly recommended!
About the author
Disclosure
Product reviews on this site contain our opinion of a product or service. We will always strive for objectivity and transparency in our reviews. Our goal is to provide readers with honest, objective information based on our own experiences. We never have and never will accept payment in exchange for a positive review. Many of the products that we review are provided to us for free by a manufacturer or retailer. In some cases, we also have advertising or affiliate relationships with manufacturers and retailers of products and services we review. For additional information please visit our additional disclosure policies.