ECHO CS-7310P Chainsaw Review
ECHO CS-7310P Gas-Powered Chainsaw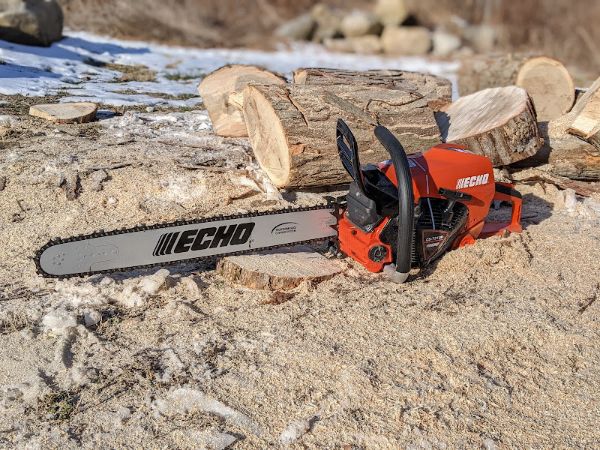 Manufacturer:
ECHO

Model number:
CS-7310P

Price:
$859.99

Power source:
2-Stroke Cycle Engine

Motor size:
73.5cc

Weight:
14.9 Lbs. (Dry)
Last year,
ECHO
announced the new
CS-7310P
gas-powered chainsaw. This saw is touted as ECHO's most powerful chainsaw available in North America. With a 73.5cc engine, the CS-7310P is breaking into the category of large (70cc+) professional-grade saws for tree felling or large wood processing. This is not a saw intended for the average casual user. Its large power output and well-thought-out feature set make it an outstanding option for those who earn a living making wood chips fly.
CS-7310P Features and Specifications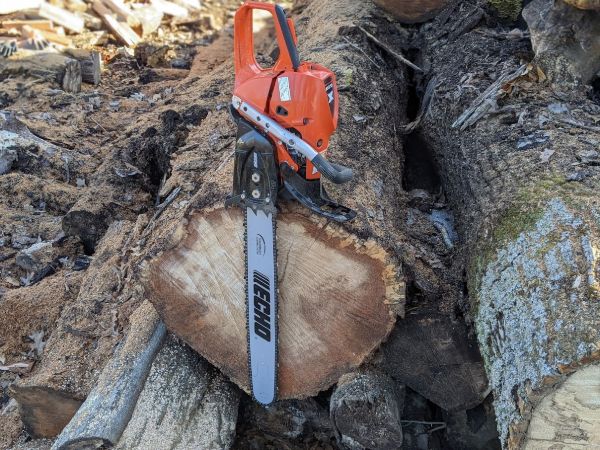 Specifications
Engine Displacement: 73.5cc
Bar and Chain Oil Capacity: 12.2 Fl. Ozs.
Powerhead Weight (Dry): 14.9 Lbs.
Carburetor: Standard/Adjustable.5
Oiling System: Automatic/Adjustable
Fuel Capacity: 27.1 Fl. Ozs.
Available Bar Lengths: 20″, 24″, 28″, 32″
Warranty: 1 Year Commercial / 5 Year Consumer
ECHO Professional GradeFeatures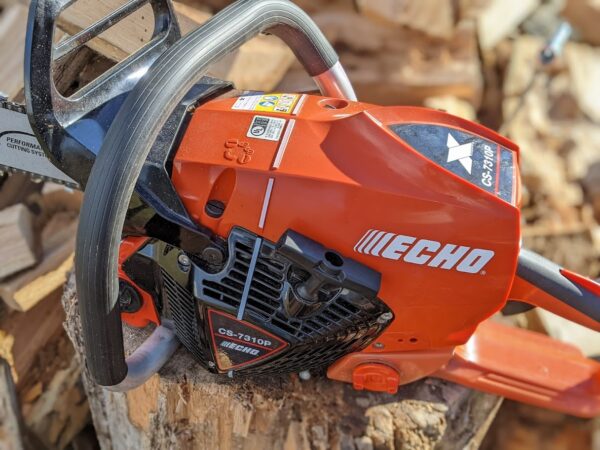 The CS-7310P is part of ECHO's X-Series of tools. This line is what ECHO considers their best-in-class professional-grade models. What separates a professional-grade chainsaw from a home-owner model is the materials used as well as the standard features. A professional-grade saw like the CS-7310P is designed with durability in mind to stand up to constant all-day use.
Easy to Use Controls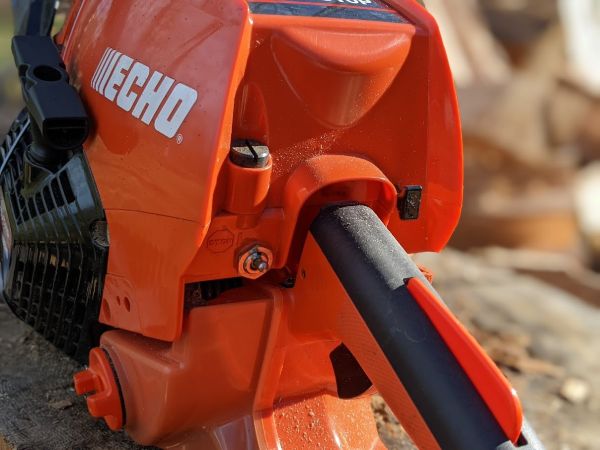 ECHO saws feature controls that are easy to use and understand. While some users may refer to them as "basic", I enjoy the simplicity and almost throwback nature of them. A metal toggle on/off switch is located to the left of the rear grip. It is easy to reach with my right thumb while gripping the saw. A choke lever pulls reward to start the saw. A decompression valve is located on the top of the saw housing and makes for an easy starting saw. My saw typically starts on the first two to three pulls, depending on the temperature.
As a kid, my grandfather had an ECHO EVL series chainsaw. Using the controls on the CS-7310P reminds me of that time and learning about saws in general.
Tool-Less Cap Design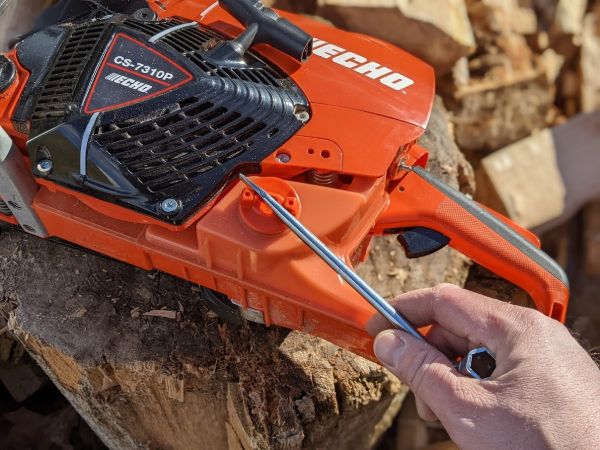 Echo describes their fuel and bar-oil tank caps as tool-less. Instead of a folding flip cap, two sturdy lugs are molded into the head of the caps. I can grab the lugs with my fingers to open or close. Or, if stuck or gummed up a screwdriver or saw scrench can be used as a lever to release them. The fuel tank is also semi-translucent allowing a visual reference for the level of fuel available.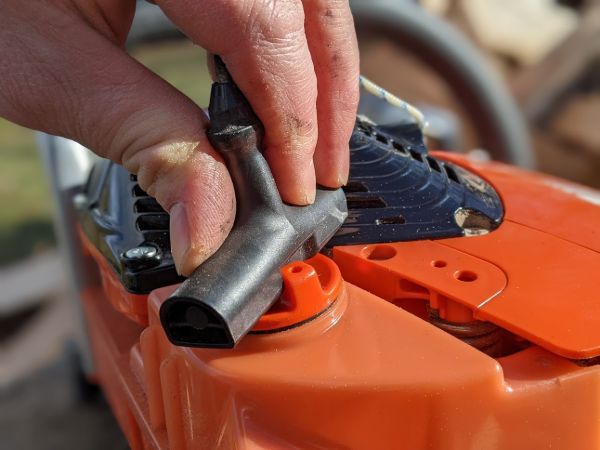 A very cool design feature of ECHO saws is that the rubber handle for the pull-start has a molded channel in it. This channel is designed to fit between the lugs of the caps and provide leverage to open or close. This feature is invaluable when cutting in the field and losing/forgetting your scrench. While I have owned and used saws with flip caps in the past, I have come to prefer the simplicity and ruggedness of the ECHO cap design.
Factory Felling Spikes
Most saw manufacturers do not include a set of dual felling spikes or "Dogs" on a saw without a full-wrap style handle. They are a factory option that must often be ordered separately for a standard-style saw. However, the ECHO CS-7310P chainsaw comes standard with dual spikes regardless of model configuration. This is a greatly appreciated feature. In the past, I have been forced to order spikes for new saws, or modify spikes to work.
The dual-felling spikes are important primarily for leveraging traction on large pieces of wood. The spikes bite into the wood and keep the saw locked in place when making a cut. The ECHO's spikes protrude far enough forward and are sharp enough to really grab the wood regardless of thick layers of bark or dirt. They also keep the CS-7310P squared up to the cut and keep the bar perpendicular.
4 Stage Air Filtration System
The CS-7310P filters the engine air intake a total of four times during operation. Initially, the air is circulated by the flywheel, which spins out particulates of dust as it passes over the cylinder's cooling fins. The inertia generated by this process helps remove the bulk of the debris. The cleaner air then passes through the sealed filter box, where it is filtered two more times. This all happens before the air even reached the large pleated air filter.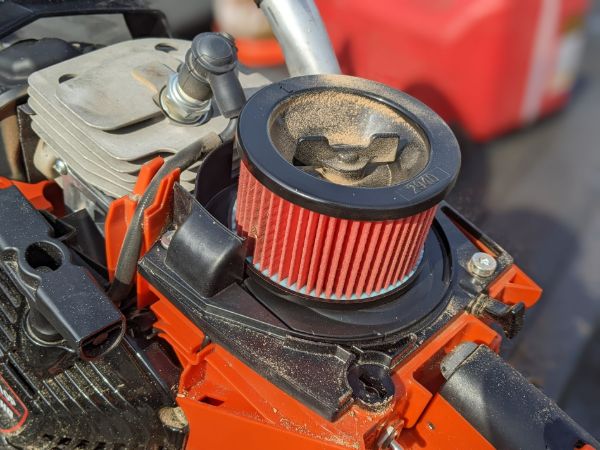 This multi-stage filtration process greatly extends the life of the air filter. A video is available on the ECHO website that explains this filtration process in greater detail. Removing and cleaning the air filter is also very easy thanks to the large wing-nut screw.
Power and Cutting Performance
OREGON Bar and Chain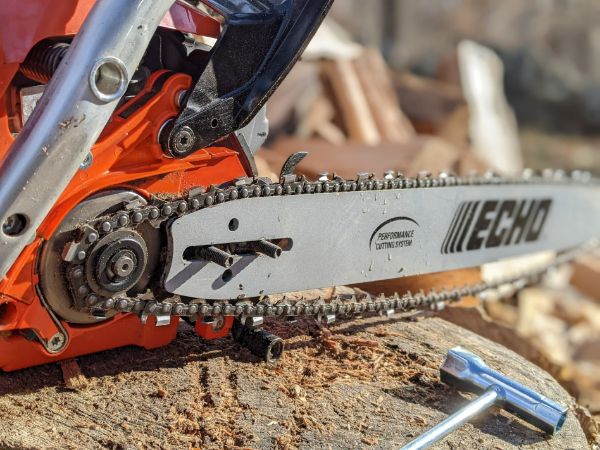 I evaluated the ECHO CS-7310P chainsaw with both 24″ and 28″ bars. Regardless of bar length, ECHO includes the excellent OREGON PowerCut chain. This full chisel, 3/8″, .050 gauge chain is designed for professional woodcutting. Between the two bars, I found the 28″ to be my overall favorite. That length seemed to balance the saw out well and made for comfortable cutting, even while standing.
I cut firewood on my property as well as process tree service wood I receive from some friends in the area. The majority of it is ash, red and white oak, hard maple, hickory, and others. These are all species native to my area of Connecticut and they make excellent firewood. During the testing process, I cut primarily during the winter months, fighting freezing temperatures, as well as wood that was frozen solid.
Cutting Power
Right out of the box the saw is responsive and fast to throttle up. Ordinarily, saws take several tanks of fuel to wear in and really "open up", however my ECHO has been smooth and powerful from the first tank. I am curious to see how the experience improves. The manually adjusting oiler also keeps up well with the saw regardless of length. With the 28″ bar, the saw typically consumed approximately 3/4 of a tank of bar oil per tank of fuel.
My current pile of tree-length wood that I am processing has logs ~30″ in diameter. With the 28″ bar, I buried the saw to the nose and made full depth cuts in frozen oak and ash. The CS-7310P chewed through this wood and spit out big flaky chips in the process. The 73.5cc engine is well suited for such a demanding task. It also felt as if there was power to spare. This kind of power is what really separates a pro-grade saw from consumer or even farm/heavy use saws. By not maxing itself out, the saw essentially prolongs its life.
Manually Adjustable Carburetor
The current trend amongst saw manufacturers is the use of computer-controlled carburetor systems. These smart carbs automatically adjust fuel and air mixtures based upon a variety of factors. I was surprised when the CS-7310P was announced that it featured a traditional manually adjusting carb. However, this decision makes sense given the other features of the ECHO, such as the manual controls. A traditional carb is faster to replace, tune, and get back to work in the event of a failure. Additionally, it keeps the price of the saw lower than other models in the same class.

Who is the CS-7310P Designed For
This is not a saw for the average homeowner. That being said, a saw of this size is ideal for anyone looking to speed up the processing of timber or firewood. Speaking with the development team at ECHO, they shared that the CS-7310P was evaluated by pro
About the author
Disclosure
Product reviews on this site contain our opinion of a product or service. We will always strive for objectivity and transparency in our reviews. Our goal is to provide readers with honest, objective information based on our own experiences. We never have and never will accept payment in exchange for a positive review. Many of the products that we review are provided to us for free by a manufacturer or retailer. In some cases, we also have advertising or affiliate relationships with manufacturers and retailers of products and services we review. For additional information please visit our additional disclosure policies.