Best Tape Measure
Best Tape Measure Comparison Testing  
Who Makes the Best Tape Measure? Tape measure and hammer brands often cause more debates on the job site than anything else, and I can see why. When you use a tool daily, hourly, or more, you become attached to it. One of the most critical tools required by all construction trades is the tape measure. So, who makes the best tape measure?  Pro-grade tape measures must retain their accuracy while enduring the regular abuses, such as drops or bumps, that occur on job sites.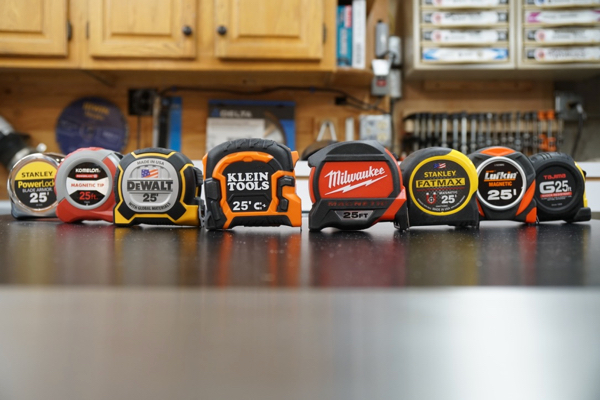 In this Best Tape Measure Head-2-Head, we put several 25' premium tape measures to the test.
We evaluated 8 different tape measures from 7 different manufacturers, five of which had magnetic tips.
The tape measures:
Dewalt DWHT 36225
Klein 86225
Milwaukee 48-22-7125
Stanley FMHT 33865
Stanley Powerlock
Lufkin L1025MAG
Tajima G-25BW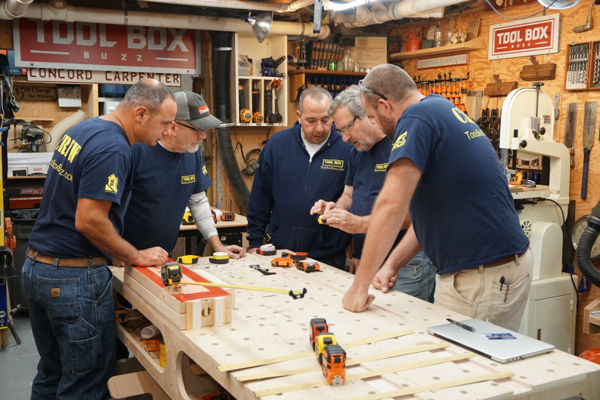 Why 25-Foot Tapes?
While there are certainly many other tape measures to choose from, we chose to look at the more popular, pro-grade tape models. We also chose to look at 25-foot length models, as they are the most popular length tape measures sold on the market. We put each tape measure through the following tests:
10-Foot and 25-foot Recoil Test
It is never a smart idea to let the tape measure blade whip back into the case– a tape measure isn't designed to withstand a short, sharp shock over and over. When repeated, full-speed rewinding of the tape measure causes damage to the inner workings, the end hook, and the blade markings. 
However, during our testing we did just that! We tested recoil from 10-feet and 25-feet to establish a benchmark speed. We then used our benchmark speed to test the tape after abrasion, debris and drop testing.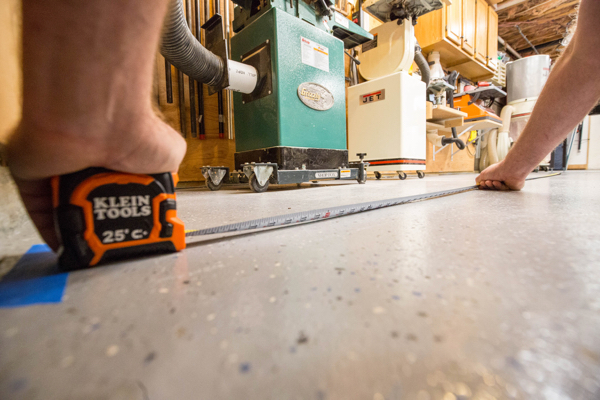 For this test, we measured and marked the distance on our clean shop floor. We pulled all the tapes out to this distance and recorded the recoil five times to determine their baseline average recoil speed.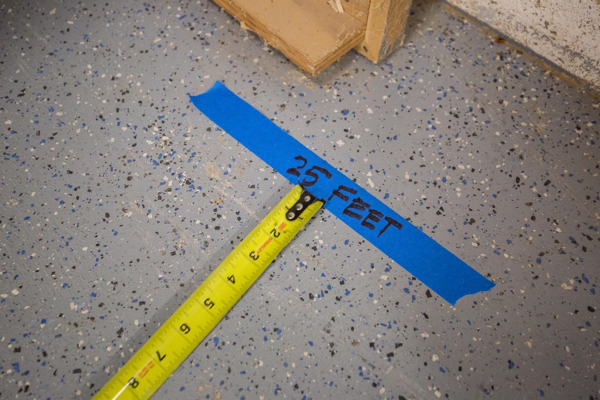 The Milwaukee tape [below left] bent on the 4th recoil test, one Lufkin tape [below right] broke off on the 3rd recoil test. Several others had their hook movement stretched.
We used several of the same brands during our head-2-head testing. By using several samples of the tapes, we were able to complete and continue testing if a particular tape failed a certain test.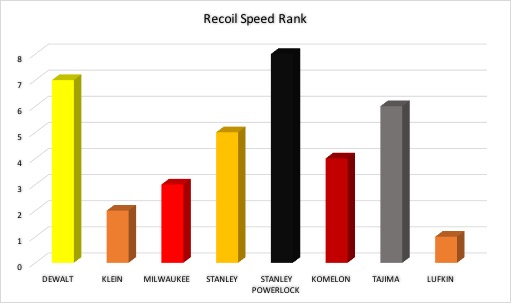 According to our data, Lufkin had the fastest recoil speed, at 1.05 seconds, and that may have been a detriment to it tearing. Klien was second at 1.08 seconds, and Milwaukee was third with a 1.20 second 25-foot recoil.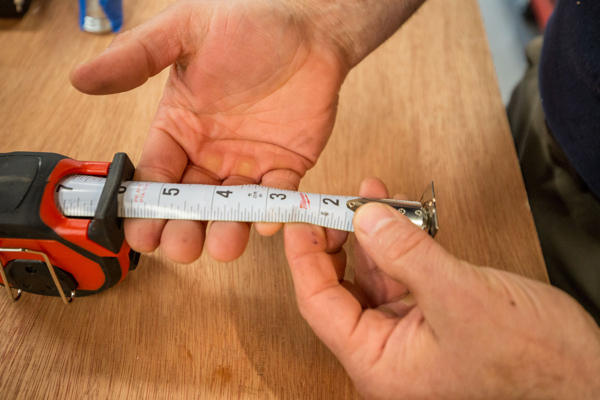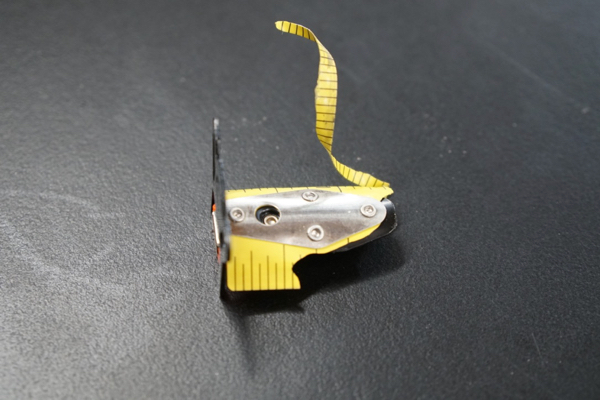 Abrasion Test
Tape measure readability is important; over time, tape markings wear off and make the tape difficult or impossible to read. Furthermore, wear down of the tape coating is the #1 failure of tape measures.
All tape measure manufactures follow the ASTM D 968 and other internationally recognized test standards, the Falling Sand Abrasion Tester. The Falling Sand Abrasion Tester measures the resistance to abrasion of paint, lacquers, and other organic coatings.  Abrasion results from abrasive particles falling through a guide tube and impinging the test specimen, until the substrate becomes visible.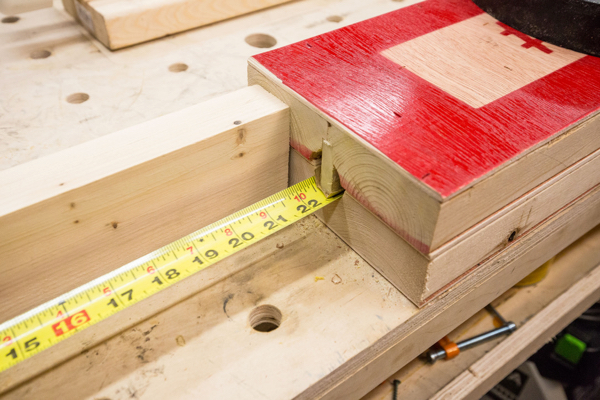 The abrasion jig we used was more aggressive. To simulate and accelerate tape-marking wear, we performed an aggressive tape abrasion test in the shop, through the use of an "tape-pull abrasion jig."  It measured 26" long and had a hollowed-out, concave center bottom. The top of the jig had a 3/8" wide convex pressure-point. Adhesive grit sandpaper was applied to the convex point and wax was applied to the concave side.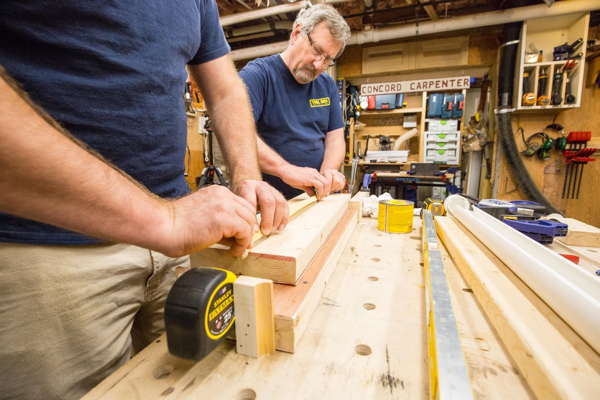 The tape measures were placed in the jig, which had a very small gap for it to fit. We placed a 25 lb. weight on top, and then pulled the tape using a slow 1000-count back and forth through the jig. This allowed us to evaluate a 60"span of tape wear. Tape marking wear was then noted and photographed.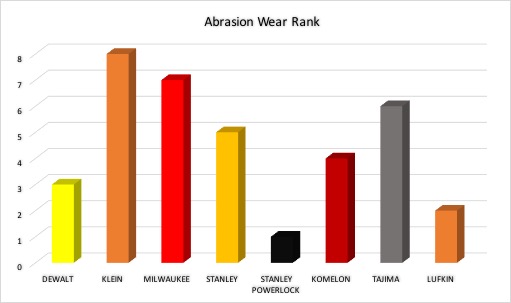 The Stanley PowerLock had the least amount of visible wear to its tape. Lufkin came in second place, Dewalt third, and Komelon came in fourth.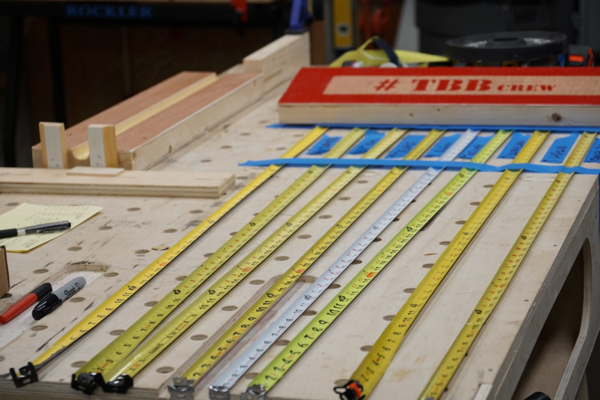 NOTE:
Many contractors use the first 6" or less of their tape more than the full 25-foot length. As a result, many tapes wear quicker in these areas.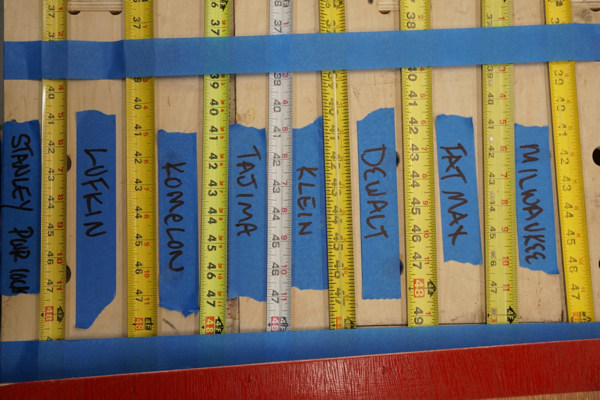 To combat this, the DEWALT, Stanley FATMAX, and Stanley Powerlock all added a clear thermoplastic "Blade Armor" tape over these high wear areas.  DEWALT added 9" of thermoplastic coating, and the STANLEY FATMAX features a Mylar blade coating and 3" of BladeArmor. While the STANLEY Powerlock has a Mylar blade coating.
Milwaukee, however, uses a Nylon extrusion process. This process melts down nylon pellets through proprietary machine, which coats the entire blade. This coating is then baked in a furnace.  Komelon also uses a "sprayed on" nylon blade coating process, some like the L1025B that we tested has a matte nylon finish to reduce glare.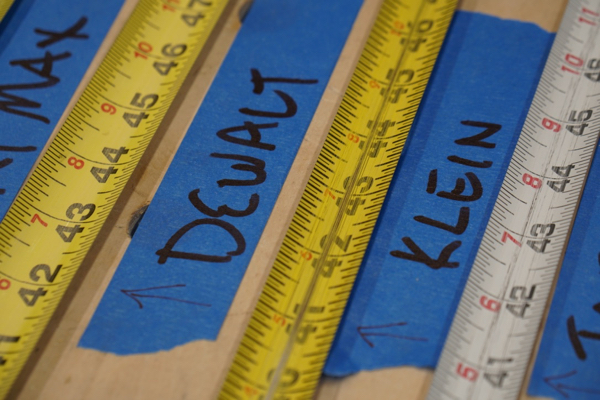 Magnetic Pull Test [If Applicable]
Many contractors use magnetic tapes– from metal stud, to HVAC, and plumbing. Thus, we wanted to glean some insight on who sported the strongest magnet. To test this, we attached each tape's magnet to 3/8" metal plate and pulled. In our opinion, all of tapes should be able to extend FULL 25-foot length, and while some did, others didn't.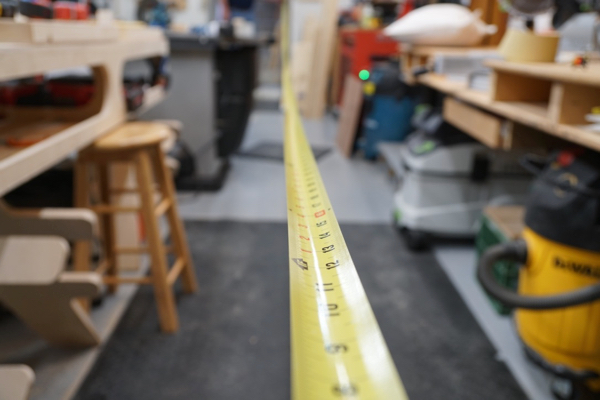 Three tapes were able to extend full-length:
Klein

Milwaukee

Stanley FATMAX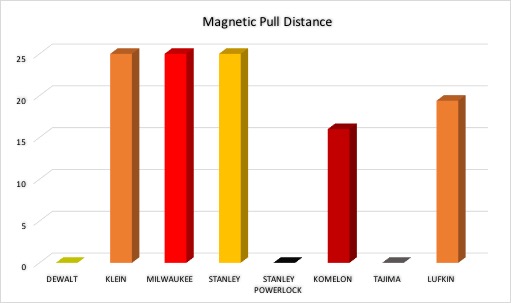 The Lufkin made it to 19'4" while the Komelon made it to 16-feet. I'll be completely honest with you, we all have favorites, mine was the Stanley PowerLock, but I was falling in love with this Komelon tape at this point in the testing.
Magnetic Weight Test
On this test, we wanted to eliminate the risk of user twist or torque. We attached the tape measures that had magnets to bottom of ceiling non-galvanized joist hanger, extended the tape, applied the tape measure lock, and then applied blue tape to the tape and body to reinforce the lock. We used the blue tape because we found that many of the tape measure locks failed, before the magnet did.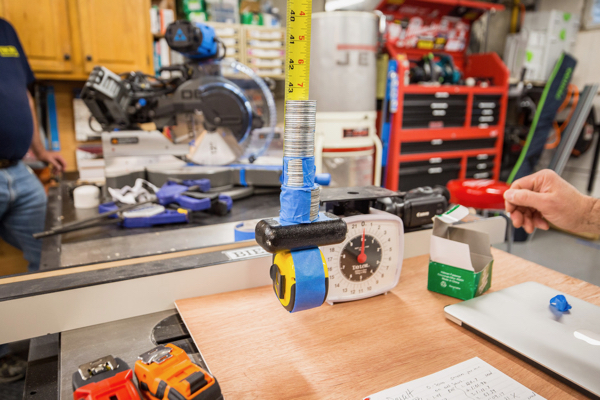 For this test we placed pre-measured weights on top of the tap measure until the magnet failed. This test gave us an indication of how strong the magnet was.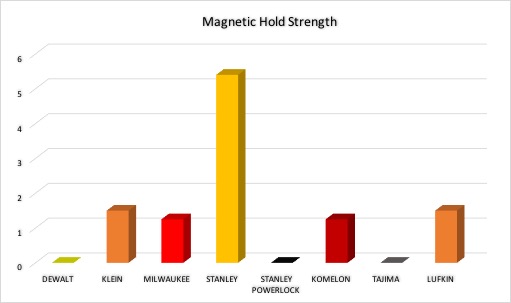 The Stanley FATMAX blew the doors off the competition with a 5.5 lb magnet strength. Second place was Milwaukee at 2.25 lbs. Followed by Klein, Komelon and Lufkin at 1.5 lbs or less.
Debris Testing
Trades that work in extremely dusty environments will tell you that it doesn't take long for the recoil on the tape to get sluggish or completely stop. Water or dirt that gets on the blade of a tape measure can work its way into the mechanism and cause slug, rust or jamb up the winding.
For this test we designed a torturous debris chamber recoil test. We modified a 3" pvc pipe to hold a medley of drywall dust, saw dust and sand.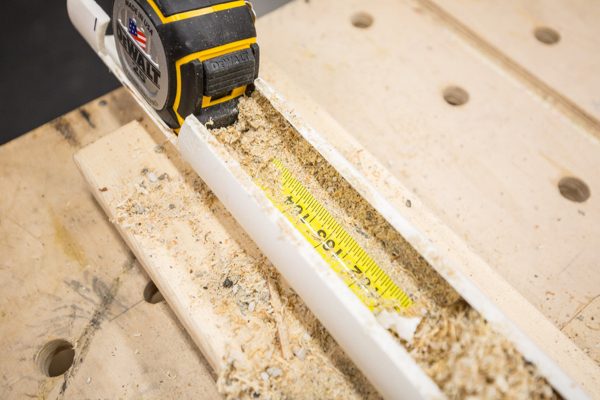 Each tapes pulled out to 25′ and allowed it to recoil slowly. We repeated this sequence 4 times. This test proved too much for most of the tapes. Many of them would not retract and close less than 6-inches. We had to pull the tapes in and out to get them to close completely.
Once closed, we tested their recoil twice, from 25-feet while measuring for time. The BEST tape measure in this torturous test was the Stanley FATMAX which stopped at 9-feet on the first recoil test and then completed the recoil test at 1.9 seconds.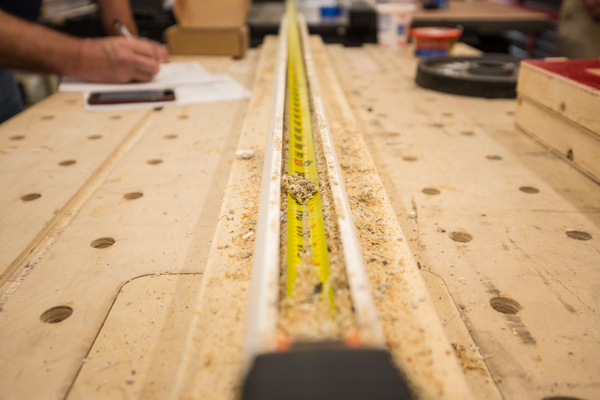 Followed by Lufkin which recoiled to 10'10" on the first test, and 6-inches on the second test. The Stanley PowerLock, in third place, stopped at 10'-4" inches on it's first test, and only recoiled 25-inches (total) on its second test. The DEWALT, Klein and Milwaukee all recoiled to 14.5 inches or greater and failed to recoil at all, on the second recoil test.
Tape Measure Standout
Stand out is big to some guys, because a long reaching tape is useful when measuring alone. Stand out basically refers to how straight you can extend your tape without it bending or losing is rigidity.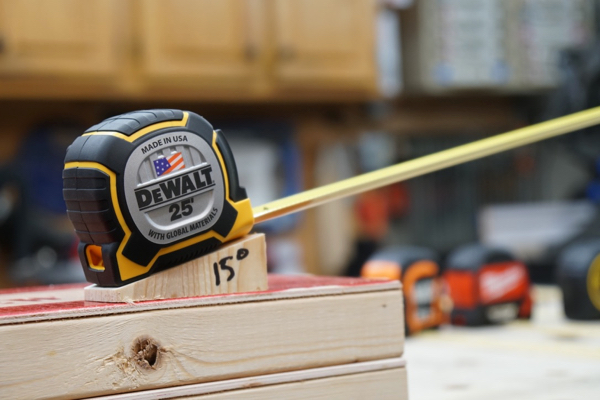 We made a jig with a 15-degree angle and tested each tape three times for an average stand out measurement. The DEWALT stood out here, pun intended, with the longest standout.
Standout Results
DEWALT 11'3″

Stanley FAXMAX at 10'6″

Lufkin at 10'0″.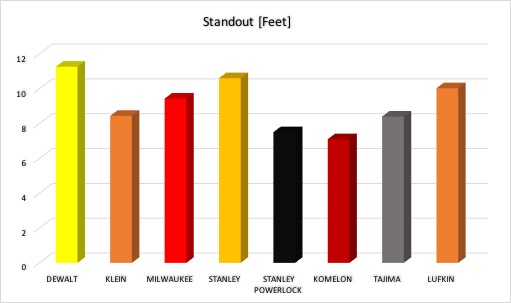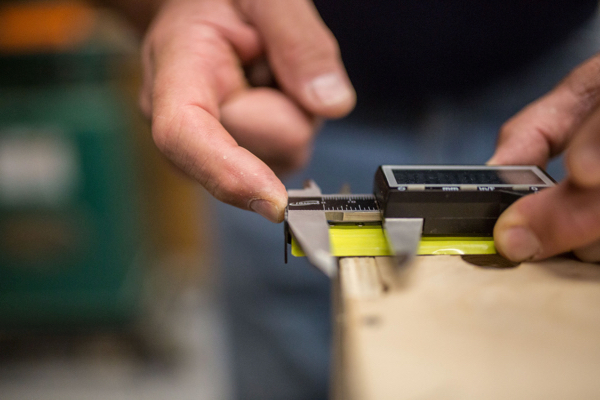 Hook Movement
Have you ever wondered why the hook is loose?
All of our pro followers already know why the hook at the end of a tape measure is loose. But for any novices, the looseness is very intentional and plays a key role in using the tape for both inside and outside measurements.
When you butt the end of the tape against a surface for an inside measurement, the tip is compressed  against the end of the tape by the width of that hook. (Spoiler alert – the first inch of the tape is short by the thickness of a hook.) When you go to take the outside measurement and hook it over the edge of whatever you are measuring, the hook moves away from the tape by the width of the hook.
We examined just how accurately the manufacturers built their tapes for this inside/outside hook movement. And we wanted to see how the hooks on the tapes stood up to after our retraction test. The results varied.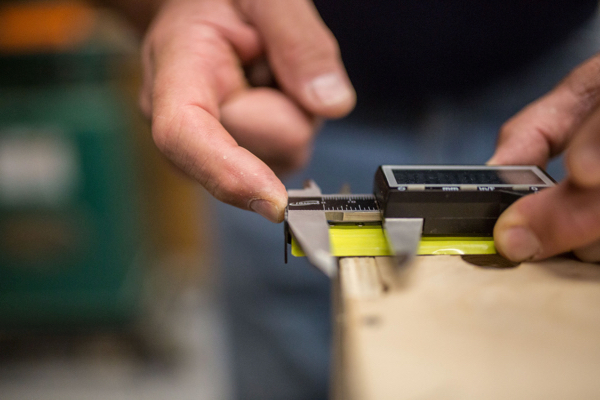 Out of the box, the Lufkin was most accurate with the hook thickness of .045" equal to the hook movement of .045" Most other tapes had a difference of .01" in these measurements. The Milwaukee tape had the greatest difference at .022"
After the retraction tests, we measured which tapes held their tolerances and which showed a marked difference after that test.Our theory was that the rapid 25-foot retractions would eventually loosen the tape hook, distorting its tolerance. We were right.
In this comparison, both Stanley tapes performed well. The Stanley PowerLock reading was identical and the FatMax varied by only .01". Milwaukee also matched the FatMax performance of .01". The Lufkin tape showed the largest difference, increasing by .045", almost a full hook thickness.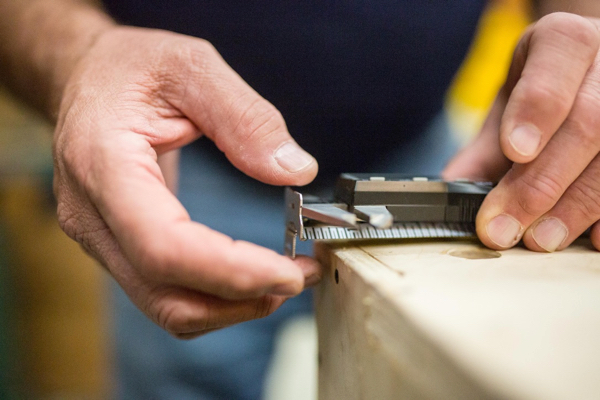 Ergonomics
Ergonomics is about designing for the end user. Defined as the science of fitting a workplace to the user's needs, ergonomics aims to increase efficiency and productivity and reduce discomfort. For ergonomics we look at:
Grip
Weight
Lock
Belt Clip
Ability to sit flat on a surface
Hook
Overall Construction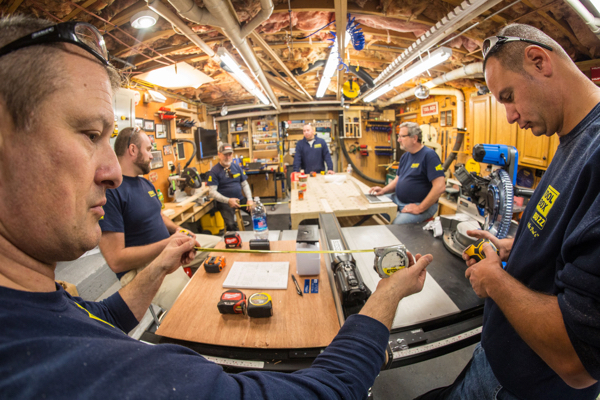 The best tape measure in the ergonomic category was the Milwaukee. The crew liked the detent on the back of the body, and finger brake on the bottom. The Milwaukee body has plenty of rubber over-mold on top and base. It was the MOST Stable of all the tape measures, when placed onto a flat surface. The extremely durable hook has solid rivets, a super strong magnet, a screw- nail slot with 2 upper tabs.
The Milwaukee tape measure features a unique belt clip constructed out of wire bale instead of a flat piece of metal. The clip is specifically designed to reduce wear and tear to pants and tool bags.
The crew noted that this belt clip was difficult to apply to a pant pocket one-handed, but once applied it does a phenomenal job holding the tape in place.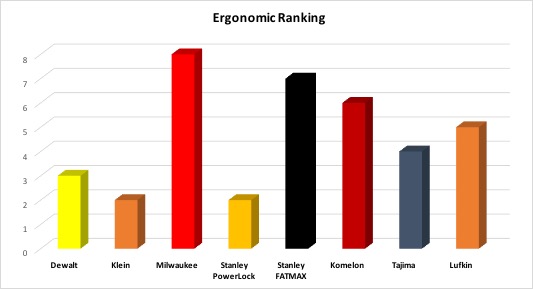 The Stanley FATMAX was a close second for ergonomics. It has a rubber over-mold on top back and bottom,  a strong, secure, positive clicking tape-lock that can resist 4 lbs.
The crew liked the belt hook, and low profile magnetic hook with its screw – nail slot on lower tab and two upper tabs extensions. Third place went to Komelon which is a very comfortable tape to use, smooth recoil, and one of my favorites.

Readability
Readability and durability are two words that stick when I think of tape measures. Three tapes tied for best tape measure readability.
Milwaukee

K

omelon

Lufkin
The Milwaukee tape features a 1/16th yellow scale and is 2-sided. On the back end of the tape the numbers allow you to read upside-down.  Additionally, there is a small 12″ long architectural scale for plan measuring featuring  a 1/8 and 1/4 inch scale. This scale starts on the back of the tape at 10 inches and runs to 22 inches.
The Komelon,features a 1/16 scale, is easy to read with its high-vis yellow on top, white tape on back side [2-sided] tape. The crew felt that the Komelon may be the BEST of the tapes to read, based on the tape color! One thing the crew noted was that after the 12-inch markings, the tape markings get a bit busy to read. [For example; 13-inches is listed at 13 and also 1F 1.] We felt the this marking pattern made the tape very busy and was unnecessary.
The Lufkin Yellow tape, is also 2-sided, with a 1/16 scale. The markings are longer on this tape, and are labeled similar to the Komelon after 12-inches.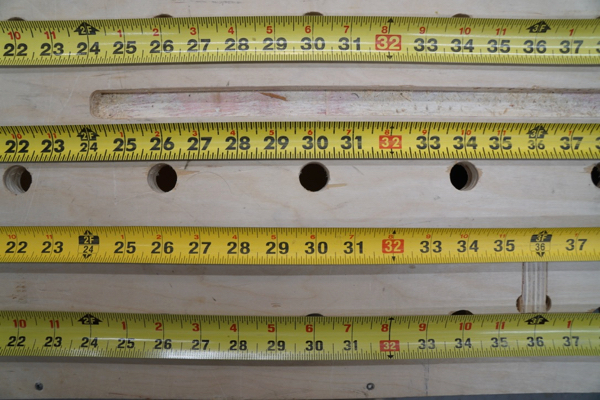 Drop Testing from 15-feet and 30-feet
We dropped the tapes onto pavement, once at 15-feet, and a second time at 30-feet. After both drops, we recorded and noted each tapes' condition. We set up a personnel lift to do our drop testing.
Almost all of the tapes survived our 15-foot drop test. The Klein tape measure sustained the most damage. The Klein's hook bent and the case opened. While it's possible that the Klien hit the ground perfectly to dent the hook, we feel that the case should not have opened up from 15-feet. Also damaged was Stanley FAXMAX, DEWALT, Milwaukee and Komelon with slight case or hook damage.  The Tajima and Lufkin came in first place on the 15-foot  drop test. Both tapes worked perfectly and had zero visible damage.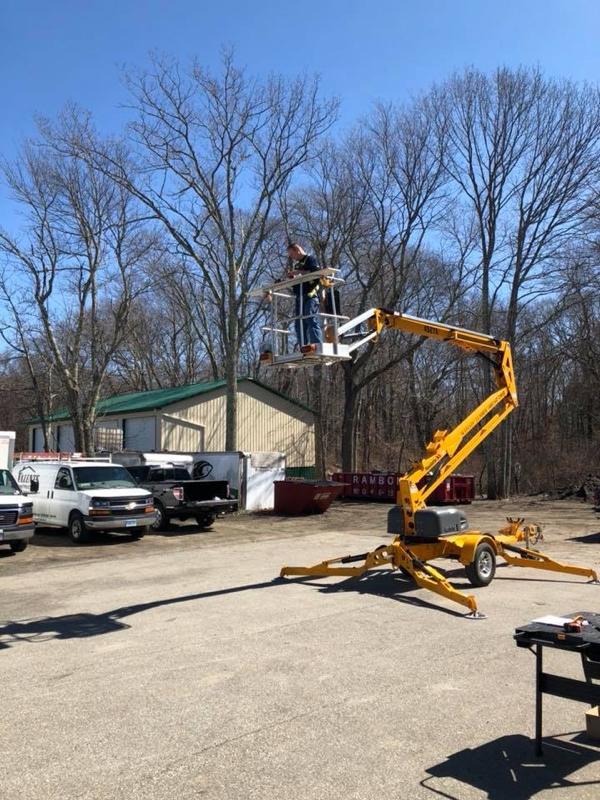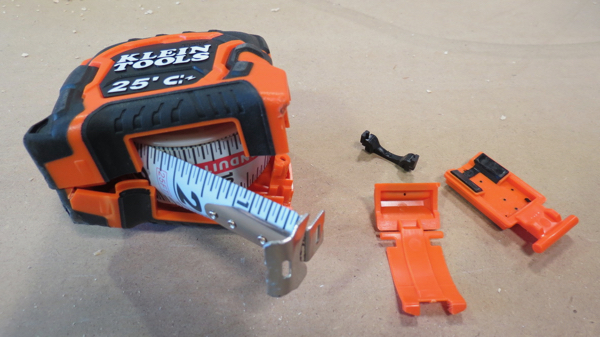 On the 30-foot drop test the two most durable tape measures after drop testing were the Dewalt and the Stanley FATMAX, both sustained the least damage and were still usable after the test. Lufkin and Tajima came in tied for second place with slightly more damage but less than the rest of the pack. The Klein came in last, due to its case braking open on impact.
Price
Dewalt DWHT 36225      – $29.97
Klein – Upper #86225     – $24.66
Milwaukee #48-22-7125 – $23.96
Stanley FMHT 33865      – $ 22.98
Stanley Powerlock           –  $ 11.00
Lufkin L1025MAG          –  $ 16.80
Tajima G-25BW               –  $ 20.91
Komelon 73425                –  $ 11.05
BEST Tape Measure Overall 
The BEST tape measure overall was the Stanley FATMAX. The FATMAX had the highest score in magnetic hold, debris testing, drop testing, hook durability and blade thickness. It placed second in four other categories, securing the #1 slot in our testing.
One of our crew referred to it as a "brick-shit -house" of a tape measure.
While I'm sure Stanley marketing team won't use that description, it's certainly a durable, robust and well-made tape measure, designed for harsh job site conditions.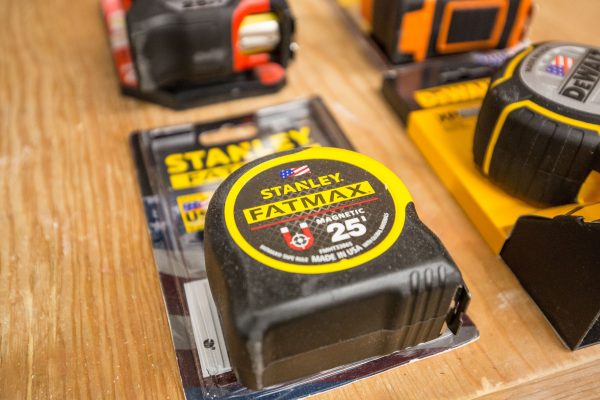 Buy Now From Our Sponsored Retailers
Scoring only one-point less than the FATMAX, in a super close race, for the best tape measure was neither a crew favorite, nor on anyone's radar, during our tape measure testing.
This dark horse sneaked by the competition and took the #1 slot three times in several testing categories, and scored #2 three times and #3 six times.
The second best tape measure is the Lufkin.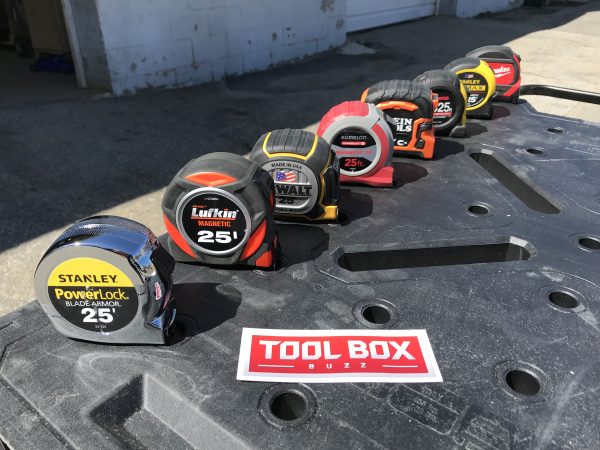 After the testing it was apparent to me that these devices need proper care in order to provide you with accurate, reliable measurements. Caring for your tape measure is easy, here are a few steps for properly maintaining your tape measure.  
| | | | | | | | | |
| --- | --- | --- | --- | --- | --- | --- | --- | --- |
| Best Tape Measure | Dewalt | Klein | Milwaukee | Komelon | Stanley PowerLock | Tajima | Lufkin | Stanley Fat Max |
|   |   |   |   |   |   |   |   |   |
| Ergonomics | 6 | 7 | 1 | 3 | 7 | 5 | 4 | 2 |
| 25 Foot Recoil | 7 | 2 | 3 | 4 | 8 | 6 | 1 | 5 |
| Abrasion | 3 | 8 | 7 | 4 | 1 | 6 | 2 | 5 |
| Magnetic Pull Test | 0 | 2 | 2 | 4 | 0 | 0 | 2 | 2 |
| Magnetic Hold | 3 | 3 | 2 | 5 | 3 | 3 | 3 | 1 |
| Debris Test | 6 | 8 | 7 | 4 | 3 | 5 | 2 | 1 |
| Standout | 1 | 5 | 4 | 8 | 7 | 6 | 3 | 2 |
| Readability | 2 | 3 | 1 | 1 | 2 | 2 | 1 | 2 |
| Drop Testing | 2 | 4 | 3 | 2 | 4 | 1 | 1 | 2 |
| Drop Testing | 1 | 8 | 5 | 5 | 5 | 3 | 3 | 1 |
| Construction | 1 | 3 | 2 | 1 | 3 | 2 | 3 | 2 |
| Hook Durability | 3 | 2 | 1 | 1 | 1 | 2 | 3 | 1 |
| Blade Thickness | 2 | 3 | 1 | 3 | 3 | 1 | 2 | 1 |
| Price | 8 | 7 | 6 | 2 | 1 | 4 | 3 | 5 |
|   |   |   |   |   |   |   |   |   |
| TOTAL SCORE | 45 | 65 | 45 | 47 | 48 | 46 | 33 | 32 |
Buy Now From Our Sponsored Retailers
Best Tape Measure Video Review
About the author
Disclosure
Product reviews on this site contain our opinion of a product or service. We will always strive for objectivity and transparency in our reviews. Our goal is to provide readers with honest, objective information based on our own experiences. We never have and never will accept payment in exchange for a positive review. Many of the products that we review are provided to us for free by a manufacturer or retailer. In some cases, we also have advertising or affiliate relationships with manufacturers and retailers of products and services we review. For additional information please visit our additional disclosure policies.