Best Cordless Track Saw
Best Cordless Track Saw Comparison – Head-To-Head
Track saws make long, precise cuts more quickly and with greater precision than table saws or circular saws. They are light, easy to transport, set up is quick and easy, and they produce extremely accurate cuts. The TBBCrew took a hard look at the major cordless track saw models [also known as plunge saws] to see how they "lined up." After spending hours in job site use, shop testing, and critical analysis of each saw's features and performance, we're ready to provide you with a comprehensive look on each saw and to crown the BEST cordless track saw.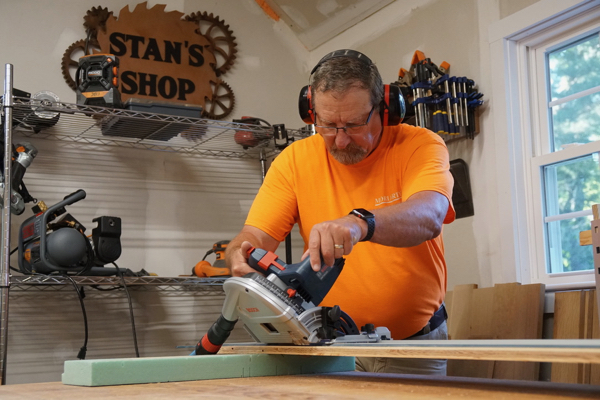 Track saws are becoming a "must-have" tool for finish carpenters and remodelers due to their myriad uses. Track saws excel at tasks like cutting down doors breaking down sheet goods and trim stock. But they also provide the ability to quickly and easily make out of parallel cuts or field cuts on assembled cabinets or built-ins, a task that would require shooting boards, jigs, or be downright impossible with traditional circular or table saws.

Track Saw Lineup
This cordless track saw head-to-head includes 5 saws from; Bosch, DEWALT, Festool, Mafell, and  Makita.
Best Track Saw Evaluation Format
For this evaluation, we broke things into several categories including Precision & Quality of Cut, Performance (runtime/power), Features, Ergonomics, and price. We also point out the "best-value" saw.  For each of these categories, we'll rank the saws and in the end, we'll name the Best Portable Cordless Track Saw based on all the results combined.
Precision & Quality of Cut – In this category we evaluated the accuracy of the track saws and how easy it is to make adjustments. We also discuss the quality of the cut the saws produced.
Run-time– Lots of Pro's think run-time is important. The performance evaluation took a very deep dive into the power of the saw motors and how well the saws managed ripping thick plywood material.
Features – An overall comparison of features and specifications.
Ergonomics – Ergonomics are really important to users and an important category to consider when purchasing any power tool. In addition to traditional ergonomics, we also included functionality in this category.
Price – Price is always an important factor in determining which saw is best for a user. We've included the current pricing found online for each of the saws "as-tested," at the time of publication.

Best Cordless Track Saw Features
Before we present the testing results, it's helpful to set the stage by listing all the features and specifications for comparison. Specific differences in the saws are listed below.
Bosch GKT 18V-20GC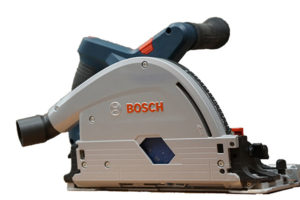 140 mm blade
42 tooth blade
20 mm arbor
5500 rpm

Swiveling dust hose port and a lock-off mechanism

Overload protection

Electric brake

Single pivot-point for both bevel and non-bevel cuts, from -1° (for slight undercuts) to +47° cuts

Easy blade-change system – quick three-step blade swap with spindle lock and on-board hex key
Constant electronics to help maintain speed under load.
DEWALT DCS520ST1

This saw can run on the  Makita, Festool, and Triton tracks

6.5" blade
42 tooth blade
20 mm arbor
1,750-4,000 rpm
Electric brake

On-track cut depth: 2-1/8 in. @90 degrees and 1-5/8 in. @ 45 degrees ;

Continuous anti-kickback mechanism and riving knife prevent kickback when engaged

"Straight plunge" linkage mechanism for optimal ergonomics

Dual edged tracks

60-volt Flexvolt battery

 6.0 Ah
Festool TSC 55
TSC 55 Li 5,2 REBI-F-Set/XL-FS
160 mm blade
48 tooth blade
20 mm arbor
2,650-5,200 rpm
Electric brake

Cutting depth  2-⅛" at 90° and 1-11/16" at 45°

Depth of cut scale has indicators for use with or without a guide rail

Splinterguards on both sides of the blade

Angular range -1 – 47 °

Dual Voltage 18/36 volt [will cut with one battery]

Comes with a dust bag

Mafell MT55 18M
MT55 18M
162 mm  blade
48 tooth blade
20 mm arbor
4850 rpm

Cut capacity –  57mm (2-1/4") at 90 degrees and 40.5mm (1 -5/8") at 45 degrees

The saw can run on Makita/Festool/Triton tracks in addition to Mafell and Bosch tracks.

Bevel range = -1 degree and +48 degrees

1mm depth adjustments and depth indicator reverse for on-track or off-track plunge cutting.

Scoring function for cuts that must be tear-free on both sides such as cutting down doors. Scoring cutting depth is 2.5mm and offset slightly from the cut line. Score. Then deactivate the scoring function and then perform the parting cut.

Electronic riving knife.

The position indicator makes inside plunge cuts precise. Red slides show the exact position where cut enters and exits materials.

Single motion blade change drops the blade housing and automatically locks the saw blade and locks out the start trigger.

35mm dust collector hose connection with detents to stop at various connector angles.

Chip guard drops down to the workpiece surface and effectively seals off the blade compartment for superior dust collection.

Extreme fine depth adjustment screw to be used with resharpened saw blades, veneers, or other fine accuracy requirements.

Angle settings are fixed at two locations at the front and rear of the carriage with a single point of adjustment at the front of the saw.

Saw blade – 162mm x 1.2 x 20mm, 48ATB Teeth

18v Li-ion 99w-hr Battery

Comes with a dust bag
Bevel cuts do not re-cut rubber strips.

Makita XPS01PTJ
XPS01PTJ
6.5" blade
55 tool blade
20 mm arbor
2,500-6,300 rpm

1.39 mm kerf

18V  X2 – brushless. 

Drains both batteries at the same time. Will not run off 1 battery

VS setting – 2,500 to 6,300 [5 settings]

Cut capacity –  2-3/16" at 90 degrees and 1 -9/16" at 45 degree

Cut 11/16" from wall

Bevel -1 degree and +48 degrees [2 levers at saw baseplate for -1 and black lever for 48 degrees]

Positive stops at 22.5 and 45.  

22.5 positive stop bypass

Line of sight – 90 and 45 detents [off track]

Auto speed change technology – adjust speed and torque
Mode indicator – solid green light at battery gauge in high torque mode.  Blinks green when overloaded
Electric brake
Soft start motor
Quick stop scoring button [near handle] – 2-3mm score cut.
An anti-tip lever at the baseplate
2 knobs  adjust baseplate in slide
Swivel dust port 1-3/8 ID and 1-3/4 OD.  Dust bag extra
Blue tooth auto-start wireless system (AWS™) enables wireless power-on/power-off with an AWS-equipped dust extractor

Track Saw Precision & Quality of Cut – Winner – Mafell
To assess the manufactured accuracy of the group of five track saws, cut strips from each track saw were examined. The cuts were made at both 90 and 45 degrees. In order to eliminate as much human variability, we cut the same piece of wood for all 10 samples and the same crewmember made all 10 cuts.
Each of these saws had new blades and produced a consistent number of high-quality cuts. But there were certainly differences when we look at a side-by-side comparison.
Our method of taking and marking the samples that we would later analyze was carefully thought out and followed. We took the specimens from the face of the wood that remained in place on the large piece after completing the cut. In that way, the 'good face' was not subject to any movement or blade marks from being a short, unsupported piece.
We initially used a 400x USB microscope to examine the cuts. While this method showed the blade impressions in the wood, this was almost too close a look and it was hard to create a relative ranking just using the microscope as it focused only on a tiny area of the strip. The naked eye was much better at seeing the differences between the saws.
To highlight the blemish marks and saw blade patterns in the wood, we lightly rubbed red powered chalk lightly over the wood surface. The results of this chalk treatment were effective in showing the blade marks and patterns.
90 Degree Cut Results – Winner Mafell
The following picture shows the results of the 90-degree cuts.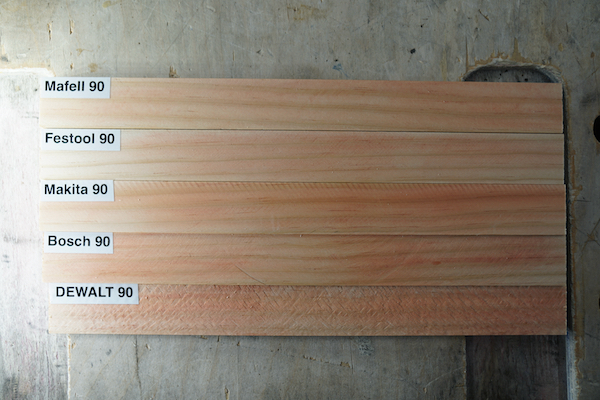 The Mafell 90-degree cut was judged as the winner and showed virtually no marks on the cut face. Closely following Mafell, the Festool cut showed a minor amount of blade marks. These two saws made excellent cuts.
Makita finished in third place and showed both "up-cut" marked from the front of the blade in addition to "down-cut" marks from the back of the blade. We believe this is a direct result of the thin kerf Makita blade. One of the tradeoffs with such a thin blade is the vibration or chatter that is inevitable with thinner blades.
The fourth-place finish belonged to Bosch. It had some deep gouges in the wood and we felt these would be more difficult to sand out than the marks left by the Makita.
The DEWALT 90 degree cut was the roughest one of the group. This saw does not have a particularly thin blade, but the roughness of this cut with "up-cut" and "down-cut" markings was surprising. We did not have an explanation for this performance. We examined the blade for an obvious defect such as chipped teeth but found nothing.
45 Degree Cut Results – Winner Mafell
The 45-degree cut test was a duplicate procedure of the 90-degree cut test. The only difference was the bevel setting on the saw. The sample strips were taken from the face that was attached to the larger piece of wood and we marked the samples with red chalk to highlight any imperfections.
The results of the 45-degree cut are shown, below: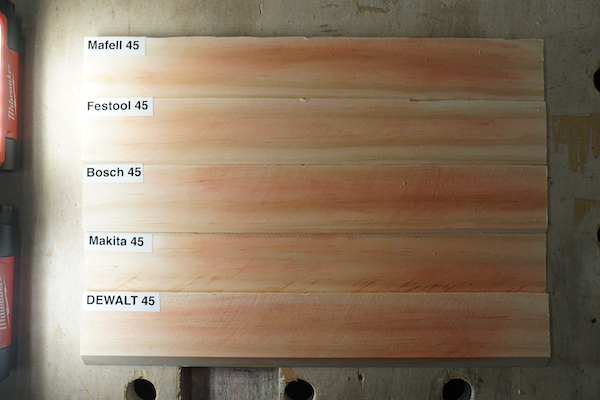 The Mafell sample showed a few minor "down-cut" marks in the center of the sample in an otherwise flawless cut. The Festool was nearly as good but shows more 'Up-Cut" and "Down-Cut" marks along the full length of the sample.
The Bosch took third place and its cut shows a consistent pattern of "up-cut" markings from the front of the saw. Bosch had more pronounced markings than the Festool. The Makita came in fourth place in this test. The thin blade made a large number of chatter marks at the top and bottom of the sample.
In fifth place for the 45-degree cut was the DEWALT saw. If you look closely, you can see a large number of small "up-cut" markings along the length of the sample.
The following table summarizes the scores from the Cut Quality Tests:
| | | | | |
| --- | --- | --- | --- | --- |
| Cut Quality | 90 Deg Test | 45 Deg Test | Total Score | Rank |
| Mafell | 1 | 1 | 2 | 1 |
| Festool | 2 | 2 | 4 | 2 |
| Bosch | 4 | 3 | 7 | 3 |
| Makita | 3 | 4 | 7 | 3 |
| DEWALT | 5 | 5 | 10 | 4 |

Track Saw Performance  – 2 Tests
We ran the  Power/Speed Test with the factory supplied blades. Normally in our Head-To-Head testing, we like to run the test tools with a single-manufacturer set of blades to ensure that blades are not a differentiating factor in testing performance.
However, in this Head-To-Head test, the characteristics of the blades were widely varied with diameter, kerf width, and the number of teeth. Each manufacturer matches its optimal blade configuration for their particular design. No single blade would fit all the track saws.
If we found a single blade manufacturer to equip the saws with a blade that met the particular factory specs,  all of the blades would be different.- the only exception being the blade manufacturer. We felt it would be a substantial deviation from the factory intent if we, for example, found blades with the same diameter and kerf thickness to outfit all of the saws.
As a result, the tests were performed with the factory supplied blades. The following table shows you the factory-supplied saw blade information:
| | | | | |
| --- | --- | --- | --- | --- |
| Manufacturer | Blade Size | Factory Blade | Arbor Size | Kerf Width |
| | Inch | # Teeth | Inch | Inch |
| Makita | 6-1/2 | 55T | 3/4 | .055 |
| Bosch | 5-1/2 | 42T | 3/4 | .072 |
| Mafell | 6-3/8 | 48T | 3/4 | .072 |
| DEWALT | 6-1/2 | 42T | 5/8 | .076 |
| Festool | 6-1/4 | 48T | 3/4 | .085 |
Track Saw Speed / Power Procedure
The Speed/Power Test is a good indication of what saw and blade configuration can cut. We built a jig to hold a 4x 8' sheet of plywood horizontally and clamped all the tracks down to the jig while we ran the tests.
To eliminate human error and differing force we used a weighted pulley system to test the saws.  We applied the same pulling force, in the same plane as the saw blade and at the same level as the saw base plate. In that way, we applied the force consistently to the same location on each saw(s). We set each saw about 7/8″ blade depth, set similar track friction settings, attached a fully charged battery, and set the saw to its top rpm setting.
The test was designed to have the saws cut through a single sheet of ¾" plywood (18.26 mm) and timed the cuts and recorded the average speed.  Makita was twice as fast as the second-fastest saw. It cut 8 lineal feet of 3/4″ plywood in 5.3 seconds. DEWALT and Festool cut 8 linear feet in 10 and 10.9 seconds respectively.
Speed/Power Test – Winner Makita
| | | |
| --- | --- | --- |
| Manufacturer | Average Cut - sec. | Rank |
| Makita | 5.3 | 1 |
| DEWALT | 10.0 | 2 |
| Festool | 10.9 | 3 |
| Mafell | 15.2 | 4 |
| Bosch | 17.9 | 5 |
It's not surprising at all to see the Makita take this test. It has a clear advantage over the other saws with two battery packs and a much higher total pack energy of 360 watt-hours. The next closest in terms of battery pack energy is the Festool with 187 watt-hours. In the run-time testing, we adjust for watt-hours, but for a timed speed test, it's kind of hard to make that comparison. But the Makita clearly benefits from that extra on-board energy when it comes to cutting fast and powerful so it's something to keep in mind for users that need maximum power cutting thick dense materials.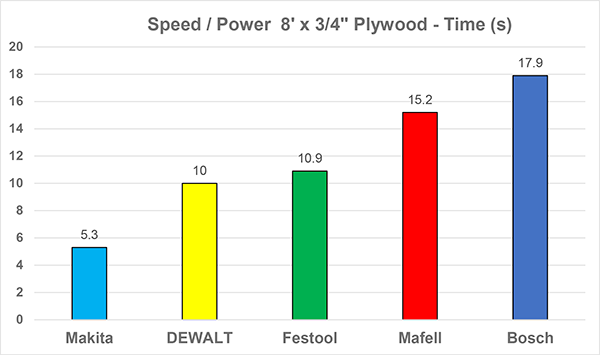 Run-time Test
How often are you going to take your shiny new track saw and go rip off 250-350 lineal feet of double-thick sheet goods without interruption? The answer is probably NEVER! But we were curious to see which of these track saws would come out on top when pressed into service until they ran out of juice.
The Run-time Test was a true test of how well the saws would continuously cut through a 1-1/2″ thick by 8′ long material. We made sure that all of the saws had fully charged batteries and that each was mounted on its track with the same friction settings for sliding along the tracks.
An 11 lb weight pulled the saws through the same material. Each part of the test cut through the full 8′ by 1-1/2″ deep cut. After the saw reached the end of the material the saw was stopped and retracted to the start end of the track, the material was indexed for the next cut, and the test repeated. We continued this process until the battery(s) was exhausted.
None of the saws exhibited a thermal interruption and that is impressive for such intense use. We counted the number of cuts that each saw made through the material. 
The Makita crushed the other saws with 432 lineal feet of double-stack 3/4″ plywood (1-1/2″ total thickness). The Festool did 176 lineal feet and Bosch did 136 lineal feet. However, this doesn't really provide a fair comparison as each saw had different battery configurations and sizing.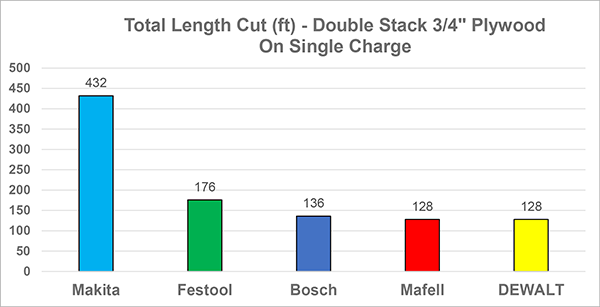 Leveling The Playing Field – Cuts Per Watt-Hour
Run-Time Winner – Makita
The track saws had a sufficiently wide variation in battery capacity and that meant we could not rely on absolute numbers of cut length during the Run-time Test to reach a fair relative conclusion. This method also gives the reader a good look into the performance of the saws regardless of battery size. For example, the Bosch saw came to us as a bare tool along with a 6.3 Core Amp-Hr battery. That is the configuration that we tested. The Bosch kit comes with an 8.0 Amp-hr battery. Our normalization process ensures the Bosch saw is rated against its peers for its cut results on a per Watt-Hour basis. 
Taking the largest and smallest Amp-Hr battery packs in the test, the Festool saw had 187 watt-hr of energy while the Mafell had 99 watt-hr. On the basis of just these two numbers, one would expect the Festool saw to cut a much greater number of linear feet as compared to the Mafell.
The Makita saw cut a whole lot more pieces. It made 27 full length rips compared to Mafells 8 rips. But which track saw is most efficient when we level the field by calculating the length of cut in feet per watt-hour? We used Watt-Hr as the standard unit of measure. Under these normalized conditions, would the Festool out cut the Mafell when comparing total battery pack energy?
| | | | | |
| --- | --- | --- | --- | --- |
| Run-time Test | Lineal Ft Cut | Watt-Hr | Ft Cut/Watt-Hr | RANK |
| Makita | 432 | 180 | 2.40 | 1 |
| Mafell | 128 | 99 | 1.29 | 2 |
| Bosch | 136 | 108 | 1.26 | 3 |
| DEWALT | 128 | 108 | 1.19 | 4 |
| Festool | 176 | 187 | 0.94 | 5 |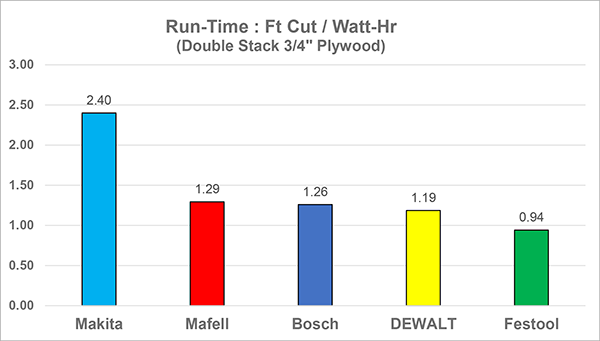 When looking at feet cut per watt-hour of power the Makita saw won the run-time test. The results between the last four saws were remarkably close with a spread of results from 1.29 to 0.94. The Festool score of 0.94 was a bit lower. Upon closer examination, we may have figured out why those results were standing apart from the rest.
Festool's saw blade has a substantially wider kerf than any of the other saws at 0.085″ (2.17 mm). Festool's kerf is 126% wider than the average of the other blade kerfs. In a prolonged run-time test such as this, the wide kerf is probably the prime reason for the score in this test. The Festool is simply using a lot of energy to cut a wider path in the material. We noted that the other track saws' scores averaged 129% greater run-time than the Festool score. We do not think the close pairing of these two percentages is a coincidence.  
We processed the data from both the Speed/Power Test and The normalized Run-time and derived the final performance scores. The overall performance rankings are shown, below.
Overall Performance Ranking –
Winner – Makita
We took all of the data from both the Speed Test and the normalized Run-time Test and derived the final Performance Scores. The Overall Performance Rankings are shown, below: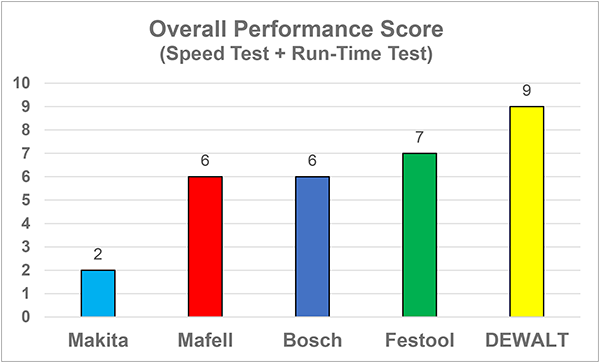 The best overall performance in our testing was the Makita followed by the Mafell and Bosch.

Track Saw Comparison of Features – Winner Mafell
Track saws are feature-rich tools, we looked at 19 different features on these saws rating them 1 thru 5. [1 being best]
Variable speed

Hard case  [room for accessories]

Electric brake
Cut depth range
Fine depth adjustment
Scoring cut
Depth of cut indicator [on/off track]
Bevel Adjustment
Positive bevel stop
Track anti-tip
Riving knife [electric vs actual]
Dust bag
Chip guard window
Swivel dust port
Battery gauge / LED feedback
Track Compatibility
Track Connector
Track slop adjustment
Blade Change
Mafell was a runaway with the best features of them all, coming in with 34 points, 12 points ahead of the second-place Festool with 46 points. Third place was Makita and Bosch very close behind with scores of 48 and 49 points respectively.
| | | | | | |
| --- | --- | --- | --- | --- | --- |
| FEATURES | Mafell | Festool | Makita | Bosch | DEWALT |
| Fine Depth Adj. | 2 | 1 | 5 | 3 | 4 |
| Track On/Off Indicator | 2 | 1 | 2 | 2 | 2 |
| Dust Bag | 1 | 1 | 2 | 2 | 2 |
| Hard Case | 1 | 2 | 5 | 4 | 3 |
| Bevel Adjustment | 1 | 2 | 3 | 4 | 5 |
| Track Anti-Tip | 2 | 2 | 1 | 2 | 2 |
| Riving Knife | 1 | 2 | 4 | 4 | 2 |
| Blade Change | 1 | 2 | 4 | 3 | 4 |
| Dust Collection | 1 | 1 | 2 | 4 | 5 |
| Cut Depth Range | 1 | 3 | 2 | 4 | 3 |
| Scoring Cut | 1 | 3 | 2 | 3 | 3 |
| Track Slop Adj. | 1 | 3 | 2 | 5 | 4 |
| Variable Speeds | 5 | 4 | 1 | 2 | 3 |
| LED Batt Gauge | 5 | 4 | 2 | 1 | 3 |
| Track Compatible | 1 | 4 | 4 | 1 | 3 |
| Electric Brake | 4 | 5 | 1 | 3 | 1 |
| TOTAL | 30 | 40 | 41 | 47 | 49 |
| FEATURES RANK | 1 | 2 | 3 | 4 | 5 |
Details on Major Features
It would take too much time breaking down all 19 features so we decided to give you feedback on ten major, more important features.
Fine Depth Adjustment
Fine depth adjustments allow the user to dial in the depth of cut. Festool had the best set up with a push-button slide with positive stops at 1mm increments and a top-mounted micro-adjust knob. Its depth of cut scale also offers indicators for use with or without the track, and also has an imperial scale.
Mafell came in second, it has a similar adjustment but requires a wrench.  For cutting off track, the depth of scale pointer rotates to indicate depth.
Bosch took third place with a push-button slide with 1mm stops in both metric and imperial scales, but no micro-adjustment. Makita has only metric scales and has a slide adjustment with a lock-knob. Dewalt is similar to Makita but with a lower quality knob fit and finish. The Dewalt depth knob has to be backed way off before the depth stop will move freely. It's possible Dewalt did this on purpose to allow the user to make finer adjustments – but the feel is rough.
Depth of Cut
| | | |
| --- | --- | --- |
| Off Track Depths | Depth Cut 90 deg | Depth Cut 45 deg |
| Bosch | 2" (50.8 mm) | 1-1/2" (38.1 mm) |
| DEWALT | 2-1/8" (54 mm) | 1-9/16" (41.2 mm) |
| Festool | 2-5/16" (55 mm) | 1-21/32" (42 mm) |
| Mafell | 2-1/4" (57 mm) | 1-5/8" (40.5 mm) |
| Makita | 2-7/32" (56 mm) | 1-5/8" (40.5 mm) |
"The Bosch plunge action is amazingly smooth."

-Ethan
Bevel Adjustment
All but one saw in this group have two knobs to unlock and control the bevel function. Mafell took the lead with a single control that locks and unlocks the bevel at both ends. Its bevel range of 48 degrees is also the highest in the test. In order to bevel to -1 and or 48 degrees, there are two easy to operate buttons. Also, the saw is engineered such that it won't create a bevel on the anti-splinter strip when beveling.
Festool, like the rest of the saws, uses front and back locking bevel knobs. It bevels from -1 to 47 degrees. The -1 bevel cut control is on the front of the tool at the dial indicator and the over bevel [47]  is located at the rear of the tool under the dust port.
The Makita bevels from -1 to 48 degrees with a 22.5 positive stop. It has a rocker switch for the 48-degree  bevel and a small slide switch for the -1-degree bevel. Additionally, the saw has an anti-tip feature that makes setting the bevel a breeze.
Bosch's fit and finish are a little rough but it has a single push-button control to operate the -1 to 47-degree bevel, and we all really like the simplicity of that feature.
The DEWALT saw cuts from 0 to 47 degrees with no positive stop at 45 degrees, which is a horrible idea and one that could ruin a miter joint if the user is not paying attention.
Riving Knife [Electric vs Mechanical]
A riving knife is usually a cut piece of sheet steel that is just barely thinner than the kerf of the saw blade. The riving knife is just behind the blade in the kerf. It provides protection against kickback by preventing the workpiece or offcut from pinching the blade.
Three saws had riving knives. The Mafell has an electronic speed sensor that monitors blade speed and monitors for pinching, stopping the saw. The DEWALT and the Festool have mechanical spring-loaded riving knives. The Bosch and Makita do not have a riving knife.

Tracks
The heart of any track saw system is the track. Tracks are a precision aluminum extrusion with some rubber glued or fitted to it. The track is an integral part that directly creates the accuracy of any track saw system. Here are the ins and outs of the tracks in our test:
We liked the Mafell/Bosch track best. The Bosch and Mafell tracks are nearly identical and use the same track connector, and interchangeable anti-splinter strip, and grip strip parts. The Mafell/Bosch track is narrower, lighter, and thinner than the Festool track. The Mafell style anti-splinter strip and grip strips fit into the track and don't require any adhesive. So they can be easily changed when worn and don't end up flopping around on the end of the track over time. There are only a couple of disadvantages to the Mafell/Bosch track. One is the lack of a T-slot on top of the track and the other is that the narrow width means the base of the saw actually covers the whole width of the track. On the other hand, the Mafell/Bosch clamps fit completely into the bottom of the tracks in two locations (one being very close to the cut) and do not interfere with the track connectors in any way as they move the full unobstructed length of the track.
The Festool and Makita tracks came in second and are almost identical.
Festool was the original track saw and so many companies copied their track design. Makita and Triton tracks are compatible with Festool saws and a lot of aftermarket accessories and clamps are all compatible.  The Bosch, Dewalt, Makita, and Mafell saw can all operate on a Festool track but the Makita anti-tip feature won't work on these alternate tracks because the Makita aluminum extrusion is slightly different.
| | | | | | |
| --- | --- | --- | --- | --- | --- |
| Compatability | Bosch Track | DEWALT Track | Festool Track | Mafell Track | Makita Track |
| Bosch Saw | YES | | YES | YES | YES |
| DEWALT Saw | | YES | YES | | YES |
| Festool Saw | | | YES | | YES |
| Mafell Saw | YES | | YES | YES | YES |
| Makita Saw | | | YES | | YES |
The most noticeable difference between Festool and Makita being that there is a slot in the side of the top T-track on the Makita track that locks in the anti-tip feature. The other difference we found during testing is that the narrow part of the opening on the T slot of the Makita track is narrower than that of a Festool track, making some clamps incompatible with the Makita track.
On both the Festool and Makita the replaceable anti-splinter and grip strips are glued onto the track. The disadvantage of this is that the end of the anti-splinter strips are prone to coming loose over time and will eventually make saw setup more difficult. Both Festool and Makita tracks require two track-connectors for good alignment.
The DEWALT track came in third. The DEWALT track is unique in that it has anti-splinter strips on both sides of the track allowing the saw to cut in either direction. This potentially can allow the user to prioritize rough cuts to one side of the track and fine finish cuts to the other side.
Unlike the Mafell and Bosch tracks, the single, t-slot on the DEWALT prevents the use of some accessories. The biggest problem we had with the DEWALT track was that the single centrally located T-slot would not allow a solid, well-aligned connection between two tracks. We would strongly recommend anyone purchasing this saw consider using a full-length single track for longer cuts whenever possible.
Track Connector
Bosch and Mafell tied on this category with a single piece connector that does a superior job at aligning the tracks. This connector is solid and is secured in place with a slotted screwdriver or a coin. Clamps have an unobstructed run along the underside of the tracks, unlike the other types.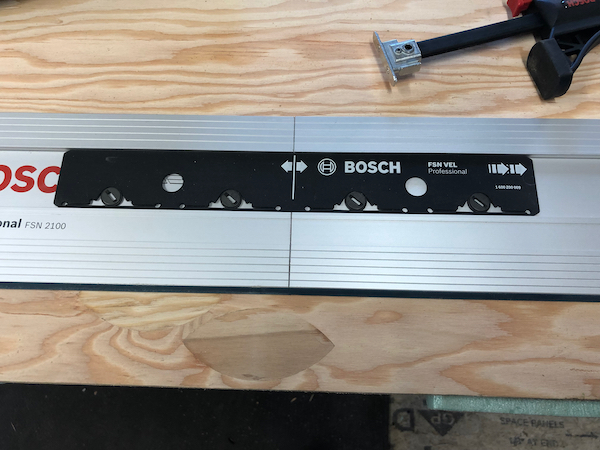 Festool has a nicely machined single piece connector with two set screws in each track. Both Festool and Makita allow the use of two-track connectors for better track alignment. DEWALT tracks were difficult to align due to the single connector and play between the extrusion and connector.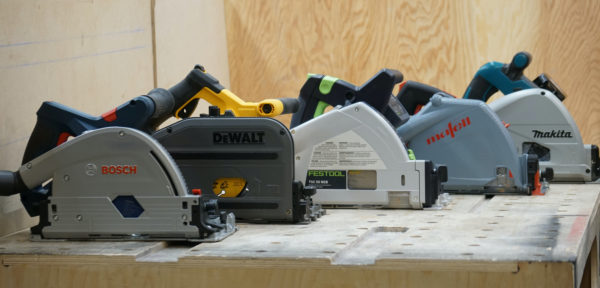 Track "Slop" Adjustment
Slight variations in extrusions and machining combined with normal wear and tear mean that the interface between the saw and guide rail needs to be adjustable. This is typically done with cams or slides that effectively widen or narrow the channel on the bottom of the saw. These adjustments allow the saw to glide easily but without and side to side movement, [slop] while cutting. This adjustment is critical for maintaining cut quality and ease of use. The better track saws offer a tool-free adjustment that is stiff enough to stay put.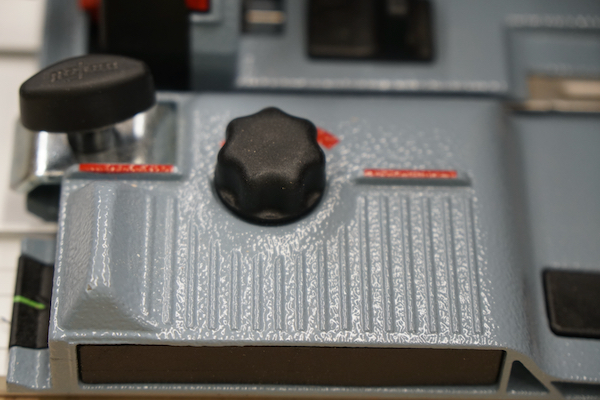 Mafell has a very nice, easy to use dial adjuster with detents at regular increments and was the best of the lot in this feature.
The Makita followed in second place with its large easy to turn knobs, with a good stiff adjustment.
The Festool has slightly harder to reach cam-knobs which push on a replaceable plastic bar that rides against the track. This adjustment knob has a good stiff feel that holds its position.
The DEWALT is the only setup that requires a screwdriver to unlock before the knobs can be turned. However, once this adjustment is made, it says put.
The Bosch has a slide switch that is WAY too easy to move and can be easily knocked out of adjustment.
Variable Speed
Variable speed is helpful for cutting different materials if you're moving between cutting harder materials like Corian or hardwoods to softwoods being able to adjust blade speed can give you a higher quality of cut and avoid unnecessary tool and blade wear.
Mafell does not have a variable speed and relies on internal electronics to monitor the brushless motor.
The best variable speed adjustment goes to the Makita's no-nonsense mechanical dial knob. This dial is right in your face and easily noticed, and reached with the user's support-hand thumb.  The team liked that it can be adjusted without taking hands off the tool.
Sometimes a simple dial that is well-placed is all you need ~ ROB
DEWALT's variable speed dial is easily seen and adjusted. However, its location and design make it prone to accidental dial changes.
Festool's variable speed dial is out of the way on the side of the saw below the battery bays, and not easily visible during use. But it is inset into the body of the tool and unlikely to get changed by mistake.
The Bosch's LED screen lights up when the saw is turned on  Bosch calls it their user interface and it is nothing more than a sexy green bordered dashboard with colored LED lights.  In order to adjust the variable speed the user pushed an easily accessible button, the team consensus is that this user interface is sweet!
Blade Change
Mafell has a single button control that locks the arbor and opens the blade guard door [photo above – hinged on bottom] It is a well-engineered and thought-out allowing the blade to be changed with the saw sitting flat on a table, without plunging the saw. The wrench is conveniently located at the rear of the saw for blade changing.
Festool has a "Fast-Fix" lever on the handle. Lifting up on the lever and plunging the saw down is all that is needed. The arbor locks automatically when the tool is plunged down.  Super easy to do. The wrench is also easy to access and is located under the Fast-Fix lever.
Bosch is similar to the Festool blade changing process except that it requires you to hold the arbor lock button down while changing the blade.  The wrench is located on the saw base. The wrench location is easily accessible and more secure than the Makita wrench storage.
Makita requires you to rotate a depth lock knob, then plunge the saw which locks the blade down. It too requires the user to hold down the arbor lock to change the blade. The wrench is on the bottom rear of the saw housing.
DEWALT the most difficult blade change of the saws we tested. It requires the user to push down the spindle lock lever, and then plunge the saw. The spindle lock is then rotated to lock down the plunge. The spindle lock is then pushed and held down, while the blade is spun to a locking position.
Dust Collection
We also did some testing of dust collection to see if there were any significant differences between the saws. Our testing showed that with a good dust extractor attached there was negligible difference between the saws. Except when cutting at a 45-degrees. At 45-degrees the Bosch and DEWALT threw a lot of dust, Festool Mafell and Makita had excellent 45-degree dust collection.
Mafell does not have a cutout at the blade arbor due to its unique blade changing system. Not having this cut out no doubt increases vacuum suction efficiency. Mafell also has a rubber gasket along the dust sealing the blade cover and saw housing along the dust travel path.
Festool and Mafell both have clear plastic chip windows, which increased suction where the saw teeth exit the wood, resulting in more efficient dust collection.
All of the saws have swivel dust ports the Mafell and the Bosch have positive stops. Both Mafell and Festool kits come with a dust bag which does a nice job collecting dust when a dust extractor is not available.
The Makita offers an auto-Start Wireless System (AWS™) that enables wireless power-on/power-off with an AWS-equipped dust extractor.
With AWS, the vacuum/dust extractor runs only when the trigger on the tool is pulled; when it's released, the vacuum stops. This reduces noise on the job site, allows for longer run time for a cordless vacuum, and eliminates over-reaching to hit START and STOP.
The AWS-equipped tool is enabled with a small wireless transmitter inserted into a port on the tool. The transmitter can communicate with a Makita dust extractor also equipped with an AWS-transmitter. The AWS-equipped tool can also communicate with ANY corded dust extractor with an on-board AC outlet and the Makita AWS Universal Adaptor. The Adaptor has an AWS wireless transmitter, and plugs-into the dust extractor's on-board AC outlet.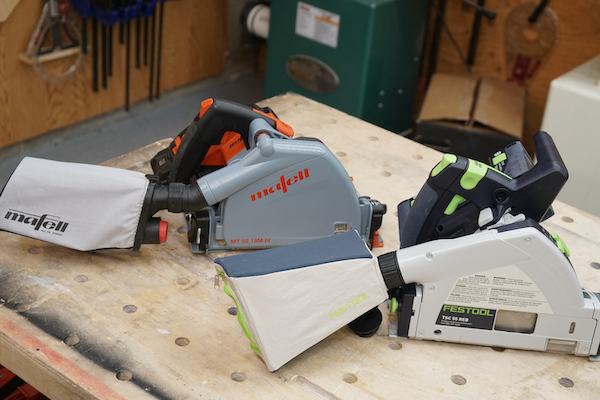 Track Saw Ergonomics – Winners Festool and Mafell
Ergonomics is the science of designing and producing tools that improve a worker's efficiency while reducing discomfort, fatigue, and risk of injury.
In laymen's terms, ergonomics is the interface between the user and the tool. How's it feel when using it?
For this ergonomic section, we considered the following factors, rating them 1 thru 5. [1 being best]
Grip
Plunge Action
Adjustments and Switches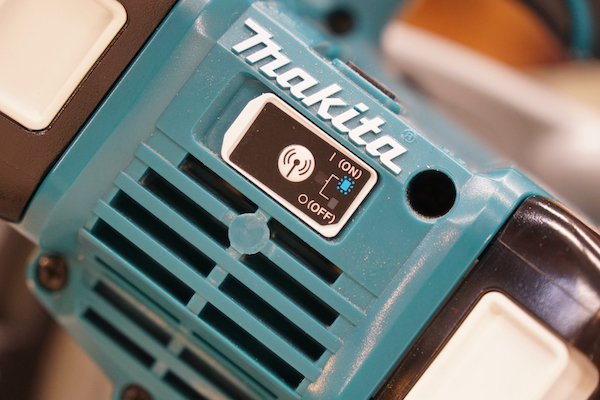 Makita's Blue-Tooth Controls Makita Dust Extractor
| | | | | | |
| --- | --- | --- | --- | --- | --- |
| | Grip | Plunge Action | Saw Adjustments | TOTAL | RANK |
| Festool | 1 | 1 | 2 | 4 | 1 |
| Mafel | 2 | 1 | 1 | 4 | 1 |
| Makita | 4 | 1 | 3 | 8 | 2 |
| Bosch | 3 | 4 | 4 | 11 | 3 |
| DEWALT | 5 | 5 | 5 | 15 | 4 |
Plunge Action
Saws without riving knives have a nicer feel to the plunge mechanism but lack the safety that a riving knife offers. The Mafell track saw has an electronic riving knife, offering safety without the additional resistance and rough feel of a riving knife. A minor consideration but one of those "Damn that's smooth" features.
Festool, Mafell, and Makita all have robust, linear compression-plunge springs and are all on par with ease of plunging. The Bosch has a lower strength axial-plunge spring and is NOT as strong as the others.
The DEWALT also has an axial spring but is more robust. The DEWALT has a parallel linkage plunge mechanism that requires the user to push the saw carriage forward slightly on the base before plunging it down at an angle. It feels a bit awkward because the other saws pivot down into their bases with one wrist motion. It took us a bit to get used to this movement, but we eventually got used to it. Overall, the team was not a fan of this plunge mechanism.
Adjustments and Switches
The Mafell was the standout in this category. With a single bevel adjustment knob, single-button blade change, and super intuitive setup and adjustment. And it also features a surface on the front corner of the base plate opposite the blade where the user can put pressure on the baseplate and prevent saw tipping during bevel cuts. A very nice ergonomic touch.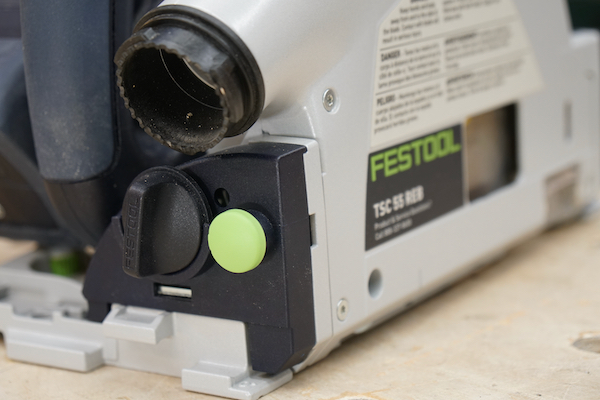 Festool's buttons and interfaces are almost all in a high-contrast bright green allowing you to laser focus on the adjustment knobs. The Festool adjustments have a good feel to them and there's no slop in knobs, buttons, and levers. With only a little use this saw becomes exceedingly easy to use and adjust and only requires an onboard Allen key for blade changes.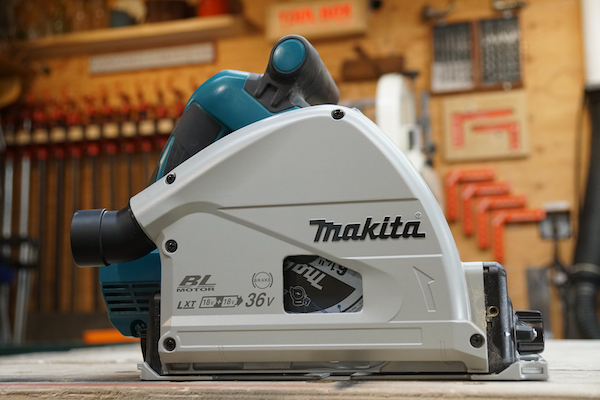 Makita's controls are more like a traditional circular saw. The arbor lock is just like their circular saws. Most of the adjustments are easily figured out by where they are and how they interface with the saw, basically, you look at it and you can see what it does and how it does it. However, the tolerances feel a little looser than the Mafell and Festool.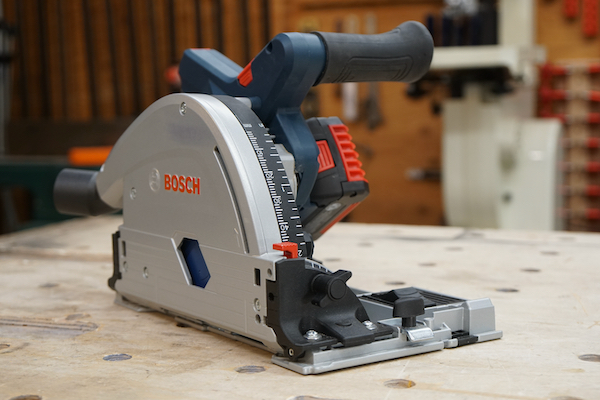 The Bosch has a nicely engineered interface. The push-button speed adjustment is a nice touch that gives the user instant and high visibility information on adjustments. The single button bevel stop override button for -1 degree and over 45-degree cuts is a unique feature. Similar to Mafell, the Bosch has a ribbed grip on the baseplate specifically designed for the user to put pressure on the front corner of the saw to prevent tipping while beveling. It is definitely easy to use and intuitive tool.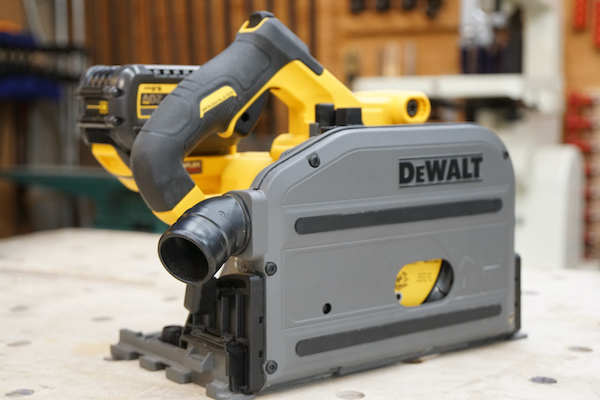 The DEWALT is a train wreck. There is no -1 degree bevel and no stop at 45 degrees. The adjustment knobs are universally small and slippery. The plunge and bevel adjustments are obvious but the track slop, blade change, and anti-kickback are NOT intuitive and needlessly fussy.
Track Saw Price – Winner DEWALT
Below we've included the current pricing (at the time of publishing this article). Pricing includes  "AS-TESTED" for all five saws.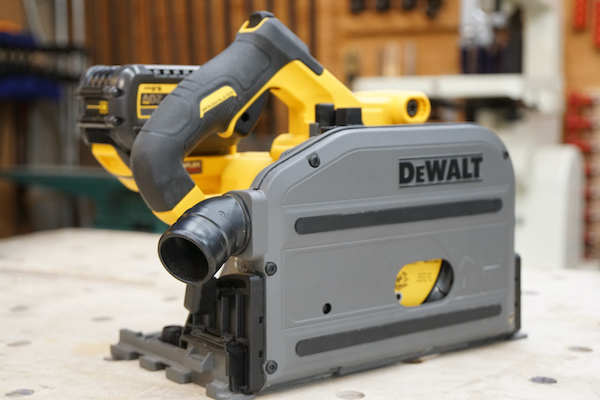 To set up this test we chose accessories needed in order to rip an 8-foot sheet of plywood. This as-tested set up included enough track to rip 8-feet, track connectors, and the saw kit.  A typical kit will not supply you with enough track to do this. That's why we are using as-tested pricing.
The best-priced saw set up was the DEWALT at $ 671.37  coming in $20 less than the Makita saw which is priced at $ 694.00.  The Mafell was the highest [as-tested] saw set up coming in at $1,227.10. [See chart]
| | | | | | |
| --- | --- | --- | --- | --- | --- |
| PRICE | KIT $$$ | Track(s) Added | Connector Added | Total As Tested | Rank |
| DEWALT | $579.00 | $68.39 | $23.98 | $671.37 | 1 |
| Makita | $499.00 | $169.98 | $24.99 | $693.97 | 2 |
| Festool | $799.00 | $145.00 | $25.00 | $969.00 | 3 |
| Bosch | $749.00 | $263.99 | incl w/ tracks | $1,012.99 | 4 |
| Mafell | $865.00 | $276.10 | $86.00 | $1,227.10 | 5 |
Buy Now From Our Sponsored Retailers

Best Value Track Saw  – Winner Makita
The team was unanimous in choosing Makita as the best value saw. The Makita offers a great price, decent features, a solid track, and has the power and runtime to make it a serious contender on any job site. It was a top performer in this head-to-head test and will no doubt give you years of service.
Best Cordless Track Saw – Winner Mafell
The Best cordless Tracksaw is the Mafell MT55 18M bl. This saw can run on the Mafell, Makita, Festool, Triton, and Bosch tracks.  It took first place in features, ergonomics and cut quality, and second in performance testing. It is an expensive saw, but the overall performance and quality are commensurate with the price.
| | | | | | | | |
| --- | --- | --- | --- | --- | --- | --- | --- |
| | Features | Ergonomics | Performance | Quality of Cut | Cost (50%) | TOTALS | Rank |
| Mafell | 1 | 1 | 2 | 1 | 5 | 7.5 | 1 |
| Makita | 3 | 2 | 1 | 3 | 2 | 10 | 2 |
| Festool | 2 | 1 | 4 | 2 | 3 | 10.5 | 3 |
| Bosch | 4 | 3 | 3 | 3 | 4 | 15 | 4 |
| DEWALT | 5 | 4 | 5 | 4 | 1 | 18.5 | 5 |
It's able to bevel from -1 degree and +48 degrees and has an electronic riving knife. The team loved its single motion blade change which drops the blade housing and automatically locks the saw blade and locks out the start trigger. They also loved that ALL angle settings are fixed at two locations at the front and rear of the carriage with a single point of adjustment at the front of the saw.
Second place went to the Makita track saw which scored first in our performance testing, came in second in cost, third in both features, ergonomics and cut quality. It is a solid, no-nonsense saw that performed extremely well in our testing. It was also chosen by the team as "best-value."
Third place went to the Festool track saw which had a solid showing in the quality of cut, features, and ergonomics categories.  The Festool track saw is a solid, well-engineered saw. Its score dropped significantly in our performance testing where it came in the middle of the road in our speed cut test and dead last in runtime. When considering the price, it's worth mentioning that Festool offers a 3-year Pro-grade [no-nonsense] wear and tear Festool warranty.
Which Track Saw To Buy?
Ultimately everyone needs to choose a track saw based on their specific needs, uses, and budget. Also, the more we do these test the more some folks comment about how they would weigh different categories differently. That's all great feedback, ultimately we need to come up with a winner (our winner) but each of you can take the data we've presented and weigh the results differently to best match your needs and come up with your own winner.
With all the data provided, we're confident that you can make a better-educated decision when you buy your next cordless track saw.

The MOST Comprehensive Information Available
Our ALL Pro contractor team put some serious time and effort into our Head-to-Head evaluation to bring you the most comprehensive information available.
These tests and evaluations are very difficult, take a lot of time, and ultimately limited in scope as we're not a professional testing company and we've got limited time to evaluate the tools. We cannot do long term testing that would shed light on durability and we can't possibly test every application that you might use one of these saws for. However, we feel comfortable that all the track saws in this Head-to-Head are good saws and our testing helps bring to light pros and cons for each saw.
Best Cordless Track Saw Comparison
About the author
Disclosure
Product reviews on this site contain our opinion of a product or service. We will always strive for objectivity and transparency in our reviews. Our goal is to provide readers with honest, objective information based on our own experiences. We never have and never will accept payment in exchange for a positive review. Many of the products that we review are provided to us for free by a manufacturer or retailer. In some cases, we also have advertising or affiliate relationships with manufacturers and retailers of products and services we review. For additional information please visit our additional disclosure policies.