Best Cordless Reciprocating Saw Head-To-Head | 2022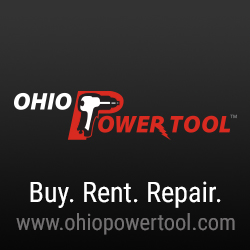 Best 18V-24V Cordless Reciprocating Saw Head-To-Head |2022
Over 70 years ago (1951 to be exact) Milwaukee Tools introduced the first reciprocating saw called the SAWZALL. Since then technology has advanced dramatically. Currently, there is a plethora of full-size cordless reciprocating saws that are being used on millions of job sites every day!
Demolition contractors, plumbers, electricians, carpenters, mechanical contractors (both residential and commercial), and even firefighters are among the users. We can't think of another power instrument that touches so many diverse trades than the reciprocating saw.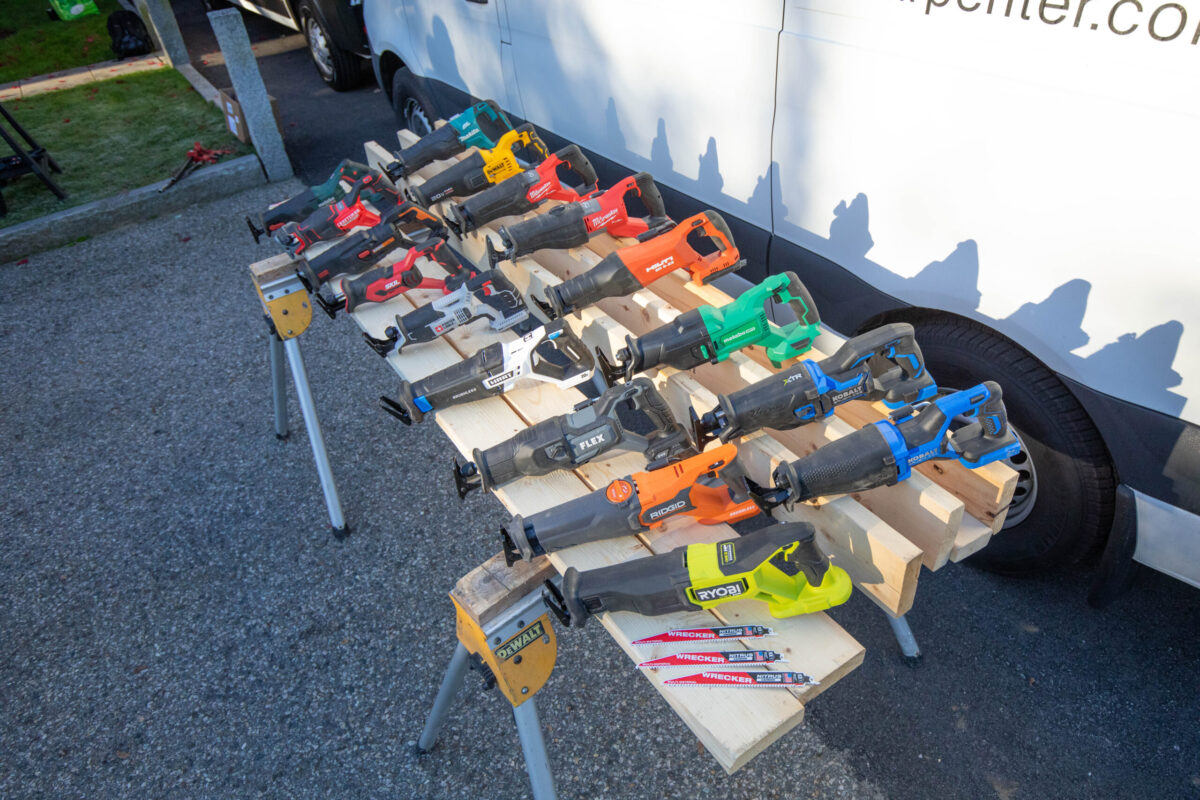 Cordless Reciprocating Saw Line Up
Fifteen manufacturers sent us their best cordless reciprocating saw on their 18v-24v platforms. We received the following 17 reciprocating saws for this Head-To-Head.
Craftsman Reciprocating Saw

Voltage: 20V
Stroke-Per-Minute: 3200 SPM
Stroke Length: 1-1/8″
Weight: 6.92 LBS
Price: $99.00
DEWALT Reciprocating Saw

Voltage: 20V
Stroke-Per-Minute: 3000 SPM
Stroke Length: 1-1/8″
Weight: 7.7 LBS
Price: $169.00
FLEX Reciprocating Saw

Voltage: 24V
Stroke-Per-Minute: 3000
Stroke Length: 1-1/4″
Weight: 10.67 LBS
Price: $199.00
Hart Reciprocating Saw

Voltage: 20V
Stroke-Per-Minute: 3200 SPM
Stroke Length: 1-1/4″
Weight: 5.0 LBS
Price: $115.00
Hilti Reciprocating Saw

Voltage: 22V
Stroke-Per-Minute: 2600 SPM
Stroke Length: 1-1/4″
Weight: 6.8 LBS
Price: $299.00
Kobalt Reciprocating Saw

Voltage: 24V
Stroke-Per-Minute: 3100 SPM
Stroke Length: 1-1/4″
Weight: 6.4 LBS
Price: $149.00
Kobalt Reciprocating Saw


Voltage: 24V
Stroke-Per-Minute: 3100 SPM
Stroke Length: 1-1/4″
Weight: 6.0 LBS
Price: $129.00
Makita Reciprocating Saw

Voltage: 18V
Stroke-Per-Minute: 3000 SPM
Stroke Length: 1-1/4″
Weight: 8.2 LBS
Price: $179.00
Metabo Reciprocating Saw

Voltage: 18V
Stroke-Per-Minute: 2700 SPM
Stroke Length: 1-1/4″
Weight: 5.5 LBS
Price: $179.00
Metabo HPT  Reciprocating Saw

Voltage: 18V
Stroke-Per-Minute: 3000 SPM
Stroke Length: 1-1/4″
Weight: 6.0 LBS
Price: $139.00
Milwaukee  Sawzall Reciprocating Saw

Voltage: 18V
Stroke-Per-Minute: 3000 SPM
Stroke Length: 1-1/4″
Weight: 6.8 LBS
Price: $259.00
Milwaukee Sawzall Reciprocating Saw

Voltage: 18V
Stroke-Per-Minute: 3000 SPM
Stroke Length: 1-1/4″
Weight: 8.8 LBS
Price: $249.00
Porter-Cable Reciprocating Saw

Voltage: 20V
Stroke-Per-Minute: 3000 SPM
Stroke Length: 1″
Weight: 4.35 Lbs
Price: $62.00
RIDGID Reciprocating Saw

Voltage: 18V
Stroke-Per-Minute: 3200 SPM
Stroke Length: 1-1/4″
Weight: 7.2 LBS
Price: $189.00
Ryobi Reciprocating Saw

Voltage: 18V
Stroke-Per-Minute: 3200 SPM
Stroke Length: 1-1/4″
Weight: 6.7 LBS
Price: $149.00
Skil Reciprocating Saw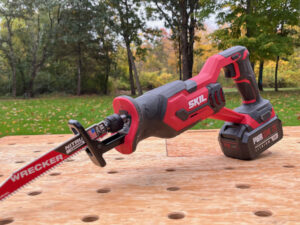 Voltage: 20V
Stroke-Per-Minute: 3000 SPM
Stroke Length: 1″
Weight: 4.63 LBS
Price: $89.99
WORX Reciprocating Saw
Voltage: 20V
Stroke-Per-Minute: 3000 SPM
Stroke Length: 1-3/16″
Weight: 5.52 LBS
Price: $109.00
Note: Bosch was asked to participate in this Reciprocating Saw Head-to-Head, however, they declined.

Head-to-Head Testing Format
For our Best Cordless Reciprocating Saw Head-to-Head, our team looked at a total of 9 criteria, which are listed below. Each criterion was ranked independently, and the "Overall Best Cordless Reciprocating Saw" was determined using a combination of the test results.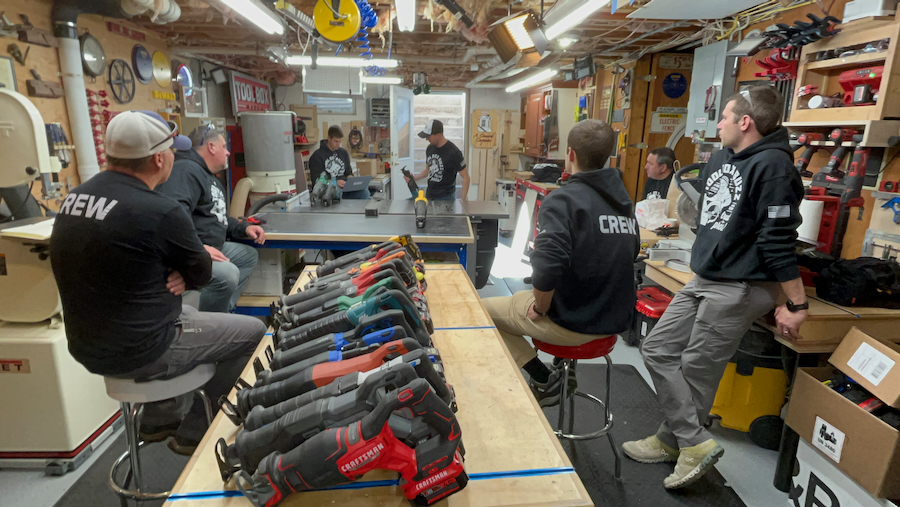 We wanted to develop various speed tests related to several significant trades for this Cordless Reciprocating Saw Head-to-Head. We created tests that appeal to the following users and added to the standard testing criteria we always add in our Head-To-Head tests.
General Contractor / Demolition [timed cut test]
Plumbing / Heating Contractors [timed cut test]
Electricians [timed cut test]
Features
Ergonomics
Size
Noise
Price
Best Value

Testing Blade Information
All reciprocating saws were fitted with task-specific, brand-new Milwaukee Nitrus Carbide blades before testing, which shifted the focus away from the blades and more toward the saws.
Timed Test 1:   Gas Pipe for plumbers.
Timed Test 2:  Unistrut for electricians.
Timed Test 3:  Nail Embedded Wood for Carpenters and Remodelers.
NITRUS CARBIDE teeth on these reciprocating saw blades allow you to cut longer, and faster. Compared to standard carbide tooth blades, Milwaukee claims that the NITRUS CARBIDE technology outlasts existing carbide-toothed reciprocating saw blades by 3-times. Milwaukee uses 25% more Carbide per tooth on their NITRUS CARBIDE blades.
Battery Pack Guidelines



For this Head to Head, we requested manufacturers send us two of their batteries in the 4.0Ah to 6.0Ah range. This was to even out the playing field as some of these companies have very large batteries for these saws.
Testing Format Information
For the Nail Embedded and Uni-strut testing, we suspended a 10-pound weight from an anchor strap on the forward grip of each reciprocating saw to ensure that each saw received the same cutting pressure.

The cut began with both hands on the saw, the front hand was released to let the 10-pound weight draw the blade through the cut. Also, some of these saws include a variable speed option. We performed the tests using the highest factory-applied speed setting.
Jig Information
Tool Box Buzz has spent countless hours designing, building, and tweaking our test jig which allows us to remove human error in some of our testing.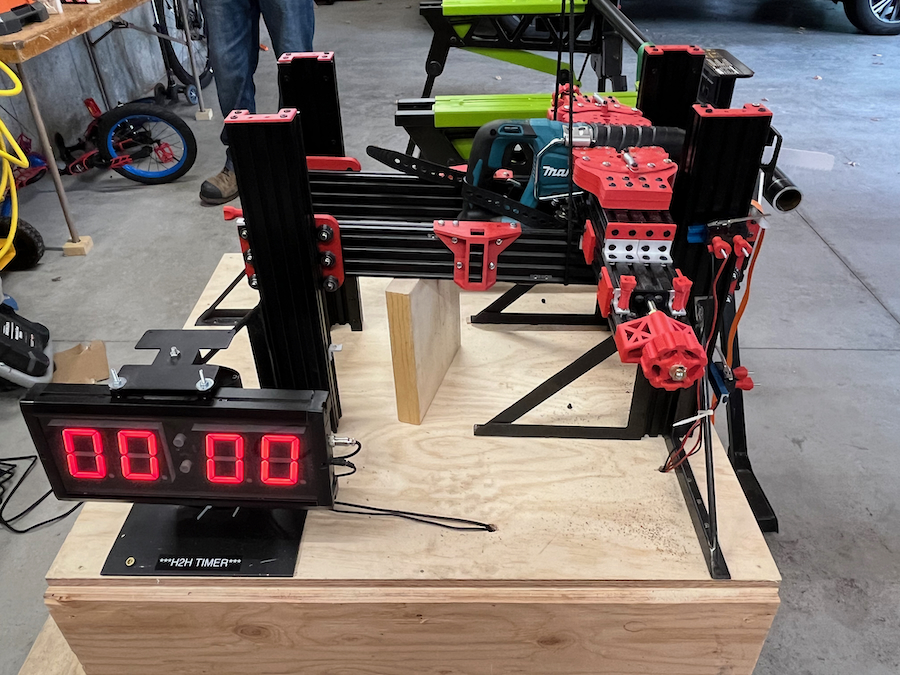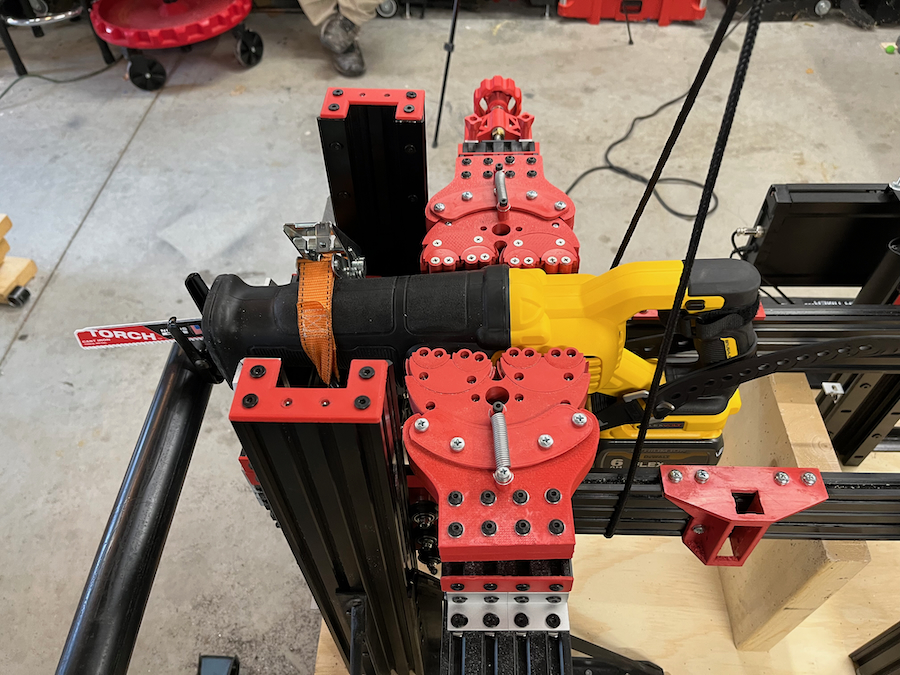 To ensure a repeatable even cut, the jig is composed of 4 extruded aluminum towers that act as vertical rails for a mounting platform that holds and constrains the saw.  At the heart of the jig is a 3D-printed fractal vise that can move around irregular surfaces of the saw to provide even horizontal clamping force.  Additional straps are used to hold the saws in place.
All of the saws were fitted with new Milwaukee 6-inch TORCH blades. ( 7 TPI with Nitrus Carbide Teeth) – 48-00-5261
A timing system is used on the jig that takes advantage of two carefully positioned micro-switches that control the start and stop time of the cut.  Our process was to raise the saws above the material with an attached rope, start the saws at their highest setting and use a Velcro strap to keep the saw trigger in the "full-on" position.  The saw is carefully lowered into the cut and the micro-switch timing starts as the cut sequence is initiated.  At this time the weight of the saw and the weight of the mounting platform ~20lbs was the cutting force exerted into the cut.

Gas Pipe Speed Test | Winner – FLEX
This gas pipe test is designed for plumbing and heating contractors.  Using 1-1/2″ cylindrical black steel schedule 40 gas pipe. We utilized the new Milwaukee Torch blades suitable for the thick metal in each saw and timed three cuts using our testing rig. We used Rockwell Jawhorses to hold the pipe at the desired height while we cut.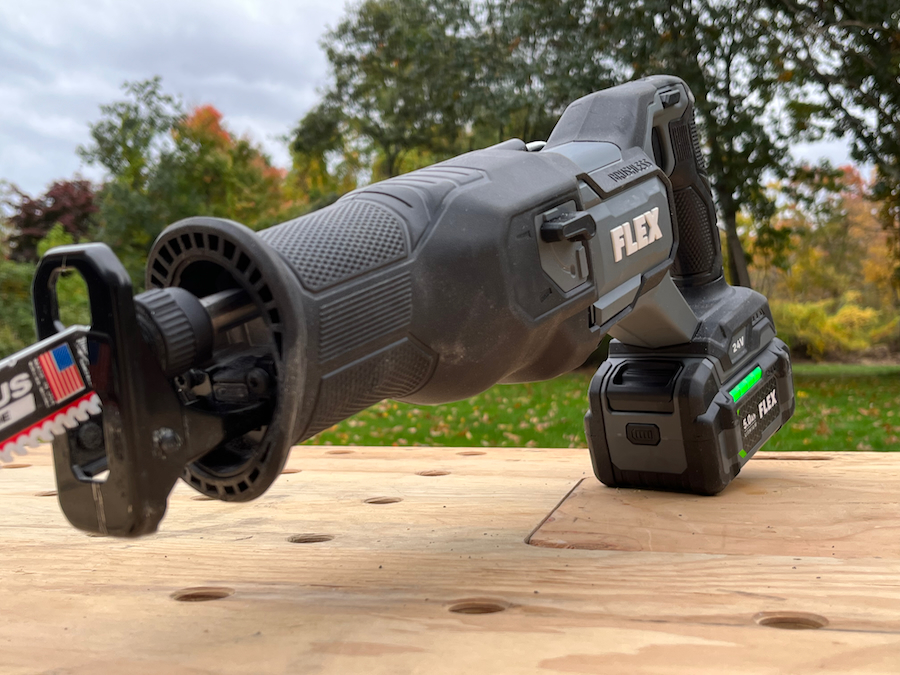 The winner of the gas pipe test was the FLEX 2271-Z with an impressive average time of 4.71 seconds. Second place was the Kobalt KRS-224B with a time of 5.15 seconds and third was the Milwaukee One Key 2822-20 with 5.63 seconds. The slowest saw that actually finished the test was the WORX coming in at 16.42 seconds.
This test, combined with the weight of the testing jig proved to be a challenge for some of the saws and a borderline torture test. The strong cutting force really gave the more robust saws their moment to shine.
Hart, Kobalt KXRS, Metabo HPT, Porter Cable, Ryobi, and Skil could not complete the test and received a DNF [Did Not Finish]. The Metabo HPT and Kobalt saws were overloaded and went into thermal overload, a feature designed to protect the motor, automatically shutting the saw down. The Porter-Cable and Skill saw motors were also overloaded, but do not have thermal overload protection, so the testing team stopped the test.

Unistrut Speed Test | Winner – FLEX
For electricians and mechanical contractors, Uni-strut is a standardized formed structural system used for light structural support, frequently for supporting wiring, piping, or mechanical components.  In each saw, we utilized new Milwaukee TORCH, (6″ 7 TPI w/ Nitrus Carbide Teeth) – 48-00-5261, blades and recorded the average time for three cuts. We used a 10lb weight on an anchor strap and let the weight do the cutting.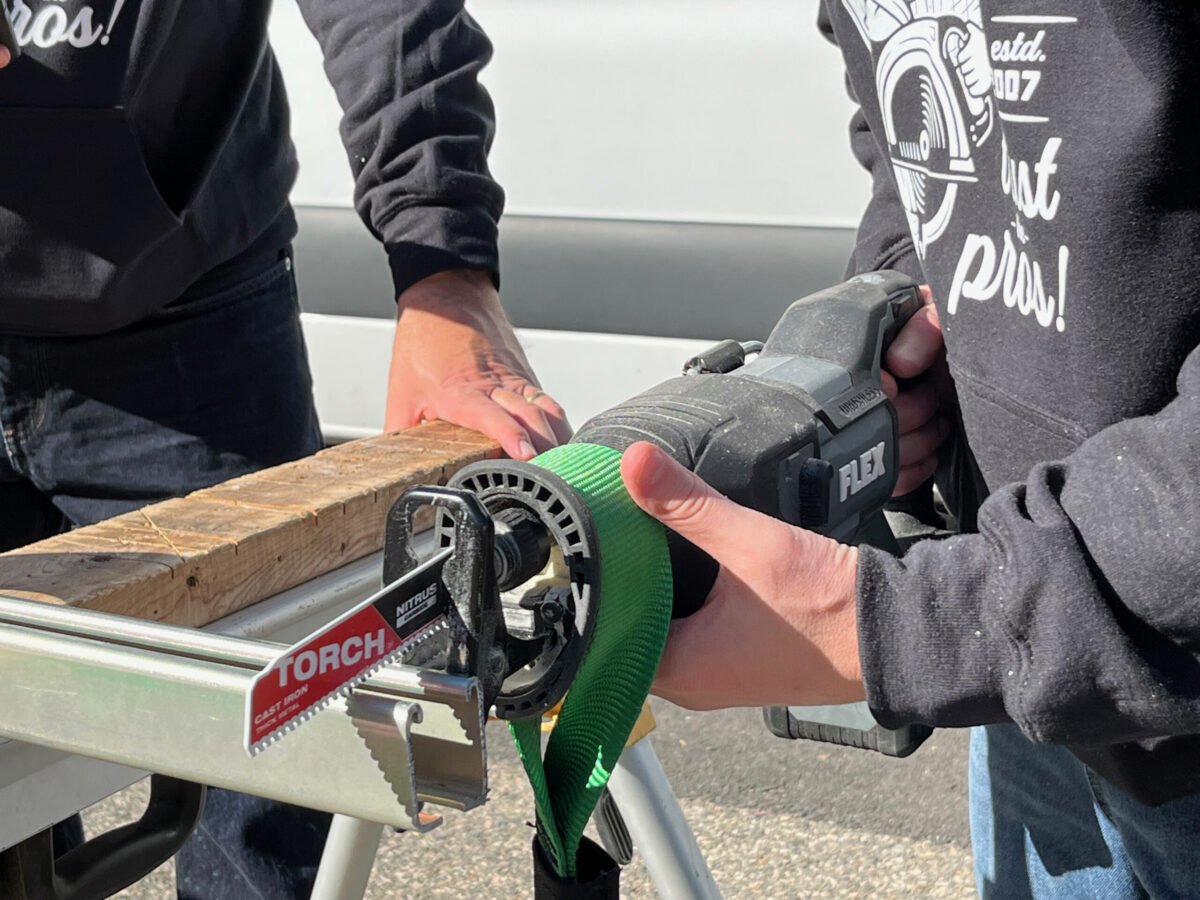 The winner of this test was the FLEX 2271-Z with a speed of 3.67 seconds. Kobalt KRS in a close second with 4.23 seconds and third place went to the Makita 18v at 4.48 seconds.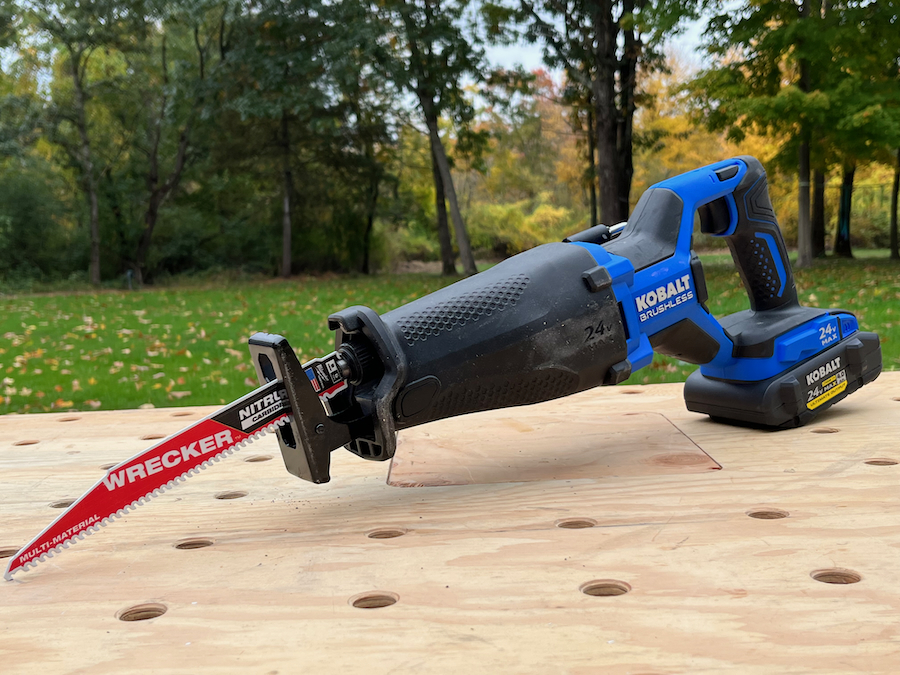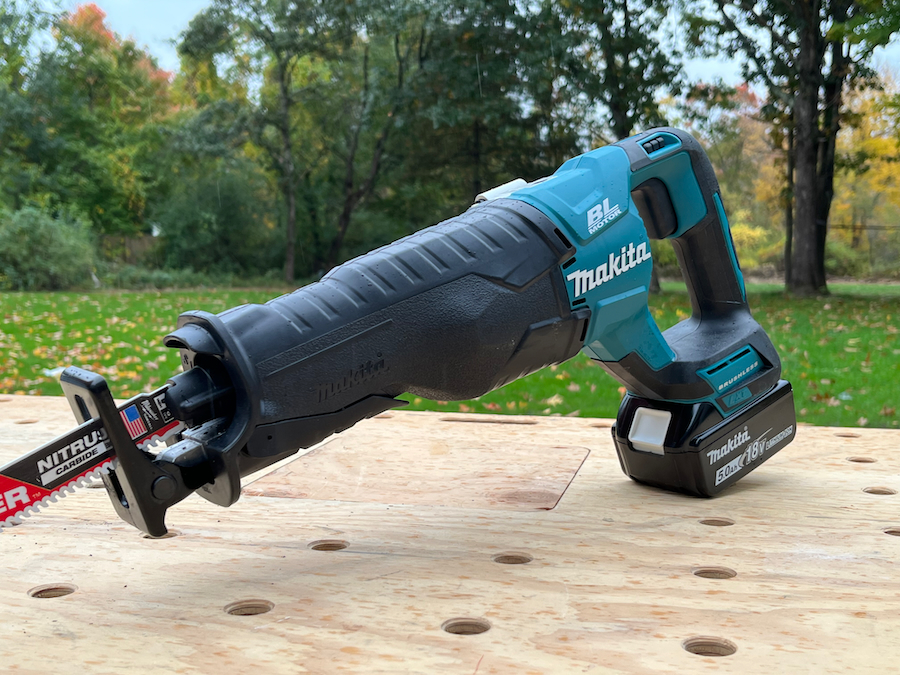 Every saw was able to complete this test. The slowest saw of the group was the Ridgid R8647B coming in at a whopping 23.42 seconds.
Nail Embedded Wood Speed Test | Winner – Makita 18V
For our nail-embedded wood test, we took three 2×10 joists, fastened them together, and added five (5) 3-1/2″ nails into each 2×10 for a total of fifteen (15) nails. We used a 10 lb weight fixed to an anchor strap at the front of each saw and then plowed through three nail-embedded 2x10s with each cut.
This simulates heavy-duty demolition cutting for carpenters, remodelers, and general contractors. In each saw, we utilized a new Milwaukee WRECKER (9″ 6 TPI with Nitrus Carbide Teeth) –  48-00-5272, blade suited for nail-embedded wood, and timed three cuts.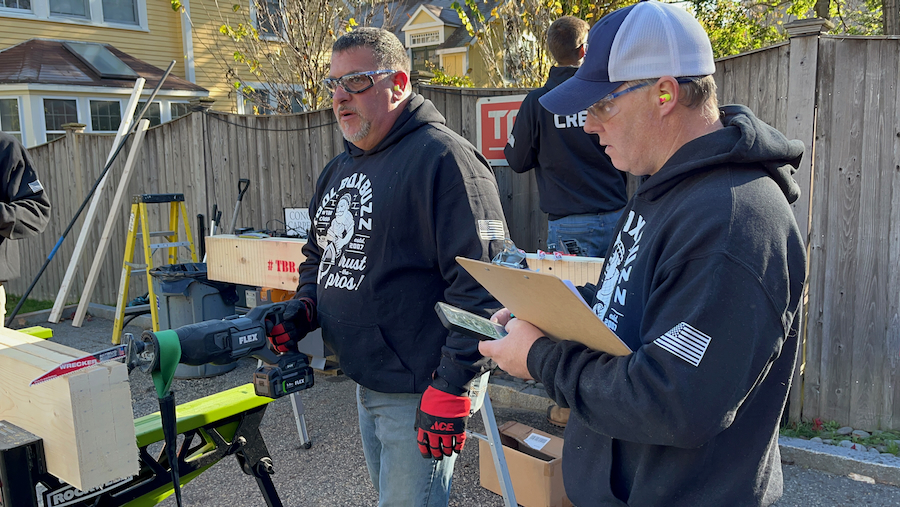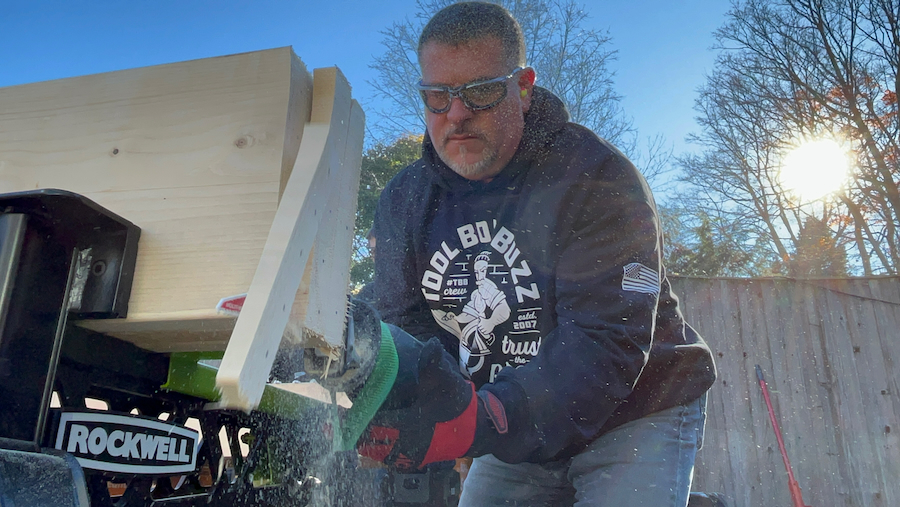 The winner of this test was the Makita XRJ05Z with an impressive speed of 28.69 seconds. The team commented on how easy the Makita is to install the blade and the surprising cutting speed.
Two-hundredths of a second [.02] slower was the FLEX at 28.71. Finishing up in third place was the Milwaukee Super Sawzall 2722-20 with an average speed of 29.62.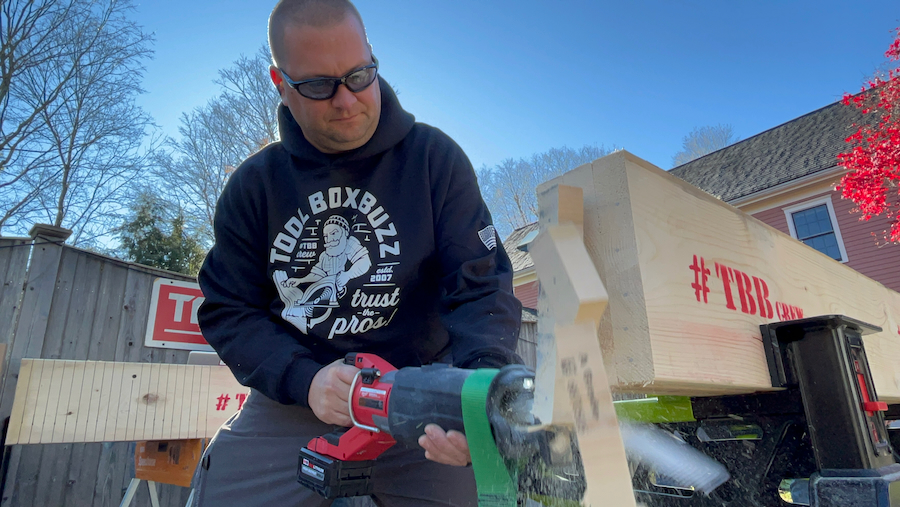 Porter Cable had the longest cut time at 129.51 seconds. Skil was the only saw that did not finish a cut in the test [DNF], stopping a few seconds in.

Features | Winner – Milwaukee 2722-20 One-Key
Comparing tool features from different brands is challenging, but  "the devil is in the details." We feel that a feature assessment is necessary and the entire team discussed these features and scored them.  Each feature was worth 1 point. The total number of points available was 7.
Rafter hook
Orbital action
Blade release lever
LED Light
Shoe plate
Variable speed
Standout Features
The winner of the feature section is the Milwaukee One Key 2822-20. This saw had a total of 7 points, with a perfect score. This saw was well-balanced, and has a super comfortable grip and over molding, a solid rafter hook, and a smooth spring lever for blade changing.  The crew noted that the back-light for electronic controls needs to be brighter or a different contrast for working in sunlight operations.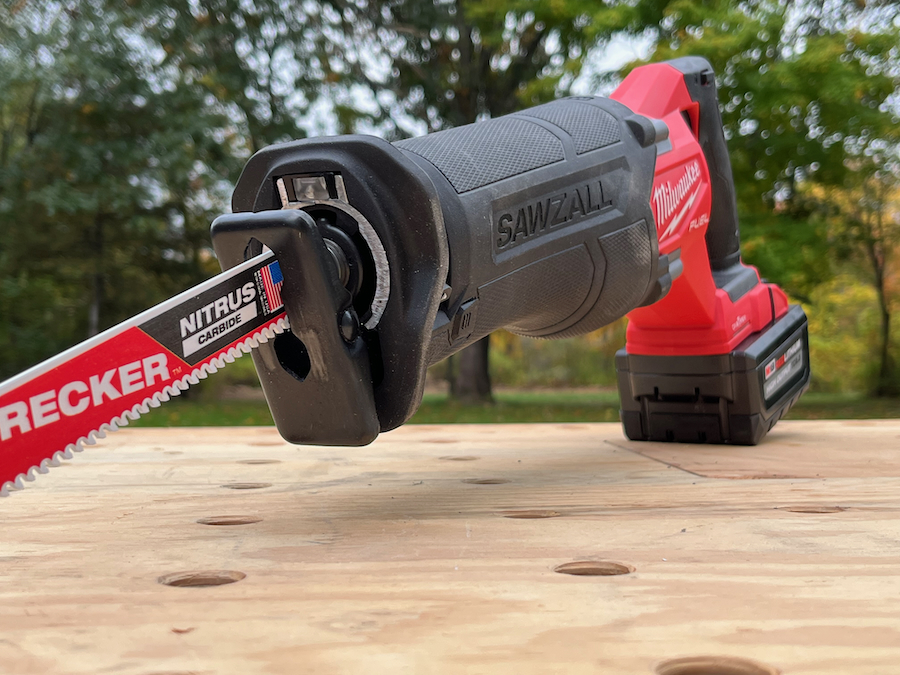 There was a two-way tie for second place, the Milwaukee Super Sawzall, and the Ridgid with 5 points each.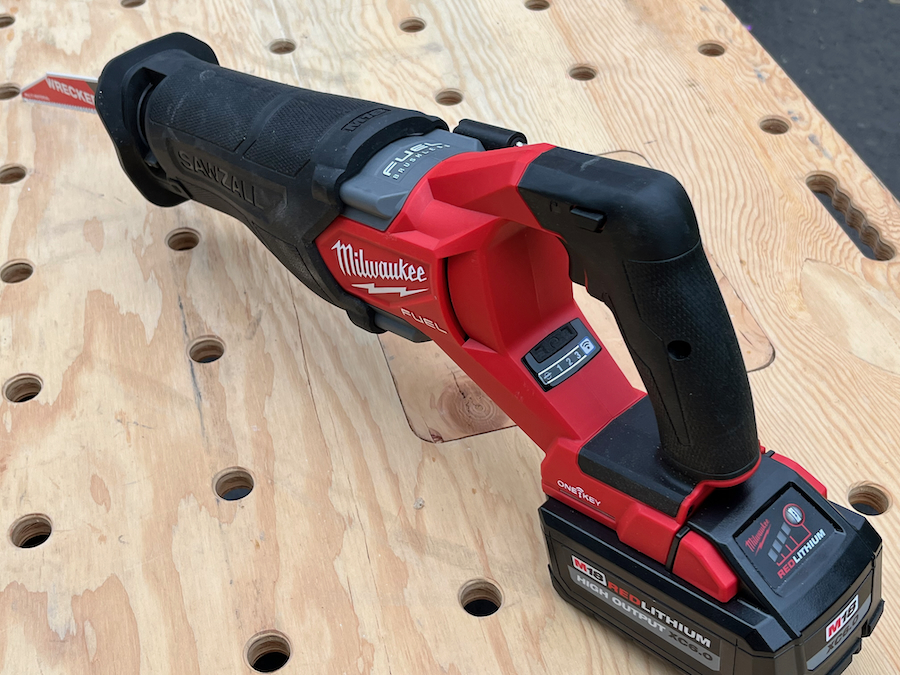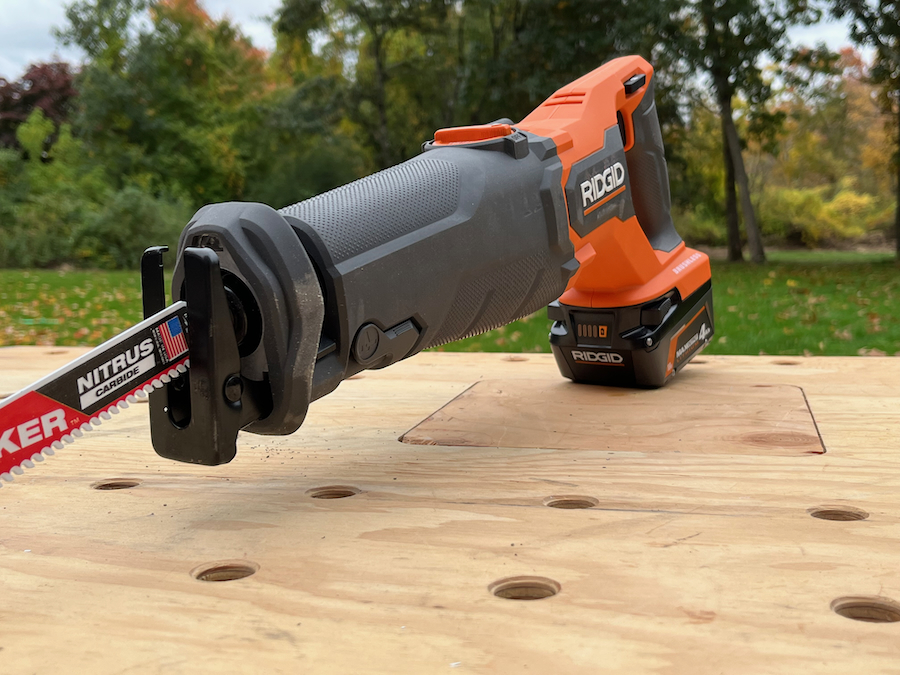 The only saw that did not have any of these features was the Porter Cable, which resulted in a 0 score.
Rafter Hook
Almost all of the saws with rafter hooks were metal hooks and a swivel mount. The Hilti was the only exception with a narrower, ABS plastic style hook.
Variable Speed
All the reciprocating tested had variable triggers, but only five allow for an upper RPM limit setting. Of those five, the Milwaukee Super Sawzall has a variable analog speed dial. The Milwaukee One-Key reciprocating allows three preset settings on the tool and additional customization RPM controlling and settings through the One-Key AP.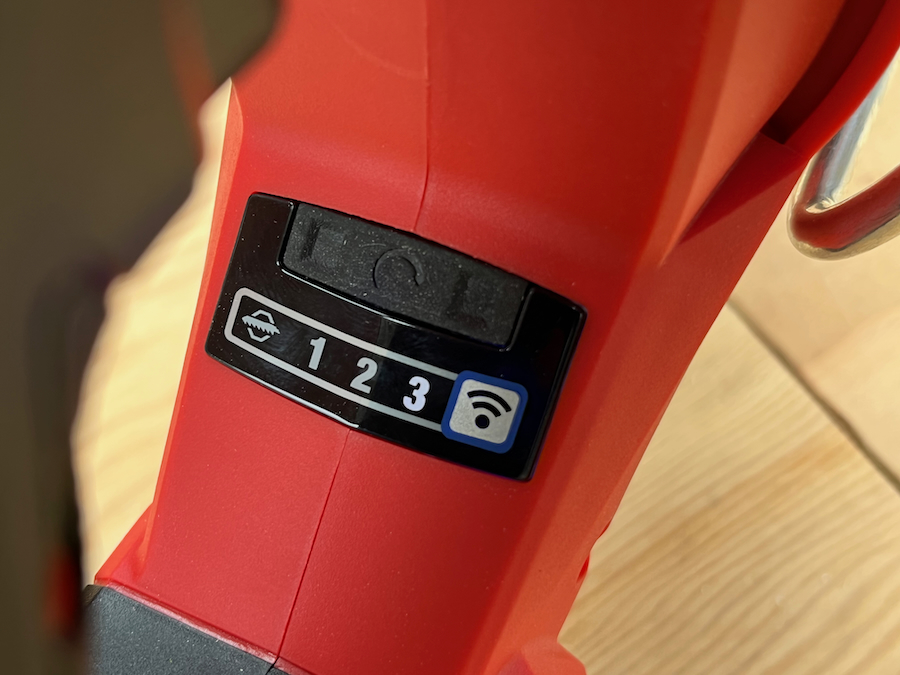 Stand-Out Features
Standout features are ones that other saws do not have and should be thought about when making a purchase.
Milwaukee ONE-KEY
The Milwaukee 2722-20 is the first reciprocating saw in its field to wirelessly link to a smartphone and track, manage, and customize a tool's usage and location. With Unlimited Tool Customization, you can connect to the device and access preset setups for particular materials and fasteners, or you can fully customize the output speed and power for the current application. The custom profile is then saved to the tool's memory after the desired output performance has been attained, making the connection to the smartphone unnecessary. Up to 4 unique profiles can be conveniently accessed from the tool's memory with the touch of a button. Additionally, your personalized profiles are kept in the cloud and accessible at any time.

Using tools across your network of jobs and users is completely visible with integrated tool tracking, which ONE-KEY offers. The app will track all ONE-KEY compatible devices within a 100-foot radius of your phone.
All devices are traceable regardless of whether the battery is charged or on the tool because the capability is built into the instrument rather than the battery.
The program will automatically keep track of the last time a tool was in its vicinity, making it easier to find missing tools and improving crew responsibility. If you're having problems finding a misplaced tool, ask anyone with the ONE-KEY app for assistance in broadening your search.
Additionally, the One-Key also has fixed orbital action. This means you can not turn it on or off. Unlike the Super Sawzall, which has a selectable orbit, the One-Key detects the best orbital action for cutting material.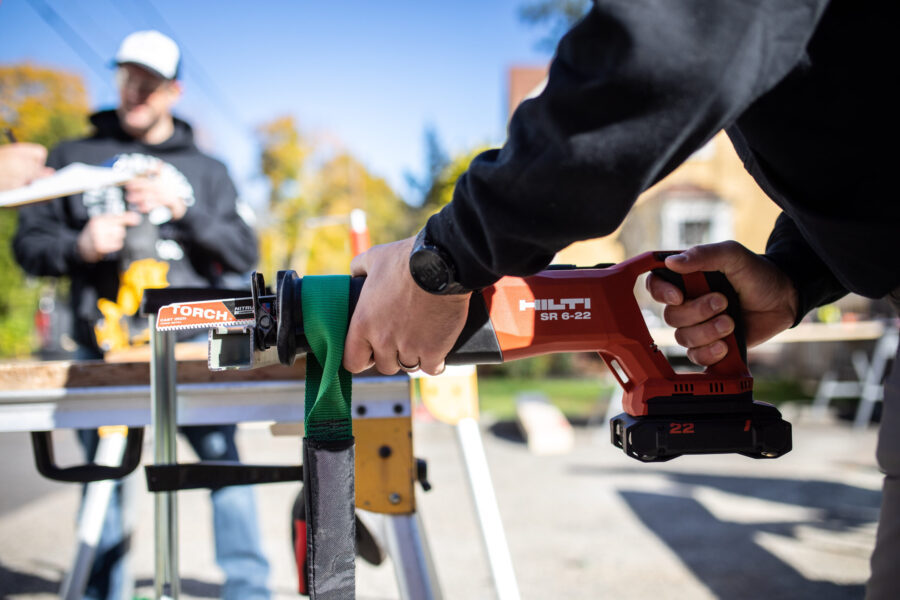 HILTI On!Track
The HILTI 22V Nuron tools generate data which is then stored on the Nuron batteries and sent securely to the cloud during every charge without any operator interaction. NURON batteries have an internal memory card that can simultaneously store information from up to 12 tools.
When the batteries are plugged into the charger, the data is automatically uploaded to the cloud via cellular networks without any setup required. This allows users to make data-driven decisions based on site-specific tool usage patterns. Using Hilt's ON! Track software on app and web customers can track this information by user or job site or leave it at a tool level, whichever they prefer.
Together with services like Hilti Fleet Management [paid subscription service] tool data can be used to reduce downtime and optimize tool cribs to boost customer productivity.
While this is an excellent feature, the team feels it needs to do more for the majority of Pro contractor users who are unable or unwilling to subscribe to the Hilti Fleet Management services.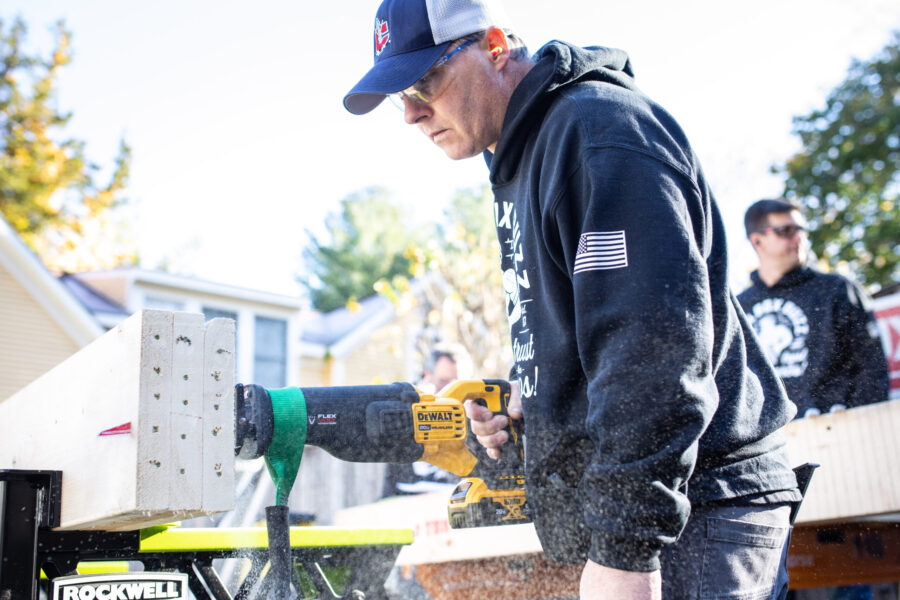 DEWALT Flexvolt Advantage
DEWALT FLEXVOLT Batteries can unlock more power and better performance with Flexvolt Advantage 20v Max tools. The FLEXVOLT ADVANTAGE technology-equipped tools are aware of the battery's connection and alter their power output accordingly. When combined with FLEXVOLT batteries, DEWALT 20V MAX* tools with FLEXVOLT ADVANTAGE technology give end users greater power.

Ergonomics | Winner – Milwaukee 2822-20  One-key
The ergonomics evaluation in this section is purely subjective and based on the opinions of the testing crew. After a full day of running performance tests, the team sat down and ranked each tool in several categories on a score of 1-10 [1 being the best]. For the ergonomics evaluation, the team evaluated the following criteria:
Subjective Vibration
Grip comfort
Ease of Blade Change
Ease of Shoe Plate Adjustment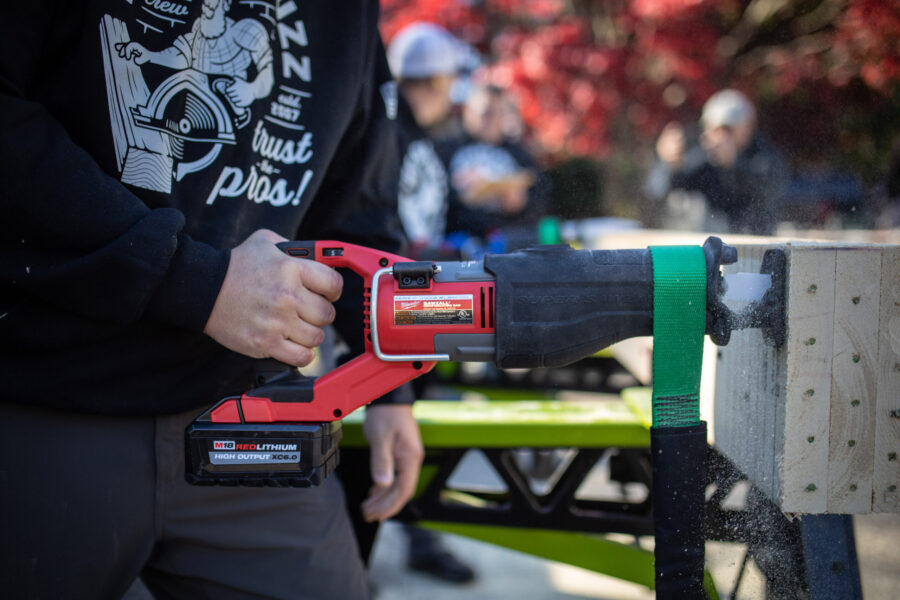 The Milwaukee One-key reciprocating saw came in with a six score and never dropped below 2nd place in the four tested categories.  Hilti saw came in 2nd with an eight score. Third place went to the flex with double the points of the first two saws with a score of 15.

Subjective Vibration
Each evaluator ranked the tools based on perceived vibration for this category while performing each performance test. The average ranking was used for the final vibration ranking.

Vibration standouts:
The FLEX and Metabo HPT saws had minimal vibration.  The FLEX  saw includes active vibration control with FLEX's "Shockshield Vibration Suppression." According to FLEX, it reduces vibration by 40%.  In our testing, without knowing this information, the entire crew all commented that the FLEX was one of the saws with the least vibration.  Impressively it did this without bogging down or a reduction in power.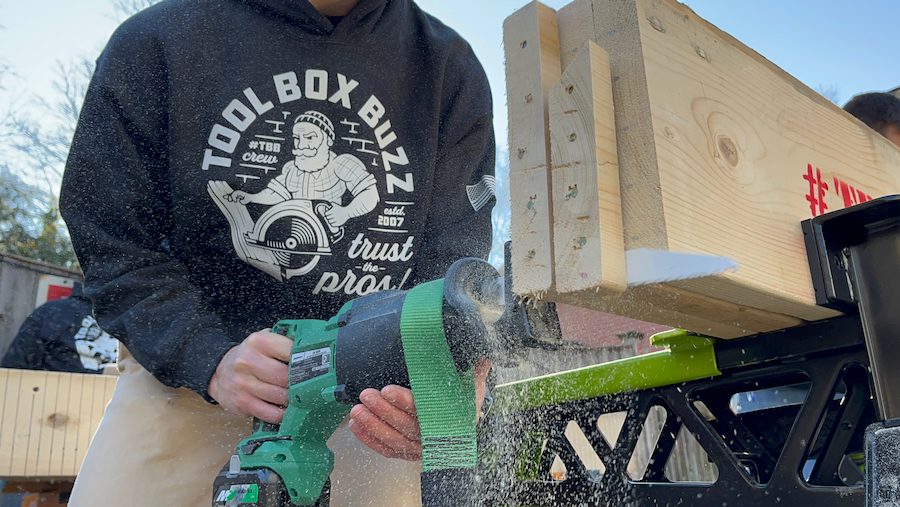 FLEX was "smooth as silk" to operate. ~ Rob
Grip Comfort
The crew collectively assessed how the grip surface, hand shape, and over-molding felt. Grip comfort is probably the hardest to score as a team due to the wide range of shapes and sizes of hands the team members have.

Grip Standout: DEWALT and Hilti
The team felt that the DEWALT and the Hilti saws had the most comfortable grip.


Ease of Blade Change
Every tool in this category included a tool-free blade change design. The comparison focused on the ease of changing blades. The entire team favored the external spring-loaded lever used to change the blade. The rest of the saw uses a spring-loaded twisting collet to change the blade.



Blade Change Standouts: DEWALT and Hart
Both the DEWALT and Hart saws use a spring-loaded lever to release or insert the blade. This lever was easy to operate with or without gloves.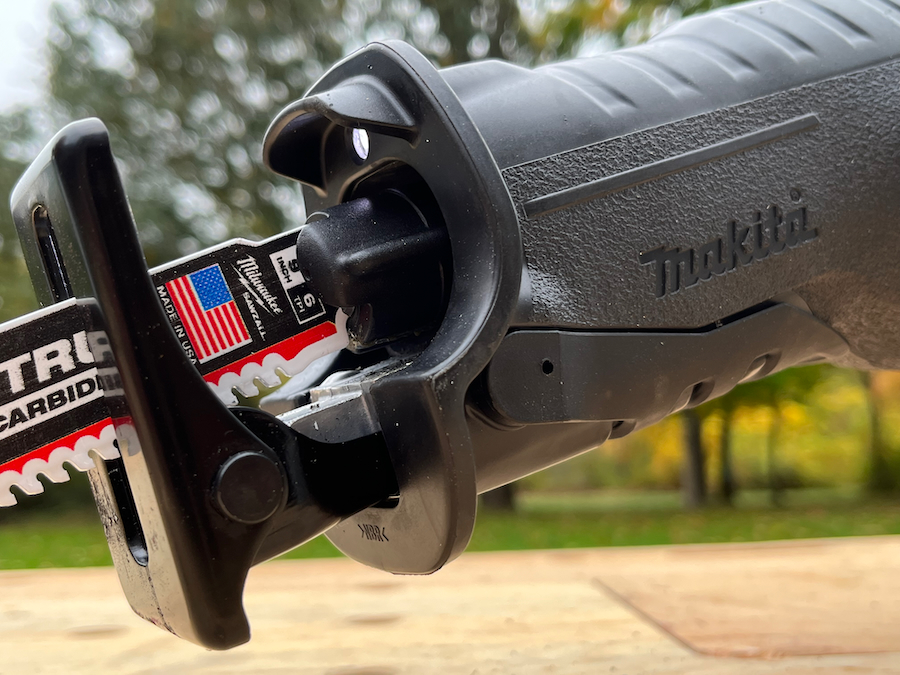 The FLEX and Makita collets lock open and allow the blade to be inserted without twisting. The issue the team had with the collets was that many were difficult to grip, impossible to operate with gloves on, and the collet could sometimes get "buried" inside the housing of the tool, necessitating you to pull the trigger to reach the collet.
Shoe Plate Adjustment
Of the tools that had shoe plate adjustment the ones that did were controlled by either of the following:
Lever  [A team favorite]
Push button
Allen key
It's 2022, and onboard hex keys for shoe plate adjustments seem archaic but not having an adjustable shoe plate is silly. – TBB Crew Scott
FLEX has a push button on the front of the tool's housing. During the testing, this button was recessed and got stuck inside the housing- making it impossible to adjust the shoe plate. Upon further inspection, there did not appear to be any debris build-up. The consensus was that the fit and finish of this mechanism needed to improve.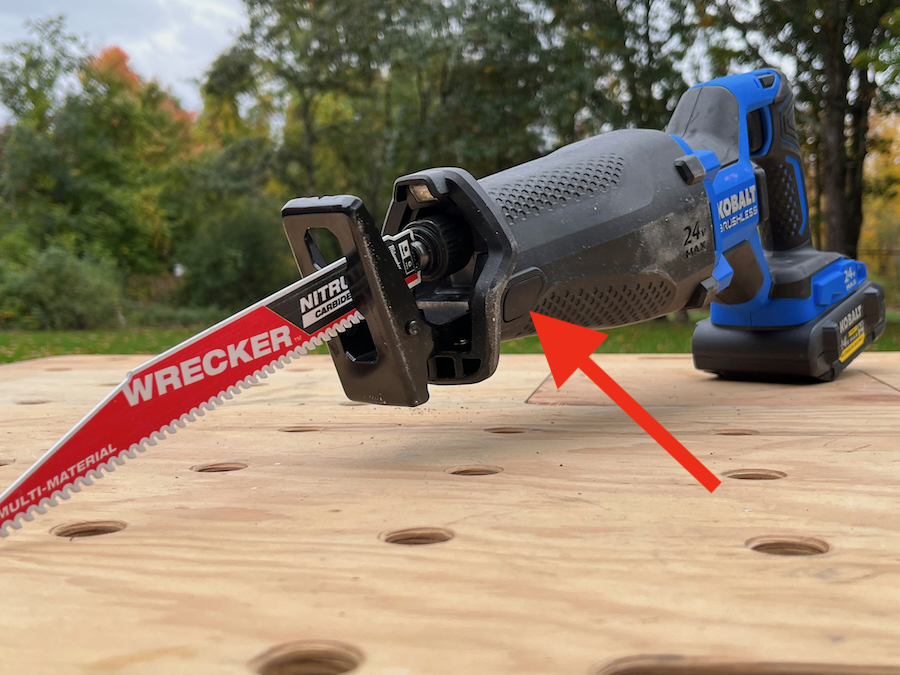 The two Kobalt Saws – have an ergonomically placed, single button, that adjusts the shoe easily. The shoe extends to the furthest point but does not come out of the tools.  The team liked that, but this button could inadvertently be hit while in operation.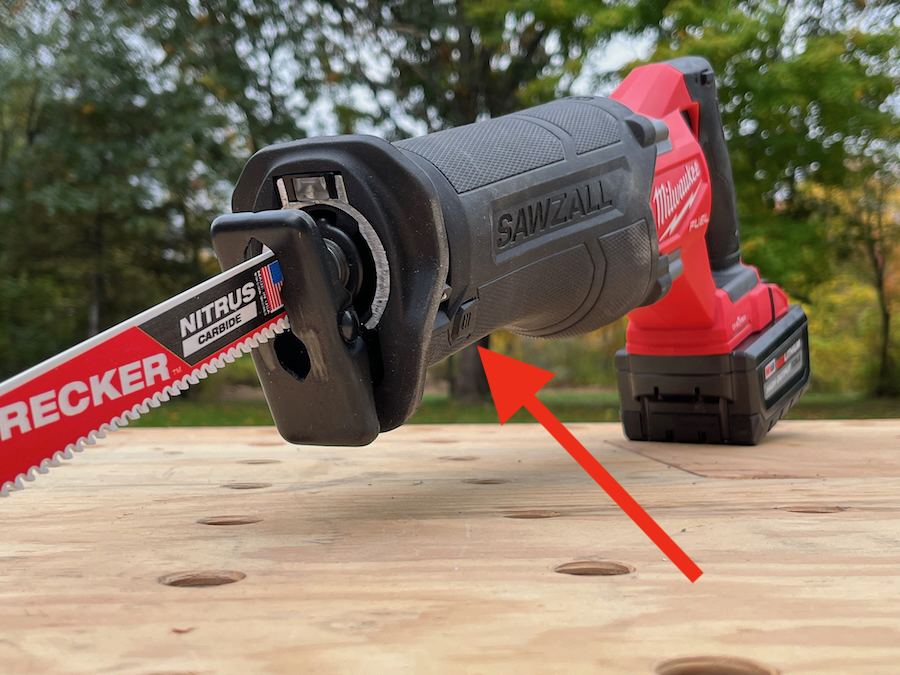 The Milwaukee M18 One-Key saw has two buttons, on each side, to easily release the shoe plate completely. Dual controls need to be pressed at the same time, making a using mishap unlikely.
Size | Winner – Porter Cable
To compare the saws' overall size (compactness), the length ranking and the weight ranking were added together. The tools were ranked from smallest to largest and least heavy to heaviest. Smaller more compact tools are easier to operate in tight spaces and weight is always a fatigue factor.
Let's face it, a saw lighter in weight and packs a punch [power] transcends into unicorn status!  Weight is a huge consideration, after the performance, when using a reciprocating saw. The larger size saws translated into performance in our testing, we sure wish it were the opposite.
You often operate a reciprocating saw overhead, and the task can quickly cause fatigue. During the evaluation process, each reciprocating saw was weighed on our digital scale WITHOUT a battery. There are so many variations of battery packs on the market; some operators may choose a smaller battery pack for overhead tasks, and some may not.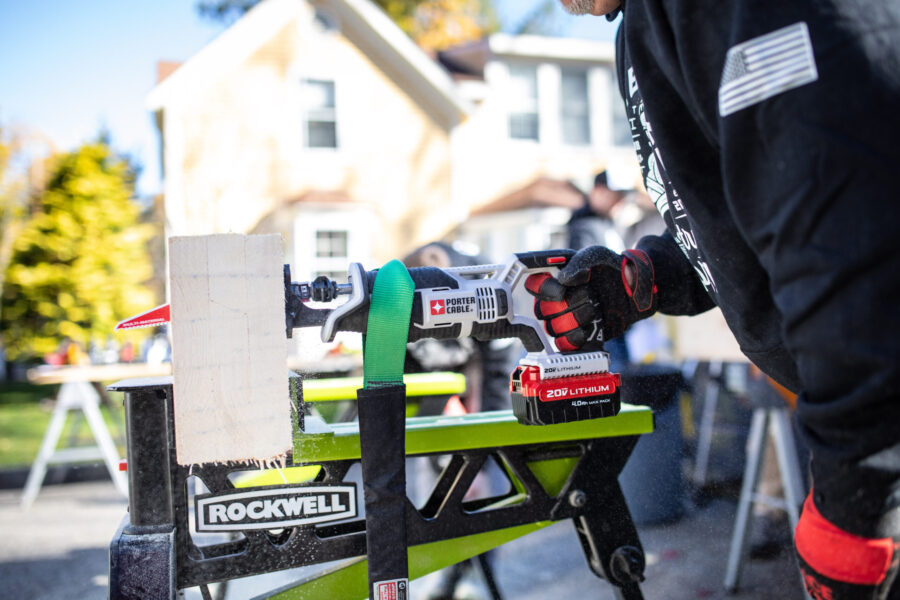 Porter Cable took the size category measuring 15″ in length and weighing in at 4.35 lbs as a bare tool. Second place was the Skil which is 16″ in length and 4.83 lbs. Third went to Hart with 17-1/2″ and 5.00 lbs respectively.
The longest-length saw we tested was the Milwaukee One Key at 21-1/2″, placing it in last place when added with a weight of 8.80lbs. The heaviest saw was the FLEX, weighing 10.67 lbs which when added to its length of 18″, ranks it 15th out of 17 saws.
Noise Saw | Winner  – HILTI
OSHA allows 8 hours of exposure for noise levels up to 90 decibels, but the exposure limits drop rapidly at 95 decibels and higher. Hearing protection should be worn when operating a reciprocating saw because they are extremely loud.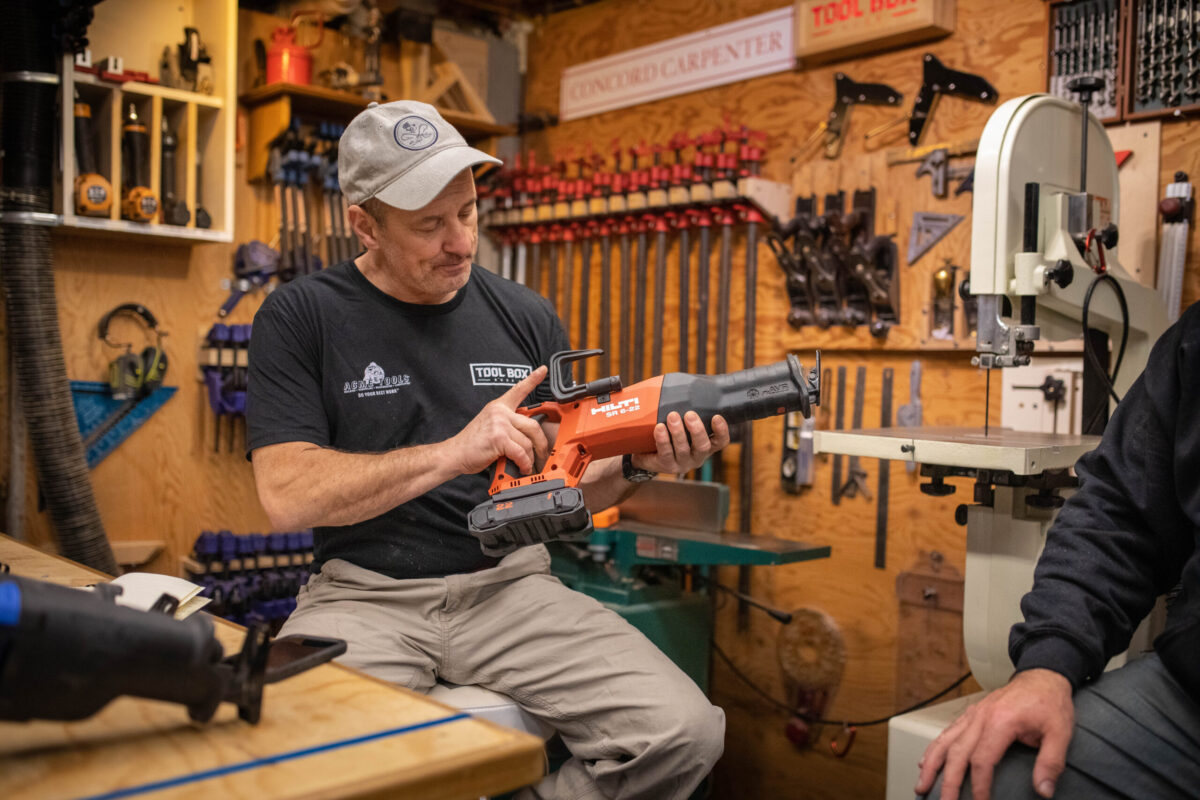 We used a decibel meter to measure the saw's dB level in a no-load situation at a set distance of the same height as a user's ear spacing to test these saws consistently. The crucial point is that the saws were always compared against each other, despite decibel measurements being relative to any setting. We evaluated these saws in a no-load capacity; nevertheless, when the saws are loaded, the noise level increases and the cutting material dictates the noise level.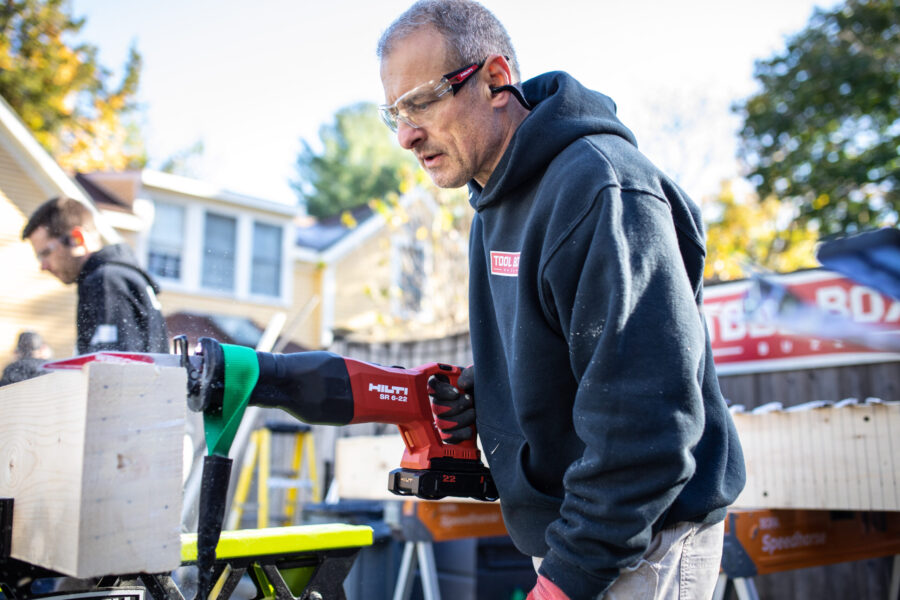 The saw that was the quietest was the HILTI Nuron at 87 dBs. The second quietest saw was the Metabo at 92.0 decibels. The loudest reciprocating saw we tested was the Hart at 102.8 decibels.
Best Reciprocating Saw Price | Winner – Porter Cable
Price is always a consideration when deciding which saw is best for a user. For each of the saws "as-tested," we've given the current bare tool pricing discovered online at the time of writing.
The price of a tool can sometimes be the deciding factor in whether or not to buy it. We can all agree that price is an essential factor to consider when purchasing tools, especially for those of you who are just getting started in the trades. We also understand that most contractors are brand loyal and will prefer to stick with their current battery platform rather than branch out and build a new line of cordless instruments.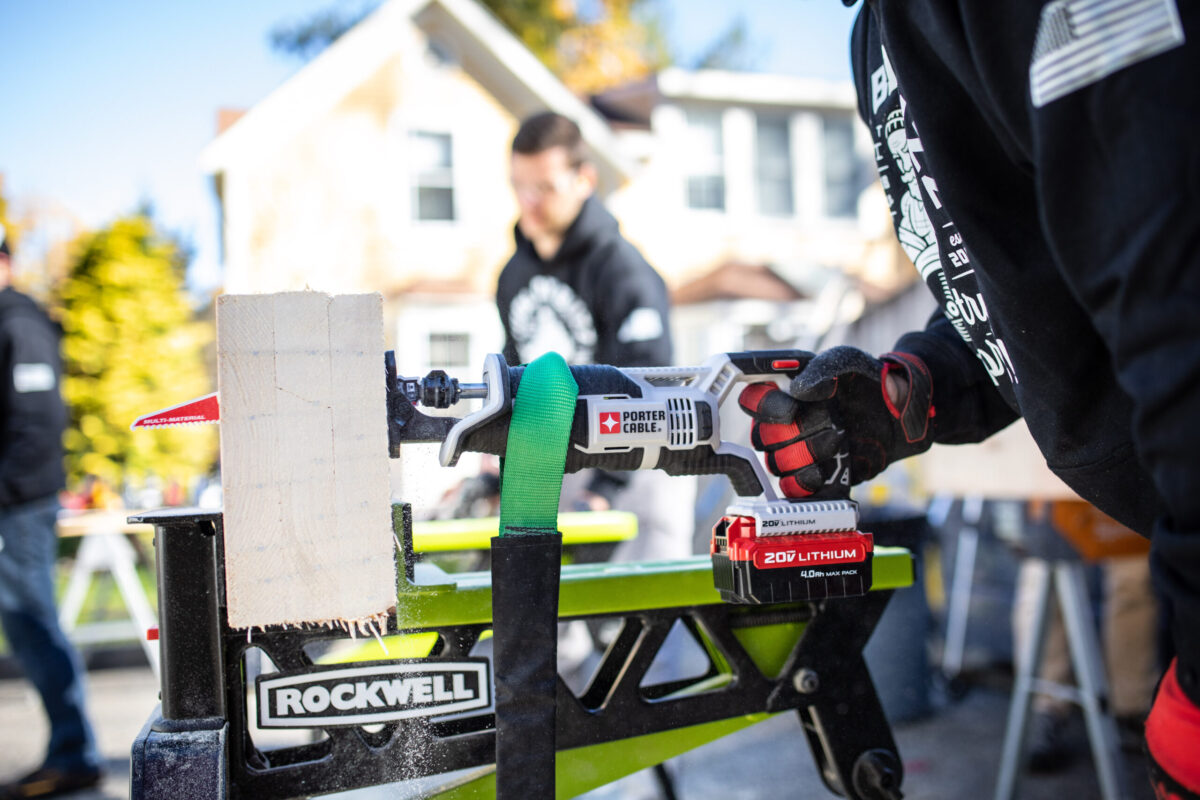 The reciprocating saw that cost the least was the Porter Cable coming in at $62.00 bare tool. The second cheapest-priced saw was the Skil at $89.99 [this is the kit price]. Both of these saws fall into the DIY category for saws.
The most expensive saw we tested was the Hilti Nuron which came in at $299.00 bare tool.
We did not include the price in our overall score as we felt the lesser-priced DIY saws would penalize the higher-priced, better-performing Pro-rated saws. We have pricing in its own section for you to use as you need to. Most of these saws may be found at your local big box stores, and almost all of them can be found online like ACME Tools or Amazon.

Best Value Reciprocating Saw | Winner – Kobalt
KRS 224B-03
This category winner often resonates with almost everyone, because shines on the tool that performs well in our tests, while not breaking the bank. The best value reciprocating saw is the Kobalt KRS 224B-03, which came fifth place overall [out of 17 tools] and is the fifth least expensive saw, priced at $129.00 [bare tool].  This saw came in 4th place in Features, top 10 in the nail-embedded cutting test, second place in gas pipe testing, and fifth in the uni-strut cut test. It's a solid-performing, well-priced tool and one that anyone would be happy using.

Best Cordless Reciprocating Saw | Winner – FLEX
It's evident to the team that Flex is pushing hard on the gas pedal to enter the Pro market. This imposing saw is fantastic!
The Flex reciprocating saw was a clear winner in our testing process, with 37 awe-inspiring points. Flex shined in our performance testing, coming in 1st place in the gas pipe testing, 1st in uni-strut testing, and 2nd in nail-embedded wood.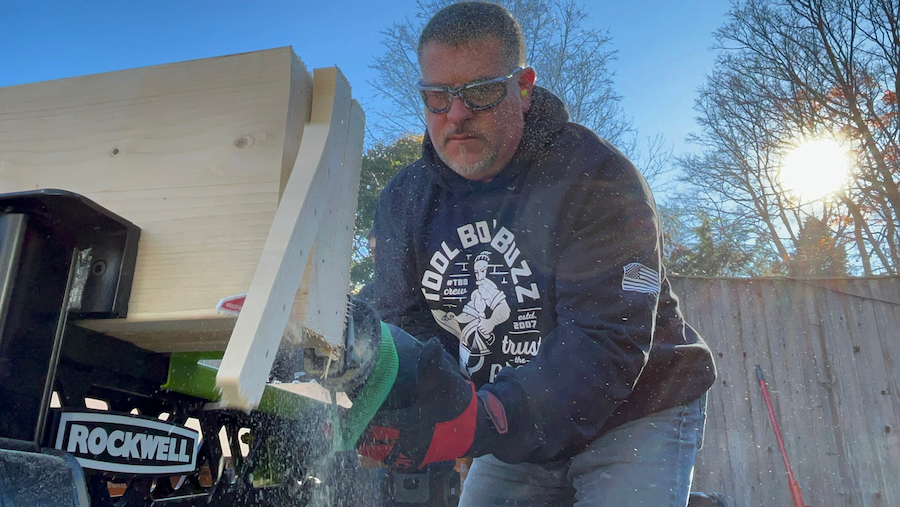 It came in third in ergonomics and fourth in features. It is a large, stunningly powerful saw with low vibration; the team feels Flex has room to improve the blade change [collet] mechanism.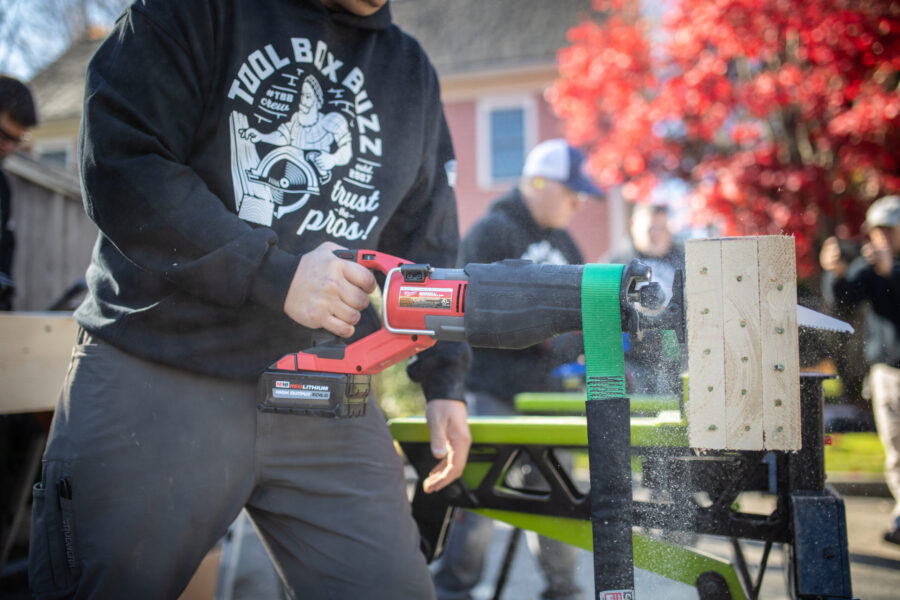 Second place was the Milwaukee One-key coming in with 44-points. A stand-out winner in ergonomics, with robust features and performance that never dipped below 5 in any cutting speed tests. The Milwaukee is a feature-rich, comfortable, robust saw. If the Flex is a suped-up, hyper-fast, and smooth-riding Chevy, the M18 Sawzall is clearly a Mercedes. Its only flaw was the hard-to-see controls in direct sunlight.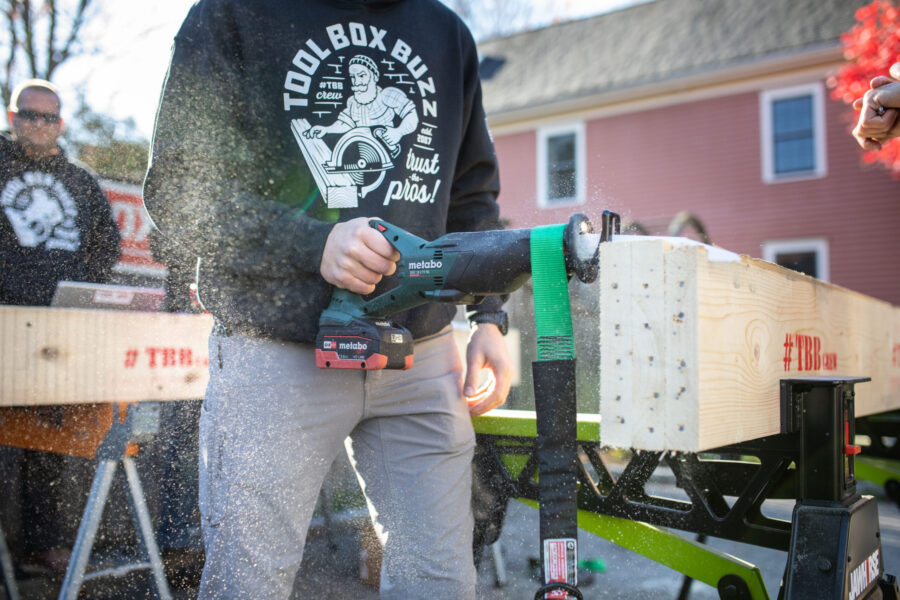 Third place goes to the Metabo 602267850. The Metabo performed held its own in every category, and their smaller footprint and lower decibel ratings propelled them to score higher in the ranks. This saw could use some improvement on vibration and the team was not a fan of the battery eject button, which is not easy to manipulate.

The MOST Comprehensive Information Available
Our ALL Pro contractor team put some serious time and effort into our Best Reciprocating Saw Head-to-Head evaluations to provide you with the most comprehensive information available.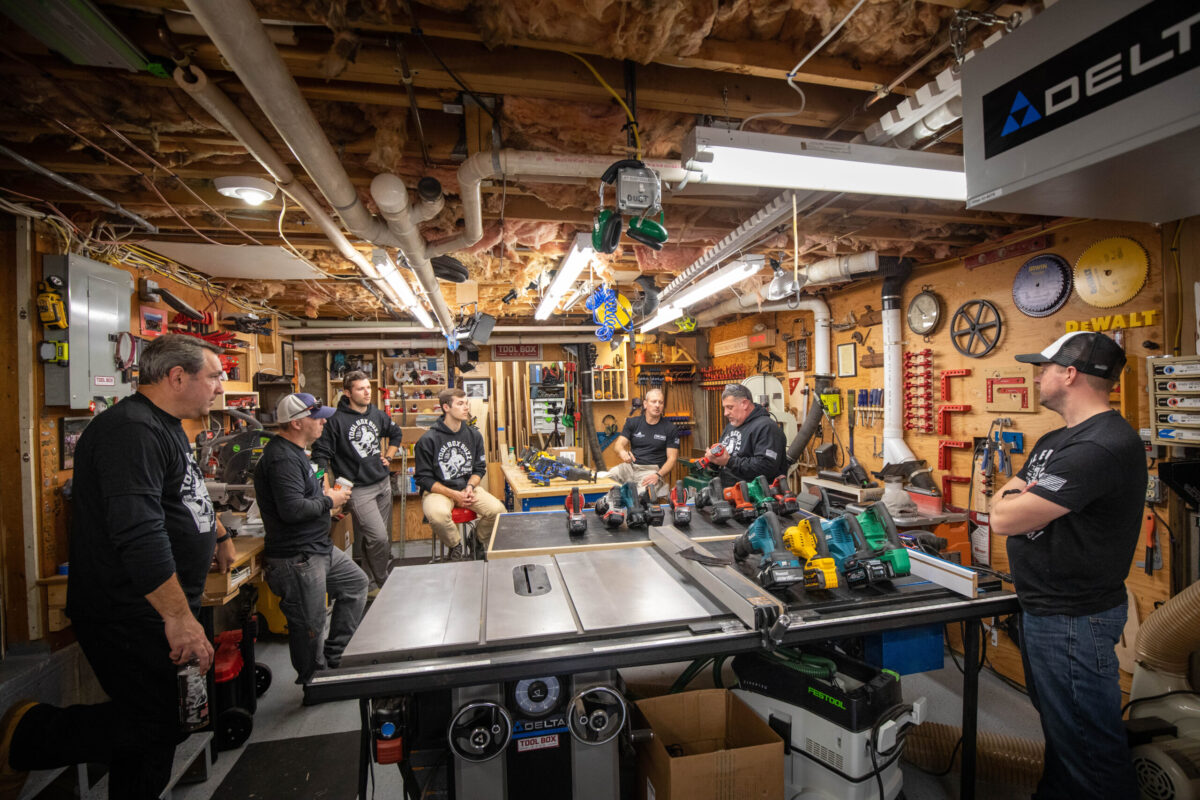 These tests and evaluations are tough, take a lot of time, but are limited in scope. We cannot do long-term ROI testing that would determine longevity. However, the team does see a few of these tools "punch above their weight," in our testing only to smoke out or leave us with questions about their longevity down the road. Many of those tools are also not considered pro brands.
We get lots of comments about how we make the final rankings. There are dozens of ways to compare tools; we share ALL the data from our tests, so you can re-rank the tools however you want. If you don't care about an item we ranked? No problem. Remove that from the matrix above and re-rank them.

Other Head-to-Head Testing
In case you missed it, the crew at Tool Box Buzz has published four Head-To-Heads this year. If you have a moment, please check them out here:  Head-to-Head Tests.
Best Cordless Reciprocating Saw Head-To-Head Video | 2022
About the author
Disclosure
Product reviews on this site contain our opinion of a product or service. We will always strive for objectivity and transparency in our reviews. Our goal is to provide readers with honest, objective information based on our own experiences. We never have and never will accept payment in exchange for a positive review. Many of the products that we review are provided to us for free by a manufacturer or retailer. In some cases, we also have advertising or affiliate relationships with manufacturers and retailers of products and services we review. For additional information please visit our additional disclosure policies.