Best Cordless Mower 2022
Cordless Lawn Mower Head-To-Head | 2022
Like Ricky Bobby says " If you ain't first then you're last." While we love the spirit of that statement, we feel that does not hold true when it comes to the Best Cordless Mower. We feel that there is a place for cordless mowers, whether it is in a small backyard, large backyard, or even a commercial field!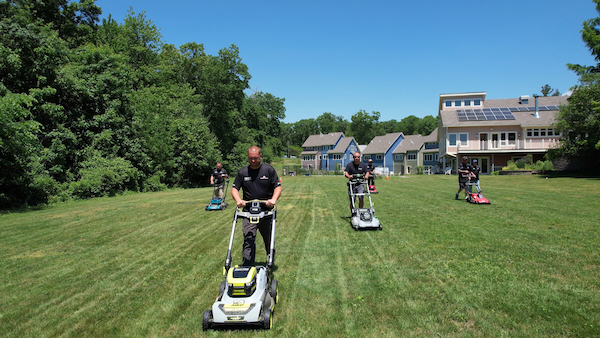 Cordless Lawn Mowers continue to be the most popular OPE (outdoor power equipment) in retail stores. The buzz is real and everyone is competing for a seat at the top when it comes to best in class. The field is ever-changing, even in the 2 years since our last 2020 Cordless Mower Head-to-Head there have been new models and technology improvements.
In this best cordless lawn mower head-to-head we compared 16 cordless mowers from 14 manufacturers. We put these mowers through specific tests against each other to crown the Best Cordless Mower.

Benefits Of A Cordless Mower
Gas-powered mowers require a lot of maintenance, such as oil changes, fuel filters, spark plugs, and air filters. Not to mention rising gas prices. Let's be honest, most people don't properly maintain their gas mowers, and put off service until the mower won't start! Anyone who has had to get a small engine fixed understands how inconvenient and time-consuming it can be.  All of the above-mentioned maintenance, as well as last-minute fuel purchases, are eliminated with cordless mowers, which are also quieter to operate.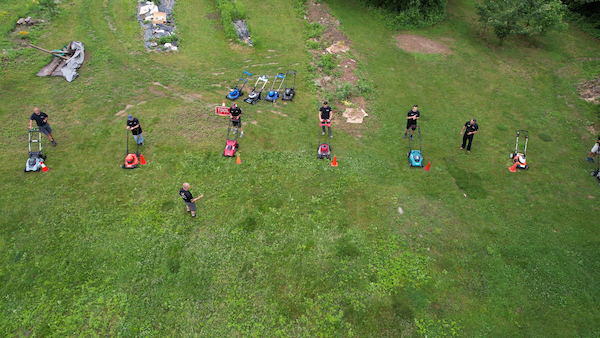 Cordless Lawn Mowers Tested
We reached out to 14 of the top cordless lawn mower manufacturers and asked if they would like to participate in our best cordless mower head-to-head article. The models we tested included:
Black and Decker
Model: CM2043C
Voltage: 40V
Deck Size: 20″
Max Cutting Height: 4″
Min Cutting Height: 1-1/2″
Number of Blades: 1
Weight: 47 Lbs
Price: $265.95
DEWALT
Model: DCMWSP255Y2
Voltage: 20V x 2 (40V)
Deck Size: 21-1/2″
Max Cutting Height: 4″
Min Cutting Height: 1-1/2″
Number of Blades: 1
Weight: 92 Lbs
Price: $669.00
ECHO
Model: DLM-2100SP
Voltage: 56V
Deck Size: 21″
Max Cutting Height: 4″
Min Cutting Height: 1″
Number of Blades: 1
Weight: 69.5 Lbs
Price: $499.00
EGO
Model: LM2156SP
Voltage: 56V
Deck Size: 21″
Max Cutting Height: 4″
Min Cutting Height: 1-1/2″
Number of Blades: 2
Weight: 68 Lbs
Price: $799.00
Greenworks
Model: 2533402
Voltage: 80V
Deck Size: 21″
Max Cutting Height: 4″
Min Cutting Height: 1-1/2″
Number of Blades: 1
Weight:  74 Lbs
Price: $749.00
Hart
Model: HLPM061US
Voltage: 40V
Deck Size: 21″
Max Cutting Height: 4″
Min Cutting Height: 1″
Number of Blades: 1
Weight: 89 Lbs
Price: $498.00
Kobalt
Model: KMP6080-06
Voltage: 80V
Deck Size: 21″
Max Cutting Height: 4″
Min Cutting Height: 1-1/2″
Number of Blades: 1
Weight: 87 Lbs
Price: $599.00
Kobalt
Model: Model KSPM-1040A-03
Voltage: 40V
Deck Size: 20″
Max Cutting Height: 4″
Min Cutting Height: 1-1/4″
Number of Blades: 1
Weight: 65 Lbs
Price: $429.00
Makita
Model: XML11CT1
Voltage: 18v x2 (36V)
Deck Size: 21″
Max Cutting Height: 4″
Min Cutting Height: 1-1/4″
Number of Blades: 1
Weight: 88.5 Lbs
Price: $499.00
Makita
Model: XML08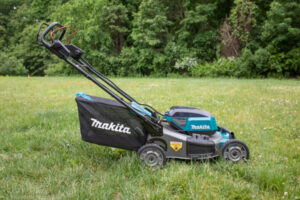 Voltage: 18v x2 (36V)
Deck Size: 21″
Max Cutting Height: 4″
Min Cutting Height: 1-1/4″
Number of Blades: 1
Weight: 94 Lbs
Price: $699.00
Milwaukee
Model: 2823-22HD
Voltage: 18V x2 (36V)
Deck Size: 21″
Max Cutting Height: 4″
Min Cutting Height: 1″
Number of Blades: 1
Weight: 80.5 Lbs
Price: $999.00
Ryobi
Model: RY401210
Voltage: 40V
Deck Size: 21″
Max Cutting Height: 4″
Min Cutting Height: 1.5″
Number of Blades: 2
Weight: 74 Lbs
Price: $799.00
Skil
Model: SM4910-10
Voltage: 40V
Deck Size: 20″
Max Cutting Height: 4″
Min Cutting Height: 1-1/2″
Number of Blades: 1
Weight: 60 LBs
Price: $449.00
Snapper
Model: 1687982
Voltage: 82V
Deck Size: 21″
Max Cutting Height: 4″
Min Cutting Height: 1-1/2″
Number of Blades: 1
Weight: 71.5 Lbs
Price: $658.36
Stihl
Model: RMA 510 V
Voltage: 36V
Deck Size: 20″
Max Cutting Height: 4″
Min Cutting Height: 1″
Number of Blades: 1
Weight: 64 Lbs
Price: $699.99
Toro
Model: 21566
Voltage: 60V
Deck Size: 21″
Max Cutting Height: 4″
Min Cutting Height: 1-1/2″
Number of Blades: 1
Weight: 81 Lbs
Price: $799.00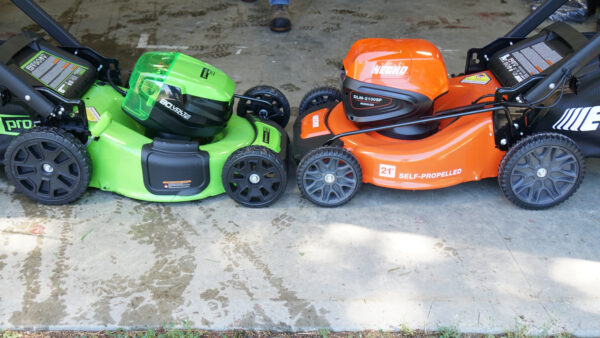 Best Cordless Lawn Mower Head-to-Head Comparison
While this isn't a professional testing facility and we are not a professional testing crew, we did gather measurements, analyze each mower in a variety of categories, and rank them against one another.

We always strive to figure out how to make our Head-To-Head tool tests uniform, reproducible, and fair when we start putting them together. In order to give you the Best Cordless Lawn Mower, we looked at the following 10 categories.
Noise
Run-Time
Speed Test
Ergonomics and Features
Handle Comfort & Adjustment
Amount of Grass Mowed
Maneuverability
Deck Height Adjustability
Compact Storage

Cordless Mower Cut Quality
There was no BIG discernible difference in the cut quality of the mowers. The grass we mowed was field-quality, green, and approximately 6-7 inches high. As a result, the grass plant type was not particularly uniform. This made the cut quality hard to determine, and since we did not have a sod-quality lawn, we did not rank this category.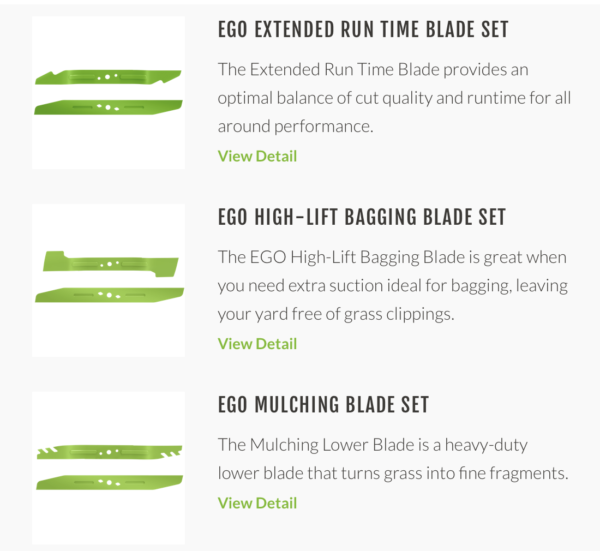 Editor's Note – Both the Ego and Ryobi have multiple cut blades which enhance the quality of the cut. All the other mowers that we tested had single-blades.

Ego has three blade sets included in your purchase. A set of Mulching Blades for shredding grass into fine bits. For all-around performance, the extended runt time blades set provides a perfect blend of cut quality and duration. Finally, they include their "High Lift Bagging Blade" set, which provides greater suction for bagging and leaves your yard free of clippings.
The Ryobi mower comes with stacked, two crosscut blades making the quality of the cut better, by creating smaller grass clippings.

Quietest Cordless Mower Winner  – Stihl
One of the most often asked topics concerning cordless mowers seems to be how much noise they make.
To gain a relative comparison of noise, we ran a basic decibel test to measure the loudness of the mowers in a controlled environment. The test consisted of running each mower in our barn, on a concrete surface with the deck lifted to its full height. Each mower was tested in the same spot on the floor, and the decibel meter was at the same height and relative position as an average user.
Note: the mowers were tested on top of a concrete slab. In practice, when utilized on a lawn, these mowers are significantly quieter.
When the ECO mode is selected, the mower operates at a lower RPM for situations requiring less power. This increases energy efficiency and battery runtime as well as reduces the noise of the mower. To switch the ECO mode on, swing the battery cover open and hit the ECO select button, and then close the lid.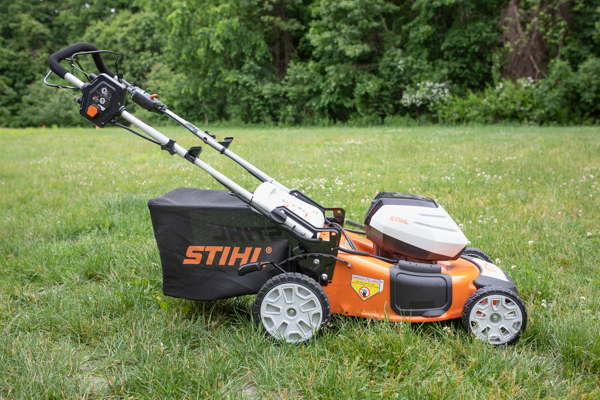 We ran the test for enough time to have the mowers reach a maximum and stable rpm speed. Many of the mower motors start at a high RPM and then cycle down to a slower speed to save energy. The quietest mower we tested was the Stihl which measured in at 79 decibels.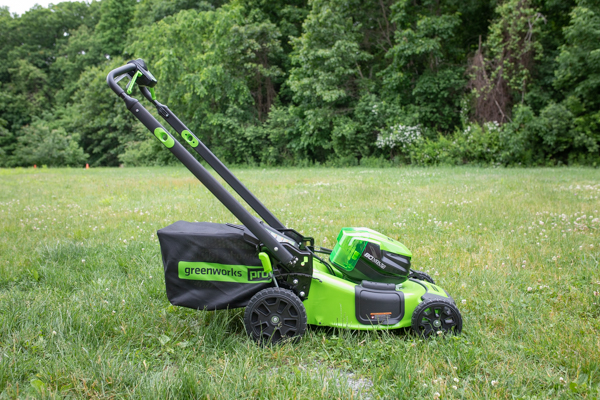 A three-way tie for second at 80 decibels was Greenworks, Snapper, and Toro. Coming in the loudest mowers were the Ego and Makita XMLCT1 at 88.5 decibels.
There are five mowers that have a turbo feature which increased the noise decibels between 3.5 to 5.0 DBS.  Milwaukee, Echo, Stihl, Greenworks, and Toro. When in turbo mode, which Milwaukee calls "High lift mode," the Milwaukee was the loudest mower we tested at 90.0 decibels. High lift mode uses a higher blade speed to achieve additional airflow and increased grass lift to deliver better quality mulch or bagging results.
Cordless lawn mowers allow you to cut your lawn efficiently and quietly, with none of the noise, gas, oil, or maintenance that comes with gas-powered solutions ~ ROB
Gas vs Cordless Mower  | Noise
For comparison, the average gas lawnmower produces 95–100 decibels. The noise measurements for our test mowers averaged 82.6 decibels. When compared to a loud gas mower, these cordless mowers cut sound energy by over 20 times when compared to a 100 dB noise level.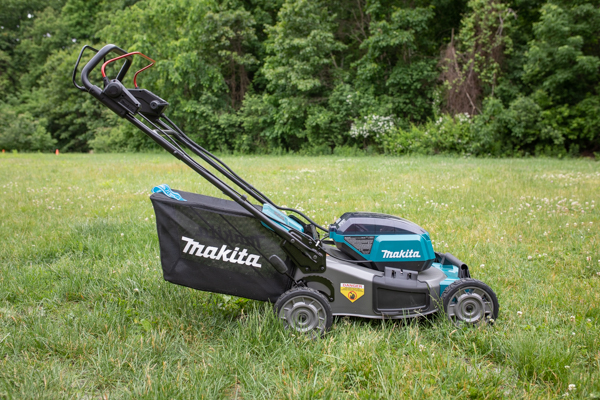 Many towns have enacted noise ordinances that limit the times of day you can mow with a gas mower. Cordless mowers are unaffected by these ordinances.

Most Grass Cut | Cordless Mower Run-time
Run-time used to be a big question in the minds of people considering the purchase of battery-powered tools. Huge advancements in battery technology have made cordless mowers a viable option for users. The million-dollar question on everyone's mind is how much grass will a cordless mower cut on a battery charge?  Mowing run time will vary greatly depending on the height of grass, the thickness of grass, and the type of grass.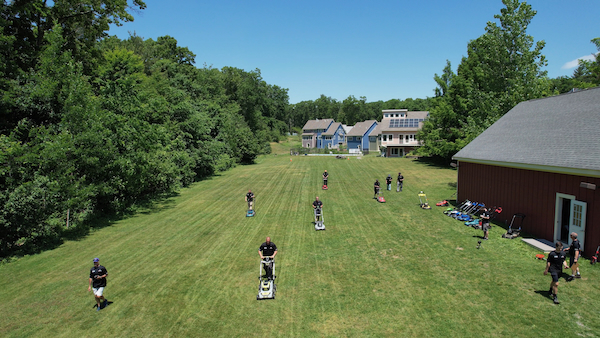 Best Cordless Mower Run-time Procedure
We measured and marked mowing lanes for each mower and kept track of the time and total distance that each mower traveled.
Grass Conditions: The grass we mowed was field-quality, green and white clover, and approximately 6-7 inches high. Every mower was set at its highest cut setting, 4″. We set each mower to its maximum speed if it were self-propelled. We asked the operators of non-self-propelled mowers to move at a comfortable pace. It was interesting to note that a 40-year-old man in good shape pushing a mower was faster than most of the self-propelled mowers.)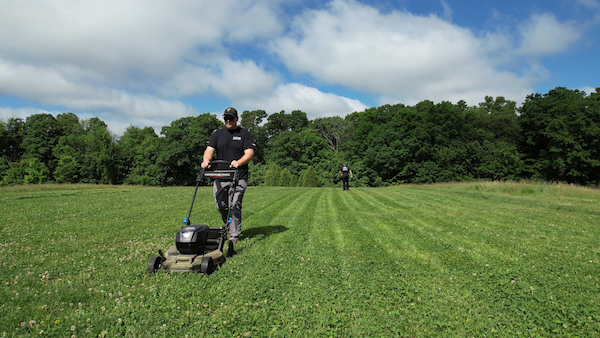 If any mower completed mowing its entire marked lane, we lowered the mower deck by one additional inch and re-cut that lane. Once the mower stopped running, we used a measuring wheel to measure its final resting spot.  Some mowers have dual batteries that will operate separately. In this instance, if the batteries were provided in the kit, we doubled the calculations to come out with our total distance mowed.

Most Grass Cut | Run-time Winner –
Milwaukee
The winner of the most grass mowed in this year's Best Cordless Mower Head-to-Head goes to Milwaukee.  The M18 mower runs on two 18V 12 Ah batteries.  These power banks propelled Milwaukee to run for 14,936 feet or 2.83 miles.  The total cutting area was 26,138 square feet, a truly impressive amount of grass for a battery-powered mower. The final ranking is based on the area the mower can cut with the total batteries on board. We also showed a column of data on area per watt-hour just as additional information. Ultimately what users are most interested in, is how much area can I mow on a single charge.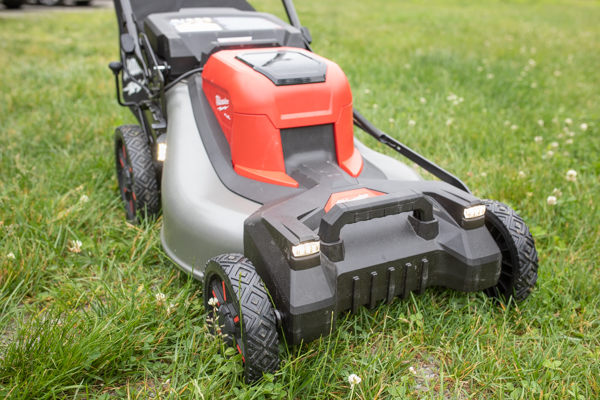 Just behind Milwaukee was the Kobalt 80V, mowing a distance of 14,017 feet and 24,540 square feet in our test. The Kobalt is powered by a single 6 Ah battery.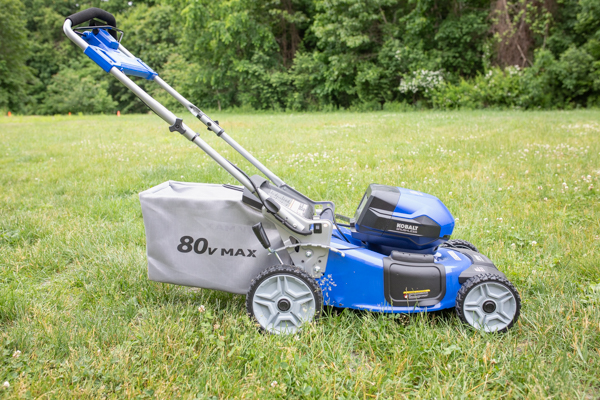 Rounding out the top three was the EGO mower. A single battery powers the EGO like the Kobalt and this kit came with a 10 Ah battery.  The EGO was able to run for 10,868 feet or 2.06 miles, cutting grass over a 19,000 square foot area.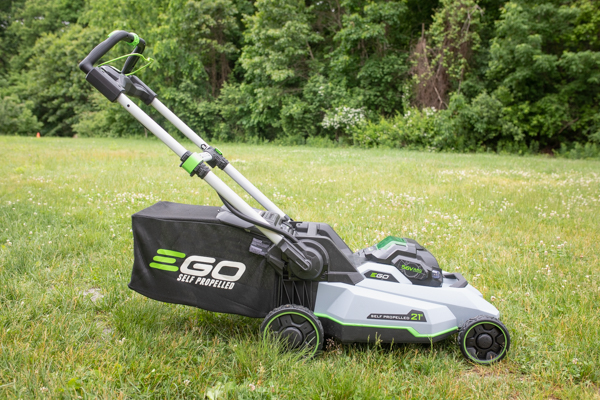 Watt-Hours
It's important to note that all 16 of these mowers have different battery Amp-Hour, capacities, and voltages.  Comparing one tool's battery capacity to another by referencing "Amp Hours" is a common practice but an inaccurate and misleading one.  Watt-Hours is calculated by multiplying the voltage (actual load voltage, not the MAX that some companies advertise) by the battery pack Amp-Hours. This calculation allows us to compare the total energy available to do the work based on both the voltage and size of the battery pack (amp-hours).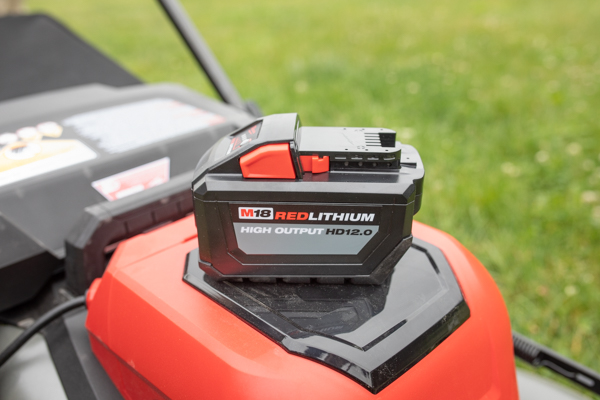 For example, we can take a look at the two leaders of the runtime/area mowed test, Milwaukee and the Kobalt 80V.  The Milwaukee uses two batteries at 18V and 12 Ah a piece.  Each battery has 18V*12Ah equaling 216 Watt Hours capacity.  Adding both batteries together yields 432 WH onboard and supplied with the kit.  The Kobalt has a single 80V Battery rated at 6Ah with a Watt-Hour capacity of 480.  The takeaway here is that even though the Milwaukee has two batteries each with an advertised 12 Amp Hour, and the Kobalt has a single with "only" 6 Amp Hour, the Kobalt has a larger/more energy-rich battery.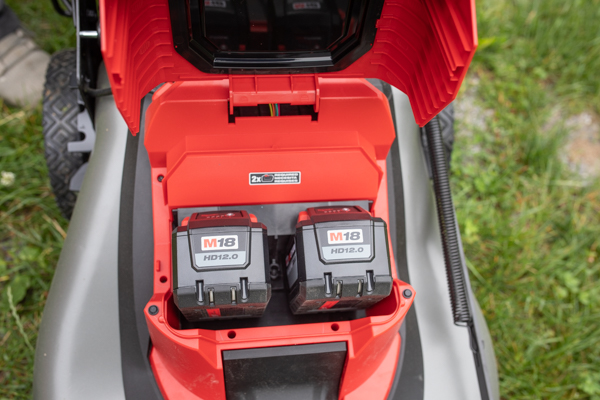 Since we already gathered the data we went ahead and calculated the Area (sf) / watt-hour mowed for each mower kit in the test.  This value is a crude measurement of the efficiency of the mower at cutting grass given its battery capacity.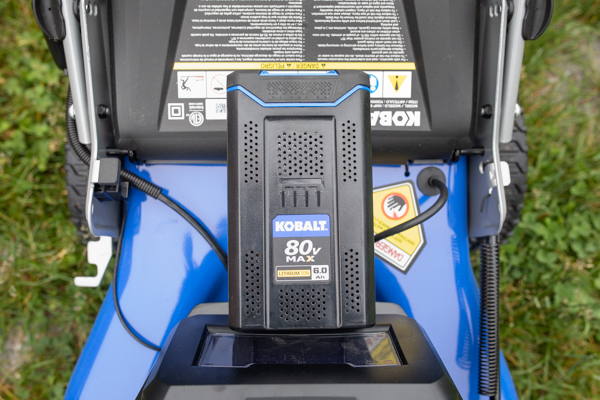 While an interesting exercise that helps explain how some mowers with smaller batteries outperformed those with larger ones, we feel that this data and any kind of battery normalized performance is irrelevant in this case.  We set out to find which mower "Out of the Box" could cut the most grass.  If you already own batteries of a particular mower platform, this could greatly swing your decision to invest in a particular mower if run-time and cutting area is a concern.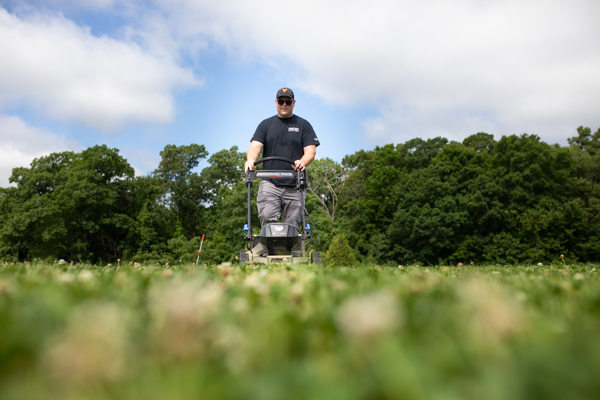 Speed Test – Winner – Milwaukee and Toro
After performing our runtime test, many of the mower operators shared that they wished that their mower moved faster. We decided to test the highest setting propelled speed of the mowers. We set up a 100-yard dash to see who was the fastest. Two crew members were assigned per mover; one operator and one to record the time.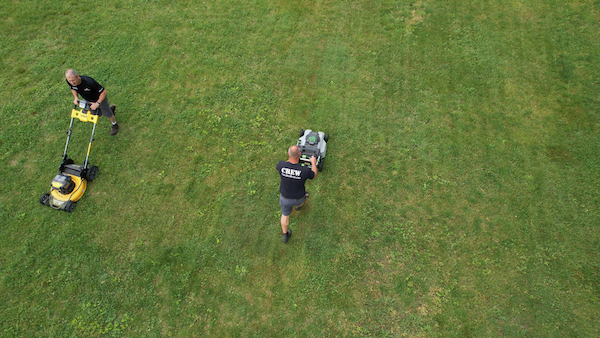 Because many of the mowers require several feet to ramp up speed, we started every mower 6 to 8 feet in front of our timing line. Once the wheels hit the orange line the timer started. Once the wheels hit the 100-yard mark the timer stopped. We tested each mower twice and recorded the average time. There were two mowers that were not self-propelled, the Black and Decker and the Kobalt 40V. These mowers did not compete in this test.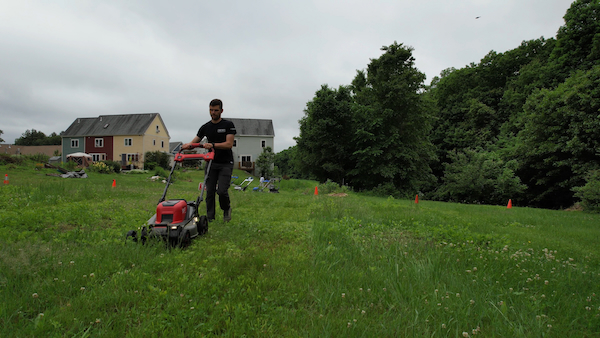 Milwaukee and  Toro tied as the fastest mowers, with an average time of 51 seconds.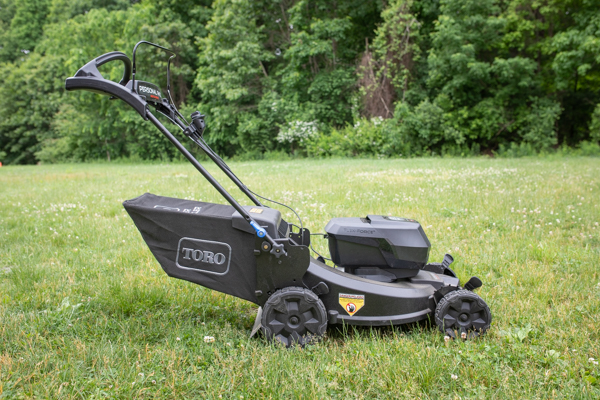 ECHO and Ryobi tied for third place, with an average time of  57.5 seconds, and the turtle in the race was the Snapper mower coming in at 78 seconds.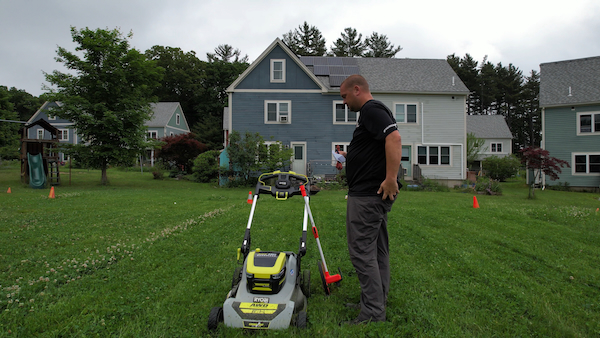 Ergonomics and Features– Winner Ryobi
All 16 mowers have fairly similar features, we considered the following features for this category…
Handles
Propulsion
Controls
Foldability / Storage
Deck Adjustment
Mulching
Bagging
For the ergonomics/features, we evaluated seven areas. These included the adjustability of the handle, the effort of maneuverability, human factor in the ease of foldability and storage, deck adjustment, ergonomics, and propulsion/control ergonomics.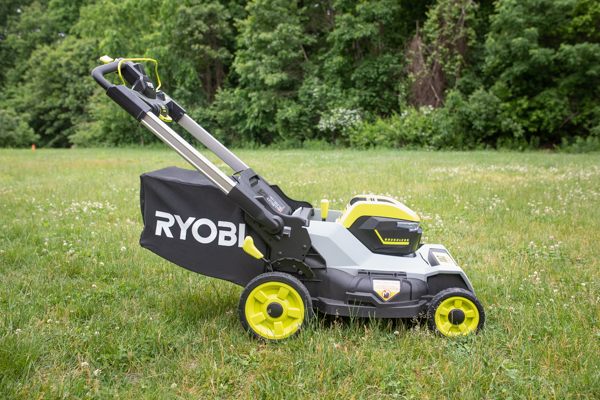 The Ryobi shined in this category with 10-points. This 40V HP brushless whisper series 21″ all-wheel-drive mower, has a super easy push-button start, and an onboard lever to choose from: mulching, or bagging.  The 7-position single point height adjustment quickly changes the height from 1″ to 4″. We thought the handle was super comfortable with no hot spots or pinch points. The self-propelled paddle lever being adjustable is a nice feature allowing the user to pick their desired setting. The variable speed control is in a perfect position to adjust on the go without having to take your hand off the handle.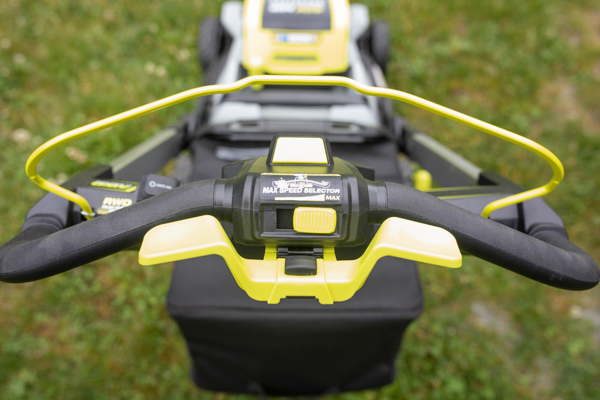 The external fuel gauge ensures was clear and easy to see the battery charge and the one-touch aluminum folding handles store this mower horizontally or vertically into a more compact package.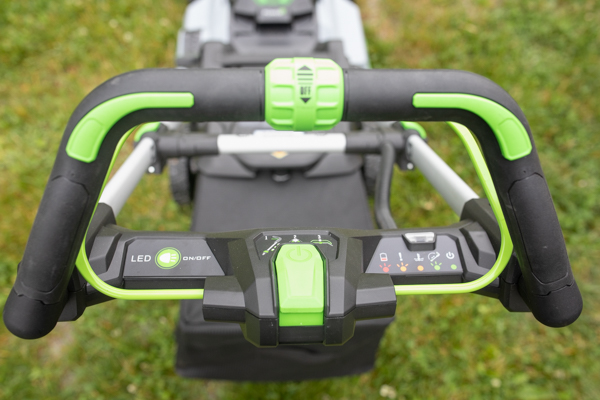 EGO came in a close second place at 11-points, with its simple and intuitive adjustments and controls. EGO provides an excellent user experience. Most of the control and adjustment buttons or levers are bright green making them easy to find. Our crew also liked how quick and easy the mower handle folds for storage, as well as, the comfortable rubber over-mold handle grip.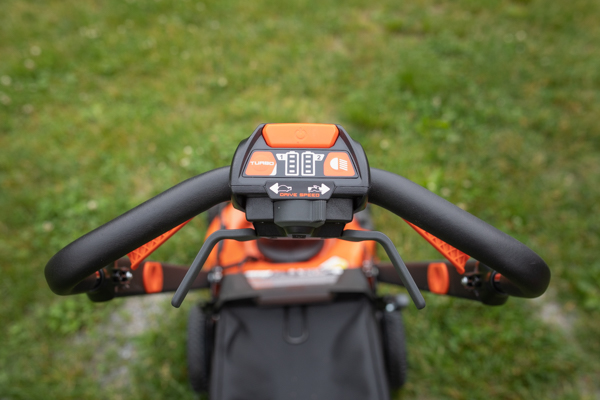 Echo came in third with 13-points, with simple, intuitive, and ambidextrous controls. The contoured handle, while comfortable does not allow multiple gripping positions, and the crew noted that while the controls were easily accessed, they were spread out a bit, requiring the operator to remove the hand from the handle. There is NO variable speed paddle, and it has a separate on/off the headlight switch.

Notable Mentions
The DEWALT mower has an "average " 45-degree pronated grip. The propulsion control lever has little to no modulation. Fine control is difficult to achieve and appears to be a mechanical clutch mechanism. The auto-adjusting speed slows down the mower blade over easy-to-cut grass, and because the propulsion is based on a mechanical clutch it also slows down your pace (at exactly the time when you want to speed up). Slow speed necessitates the operator to extend and hold their fingers, which is awkward and causes hand fatigue. When walking over gravel while pushing the mower, it cannot be propelled without the blade spinning, which could result in a flying item hazard.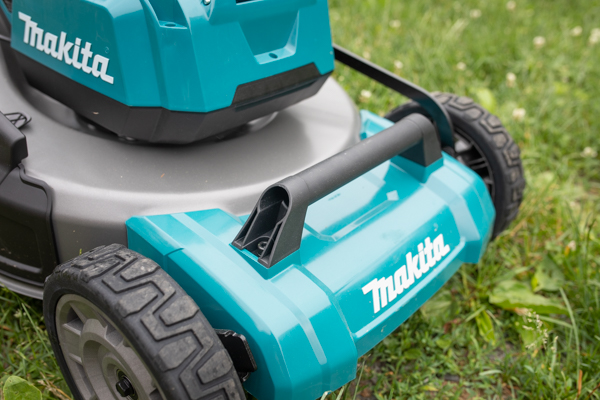 The Makita (not PRO) has excellent controls that are easily accessed on the top of the handle assembly. You do however have to move your hand from the handle to access them. It does have an easily adjustable deck height and the handle is all metal making it very durable.
In the last two years, the biggest upgrade to mowers seems to be in the lower tier mowers – Ethan
The Makita Pro has similar features as the other Makita but is way more solid a build. The crew noted that the speed control is a bit off the reach, making awkward adjustments on the fly.  It has excellent controls, easily accessed on top of the handle assembly, you do have to remove your hand from the handle.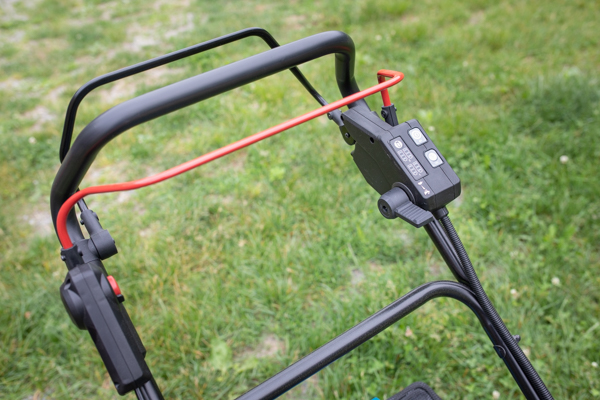 Overall the crew felt that the Makita Pro was easy to use, maneuvered fine and the self-propulsion can be left on its turn as the mower speed is slower.  The mower is a bit slow on the speed-up – ramp-up speed which is one reason many of the crew users did not turn off the self-propulsion on turns.
The crew noted that the mower bogged down in 7" inch clover set at 4" deck height.  Operating on two batteries, this mower has a compartment for 4 batteries with a switch between the 2 with a knob on the motor, so you do not have to open the lid to access it. A battery led shows all 4 battery charges at the same time.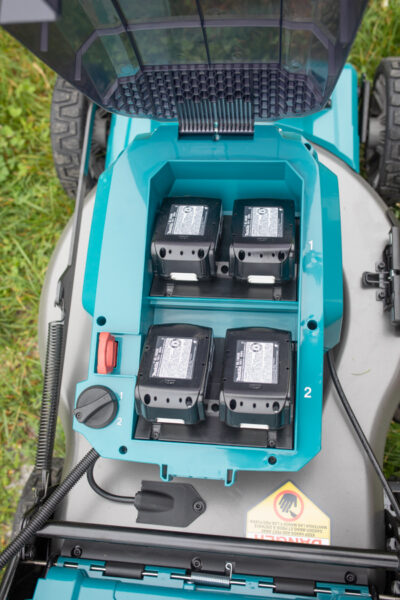 When set at mid-range [or lower] we noted that the front right wheel was not touching the ground. The crew all felt that in terms of cut quality it would have a negligible difference on the cut, as this measurement off was 1/8" strong.
The Makita Pro has two handle height adjustments that require a tool to set.   This is a heavy machine, with front and rear lift points, it is truly built for daily Pro use.
The TORO has what they call a "Personal Pace" self-propel drive, which is a  sliding handle grip that slides along with the handle frame – as you push it forward,  it starts propulsion and controls it. It definitely takes some getting used to. The arched [rounded] shaped handle is unique looking, and comfortable but has side-to-side slop possibly causing it to rack. Other than the propulsion system this mower is no-frills and could use an upgrade. (Cannot be propelled without the blade spinning, requires each wheel lever to adjust the deck height Handle does not telescope).
The SNAPPER has a self-propelled sliding handle similar to the Toro, Snapper calls it "step-sense" The Snapper has a variable speed that is built into the Step-sense handle feature. Unlike the Toro, the variable speed can be locked out with a locking knob on the handle deck. Lightweight. This is a no-frill mower, with no lift points.
Maneuverability Winner – Black and Decker and Kobalt 40V
Because they were not self-propelled, the Black and Decker and Kobalt 40V mowers were more maneuverable than the others. To move tightly with self-propelled machines, the user must disconnect the propulsion. The operator must press against the propelling mechanism to turn the mower tightly.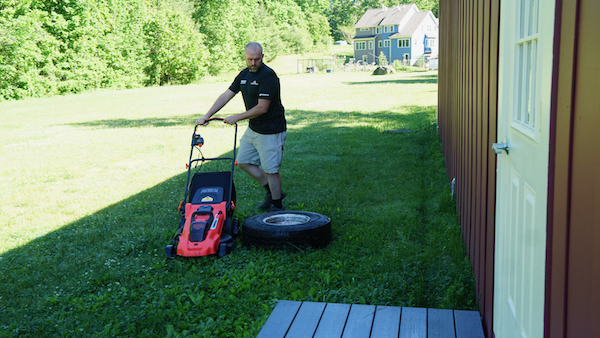 The Black and Decker is super light, very maneuverable, and great for smaller framed people or folks who might have issues with a heavier mower. Because of the weight and no propulsion, this makes trimming around gardens and trees incredibly easy.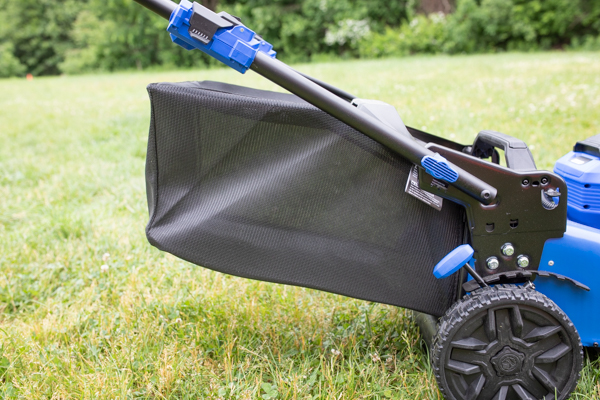 The same can be said about the Kobalt 40v, due to the not having a self-propulsion, this mower is geared to smaller yards or a yard with lots of maneuvering around planting beds.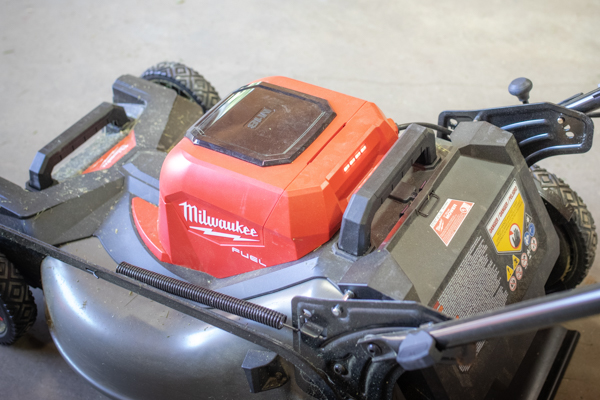 Milwaukee took 2nd place and was the best maneuverability in the self-propelled mowers. This was due because of the short wheelbase front to back. The mowers with the longest wheelbase ranked towards the bottom.
The maneuverability of push mowers is especially important when trimming around gardens, trees, and other landscaping features. The ease with which the mower turns is largely due to the wheels and mower weight.
EGO took third place, and the crew noted that by applying pressure with your palm you can easily engage the self-propelled system. When mowing, users discovered that easing up on the drive button made for smoother, tighter turns.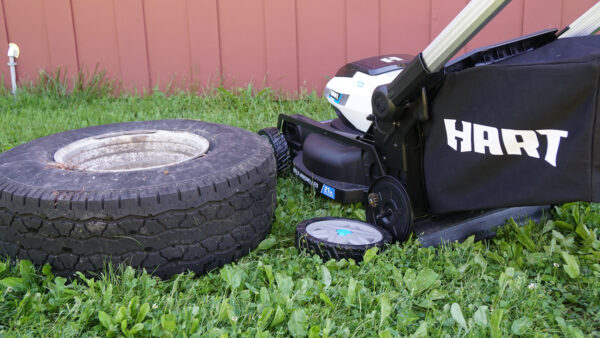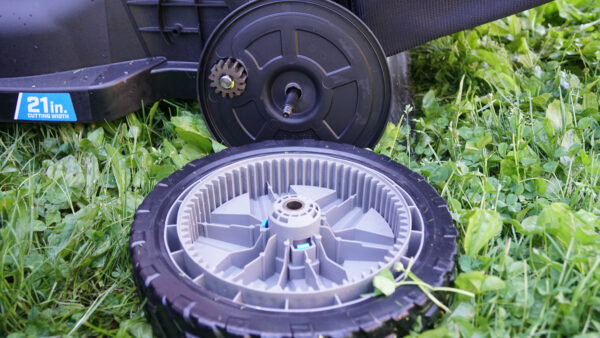 The Hart mower lost a wheel on one of our maneuvering tests. It looks like the nut /washer on the wheel could benefit from a Nylock nut. Based on this, Hart received a low score in the fit and finish the scoring. The mower itself once repaired maneuvered well.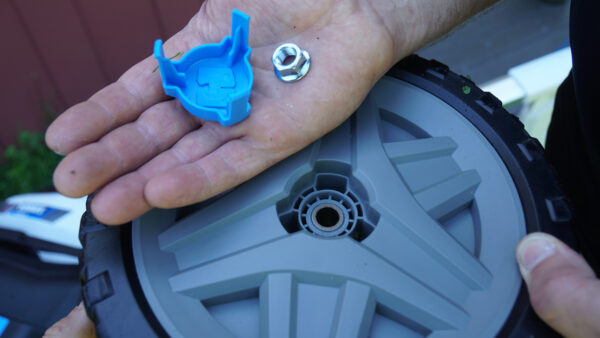 Deck Height Adjustability Winner –
Kobalt 40V and Kobalt 80V
All of the mowers, with the exception of one, we tested include a single-lever, deck height adjustment feature. This sure does beat adjusting each wheel like the old-style mowers we grew up with.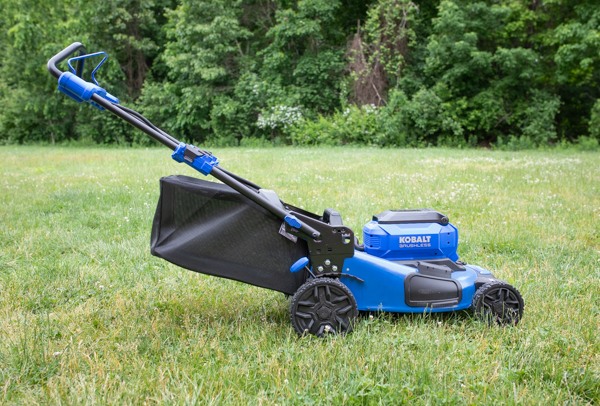 The winners of this category were the Kobalt 40V and 80V due to a combination of their large lever, they both have a strong return spring and are easy to engage. They both feature a 7 deck-height adjustment option, ranging from 4″ at its highest to lowest at 1-1/4″ setting.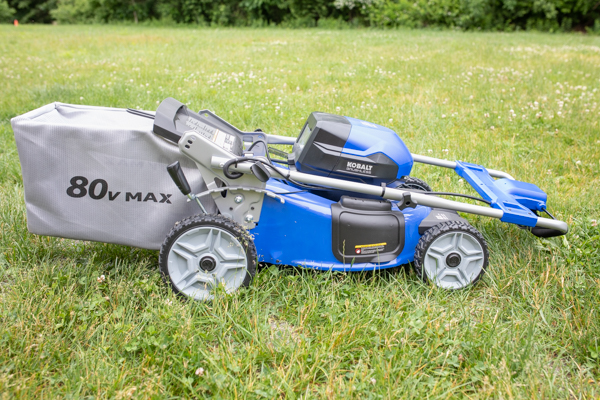 Ryobi, Milwaukee, and Stihl came in a close second due to their large handle levers, spring-assisted, and easy-to-use lifting and lowering levers.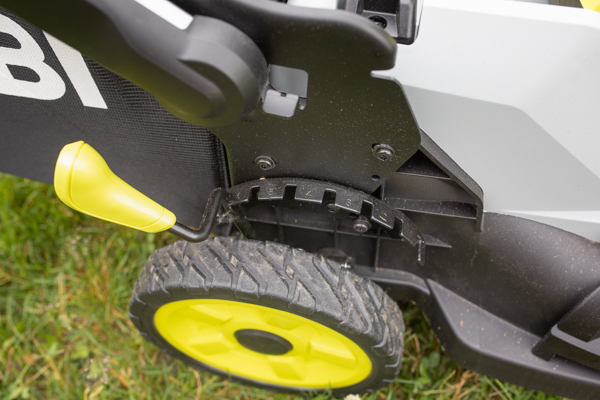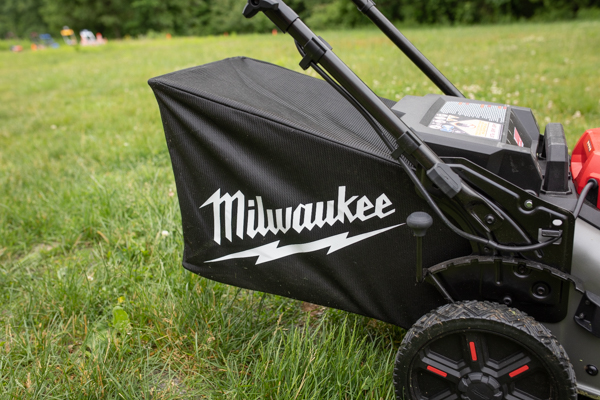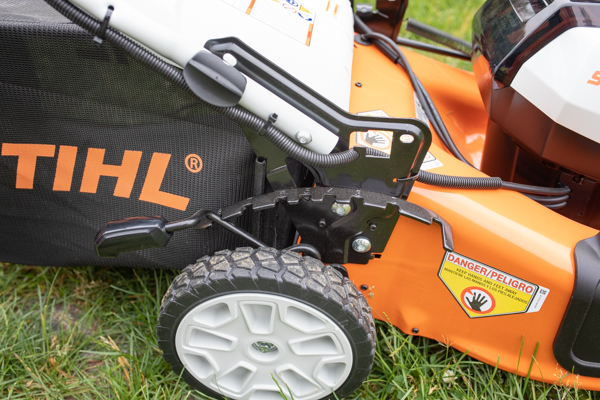 The only mower that still has individually adjustable wheels is the Toro. Due to this, we had no choice but to put it in last place for deck adjustability – that's just archaic.
"Come on Toro! Individually adjustable wheels? Nobody has time for that… it's 2022!" – SCOTT
Notable Mention
The crew liked the EGO deck adjustment height lever. It has a nice handle but agreed that it was tough to actuate. We assume in time the spring might loosen up and might be easier to raise and lower.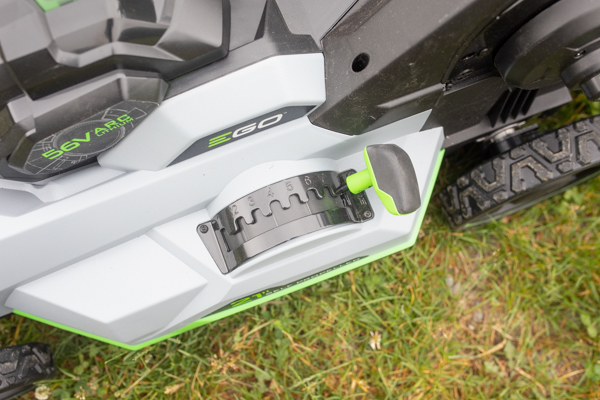 Some mowers had knuckle-busting setups that would cause the user to hit the lower part of the handle assembly when adjusting the mower for taller cutting.
Compact Design & Storage Size Winners – EGO and Ryobi,
Garages tend to get taken over by mowers, trimmers, and tools throughout the summer, so foldability and storage are crucial to some people. Furthermore, cordless mowers CAN be stored upright without the worry of spilling gas or filling the engine cylinder with oil.
The entire crew considered factors such as; telescopic handles, pivot points, grab handles, and the ability to stand upright on its own while evaluating how easy it was to set up and fold down each mower.
We examined these aspects and attributes as a group and then scored them on a scale of one to five, with one being the best.
There was a three-way tie for the most compact mower in this category. When folded, the EGO, Ryobi, and Hart have the smallest storage space. They are incredibly compact and can easily be stored vertically or horizontally.

EGO
The EGO mower is easy to fold and store compact. You can hang it from the front handle or store it upright. The handle can be telescoped in and out using two side levers. To fold the handle down horizontally, simply pull a large, easily accessed lever. If needed, the EGO additionally has two handles for easy carrying.
Ryobi

The Ryobi mower has a single pull lever to open to fold the handle. Once folded it is very compact and easily stands vertically. The Ryobi had one rear carrying handle the no telescoping features.
HART
The "fast-fold" feature on the Hart mower is a lever that pulls up for a quick, smooth handle fold. There is no need for a telescoping feature because of the short handle, and it folds up extremely compact.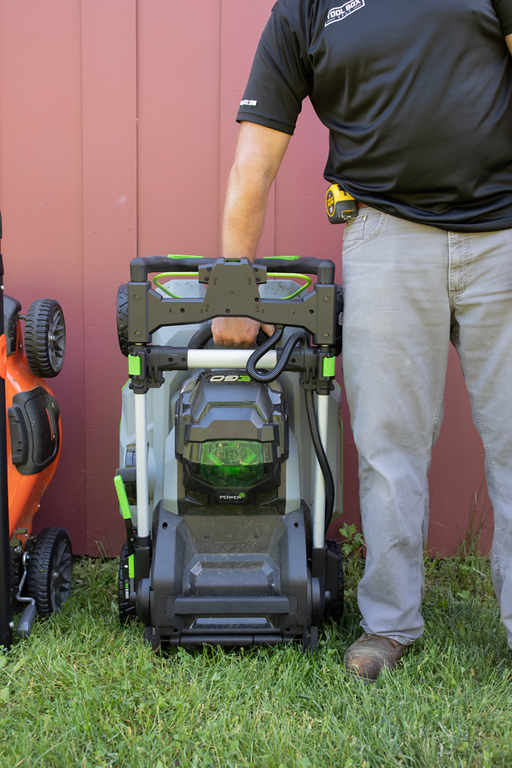 The one mower that does not fold is the Makita PRO grade. We believe that commercial mowers are not meant to store. They are put in a trailer and come off at every site. With that being said the Makita Pro mower has front and rear lift points and is truly heavy duty! A workhorse for sure!

Best Cordless Mower Price Winner – Black and Decker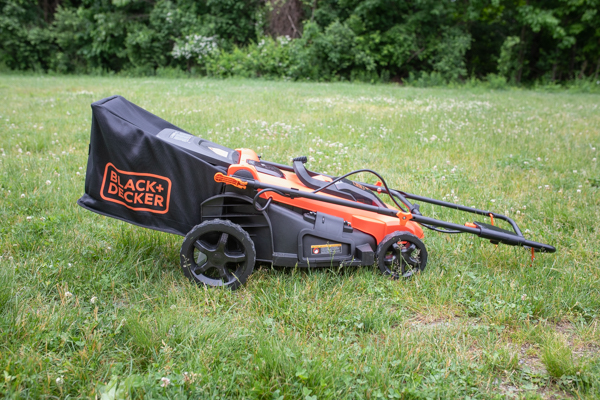 One of, if not the most sought question is going to be how much money are these mowers.  We always mention that one big factor is what battery platform you are working off of. Well, we think that for cordless mowers that might not be the case. There are several brands on this list that do not manufacture power tools and the majority of the ones that do have larger voltage systems for their mowers.
At the time of publication, these prices are mowers that come in a kit form. Some of these mowers can be purchased in big box stores, or on the web at Acme Tools, or other retail websites. Below is a chart of how these mower kits are sold and the components in each kit.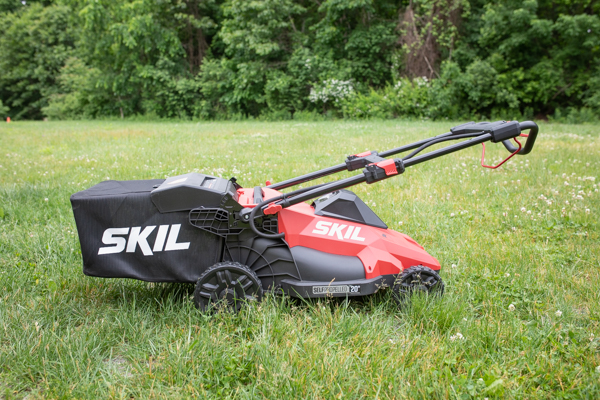 Coming in at the lowest cost is the Black and Decker CM2043C which will run you $347.0.0 and is a great mower for someone who is mowing a smaller area. The mower deck is plastic and is a "no-frills" mower that will get the job done for your average homeowner. Cutting at roughly 1/4 acre on a single charge, this mower can handle your weekly lawn cut!

With a price of $399.00, the Skil mower comes in second place as the lowest-priced mower. Powered by Skil's PWRCORE 40V battery, this mower covered a lot of grass on our tests! Covering more than 1.5 miles of mowed grass, this Skil finished mid-pack. It is lightweight and has a telescoping handle for great storage.

The Kobalt 40V mower is the third-ranked lowest-priced mower at $429.00. This mower also has a steel deck and provides about 45 minutes of continuous cut on a 40V 6.0Ah battery. This is a good choice if you are already using other 40V Kobalt Outdoor Power Equipment!

On the flip side, the Milwaukee 2823-22HD comes in at the highest mower and will run you $999.00. That being said, it shined in our area mowed testing, it won the fastest mower test and has some sick features like multiple LED lights. This mower ships with (2) M18 12.0 Ah batteries which probably make up half the cost of the mower!

Best Cordless Mower – Milwaukee
These tests and evaluations are very difficult, take a lot of time, and are ultimately limited in scope as we're not a professional testing company. We also cannot do long-term testing that would shed light on durability. In order to choose the best cordless mower, all six [6] evaluated categories were scored and ranked 1 through 16, to define the winner. We then tallied those category numbers to come up with a total number. The lower the number the better.
The Milwaukee M18 21″ Self-Propelled Dual Battery Mower took the crown on Best Cordless Mower of 2022. This mower is powerful, running on (2) M18 12.0Ah batteries! It was super fast in our speed test and it covered over 14, 936 feet mowed. That is 2.83 miles of mowing. It ran at full speed for over 44 minutes which is up at the top of the pack when it comes to run time. The team really appreciated its great ergonomics, foldability, maneuverability, and nicely thought-out design!
The team was impressed with the fit and finish of the handles, controls,  steel deck, and overall durable design of this mower. The rear wheel self-propelled drive allowed this mower to move fast and maneuver well.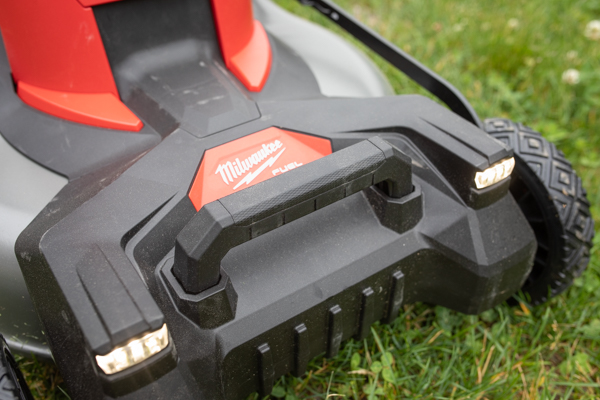 Many of the crew members who used the mower commented on how quick the throttle to the motor reaction was.  
Milwaukee claims that its optimized steel deck design, higher blade speed, and airflow deliver increased lift which reduces missed grass blades and clumps for better quality grass cutting. Our team noted that the mower's higher blade speed helped, and did not stall the mower in taller grass.
The blade and propulsion reached full throttle in under 1 second. The throttle or "Active Speed Management Paddle," as Milwaukee refers to it allowed us to easily adjust mower speed to walking pace. The Milwaukee delivers 10 ft-lb cutting torque and a variable speed self-propel: 0 MPH – 4 MPH.
Many of the crew liked and commended the futuristic 4 location LED light design, although we all agreed that lights on a mower are not an important feature.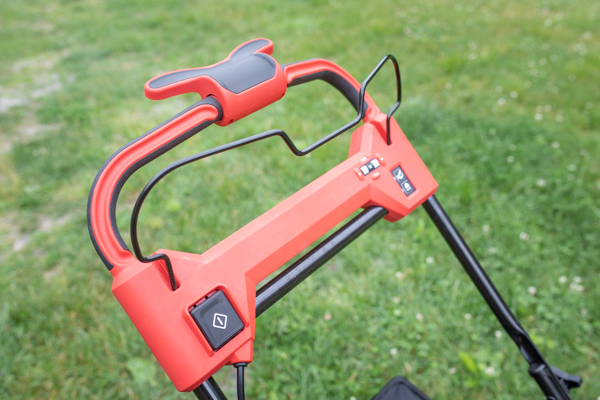 As a Milwaukee cordless tool user, I immediately recognized that the two 12Ah batteries with this unit separately cost $500, and can be used in my other high-demand tools. That makes this mower much more attractive to me and puts it in the $400 range. ~ ROB
Lastly, the single-point height adjustment, 2-point carry handles, and easy vertical storage allowed this mower to rise quickly to the top.  As professional contractors, we also like that the Milwaukee mower batteries will run Milwaukee tools.

Our hats go out to The EGO POWER+ 21″ Select Cut™ XP Self-Propelled Mower which continues to crush its competitors when it comes to outdoor power equipment. This mower is no slouch and it finished right under the winner. It has great ergonomics, cut just over 2 miles at 10,868 ft on a single 56V 10.0Ah battery. This machine will cut anything you throw in front of it. Having the ability to turn off the self-propel feature avoids accidental flying hazards while moving the mower over non-grass areas. 
The team liked that you can engage the "Touch Drive™" self-propel function with the touch of your palm, and control the variable speed with a dial with your other hand.  The Ego delivers 8.3 ft-lb cutting torque and a variable speed self-propel: .9 MPH – 3.1 MPH
The Ego also has a 7-position cutting height adjustment from 1.5″- 4″ and bright LED headlights. Ego's Select Cut™ Multi-blade Cutting System is equipped with three, interchangeable lower blades; the Mulching Blade, High Lift Bagging Blade, and Extended Run-time Blade.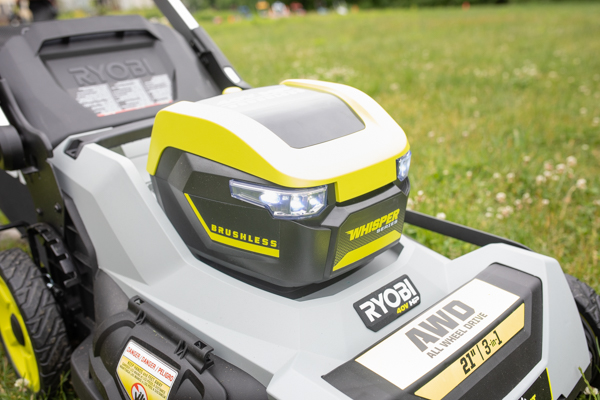 Ryobi and Stihl tied for third with 30-points.
The Ryobi was the only all-wheel-drive lawn mower. It features two interactive battery ports, and a fast and easy  7-position single-point height adjustment from 1″ to 4″. The crew appreciated the external fuel gauge, LED lights, and one-touch folding handles but were impressed by the integrated mulch plug which engages with a simple one-handed lever.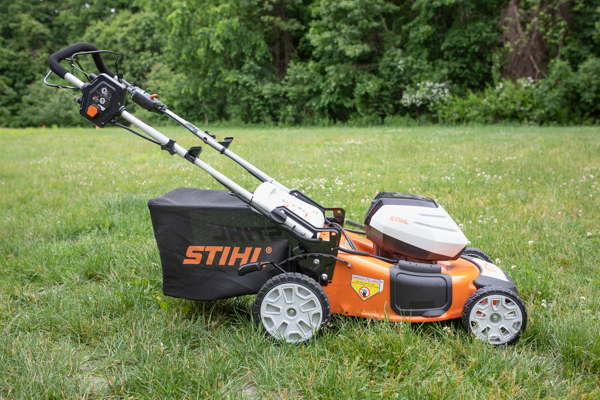 The Stihl RMA 510 V performed exceptionally well in all of our tests with exception of the speed test. Users wished that this awesome mower self-propulsion was a little faster.
The Stihl was highly maneuverable with an easy-to-use variable speed setting control, allowing mowing speed between 0.6 mph to 2.8 mph. Our crew was impressed with this mower's fit and finish, especially the durable, 10-inch rear wheels and 8-inch front ball-bearing wheels.
Our team liked that it offers seven adjustable cutting heights, and the handlebar adjusts to three height positions for user comfort. The Stihl is priced $100 less than the Ego and Ryobi, and $300 less than the Milwaukee.
Best Cordless Mower Value Winner – Greenworks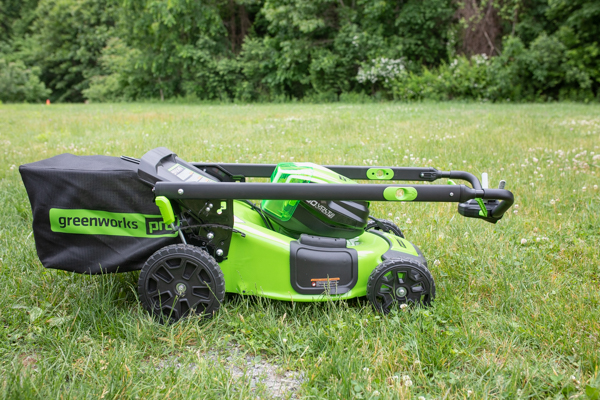 Overall Ranking
Manufacturer
Fit & Finish
Ergonomics
Noise
Speed
Maneuverability
Area Mowed
Total
RANK
Milwaukee
1
5
15
1
2
1
25
1
EGO
1
2
12
7
3
3
28
2
Ryobi
3
1
8
3
4
11
30
3
Stihl
2
6
1
10
5
6
30
3
Greenworks
2
3
2
5
7
12
31
5
Echo
2
3
10
3
8
9
35
6
The ECHO mower is our best value winner. This mower competed with the big boys for sure. It scored 6th in the overall finish scoring and came in 5th with a cost of $499.00.
The ECHO scored top three in the fit and finish speed, and ergonomics categories.  It has simple, intuitive, and ambidextrous controls. This machine gives you seven adjustments for cutting increments between 1 and 4-inch cutting heights and an auto-switch dual-battery dock.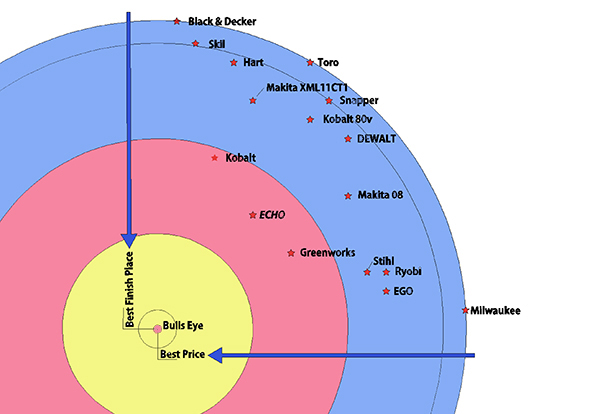 Overall the team thought you would get the best bang for your buck, or should we say "cut for your green."  

Final Thoughts
The noise, odor, and maintenance that come with owning a gas-powered mower are no longer an issue for cordless mower owners. Coupled with other cordless outdoor power equipment, you can now keep the gas to your cars. Cordless outdoor power equipment has come leaps and bounds since its inception and it continues to impress us.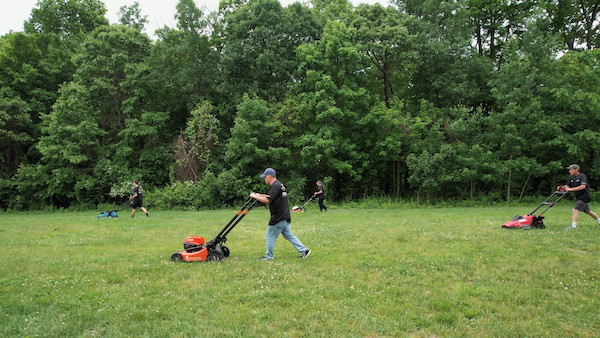 Gas mowers have been around for over 100 years but with powerful lithium-ion battery technology, they are really competing with gas-powered mowers!
Thanks for following and please check out our other Head 2 Head tests!
Best Cordless Mower 2022 | Tool Testing Review Video
About the author
Disclosure
Product reviews on this site contain our opinion of a product or service. We will always strive for objectivity and transparency in our reviews. Our goal is to provide readers with honest, objective information based on our own experiences. We never have and never will accept payment in exchange for a positive review. Many of the products that we review are provided to us for free by a manufacturer or retailer. In some cases, we also have advertising or affiliate relationships with manufacturers and retailers of products and services we review. For additional information please visit our additional disclosure policies.