OLFA LA-X Utility Knife Review
OLFA LA-X Utility Knife Review
Let me get this out of the way, I've always been a traditional utility knife user. The kind that takes a trapezoid-shaped blade that can be flipped end for end when it gets dull. Fixed blade, retractable, flip-style all use the same blade. There's one company though that went a different direction. OLFA pioneered the snap off blade and now it's been improved with their heavy duty line of ultra sharp blades. These blades are included on many of their utility knives including the OLFA LA-X.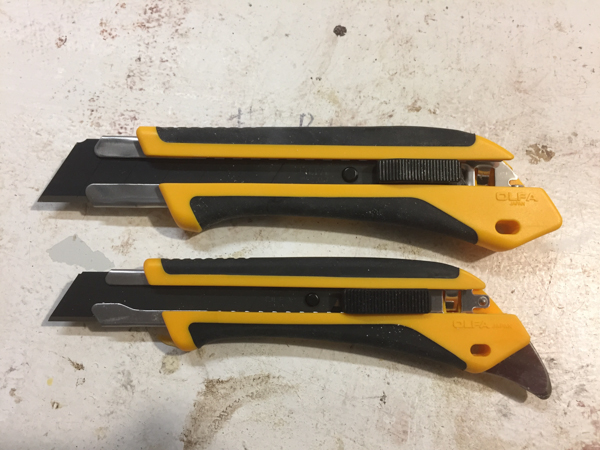 What's the OLFA LA-X Good For?
First off, let me just tell you what it's not. This is not a box cutter. This isn't some tiny tool that your local grocery stock person uses to open the cases and cases of mac and cheese my kids plow through in a week. This is a serious tool made for real work on the job site.
These knives are designed for cutting all manners of construction materials. Rubber, roofing materials, linoleum, carpet, drywall, caulking, Tyvec, flashing/waterproofing membranes, insulation, plastic, etc. Here we were using it on this vent hood install (about halfway through).
On The Job Site
We've had this knife (and its big brother, the XH-AL) out on the job site with us in place of our traditional utility knives. Cutting drywall, vent pipe, caulking, and tapes, this knife handled everything with ease. On many occasions we even found ourselves extending the blade out to cut in places that a traditional knife would have trouble with.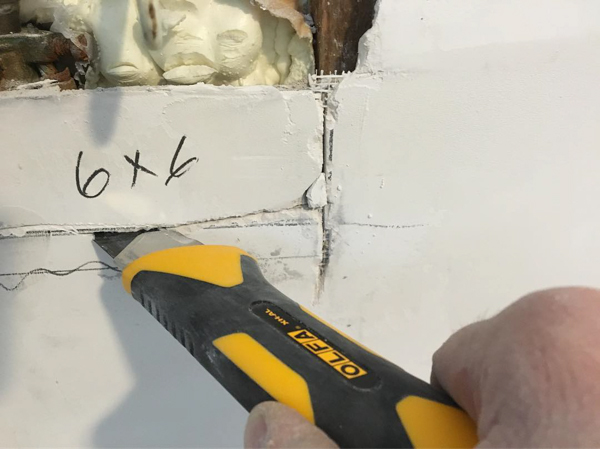 New Heavy-Duty Blades
The new black blades are ultra sharp. Made from Japanese high-quality carbon tool steel, they are honed to a 59 degree edge for increased cutting ability while minimizing breaking. They claim to be 25% sharper than their normal blades. The normal blades are already sharp, these ones are ridiculous and that's exactly what I want as a contractor, a knife that stays sharp but can be easily be refreshed. Each blade is equivalent to 4 trapezoid utility knife blades. The OLFA just needs a quick snap and I'm back in business. Much faster than taking my other knife apart to flip the blade. They even make a snap-off hook blade (scroll through the article to see photos of various other OLFA blades).

What's That Thing On The End?
So what's that dull tang on the end of the OLFA LA-X? It's whatever you want it to be. It's the prying thing we all use our utility knife for where we inevitably break off the tip of the blade. The tang is useful for tucking carpet under base, opening paint cans, removing switch and outlet covers, cleaning out control joints before caulking, pressing on painters tape, etc. It's also really good at popping packing tape on boxes.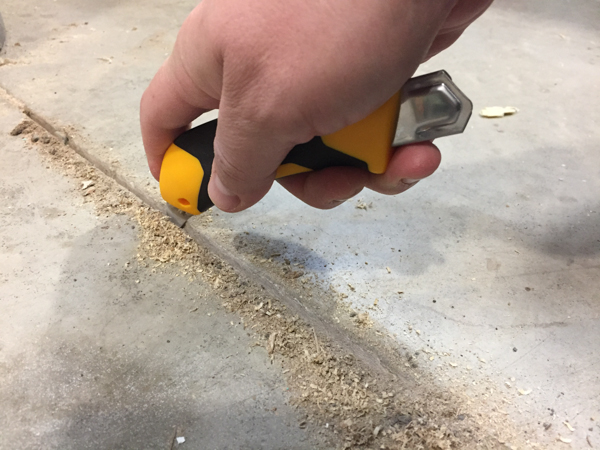 Where to Buy the OLFA LA-X
This knife comes in at a smidge under $10 and includes one blade. It can be found right on the shelves at The Home Depot. Replacement blades were a little harder to come by. Home Depot doesn't list them as available (in my store anyway) but Amazon has a 50 pack of the ultra sharp LBB blades for just over $15 on prime.
OLFA LA-X Utility Knife Video Review
OLFA LA-X Utility Knife
$9.97
About the author
Disclosure
Product reviews on this site contain our opinion of a product or service. We will always strive for objectivity and transparency in our reviews. Our goal is to provide readers with honest, objective information based on our own experiences. We never have and never will accept payment in exchange for a positive review. Many of the products that we review are provided to us for free by a manufacturer or retailer. In some cases, we also have advertising or affiliate relationships with manufacturers and retailers of products and services we review. For additional information please visit our additional disclosure policies.