Veto Pro Pac Tool Bag Giveaway
And the Winner Is…..
Thanks to everyone who entered and the folks at Veto Pro Pac for sponsoring this great giveaway.  If you're not the lucky winner don't worry there's going to be another giveaway this month! The folks at Veto Pro Pac sent me a couple more bags to evaluate (open top bags) and I've decided to give one of those away as well. I'll be hosting that giveaway over at my home improvement site, Home Construction & Improvement. So be sure to stay tuned for details.
The winner was chosen at random and that lucky person is Frank. Frank said he's seen these bags at the trade shows and now he'll own one! Congratulations Frank we hope you love your Veto Pro Pac as much as we love ours!
Win A Veto Pro Pac LC Tool Bag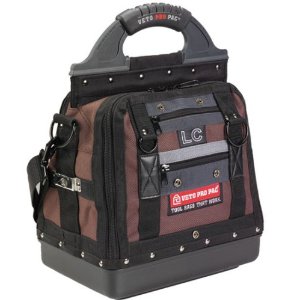 Last week I wrote a review on what I consider to be one of the best tool bag systems on the market, the Veto Pro Pac LC Tool Bag Review. I was super impressed with this bag and now the folks from Veto Pro Pac are sponsoring a giveaway so that one of you lucky readers can have your own!
Trust me when I say this is certainly one of our best giveaways in terms of a high quality product that you'll wish you owned much sooner. The LC Model is perfect for contractors and DIY'ers who want to store their hand tools in a safe organized system.
The key to this tool bag system is high quality materials combined with a great design that utilizes vertical pockets to store any size hand tool in an organized fashion. Combine that with a zipper/flap system that allows you to close the bag during transport without fear of spilling your tools.
Veto Pro Pac LC Tool Bag Features
Rugged construction: weatherproof body fabric (1800 pvc impregnated denier), waterproof base (3mm polypropylene), heavy duty fastenings and zippers (marine proof rivets, industrial strength double nylon stitching and oversized zipper tabs)
Maximized Storage Capacity: 51 Vertical Pockets, 6 Zippered Pockets, Outside Mounted Stainless Steel Tape Clip.
Ergonomic Design: Comfortable Over-Molded Ergonomic Grip, Non-Slip Extra Wide Padded Shoulder Strap, Patented Center Panel Design.
Holds 75-plus hand tools
5 Year Limited Warranty
Retail Value of $129.95
How To Win a Veto Pro Pac Tool Bag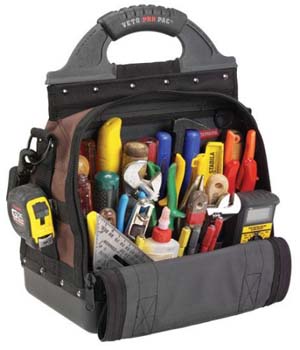 Would you like a chance to win  your own Veto Pro Pac Tool Bag? There are FIVE different ways to enter this contest and you may enter each option once per household.
PLEASE READ THE FOLLOWING DIRECTIONS CAREFULLY!
You maybe enter each one of the following 5 options once per household.
Leave a comment below telling us how you would use the Veto Pro Pac and what type of tools you'd be storing in it.
Facebook – Visit our Facebook Fan Page and LIKE us. Leave a comment on the wall telling us what you think of the Veto Pro Pac LC Tool Bag.
Twitter – enter the following Retweet.


RT @Tool_Box_Buzz Enter To Win Veto Pro Pac Tool Bag from #VetoProPac at http://tinyurl.com/5wcfyyw

YouTube – Go check out our YouTube Video Review and leave a comment. http://youtu.be/Lc5X2BTA6U0
Blog About It – Lastly if you'd like a 5th way to enter why not blog about the giveaway and tell all your friends. Be sure to leave a link to this post so folks can find it and sign up!
Fine Print
Entries must be received by 11:59 PM EST on April 30, 2011. The winner will be announced on May 1, 2011.
Only residents of the U.S. are eligible. One entry per household per each method above for a maximum total of five. Spam entries will not be counted. Spam entries are determined at the sole discretion of Front Steps Media.
About the author
Disclosure
Product reviews on this site contain our opinion of a product or service. We will always strive for objectivity and transparency in our reviews. Our goal is to provide readers with honest, objective information based on our own experiences. We never have and never will accept payment in exchange for a positive review. Many of the products that we review are provided to us for free by a manufacturer or retailer. In some cases, we also have advertising or affiliate relationships with manufacturers and retailers of products and services we review. For additional information please visit our additional disclosure policies.