Milwaukee M18 FUEL Track Saw Preview
Milwaukee M18 FUEL 6 ½" Plunge Track Saw PACKOUT 2831-21 Kit
Last week they announced the long-awaited Milwaukee track saw. This cordless saw is powered by the M18 FUEL battery and has a 6 ½" blade.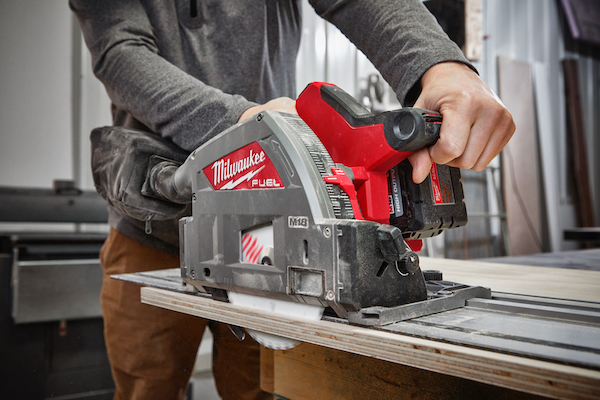 There's no denying that Milwaukee has been late to the game with carpentry tools, but they usually don't disappoint, and that's the case with his track saw. I used this track saw to cut 2" Walnut at the Milwaukee 2022 Pipeline Milwaukee 2022 Pipeline event and here are my takeaways:

Milwaukee M18 FUEL Track Saw Specifications
M18 FUEL™ 6 ½" Plunge Track aw (2831-21)
Dust Bag
Blade
Splinter Guard
Speed: 2,500 – 5,600
Arbor Size: 20mm
Bevel: -1 to 48°
Capacity: 2-¼"
Weight (w/out battery): 9.8 lbs
Warranty: 5 Years
Power
The single battery M18 Track Saw certainly had the power to rip solid hardwood. I cut 2" walnut with the VS setting on high and also on variable speed setting #4, just to see if could make the cut. It did!
The saw easily cut the Walnut but the quality of the cut was not great, and that we due to the general-purpose blade they had on the saw for the demo. I would be using a fine finish blade for Walnut.

Plunge Action and Adjustments
I really liked the plunge mechanism on this saw, the action is smooth and tight. The adjustments on the saw, such as the track tension, anti-tip, depth, and bevel, seem well designed, and durable and I found them intuitive and easy to use.
Milwaukee M18 FUEL Track Saw | Power
As a kit, this saw comes in a PACKOUT XL case with a Dust Bag, HIGH OUTPUT XC 6.0 Battery, and Multi-Voltage Rapid Charger.
This 9.9 lb. track saw has a variable speed of 2,500 – 5,600 RPMs, a 20 mm arbor size, and can bevel from -1 to 48° with a cutting capacity of 2-¼" at 90 degrees.
Dust Collection
Milwaukee claims 90% dust collection and they're probably right. The saw I demo'd was connected to an M18 vacuum, my impression was that the dust collection was good but not great, there was a lot of visible dust coming from the saw as I cut.
Milwaukee Track Saw Track
The Milwaukee track is really nice, it's robustly made and seems durable. It's also compatible with the Makita and Festool saws. CLAMPS
The three guide rails for the track saw come as 31", 55", and 108", as well as, guide rail clamps and connectors, a guide rail bag, and replacement non-slip
strips.

Milwaukee Track Saw | New Blades
Milwaukee also is releasing five 6-1/2" blades for the track saw, after all, it's the blade that makes the cut, right?
These thin kerf blades have an anti-friction coating that resists corrosion and gumming, and the laser cut technology reduces wobbling and warping. The teeth have cobalt-infused tungsten carbide, which has been engineered to extend the blade's
life and maintain tip sharpness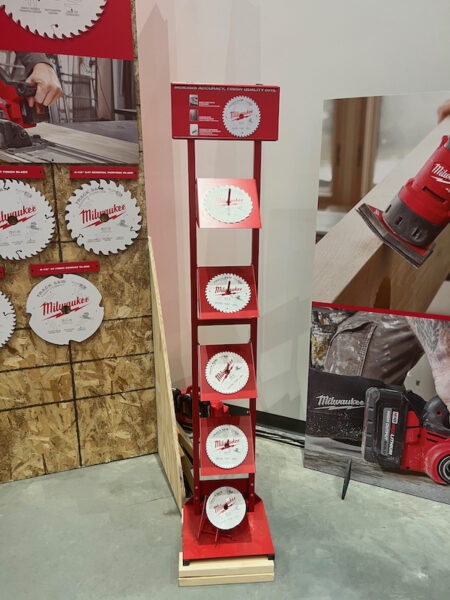 1. 24T General Purpose Track Saw Blade 48-40-0624
2. 40T Finish Track Saw Blade 48-40-0625
3. 48T Fine Finish Track Saw Blade 48-40-0627
4. 4T Fiber Cement Track Saw Blade 48-40-0670
5. 52T Laminate Track Saw Blade 48-40-0643
Track Saw | Price
This Saw will sell as a kit for $599 and will be released in October.

Milwaukee Guide Rails & Additional Accessories
48-08-0570: 31" Guide Rail
48-08-0571: 55" Guide Rail
48-08-0572: 106" Guide Rail
48-08-0573: Guide Rail Clamps
48-08-0574: Guide Rail Connector
48-08-0575: Anti-Splinter Strip
48-08-0576: Guide Rail Bag (Only fits the 31" and 55" rails)
48-08-0577: Non-Slip Strip

Closing Thoughts on the Milwaukee Track Saw
Milwaukee has demonstrated that they are committed to building out the carpentry trade tools by improving productivity by providing performance-driven and trade-focused solutions. They're doing it on their M18 battery platform, which I like.
Milwaukee M18 FUEL 6-1/2″ Track Saw Video
About the author
Disclosure
Product reviews on this site contain our opinion of a product or service. We will always strive for objectivity and transparency in our reviews. Our goal is to provide readers with honest, objective information based on our own experiences. We never have and never will accept payment in exchange for a positive review. Many of the products that we review are provided to us for free by a manufacturer or retailer. In some cases, we also have advertising or affiliate relationships with manufacturers and retailers of products and services we review. For additional information please visit our additional disclosure policies.