New Cordless Stihl Battery Systems
New Cordless Stihl Battery Systems
Last month we attended the Stihl Influencers Summit where we got to see first hand all of the innovative new products introduced both this year and coming in 2017. One of the highlights of the event was getting hands on with two new Stihl battery series. Stihl already had the AP series of cordless power equipment. AP stands for AkkuSysteme Pro. Akku means battery pack. Now Stihl is introducing the AK and AI series. AK meaning Akku Kompakt (compact) and AI meaning Akku Integriert (integrated).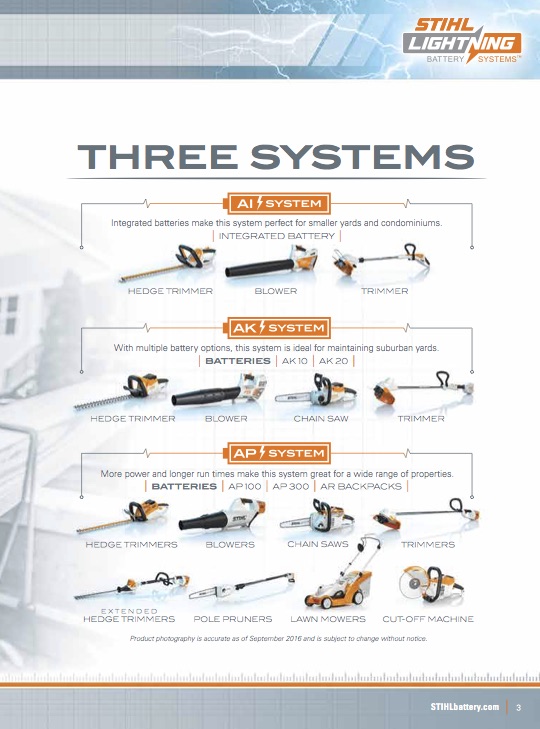 These two new series are designed to fill in the large gap the AP series left for the smaller yard homeowners. The AP series also left a large gap at the mid to low price point. Now there is a complete solution for cordless outdoor power equipment from the tiny yard up to the professional user.
AP Stihl Battery System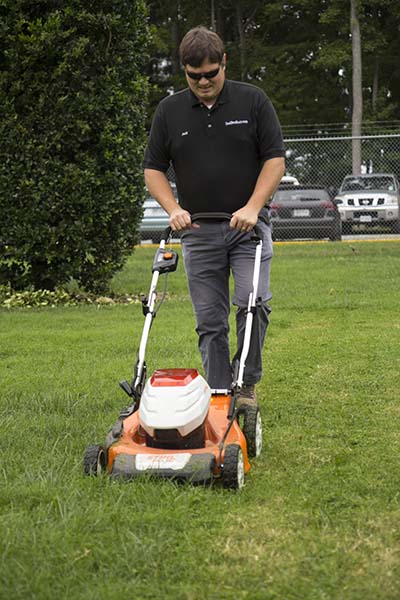 Like I said, this is the series that has been out previously. I believe two or three years. This series is pretty complete carrying multiple hedge trimmers, blowers, chainsaws, trimmers, extended hedge trimmers, pole pruners, lawn mowers, and one cut-off machine. The system is designed for more power and more runtime to appeal to a broader range of properties.
At the event the notable products were the HTA 85 pole pruner and the RMA 510 lawn mower. The pruner has been out for about a year but the event was the first that we were able to get hands on with it. What makes a battery powered pruner so great is that the battery is down by your hands but the motor is up at the business end. That means the only thing traveling through the pole portion is a couple wires. It makes the unit incredibly well balanced and nimble. There is no need for ear protection either. The pole has up to 12′ of reach too so an adult male can reach branches 18-19′ in the air. Awesome.
The RMA 510 lawn mower is brand new and man, it has some power. It has a full 21″ mowing deck, 1100 watt brushless motor, and automatically adjusts the motor RPM depending on load. Both Todd and I had huge smiles on our faces while running this mower. We pushed it slow, we pushed it fast. The mower just ramped the power up or down to automatically adjust for the thickness of the grass. What's even better is that there is no engine maintenance of any kind. Pop in the battery and go. It will mow 5,100 sqft per charge. $549.95 and available at your local dealer in spring 2017.
AK Stihl Battery System
As mentioned above, this is an all new battery series for Stihl. It's out in Europe but is now finally coming to North America. It is a more compact line of batteries. It is still a 36V system but the batteries are much lighter. This series is designed for maintaining suburban yards. There are two battery capacities available, the AK-10 and AK-20. The series includes a hedge trimmer, blower, string trimmer, and chainsaw.
The two tools in this series that impressed us the most were the hedge trimmer and chainsaw. The hedge trimmer includes an all steel, double-sided, 18″ cutting head. The same construction as the gas powered units. It comes with the smaller capacity AK-10 battery and comes in at just 8.1 pounds. Despite the smaller capacity, it gives a continuous runtime of 40 minutes. That's a long time for a battery unit. Long enough to cut 918′ of hedge top (18″ wide).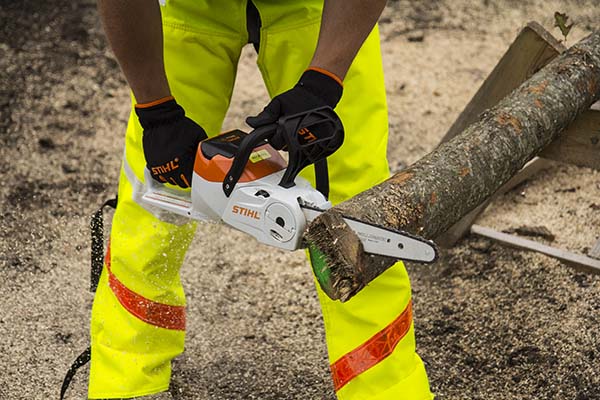 The other tool that impressed us was the MSA 120 C chainsaw. It has a 12″ bar with 1/4″ picco chain, brushless motor, and tool-less chain adjustment. It comes with the AK-20 battery which is good for 100 cuts in a 4″ log. It will be available in spring of 2017 for 299.95. This is a really impressive unit, cutting through 4-5 inch logs was quick, relatively effortless, and most of all quiet. I've used gas chainsaws all of my adult life and using a quiet saw is a strangely refreshing experience.
AI Stihl Battery System
Like the AK, the AI series is all new to Stihl. It is geared towards small urban or condo yards. It has an integrated 18V li-ion battery with an external charger. I know what your thinking, we've seen integrated OPE before and the batteries didn't hold a charge and they quickly became boat anchors in only a year or two. What's different about Stihl is that they service all of their own equipment at the independent dealer you bought it from. This includes the battery packs. There are three tools in this series, a trimmer, hedge trimmer, and blower and they all will retail for $129.95 in spring of 2017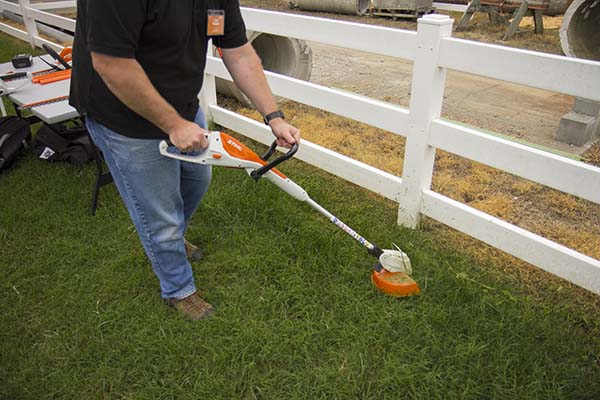 The hedge trimmer and blower were of particular interest. Like the hedge trimmer in the AK line it also has an impressive 40 minutes of runtime but unlike the AK trimmer, this one is 3 pounds lighter at 5.1 pounds. That is really light.
The blower is also really light. It weighs in at 4.4 pounds. It boasts 10 minutes of runtime which doesn't sound like much but it is capable of clearing 2,153 sqft. Perfect for a small yard.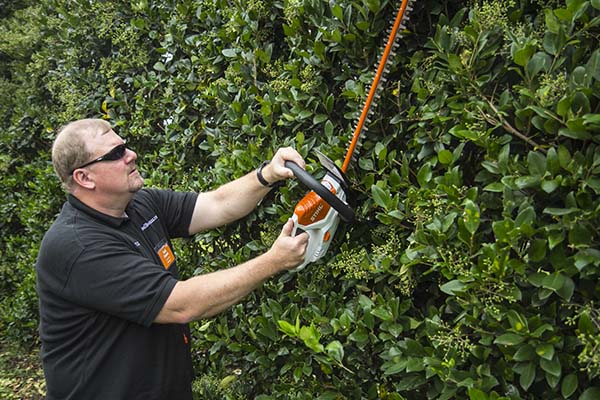 Check Them Out For Yourself
It's one thing to read about a tool online and then go out and buy it. Outdoor Power Equipment can be a different animal entirely. You want to go check it out locally to see how it feels in your hands and how it will fit into your workflow. Talk to the people that work on them to learn exactly how to care for it to get the most life out of the tool. This is where your local independent servicing dealer comes in. They have the knowledge to help you find equipment that best suits your needs. For a quick overview of all the tools before they are released, check out the image gallery below.
About the author
Disclosure
Product reviews on this site contain our opinion of a product or service. We will always strive for objectivity and transparency in our reviews. Our goal is to provide readers with honest, objective information based on our own experiences. We never have and never will accept payment in exchange for a positive review. Many of the products that we review are provided to us for free by a manufacturer or retailer. In some cases, we also have advertising or affiliate relationships with manufacturers and retailers of products and services we review. For additional information please visit our additional disclosure policies.