Milwaukee M12 Fuel Cordless Compact Band Saw Kit Review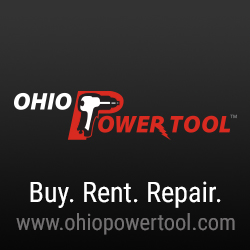 Milwaukee M12 Cordless Compact Band Saw Kit – Model 2529-21XC
Milwaukee M12 Compact Band Saw Kit
4.5/5

Manufacturer: Milwaukee

Model number: 2529-21XC

Price: $299.00

Power source: M12 - 12V

Weight: 6.96

The band saw is one of the few tools that, when used with the right blade, is equally effective regardless of material. Cutting various sizes of conduit, all thread rods, small diameter plastic or metal pipe and strut channel are ideal opportunities to use a portable band saw.

Band saws are great for making clean smooth cuts because of their high speeds and thin blades. Unlike a reciprocating saw, there is no back and forth motion. That means that band saws are very easy to start into the material, and they cut very quickly and are meant for one-hand operation. With a wide variety of blades available (with an equally wide variety of teeth per inch (TPI), it's easy to optimize cutting speeds in the materials that you commonly work with.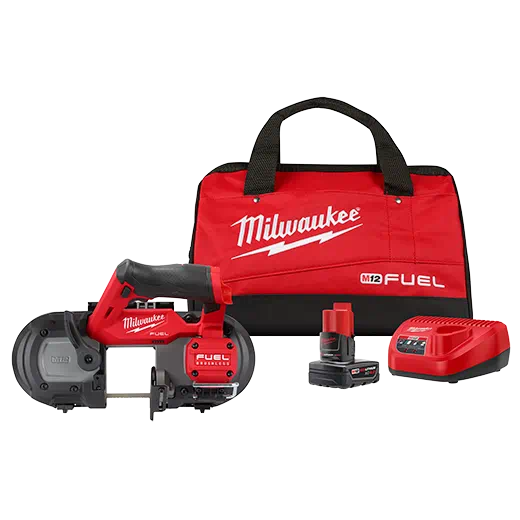 M12 Fuel Band Saw Kit Includes
M12 FUEL Compact Band Saw – Model 2529-20
M12 RED LITHIUM XC 4.0 Battery Pack
30-9/16″ 12-14TPI Extreme Thin Metal Band Saw Blade
M12 Charger
Contractor Bag
Milwaukee 2529-21XC Specifications
Integrated rafter hook for easy storage
Cut Capacity: 2-1/2" X 2-1/2
Built-In LED Work Light
Variable Speed Trigger
Pipe Reamer Compatibility
Integrated Blade Covers
Compact and Lightweight Design
14.12″ Deep, 8.0″ Wide, 6.0″ Height
POWERSTATE Brushless Motor
Milwaukee has developed, engineered, and produced POWERSTATE, the industry's greatest brushless motor, which outperforms and outlasts all top rivals. Professional craftsmen like using POWERSTATETM brushless motors because they offer greater application speed, torque, and durability in a compact package. Milwaukee also backs their tools with a 5-year warranty.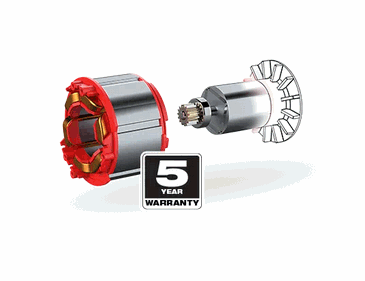 REDLINK PLUS Intelligence
Milwaukee's innovative intelligence hardware and software solutions are called REDLINK PLUS. Their sophisticated electronics are the most advanced in the industry today.  The full-circle connectivity between the tool, battery, and charger is integrated via REDLINK PLUS Intelligence.
Each tool has a comprehensive onboard electrical system that improves performance and reduces battery and motor overheating. This technology allows the battery, charger, and motor to stay connected "fully-cycle." The system will automatically check the tool's internal operations to maximize performance. The new Fuel series tools are designed to deliver the best motor performance while under load thanks to Red Lithium batteries' cutting-edge technology.
Rafter Hook
The Milwaukee Compact Bandsaw comes with a rafter hook for ideal storage in between usages.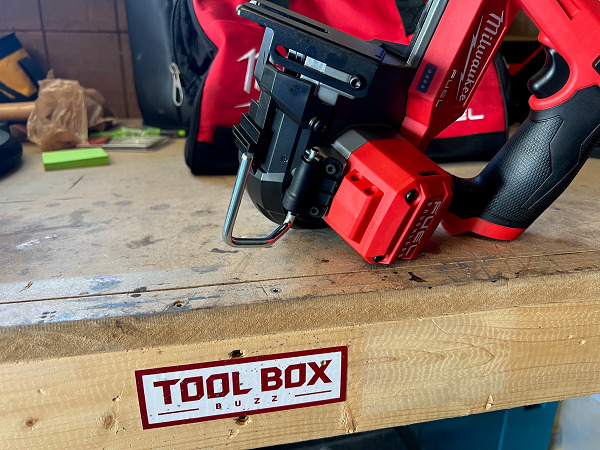 The hook is secured to the motor housing, out of the way, and allows for perfect vertical storage.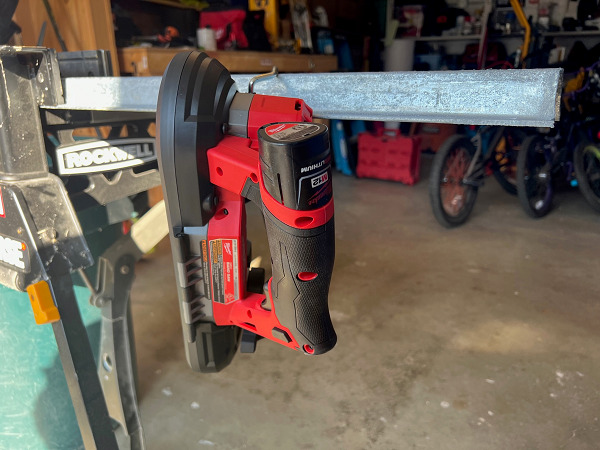 Portability
Weighing in at only 6.96Lbs, it is super light and makes single hand operation real easy. Your productivity is raised while your level of weariness is decreased by the enhanced performance, lightweight design, and one-handed usability.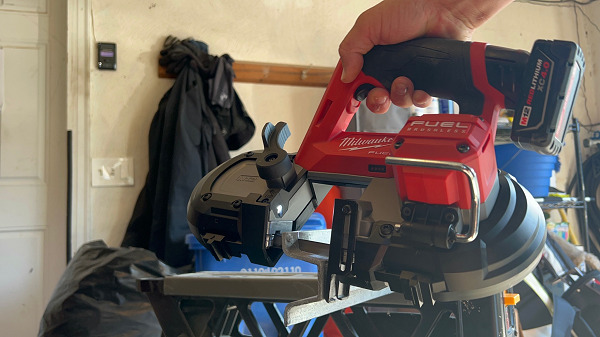 Blade Change
Blade changes can be done quickly and easily. The blade inside the housing was freed by a sizable tension lever.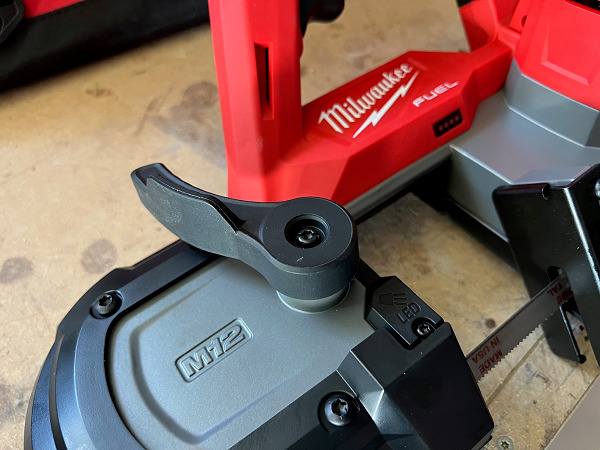 The housing cover is held in place by two sliding locks; when those locks are released, the cover opens, allowing the blade to be removed.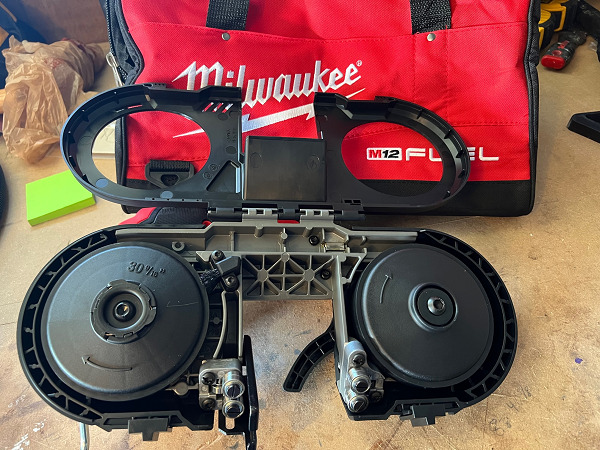 Slide the new blade in, close the cover, secure the slide locks, and swing the tension lever back to complete the installation process.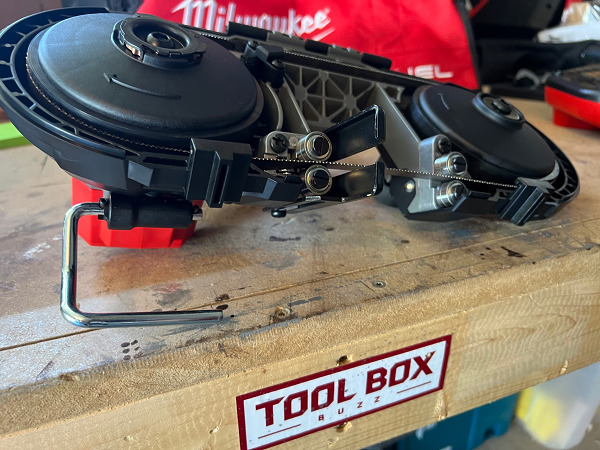 Conclusion
Milwaukee M12 2429-21XC is probably going to be your new best friend. Keep in mind that this is not a full-size band saw replacement, but rather one that is ideal for portability. This little saw's claim to fame is that it is the most compact and lightest cordless band saw on the market. And it really is. Designed for single-hand use from the beginning and its balance is superb as a result.
Milwaukee M12 Compact Band Saw Kit
$299.00
About the author
Disclosure
Product reviews on this site contain our opinion of a product or service. We will always strive for objectivity and transparency in our reviews. Our goal is to provide readers with honest, objective information based on our own experiences. We never have and never will accept payment in exchange for a positive review. Many of the products that we review are provided to us for free by a manufacturer or retailer. In some cases, we also have advertising or affiliate relationships with manufacturers and retailers of products and services we review. For additional information please visit our additional disclosure policies.