DeWalt FlexVolt 60v Max Brushless Grinder
DeWalt  FlexVolt 60v Max Brushless Grinder DCG414 Review
DeWalt DCG414 60v Max Brushless Grinder

Manufacturer:
DeWalt

Model number:
DCG414

Power source:
FlexVolt 60v Max

Motor size:
2.2 HP

Weight:
4.66 LBS
In the last several years, almost every major tool manufacturer has made a concerted effort to increase and diversify their lines of cordless tools. While the obvious benefits of being cordless are well documented, some tools haven't been able to meet the performance of their corded counterparts. The FlexVolt line from DeWalt aims to offer true replacements to corded tools including the DeWalt FlexVolt 60v Max Brushless Grinder DCG414.

Specifications
Battery Type – DeWalt FlexVolt 60v Mac
Horsepower – 2.2
Max Watts Out – 1700W
No Load Speed 9000 RPM
Spindle Size –  5/8"
Tool Weight – 4.66 lbs
Max Wheel Diameter – 6″
Ergonomics
Upon first inspecting the DeWalt 60v Max Brushless Grinder, it is fairly large when paired with the 9.0AH FlexVolt battery. The balance of this tool, however, is very good. The handle offers typical DeWalt comfort, (best-in-class in my opinion), and the removable side handle adds usability for right and left-handed users.
The switch is a trigger-type and has a safety override built in. I felt the trigger to be well designed and easy to use during operation. Some of my guys that also used this grinder preferred the paddle trigger design, but that is the user's preference. One thing I would like to have seen on this tool is a button to hold the trigger engaged, similar to the corded models. I found when grinding for long periods  (cleaning up post caps on a welded pipe fence) my hand became a little fatigued and the addition of the trigger lock would have been nice.

 Safety
The DeWalt 60v Max brushless grinder is part of their Perform and Protect lineup. The DCG414 offers several fantastic safety features.
Electronic brake
When the trigger is released, an electronic brake engages, slowing the wheel to a stop in about 1.5 seconds. As with many users, I found this particularly useful. While safety definitely comes into consideration, I also tend to set the grinder down while it is still spinning, which can damage costly materials and repair time.
Kickback brake
The grinder can detect when a pinch, stall or bind occurs and automatically engages the electronic brake to protect both the user and the tool.
E-Clutch
In conjunction with the kickback brake, when a pinch/bind occurs, the motor shuts off within a tenth of a second. I forced a bind to test this feature and the grinder shut down in remarkable time.

Usability
Changing the wheels on the grinder are very easy and intuitive. The wheel lock is well placed and the blade attaches securely to the arbor thanks to the allen wrench operated nut. I would like to have seen an on-tool storage for the included allen wrench, but I typically keep a couple sets handy so this wasn't a huge deal for me.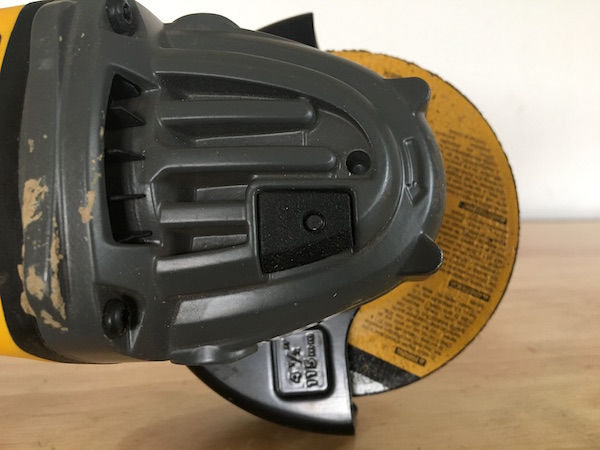 One feature that I really liked was the guard adjustment operation. A spring loaded arm that fits into detents allows the user to move the guard to the optimal location. I prefer this to the old clamp style that often failed. To remove the guard, simply push the arm and rotate the guard until it pops off.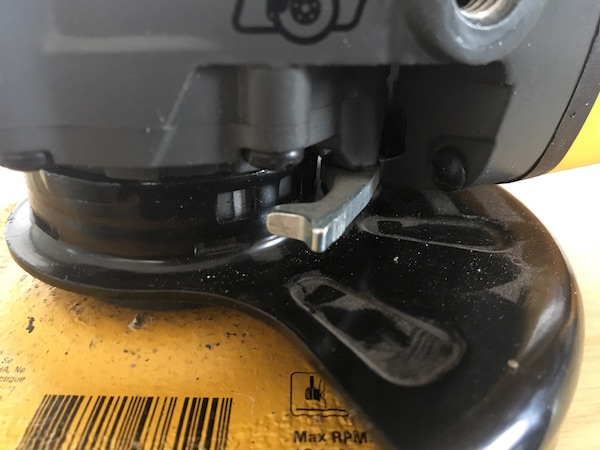 An issue I found when using this grinder, was the size of the wheel guard. It is pretty deep/thick and often obstructed full use of the grinder. While not an issue when using the wheel vertically, when cleaning up welds, I ended up taking it off to gain access to the profile that I needed to grind. I would like to see a lower profile version included in the future.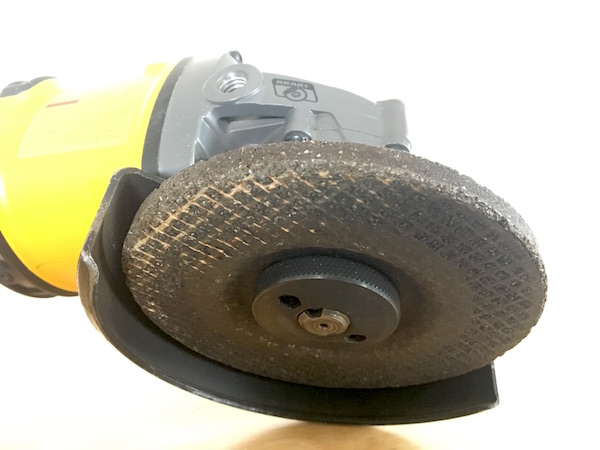 The DCG414 also offers removable screens over the vents that protect debris from getting into the motor of the grinder. These are replaceable and accessed with a phillips head screw. This feature is one that I believe will become a staple among many tool manufacturers as it is a very easy addition to prolong the life of the tool.
The run-time was impressive and under continuous use, a fully charged battery would last approximately 40 minutes. There aren't many times that I run a grinder continuously as I did when cleaning welds on a pipe fence we built, so I feel this wouldn't be an issue with most uses.
Power
The most important aspect in all tools that are geared towards replacing corded tools is how does it perform. After using this tool for multiple applications, the power is pretty amazing for a cordless tool. DeWalt claims that it has the same power as their D28144 corded grinder. Although I did not test these simultaneously, I did not feel like the tool bogged down at all during operation. I could cut and grind any material that I wanted without hesitation.

Overall Impression
While I found a few flaws in the design of this tool, the overall performance was very impressive. The undeniable power and comfort, in conjunction with its many safety features, make this tool the leader in cordless grinder performance. If you are already invested in the FlexVolt lineup, or demand the most out of a cordless grinder, the DCG414 should be at the top of your list. At $179 for the bare tool, it's a pretty good deal too.
DeWalt DCG414 60v Max Brushless Grinder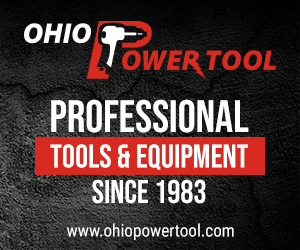 About the author
Disclosure
Product reviews on this site contain our opinion of a product or service. We will always strive for objectivity and transparency in our reviews. Our goal is to provide readers with honest, objective information based on our own experiences. We never have and never will accept payment in exchange for a positive review. Many of the products that we review are provided to us for free by a manufacturer or retailer. In some cases, we also have advertising or affiliate relationships with manufacturers and retailers of products and services we review. For additional information please visit our additional disclosure policies.