Bosch Brute Tough 36V Hammer Drill / Driver HDH361
Bosch Brute Tough 36V 1/2" Hammer Drill / Driver HDH361-01 Review
Bosch Brute Tough 36V Hammer Drill / Driver HDH361

Manufacturer:
Bosch

Model number:
HDH361

Price:
529.00

Power source:
36V

Weight:
4.25
Bosch has recently released the Bosch Brute Tough 36V Hammer Drill / Driver HDH361 to their 36v lineup. I have been using it for several months on site and have been able to take a very close look.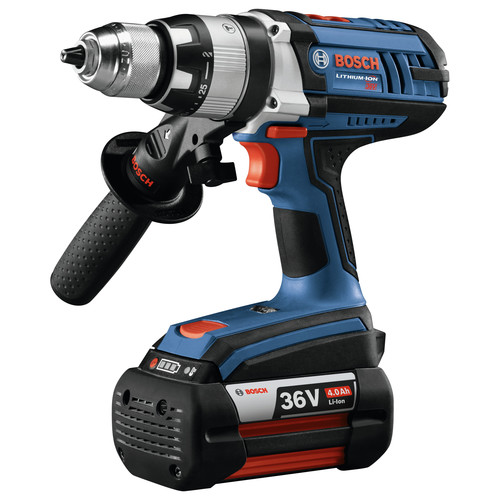 Bosch Brute Tough 36V Hammer Drill / Driver HDH361
Drill/drivers and impact drivers are likely the first cordless tools people in the trades buy. Their versatility and usefulness warrant their priority level. This purchase usually dictates the battery platform that the user continues with as well. For this reason, it is imperative to do the research and decide on a drill/driver that not only fits the scope of work being done, but also that helps in building a cordless tool collection for the future.
Bosch HDH361 Specifications
Battery Lithium: Ion
Battery Voltage: 36
Battery/Charger: 45-Minute Fast Charger
Case Type: Bag
Chuck: 1/2" Keyless Chuck
Height: 8.25"
Length: 9.75"
Width: 3.0"
No Load BPM: 0-27,000
No Load RPM: 0-420 / 0-1,800
Torque (in. lbs.): 885
Weight: 4.25lb
Includes: (1) HDH361 36V 1/2 In. Brute Tough Hammer Drill/Driver, (2) 36V 4.0 Ah FatPack Batteries, (1) 18V-36V Dual Charger, (1) Auxiliary Handle, (1) Double-Ended Bit, (1) Carrying Bag

Bosch HDH361
Four-Pole Brushed Motor
Kick Back Control Technology
Clutch with 25 + 1 settings
Electronic Motor Protection (EMP)
Variable Speed Trigger
Two-Speed Gearbox
LED Light
Battery Life Indicator
All-Metal Chuck

Heavy But Solid
While it's no surprise that the Bosch Brute Tough 36V Hammer Drill / Driver HDH361 is a bit heavy, it really feels good in hand. The rubber grips and handle design are very well thought out and comfortable. The drill is also nicely balanced making it feel a bit more nimble than its' size would suggest.
My personal opinion is that the fit and finish on Bosch tools is second to none. The Bosch HDH361-01 hammer drill / driver does not disappoint in this regard. It really is just a "sexy" tool. Couple that with the fantastic metal chuck, and this drill is really a pleasure to use.
There is a spot located on the back of the handle in which to hook on a lanyard.
How Dit It Perform?
The Bosch Brute Tough 36V Hammer Drill / Driver HDH361 is designed and geared towards tradesmen and women that demand the most power and runtime of their drills. This would include ironworkers and those that regularly drill many holes in concrete. It has a variable speed trigger and a very nice all-metal chuck. The keyless chuck holds bits extremely well and is comfortable to engage and release by hand. The four-pole brushed motor offers up to 885 ft/lbs of torque and 1800 RPM. There is a  two-speed switch located on top of the drill,  and is labeled for "High Speed" and "High Torque" settings. I found this to be a nice touch to help avoid using the wrong setting. The Bosch HDH361-01 hammer drill / driver also has up to 26 clutch settings to help dial in the correct amount of torque, essentially eliminating over-tightening and stripped screws.
Bosch claims the 36v platform outlasts similar 18v by up to 30%. While I did not test both platforms, I can confidently say the power and run-time are impressive.
Kickback Control
The most useful feature I found on the Bosch Brute Tough 36V Hammer Drill / Driver HDH361 is their kick back control technology. When the drill binds up, the motor quickly shuts down. This eliminates painful and dangerous situations and also impact the quality of the work. I tested this feature by using a 6" hold saw in 3/4" plywood which easily binds. The technology worked as it should and shut off quickly, protecting my wrists and my work. This technology should be included on every new drill.

LED Light
A trigger-activated LED light is located below the handle on the base of the drill. While this is a nice addition, I think the light could be brighter. My hand would also occasionally cover part of it which dimmed the light even more.
Improvements
While the Bosch HDH361-01 hammer drill / driver offers many benefits, I do feel there a few things that could be addressed. To begin, I wish they would have included a belt hook, or at the very least, a spot to attach an aftermarket option. Being geared towards trades that often work overhead, I think a belt hook is a must and a pretty glaring oversight on this tool.
I would also like to see a brushless motor included. While the power and run-time are impressive in their own right, a brushless motor would only increase these values along with adding to the longevity of the drill.
The on-board LED would benefit from a location change, and increasing the brightness.
Lastly, I would like to see Bosch expand their offerings in the 36v lineup. There really just aren't many tool options if you decide to invest in this platform.
Overall Impression of the Bosch Brute Tough 36V Hammer Drill / Driver HDH361
The Bosch Brute Tough 36V Hammer Drill / Driver HDH361 performs well and looks fantastic. The chuck and anti-kickback features are great and really add to the user experience. The lack of tools in the 36v platform, however, are a major drawback to investing in this drill. If you are in a trade where high-demand drilling is a necessity and you don't plan to add many tools to your future cache, I would recommend taking a look at the Bosch HDH361-01 hammer drill / driver. You can find these at online retailers for around $529.00.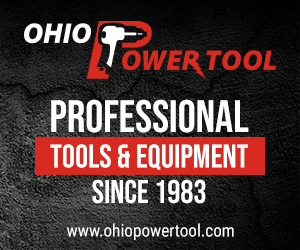 About the author
Disclosure
Product reviews on this site contain our opinion of a product or service. We will always strive for objectivity and transparency in our reviews. Our goal is to provide readers with honest, objective information based on our own experiences. We never have and never will accept payment in exchange for a positive review. Many of the products that we review are provided to us for free by a manufacturer or retailer. In some cases, we also have advertising or affiliate relationships with manufacturers and retailers of products and services we review. For additional information please visit our additional disclosure policies.